Where to Stay
Color your world at the Pantone Hotel
($120 per night), a mod spot by architect Olivier Hannaert and designer Michel Penneman. Seven signature hues, including royal blue and Batali orange, brighten minimalistic guest rooms, as do custom prints by Belgian photographer Victor Levy. The green-carpeted roof deck overlooks the Saint-Gilles skyline, and the windowed lobby hosts a daily breakfast buffet with Liège waffles and Chimay-abbey cheeses ($16), and a smart on-site boutique sells Pantone bicycles ($718), furniture (chairs from $65), and glassware (espresso cups from $11).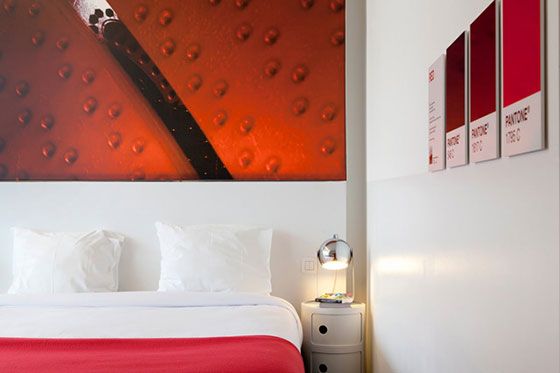 What's old is nouveau again at Hotel des Galeries ($149 per night), a two-year-old design hotel adjacent to the Galeries Royal Saint-Hubert shopping arcade. Parisian architect-designers Fleur Delesalle and Camille Flammarion fitted 23 airy guest rooms with white linens, hardwood floors, and antiques sourced from the nearby Sablon district. Geometric-tiled bathrooms have Malin + Goetz products, free-standing tubs, and rain showers. The slim Le Comptoir des Galeries restaurant overlooks Galerie du Roi; dine on seasonal Belgian bistro dishes while watching Alain Ducasse–trained chef Julien Burlat in his open kitchen.
Rub elbows with an elite crowd at Rocco Forte's Hotel Amigo ($197/night), a favorite of bold-face travelers (Diane von Furstenberg, Nicole Kidman) that's set within a former jail. Forte's sister, designer Olga Polizzi, kitted out the strikingly spacious rooms and suites (ranging from 300 to 1,900 square feet) with Carrara marble bathrooms, warm Italian and Belgian textiles, and location-specific Tintin and Magritte prints. Sport-coat-clad financiers from London, Paris, and the BSE fill clubby Bar Amigo (cocktails from $16), and elegant Ristorante Bocconi crafts Italian fare with local produce (entrées from $29).
Where to Eat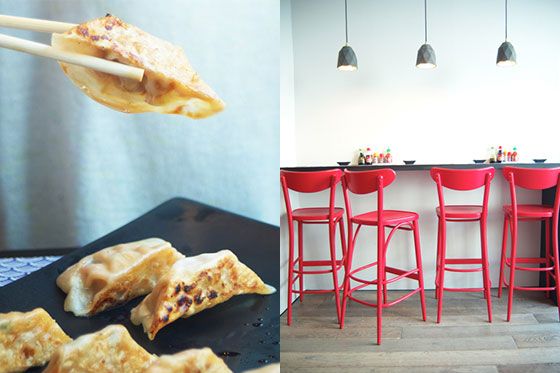 Recall Momofuku's early days at Takumi, a snug gyoza bar opened by Brussels-born brothers in Ixelles last spring. Join the convivial, multilingual crowd pairing witbier ($4) with pork-and-ginger-stuffed dumplings (six for $8) and shiitake-studded donburi rice bowls ($14) in the evenings, or stop by midday for the lunch-only karaage fried-chicken sandwich ($9.50). The already-hip spot does not take reservations and is closed on Sundays, so waits are un peu inevitable.
Hang 'round at SAN Bruxelles, a six-month-old Sainte-Catherine concept restaurant where Korean-Belgian chef Sang-Hoon Degeimbre, of the two-Michelin-starred L'Air du Temps, serves seasonal tasting menus exclusively by the bowlful ($33 for two bowls, $71 for five). The sunny, bilevel space has a Brussels-meets-Berkeley vibe, as do highly seasonal menu items such as the Divante (local lamb, spring garlic) and Lima (mackerel ceviche) bowls, all served in elegant earthenware alongside rustic wood-handled spoons.
Dress to impress at Belga Queen, a buzzy brasserie in a landmark Belle Époque–era former bank. Reservations in the soaring, stained-glass-ceilinged dining room go fast, so call a week in advance, or, try your luck at the first-come, first-serve raw bar, which serves seasonal seafood (shellfish platters from $38) alongside the full restaurant menu. The kitchen highlights local products, as in a refined cocotte of beef meatballs in Liège-style pear-and-apple reduction ($27), or Charolais (a Belgian heritage breed) beef tenderloin served with Orval and green-pepper sauce ($39).
What to Do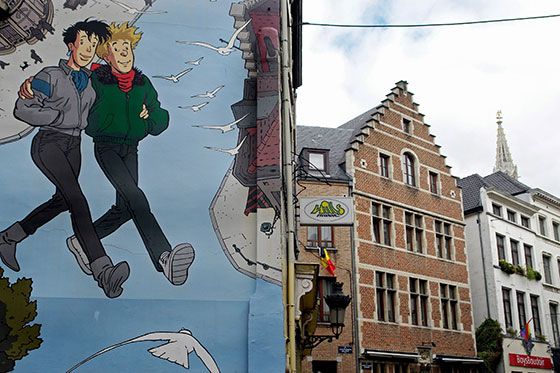 Go graphic on a self-guided art walk of the city's comic murals, a constantly evolving collection of 55-plus public installations. Start at 41 Rue du Marche au Charbon, where the project's inaugural piece, a 380-square-foot Frank Pe mural of a cheerful couple strolling, sits above a bustling intersection on a 13th-century street. Cross Boulevard Anspach to spot a Nero wall featuring a collection of characters from his popular strips climbing a tree on Place Saint-Gery, and then head west to 21 and 24 Rue des Fabriques, which have sky-high strips by Hermann Huppen and Bob de Moor. Walk five minutes north to spot an ode to Europe's first sci-fi comic, "Blake and Mortimer," on 24 Rue du Houblon, and then head east toward Place Sainte-Catherine. Stop for sustenance at bustling outdoor seafood bar
Noordzee for a crawfish sandwich ($5.50). Continue east to see murals featuring the classic Belgian comic anti-hero Gaston Lagaffe at De Brouckère metro station and at 7 Rue de l'Ecuyer. End your journey with a toast to a century of Belgian artistry at 1928-opened beer bar A la Mort Subité (half-pint of Chimay, $4.50).
Immerse yourself in the new school of Belgian chocolate-making at Zaabär, a 6,400-square-foot atelier in Central Brussels where cutting-edge confectioners spike classic Belgian cocoa with globe-trotting spices (Damascus rose water, Texas chilies), and lead weekly, one-hour classes in which novices learn to make internationally inspired bars and truffles ($28 for one hour). Further your dessert-design expertise at a praline class at
Planete Chocolat, a Centre-Ville sweets shops that hosts 45-minute public demonstrations as well as private instruction (available by appointment, $55 for an 80-minute workshop).
Explore the ascendant contemporary-art and design scene in neighborhoods like the formerly industrial Marolles, now home to an expanded macadam photo gallery, and a branch of Paris's mod Galerie Lazarew. Take the retro-futurist funicular up to the 19th-century Palais de Justice to visit new gallery hub 67 Rue de la Regence, which has exhibition spaces Jan Mot, Mon Cheri, and, as of this January, a branch of Tel Aviv's Dvir Gallery. Hop the Metro at Grand Sablon, or walk 15 minutes north to the Game, a cult concept shop specializing in up-and-coming designers (Zoe Mowat leather trivet, $44). Keep your wallet handy on nearby Rue de Dansaert, the indie shopper's answer to the multinational luxury boutiques on Avenue Louise. Pick up sheer blouses by Belgian designer Ann Demeulemeester at Stijl (from $330) and Weber Hodel Feder platforms at hatshoe ($550). Recharge with salmon toast and excellent people-watching at Cafe Walvis, an all-day hangout at the north end of the street ($13), or grab a new-wave Belgian microbrew at year-old taproom Brussels Beer Project (drafts from $3.50). Keep the party going at Barbeton, a hip, Le Corbusier–inspired bar from local nightlife impresario Frederic Nicolay (drinks from $3.50).
Expert's Tips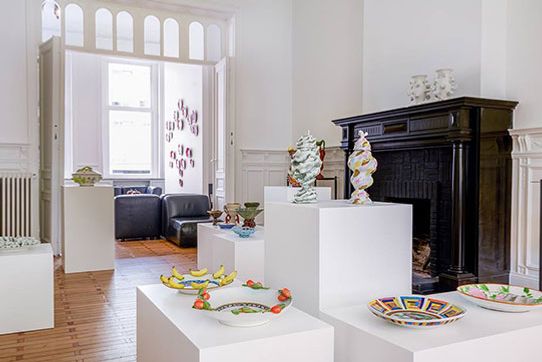 From Alexis Ryngaert, the founder of Brussels's Victor Hunt Designart Dealer gallery in Anneessens and concept store the Game, where he replaces one of his 52 Über-chic objets-for-purchase weekly.
When I was a student 15 years ago, someone told me that Brussels has the most galleries per inhabitant—ranging from the very petite ones to big, internationally known places. In London, Paris, and New York, big vintage galleries exist, but in Belgium it's the other way around: There has always been a focus on the modern. Pierre Marie Giraud and Caroline Van Hoek are two of the most interesting galleries here, I think.
Antwerp is more of the fashion capital than Brussels, but, design-wise, there are really great stores and spaces here. We have a lot of history in design. I like Maniera, a furniture atelier, and two hotels in the historic city center: Hotel des Galeries and 9Hotel.
Eating is very important in Brussels! My favorite restaurant by far is
Friture Rene in Aderlecht. It sets the standard for local food and atmosphere—true and honest Brussels style.
Resources
Strange punctuation aside, culinary blog Brussel's Kitchen provides an overview and gorgeously lit photography of the city's bar, restaurant, and coffee scenes. Written by local architects and designers Chloe Roose and Sarah Cisinski, posts also include home-cook-friendly recipes.
Bruzz, the newly launched digital offshoot of Agenda Magazine, includes daily news, features, and cultural reporting, plus an events section with film, theater, arts, and restaurant reviews.
Neca (New Exhibitions of Contemporary Art) is a one-stop shop listing the latest exhibitions, gallery openings, staff updates, and events news from the city's contemporary-arts scene.