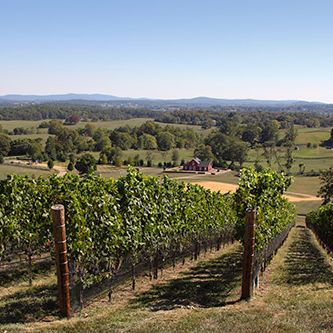 Photo: Steven Morris Photography/Getty Images
Where to Stay
Steep yourself in history at the 1804 Inn (from $240 per night) on the grounds of Barboursville Vineyards. The spacious suites inside the classic Georgian villa boast four-poster beds with 400-threadcount Italian sheets, plus incredible views of the ruins of Governor James Barbour's mansion, designed by Thomas Jefferson. Roam the expansive grounds lined with black-walnut trees (if you're lucky, you might find some hen-of-the-woods mushrooms to forage), and head to the fantastic on-site restaurant, Palladio, for seasonal pastas like a housemade gigli with rabbit, fava beans, pecorino, and arugula pesto, part of the tasting menu (from $41 for two courses at lunch and $80 for five courses at dinner).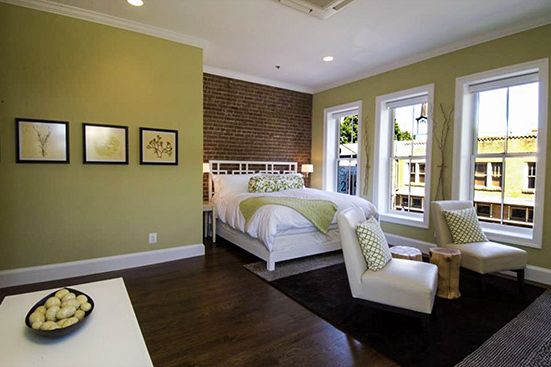 Say cheers at Hopkins Ordinary (from $169 per night), a peaceful and picturesque inn that brews its own beer, in the small town of Sperryville. Husband and wife Sherri Fickel and Kevin Kraditor began experimenting with small-batch brews a few years ago when they turned their cellar into a mini-brewery, complete with a small bar for tastings and full pints. Rooms are cozy and uncluttered, with shiny hardwood floors, well-stocked bookcases, and private porches or balconies; ask for the Lavender Room, which has a claw-foot tub, wood-burning stove, and a swing on the porch. Start your day with homemade muffins and scones and fresh local eggs at breakfast; later, enjoy a beer (made with barley malted at nearby Copper Fox Distillery) on the patio, which doubles as the town biergarten in nice weather. Before you leave, fill a growler with your favorite brew (try the Wildflower Honey Brown) to go.
Sleep in contemporary comfort at boutique Suites at 249 (from $175 per night), right on the main drag in Culpeper. Bright, minimalist-chic rooms feature gas fireplaces and steam showers, and guests enjoy free use of the mini-gym at nearby Culpeper Center. In the evening, the town's best restaurants are literally just down the street; try Foti's for refined Mediterranean, Uncle Elder's for authentic BBQ, and the Culpeper Cheese Company.
Where to Eat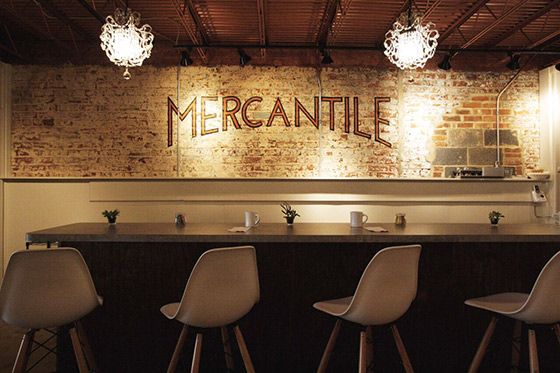 Make a brunch stop at Mercantile in Fredericksburg, the newest restaurant by Top Chef season 12 alum Joy Crump. Within the city's original mercantile building, with its exposed-brick walls and open ceiling, Crump puts a refined spin on traditional Southern cuisine with dishes like the seared chicken biscuit ($9.50) with melted cheddar, crushed avocado, black-bean aïoli, and an over-easy egg and the hot pimiento-cheese cornbread sandwich ($9.50) with braised greens, smoky black beans, and cilantro cream. Leave room for the on-point seasonal pastries, like a chocolate dark-cherry scone ($3.50) and lemon-and-lavender cheesecake ($8).
Get a taste of South America at the recently opened La Finca Grill in Orange, where Bolivian and Peruvian dishes meet American flavors. Don't be put off by the strip-mall setting: Inside, La Finca is warm and inviting, with Spanish details like terra-cotta roof tiles and South American textiles. Munch on Peruvian ceviche with hominy ($15) and arroz chaufa con camerones ($12), Peru's version of fried rice with shrimp, served here with a vibrant green-herb sauce. Save room for the delicious tres leches cake ($6).
Dine alongside the vines at Early Mountain Vineyards. Chef Ryan Collins (most recently of Jose Andres's Oyamel) mines local purveyors' produce, meat, and dairy for his small plates served in the airy dining room. He's recently added vibrant salads like the spring vegetable salad ($12), with frisée, roasted potatoes and squash, housemade ricotta, mint, and a shallot vinaigrette, and is making all the charcuterie in-house, including a chicken terrine and chicken-liver mousse. A wine tasting to accompany your meal is a must, and Early Mountain happily includes other Virginia winemakers in some of its flights (from $18), featuring sips by wineries like Ankida Ridge and Thibaut-Jannison, along with its own vintages; light drinkers should, at the least, try a glass of the just-released 2015 rosé ($8).
What to Do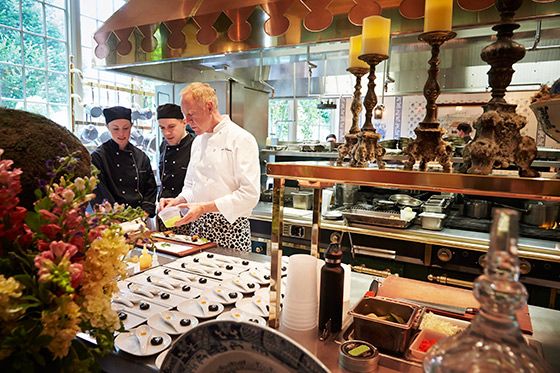 Actively indulge in the best of the region's food by making it yourself. Caromont Farm's Gail Hobbs-Page and her brood of goats are local celebrities: At her classes like Artisan Cheesemaking at Home, you'll learn to make delicacies like goat's-milk burrata stuffed with mascarpone and goat butter. The farm also has snuggle sessions with the baby goats (yes, really) and hosts popular farm dinners (classes from $125). Up for a splurge? Apprentice with a pro at the critically acclaimed Inn at Little Washington's Stagiare Program (from $1,800), where you'll work alongside chef Patrick O'Connell and his team in their state-of-the-art kitchen. Over two-to-three eight-hour days, you'll learn how to evaluate fish and produce, knife skills, and more (they're happy to customize).
Become a bona fide oenophile at Little Washington Winery's Foodie-U Wine School by taking classes ($40 per class) like The World of Malbecs, Taste the Dirt—focusing on terroir—and Wine Bootcamp, a two-hour intensive session where you'll learn wine basics as well as more advanced skills like how to achieve aeration perfection, the art of wine pairings, and how to order wine in a restaurant. More serious aspiring vintners should enroll in Veramar Vineyard's Wine Camp ($900, all meals and two nights, stay included). Spend three days with the Bogaty family, who'll school you in field management; picking, crushing and pressing grapes (in the fall); and assisting in bottling and labeling. There's also multiple classes and tastings along the way, where you'll learn about the evolution of winemaking in the region, wine appreciation, and more.
Cycle for your supper with Tour d'Epicure's culinary tours of the region (from $1,049). Friendly guides John and Diane Macpherson, both cycling experts who love food and wine, own the beautiful Foster Harris House in Little Washington, where you'll spend two nights. A weekend begins with a meticulously prepared five-course dinner; the next morning, you'll fuel up with a homemade breakfast before heading off on your 40-mile round-trip bike ride with stops along the way, including at a local winery for lunch. At day's end, you'll enjoy a farewell dinner at the renowned Inn at Little Washington, just down the road. For a slightly less luxurious but still active option, visit wineries on horseback with Indian Summer Guide Service (from $115).
Expert's Tips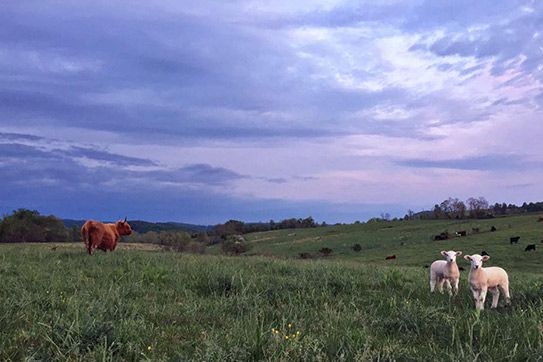 From local brewer Jennings Carney, who grew up in the region and returned last year with his two brothers to open Pen Druid Brewing, specializing in wild-yeast and barrel-fermented beers.
In the mornings, I like to head to Before and After to grab a cappuccino. They use local Central Coffee Roasters; I especially love the free-trade, sustainably sourced Congolese beans they're using.
At the gluten-free Triple Oak Bakery, I'll typically grab the brown-sugar-dusted cinnamon-ricotta fritters on a Sunday morning. Triple Oak also carries Immortal Mountain chocolate. Their raw chocolate is absolutely incredible.
Shenandoah National Park is a great place for a short trek. The 45-minute hike up Stony Man will give you 180-degree views of the western side of the Blue Ridge Mountains and the Luray Valley. It's also a great place to work on your bouldering if you're a rock climber.
In the spring and summer, I'll stop by Waterpenny Farm. They have a self-pay produce stand with veggies, fruit, and eggs. Their stuff is always very, very good. Heritage Hollow Farms has a farm store in the River District Arts Community in Sperryville, right next to our brewery, and they've got great heritage pork and grass-fed beef and lamb.
For wine, head to Linden Vineyards and Rappahannock Cellars. Linden's owner and head winemaker, Jim Law, has really helped bring Virginia wine to where it is today. Rappahannock Cellars makes some really interesting port-style and solera-style wines. We use their oak barrels to ferment some of our beers.
Resources
For a good overall guide to the region, The Virginia Piedmont provides maps, an event calendar, itineraries, and an overview of each county in the Piedmont region. Plus there are lists of restaurants, wineries, distilleries, museums, and other cultural institutions, hiking trails, and more.
The blog of the quarterly journal, The Piedmont Virginian, writes event listings, restaurant reviews, and the latest news in the area.
Written by two local wine enthusiasts, Virginia Wine Time reviews Virginia wineries and bottles and even features a "Women and Wine" section interviewing women in the industry.