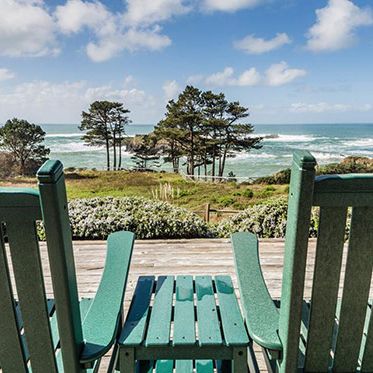 Experienced guides can coach guests in diving for abalone at an annual camp at the Pacific Coast–adjacent Little River Inn.
Photo: Courtesy of Little River Inn
Where to Stay
Sleep among the redwoods — literally — at the recently opened Inn at Newport Ranch, an architectural marvel in Fort Bragg located on a 2,000-acre working cattle ranch where the stately trees anchor the stunning design (lodge rooms from $300). The aesthetic reflects the area's logging and shipbuilding heritage — think furniture and headboards crafted from massive redwood slabs, a captain's room with a vintage ship telegraph, and, in the Redwood House, actual redwood trees that soar from floor to ceiling. Stroll some 20 miles of on-property trails with unbeatable views of the Pacific; history buffs won't want to miss a half-mile hike to a tiny pioneer graveyard, with headstones that date back more than 150 years. Wind down with other guests with complimentary local wine and cheese by the fireplace while the sun dips into the ocean.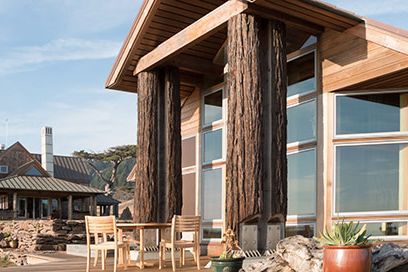 Bliss out at the Blue Door Inn, a serene B&B nestled right in Mendocino Village. Soothing gray-and-cream décor, a plush parlor area, natural touches like fresh flowers in rooms, and a quaint deck perfect for afternoon tea make it a relaxing home base for your coastal retreat. Rooms come with crisp white bathrooms and gas fireplaces; depending on your view, you'll be admiring the Pacific or the property's picture-perfect gardens surrounded by a white picket fence. In the morning, dig into a hearty breakfast basket brought right to your room — egg quiche, homemade chocolate scones — before setting off to explore downtown Mendocino.
Stay in Mediterranean-inspired style at the Madrones. Guest quarters feature nine spacious rooms (from $175), most with vaulted ceilings, breezy sitting areas, and a European-meets-California-cool feel. Or book one of two refurbished logger's cabins in a new section of the property called the Brambles, where the design is outdoorsy — framed animal sketches, exposed-wood ceilings. Spend a lazy afternoon in the courtyard with a bottle from one of four on-site tasting rooms; Bink's refreshing Sauvignon Blanc is an easy sipper on warm days ($22). It's just a few steps to dinner at Stone & Embers, where the Italian-leaning dishes and a courtyard brimming with terra-cotta planters and colorful flowers evoke a Tuscan ambience. Order some small plates like spaghettini (from $12) with fava beans, lemon, and cured egg, or pizzas like the kicky El Guapo, topped with jalapeño salumi and piquillo peppers ($19), and toast to la dolce vita.
Where to Eat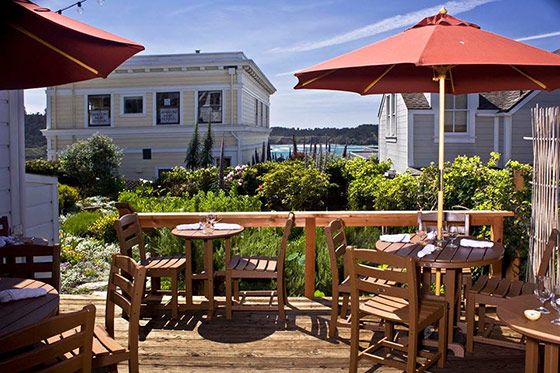 Following a culinary exploration through the Pacific Northwest in their Volkswagen, chef Janelle Weaver and her husband, landscape architect Daniel Townsend, opened the Bewildered Pig in a former general store and loggers' watering hole. Admire Townsend's flair for such antique finds as an 18th-century Hungarian fountain and large-scale chimes over a predinner glass of locally made Roederer Estate Brut ($11) in the outdoor sitting area. Inside there's vintage chandeliers, white tablecloths, and rattan chairs; it's a fitting backdrop for Weaver's flavorful, unfussy fare. Try the gnocchi parisienne, made with the same light, airy dough as éclairs, along with nettle pesto, herbed chicken confit, and locally grown corn ($24). An imaginative wine list features local small-production wines as well as plenty of international selections — a rarity in these parts.
Dive into the pescatarian paradise at Wild Fish, a right-on-the-coast spot that shares its building, a former trucker café on Highway 1, with a small deli and post office. Owners Liz and Kelvin Jacobs scurry about the candlelit, ten-table space chatting with patrons and serving seafood-centric dishes like smoked fish and beet salad ($14) and a rich bouillabaisse ($32) chock-full of local wild fish, mussels, and prawns. An extensive wine-by-the-glass list draws heavily from the nearby Anderson Valley. End on a sweet note with the sticky toffee pudding ($11), a nod to Kelvin's native Britain.
Trillium Café's cozy digs are on the ground floor of a historic Victorian in the heart of Mendocino. Try the housemade seafood fettuccine ($28), studded with clams, scallops, prawns, and spicy Andouille sausage, and the Covelo Ranch short ribs ($26). And be sure to save room for dessert: The creamy Meyer-lemon tart ($9) features lemons candied in-house, and the salted-caramel chocolate-ganache tart ($9) is sublime. If the weather is warm, grab a table on the sunny patio surrounded by the stunning gardens, a riot of colorful flowers and herbs used in the kitchen.
What to Do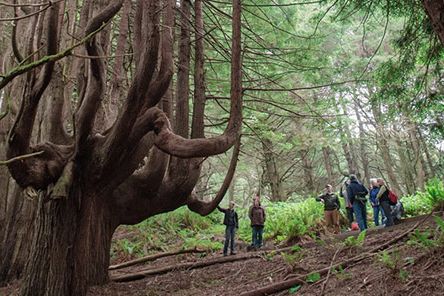 Take a culinary pilgrimage through one of California's best-kept-secret wine regions: the Anderson Valley, whose floral Pinot Noirs and crisp sparklings have put it on the radar of savvy oenophiles. The tiny enclave of Philo is a hub for new tasting rooms: Witching Stick Wines (pick up a bottle of the crisp, un-oaky Chardonnay, $38) the laid-back Lula Cellars, where tastings are just $5; andPhillips Hill, located in an old apple-drying barn. Down the road at the Philo Apple Farm, a working farm and cooking school owned and run by the family who founded the French Laundry, grab farm-fresh provisions like homemade apple cider and honey (and pop into the tiny library to see an original French Laundry menu). Then, mosey over to the no-stoplight town of Boonville to visit Pennyroyal Farm, a sustainably focused working farm; tour the solar-powered barn, milk parlor, and creamery ($20; reservations required), then partake in a wine-and-cheese tasting — cheeses like the bright laychee are a nod to Bootling, a local lingo still heard around here. Palate puckered from all that vino? Head to Anderson Valley Brewing Company, a local hangout, for a pint of Boont Amber ($4.50).
Get back to nature with a stroll along the newly opened trails of Noyo Headlands Park, which provides access to a stretch of coastline, a former mill site, which had been inaccessible since the 1800s. Highlights include a pocket-size historic cemetery perched on the cliff's edge, and, in the winter and spring, excellent whale watching. Further north, along the brand-new, 2.3-mile Peter Douglas Trail, gaze at ancient redwood groves of magical, Seussian-looking candelabra trees. Adventurous visitors can try their hand at catching abalone, a bivalve that thrives on the Mendocino coastline; an annual abalone camp at Little River Inn pairs guests with experienced divers and includes special chef-prepared dinners (from around $400 for a double room; offered in June), or round up five friends and take over the Albion Schoolhouse for a two-night stay, guided dives, and chef-made meals featuring your prized catch (from around $667/person; April to June and August to November). And if your visit happens to fall during a full moon, experience one of the area's true wonders: a bioluminescent kayak tour, in which microscopic ocean organisms appear to glow in the moonlight (from $65 with local outfitter Catch a Canoe).
Explore Fort Bragg, a former timber town that Bay Area transplants have helped transform into a hip enclave of new and spiffed-up boutiques, shops, and bars. At the year-old Astoria Home Store, browse California-inspired prints, hand-carved woodwork, and organic baby clothes. Around the corner, Dot & Twine stocks a cheerful bounty of made-in-Mendocino home goods and gift items, from cheerful pillows to succulent planters. For bath and body goods, pop into Bella Mia. Owner Sheila Struckmeyer's Mendo Rain soap ($16.50) captures the clean essence of the Mendocino coast. Stop at Cowlick's Ice Cream for mushroom ice cream (which remarkably, tastes like maple syrup; single scoop, $3.50). Wrap up the day with a pint ($5) at
North Coast Brewing Company, or head over to Golden West Saloon, a 100-plus-year-old watering hole that's recently been gussied up by Mendocino natives Mikael Haye and Jessica Morsell-Haye; on Sundays there's a DIY Bloody Mary bar.
Expert's Tips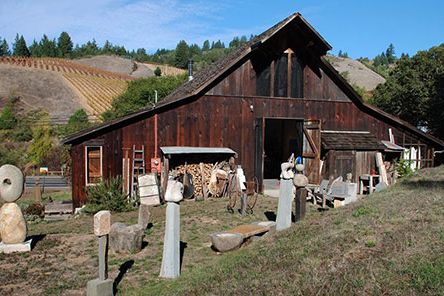 From Alyssum Wier, jewelry artist and executive director of the Arts Council of Mendocino County.
I always make a point of checking out Rebecca Johnson's recent paintings and sculpture in her studio in a converted barn at mile marker 15.08 on Highway 128.
I like to stop at Honey and Ro in Mendocino, an upscale boutique located in what was originally an elegant bank with an old Western vibe. The shop is a great place to discover new brands.
You can't throw an abalone shell around here without hitting a world-class winery, but if I'm in the mood to play hooky, I head to Saracina's tasting room in between Hopland and Ukiah for a glass of wine under the willow trees.
When friends visit from New York, we stock up on snacks at Ukiah Natural Foods, grab a Lover's Lane Latte at Black Oak Coffee, then head to Montgomery Woods for a hike under the redwoods. There is no more perfect end to a day than with a soak at Orr Hot Springs just up the road. Orr sells day passes, but guests can also book lodging there.
Resources
Explore the region's stunning coastal wilderness with guided hikes and other events organized by the Mendocino Land Trust, a leading local conservation group. Find wine-centric events like festivals and special tastings through the calendar listings of theMendocino Land Trust, a leading local conservation group.
Get a taste of the mushroom-foraging fever that sweeps through the area starting in November with mushroom walks, workshops, and other fungi-focused events at the Mendocino Coast Botanical Gardens.