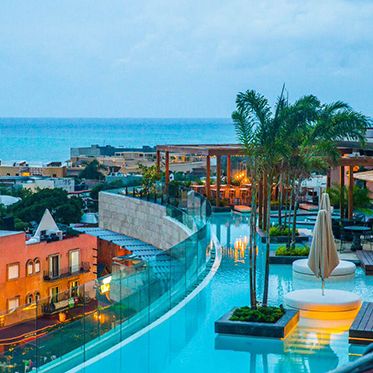 The 30,000-square-foot rooftop "playground" at the Thompson boasts a pool and dining options.
Photo: Courtesy of Thompson Hotels
Where to Stay
Get cozy at the artsy boutique Be Playa (from $116), a chic design hotel that attracts the hippie-wanderer, backpackers-on-a-splurge, millennial types with its laid-back, bohemian sensibility and 23 comfortably spacious suites. One block from Fifth Avenue (the beach town's thriving hub of restaurants, shops, bars, and nightlife), Be Playa flaunts a playful, modern-meets-retro design aesthetic: Think whitewashed concrete walls, butterfly chairs, egg-shaped tubs, and a mishmash of funky, nostalgic décor like tube TVs and Hollywood-style bulbed vanity mirrors. Junior suites are equipped with Jacuzzis that look out to private patios with swaying hammocks via sliding glass doors. All the action is on the intimate alfresco rooftop bar, where hotel guests and hip locals socialize in and around the pool seemingly 24/7.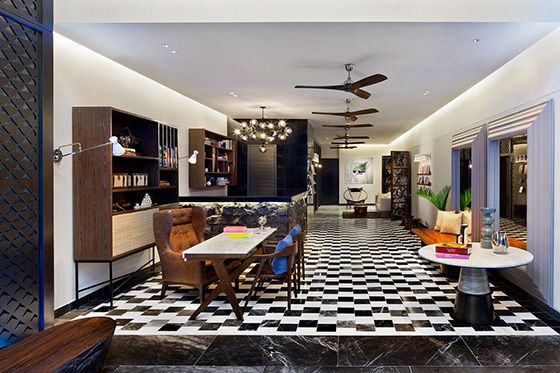 Explore Playa del Carmen's most stylish hotel to date. Opened in November 2015 right on Fifth Avenue, Thompson Playa del Carmen's (from $249) interiors are visually engaging with whimsical and artsy mid-century Mexican-inspired design — think geometric patterns, oxidized metal shelving, pop art, and a front desk carved out of lava stone — and a knack for voyeuristic features like rooms with glass-wall showers and balcony hot tubs overlooking a busy contemporary shopping complex. The seriously swank and selfie-friendly rooftop terrace is a magnet for discerning locals and visitors alike with private cabanas, a long infinity pool, daybeds, and the lively, alfresco Catch restaurant. From here, marvel at the sweeping views of the coast. International DJs like Steve Aoki make it one of the hottest spots for night revelers. Two blocks away, Thompson also opened The Beach House (from $399), an intimate, 27-room boutique right on the beach. Most guests split their vacation time staying in both hotels.
Experience "rough luxe" at La Semilla (from $109), a nine-bedroom B&B concept hotel that's quietly tucked between jungle and beach. Opened in 2014, the intimate, country-inspired property draws inspiration from traditional hacienda-style design and features local stone, textiles, and wood. Rooms and suites are full of character with refurbished vintage furnishings, antiques, and handcrafted chandeliers. Instagram-worthy common spaces abound, from its secluded garden courtyard anchored by a copal tree to the breezy rooftop terrace, which boasts impressive views of both jungle and sea, a rarity in Playa del Carmen's main town. La Semilla offers complimentary bikes, Wi-Fi, and healthy organic breakfasts for guests. Rooms from $109.
Where to Eat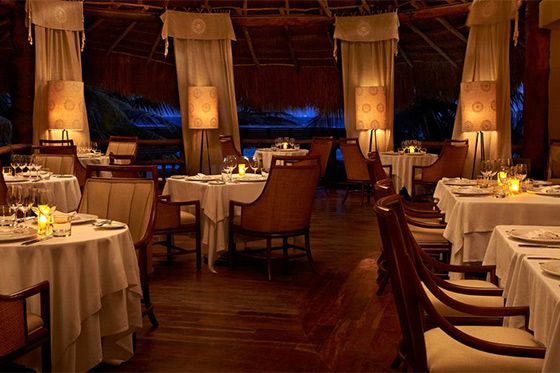 Feast on an array of innovative tostadas ("toasted" in Spanish) at Los Hijos de la Tostada. Opened this past April, the nautical-themed restaurant specializes in flavorful, modern twists on the traditional Mexican dish. Diners generally order a variety of tostadas to share; the restaurant excels in seafood with fresh, daily-caught tuna and shrimp (the restaurant's design conjures a fishing boat with driftwood, anchors, and storefront curvature). The tostadas (approximately $2.25) have creative names like vampiro guajillo (shrimp, octopus, and mushroom topped with guajillo chile). Expect a wait (no reservations) during peak dining hours.
Splurge at La Marea, helmed by young executive chef Jorge Ildefonso, whose clean, artfully plated dishes are reminiscent of famed Mexican chef Enrique Olvera's style. Ildefonso's experimental yet refined modern Mexican approach is inventive and exciting. Expect plates like chaya green risotto with mussels and crispy beef machaca ($13) and shrimp al pastor salad with spinach, watercress, grilled pineapple, tomatillo, fried Oaxaca cheese, and jalapeño vinaigrette ($17). The elevated, alfresco dining experience is a favorite among young gourmands who book Thursday nights for the fixed tasting menu ($85).
End a bar crawl at El Fogón, an authentic open-air taqueria that's removed from the nightlife action on Fifth Avenue yet within comfortable walking distance. On the weekends, the popular taco joint is packed with groups of night revelers who come for cheap, tasty, perfectly executed street-style tacos (approximately $1), tortas ($1.75), quesadillas ($3), and carne asada ($3.60), served until sunrise. El Fogón's claim to fame is its al pastor taco topped with a pineapple wedge.
What to Do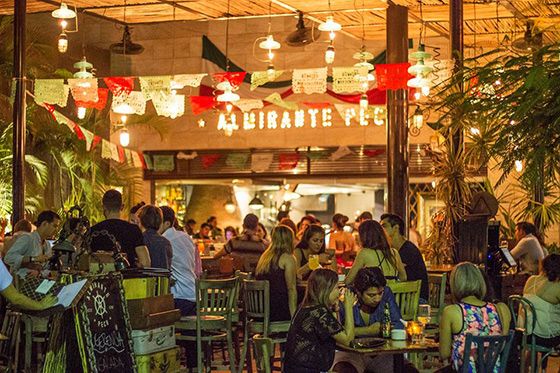 Get your modern-art fix at Ba al Studio, a contemporary gallery in Mayakoba, a highbrow resort community that's deep within the mangroves and hugs a sandy-white beach. Ba al Studio is tucked inside the modern-cool El Pueblito, a new, visionary plaza that's inspired by traditional Mexican public squares. Visitors can check out the ongoing exhibitions of notable work like paintings by highly acclaimed Pedro Friedeberg, and there's a range of wallet-friendly souvenirs like small prints by Miguel Castro Leñero ($150).
Start a bar crawl at Gonzalez, inside the recently opened La Memorable, a funky marketplace with a food truck, cigar store, and mezcal shop. Gonzalez is Playa del Carmen's only craft-beer bar, with some 20 local brews on tap (three samples for $4.60). The new 8 Night Club, opened in July by local nightlife group Grupo Azotea, has been the stomping ground for locals who dress to the nines. Inside, the club has a speakeasy-style bar with craft beers and a rooftop terrace–cum–dance floor. Next, hit up the stylish Almirante Pech, with a busy patio, live DJs, and a laid-back vibe. The bar serves up innovative cocktails created by a rotating list of famed regional mixologists, like the El Tata (H rum, organic Yucatán coconut rum, piloncillo syrup, and tortilla chip with raspberry and chocolate powder) ($5).
Cruise through the Mayan jungles on new MTB Giant mountain bikes with
MTB Bike Tours. The three-hour tour ($35; $100 for private tour) is the first to explore the sprawling nature reserve on two wheels. The trail begins just outside the city center and, via wide bike paths, winds through the jungle at a leisurely pace (it's perfect for beginners). Cyclists cover 18 miles, immersing themselves in an unspoiled tropical landscape: looming copal trees, vibrantly colored flora, and plenty of fauna: parrots, toucans, deer, and turtles. The cenotes—ancient freshwater sinkholes that the Mayans held sacred—are popular for a refreshing dip before heading back to town. You can continue cruising the lively streets on Playa del Carmen's bike lanes. Rental shops are ubiquitous (and most hotels offer complimentary bikes). Pedal ten minutes south to Playacar, an upscale resort community known for pristine beaches that are open to the public.
Expert's Tips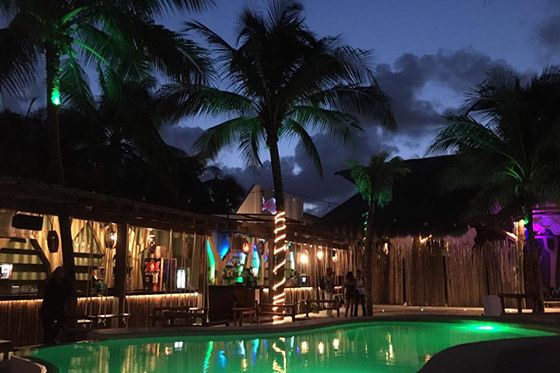 Canadian expat Alessandra Axelsson is the director of the BPM Festival, which began as a small music event in 2008 and is now one of the largest dance festivals in the world — it lasts ten days with more than 350 DJs. The BPM Festival celebrates its tenth anniversary in January 2017.
I started vacationing in Playa del Carmen annually in 2004 and finally had enough of the cold Canadian winters to make the move. I've watched Playa del Carmen grow and develop into one of the coolest places I have ever been, and I'm very proud to have called it home for nearly a decade. If you are traveling here from afar, you can't miss the street food. Check out the food vendors and carts for authentic tacos and other bites by the ADO Bus Station (Avenida Juárez and La Quinta or Calle 2 and Avenida 20), where the local Collectivo vans leave for Tulum.
For offbeat fun, Blue Parrot Beach Club should not be missed, with its infinity beachfront pool and open-concept kitchen serving 100 percent locally sourced farm-to-table and organic bites. Also check out Blue Parrot every second Wednesday of the month for Cineclub's "Noches Frente al Mar," which are movie nights in front of the ocean. When I want to really embrace the culture and music of Mexico, I take the free salsa lessons offered every night at Salsanera (Calle 12 between Fifth and Tenth).
Playa has some unique boutiques that offer 100 percent local, Mexican-designed- and -produced goods, with fabrics like no other. Mexico is very well known for the quality of its cotton-blend fabrics. I like Biuriful (on Fifth and Calle 30) when I'm in a fun and funky mood, and the newest kid on the block is The Suitcase, a vintage shop that features a selection of locally handmade pieces (Av. 20 between Calle 24 and Calle 26).
Resources
Launched three years ago by American expat Seth Dewey,
Everything Playa del Carmen is the ultimate guide for young visitors. It offers a wealth of information, from restaurant reviews to new openings.
Playa del Carmen CVB has a blog that's chock-full of intelligent and useful information, including reviews of tourist attractions, excursions, and restaurants.
The Playa Times is the local, biweekly newspaper in English; it covers all local news, weather, art, culture, and food.