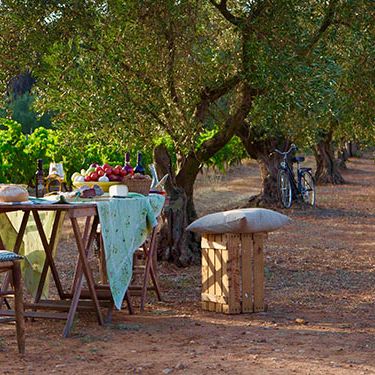 Visit the olive-oil producers Oli de Ventalló for a sunset tour.
Photo: Courtesy of Oli de Ventalló
Where to Stay
Fall asleep amid history at Nord 1901 (from $97), which is ringed by the tawny roofs of the old town. Everything's within strolling distance of this 18th-century boutique hotel — the Riu Onyar, flanked by houses painted in bright colors of yellow and strawberry, which are quiveringly reflected on the water; El Call (circa the 12th to 15th centuries), one of Europe's best-preserved Jewish quarters; and the Catedral de Girona, with the widest Gothic nave in the world. In contrast to the Game of Thrones–style world outside — all crooked streets and florid medieval architecture — inside, the hotel is minimalist and coolly relaxing. Rooms have angular modern furnishings and sleek bathrooms. And there's a charming little surprise when you step into the hotel courtyard: a garden with vines and pines, surrounding a small pool.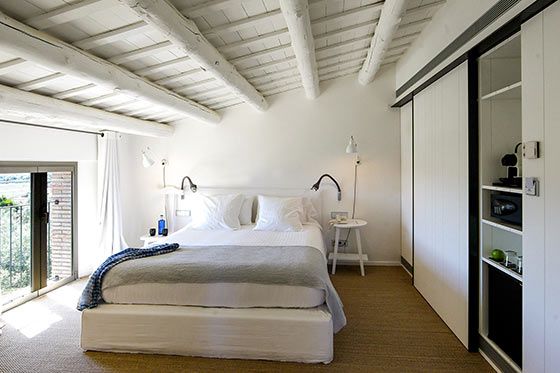 It's not just out the window that you'll see Empordà's earthy landscape, but inside too. Hotel Peralada (from $147), about 30 miles north of Girona, is an airy extension of the region's vineyards. Fully renovated and expanded in 2016, the hotel's spacious rooms have wooden floors, woven lampshades, and pops of green throughout. At the Wine Spa, relax beneath stone arches in the quiet El Celler. Local wines from the Castillo de Perelada winery are poured at Restaurant L'Olivera; take your glass out onto the terrace and sink into the white sofas.
Wake up to a view of olive trees rustling in the breeze at Mas Lazuli (from $170; 39 miles northwest of Girona), a 17-room boutique hotel set in an impeccably renovated 11th-century convent. Where robed Catalan monks once supplicated are today stylish rooms with firm beds piled with snowy linens. The outdoor pool is fringed by palms and fragrant lavender, which is also incorporated into the treatments and massages at the spa. Ease into the night at the restaurant, where chef Jordi Dalmau prepares seasonal spreads, including linguini with red prawns from nearby Roses.
Where to Eat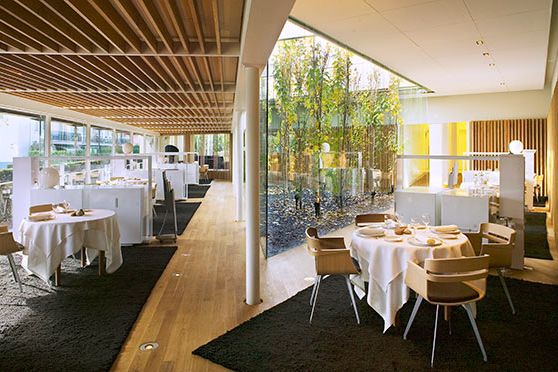 Feast your way across Catalonia at El Celler de Can Roca. Founded by the three Roca brothers — head chef Joan, sommelier Josep, and dessert master Jordi — the restaurant has been showered in Michelin stars (three) and named Restaurant Magazine's No. 1 restaurant in the world. Among the 17-plus courses (tasting menu from $200): a mini olive tree, hung with melting green orbs: Pop one in your mouth, and discover it's olive oil-ice cream, cool and salty and sweet. The legacy of Salvador Dalí, who was born in nearby Figueres, is honored at El Celler de Can Roca, especially in the desserts; a luminous sugar globe the size of a gum ball delicately collapses with the touch of spoon, revealing flower petals and tiny pearls of tangerine and mango.
Dip into Girona's coastal riches at the graceful, hyper-local Sentits, which opened in 2016. Dishes include smoked eggplant cream served with Spain's finest anchovies ($6), those from nearby Escala; they're packed in salt rather than oil, in the tradition of the ancient Greeks. (Escala has an anchovy museum and a salt festival.)
Go back to where it all began at El Motel, the birthplace of modern Catalan cuisine. Before the Roca brothers and Ferran Adrià and his famous El Bulli, there was a hotel on a highway. And this is where Josep Mercader opened El Motel in 1961 in Figueres (26 miles north of Girona), where he brought together the decadence and polish of French cuisine and the natural abundance of the Catalan coast and countryside—it was locavore long before that was a buzzword. Today, Mercader's son-in-law Jaume Subirós carries on the tradition. Deep-fried anchovy spines ($12) are served sprouting out of a shot glass; Empordà quail is served with olives and pork cracklings ($18).
What to Do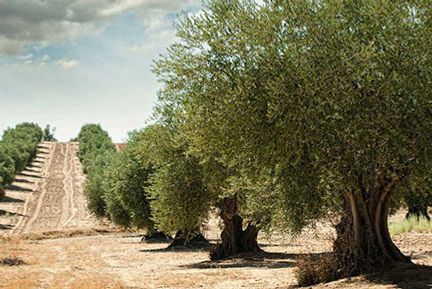 Pay tribute to Catalonia's title of 2016 European Region of Gastronomy at Girona's Mercat del Lleó, which sprawls just east of the river. The 60 stalls offer wild mushrooms from the Pyrennean foothills, pyramids of pears and apples from Girona orchards; from the Mediterranean: octopus tendrils with suction cups intact, and fish both fresh — twitching on beds of ice — and dried, like bacallà (salt cod). Don't miss the botifarra, a deeply traditional pork-sausage dish. Every Catalan is weaned on it.
Watch master carvers cut paper-thin slivers of ham at El Tall (the Slice). Ask for samples, which are laid out on a plate to reveal the varying ages and quality, from Spain's house ham, jamón Serrano — traditionally cured in the mountains (sierras) — to jamón Iberico. The finest ham has generous streaks of white, glistening fat, made soft by the pig's acorn diet; it melts on the tongue like a nutty butter.
If the Oompa Loompas set up shop in Girona, it would look like Rocambolesc, right down to the tiny size. Jordi Roca, the youngest brother and dessert chef at El Celler de Can Roca, runs this gelateria with his wife, Alejandra Rivas. Step in, and you're in a mini candy factory, with peppermint piping snaking along the ceiling and a back wall of pulleys, levers, and pumps that squeeze out rich ice cream. Spoon up concoctions like vanilla with dulce de leche, guava jam, and cotton candy (from $5).
Swirl and sip a glass of wine at Plaça del Vi 7, a wine bar tucked under the arches of Plaça del Vi (Wine Square), a nomenclature that dates back to medieval times, like the nearby Plaça de l'Oli (Olive Oil Square). Ask for the day's selection of local wine (from $4 a glass) from the Empordà, one of the world's oldest wine areas that had lapsed into producing largely forgettable table wines. But now, a new wave of small-batch wineries are winning awards with full-bodied reds and elegant whites. Embark on the DO Empordà wine route, which includes new wineries like Vinyes Olivardots, run by oenologist Carme Casacuberta and her family.
It's not just grapes that flourish in the region, but olives too. In Girona, pop by Local Market, which culls the best of the region, including Serraferran and Anna Salas olive oil. Enjoy a tasting, then visit the source: Oli de Ventalló, in the tiny stone town of Ventalló (population 800-plus), northwest of Girona, which is surrounded by olive groves. Empordà's slate-rich soil lends a unique mineral tang to the olive oil. In 2016, Oli de Ventalló launched tours, including sunrise and sunset walks (from $31).
Expert's Tips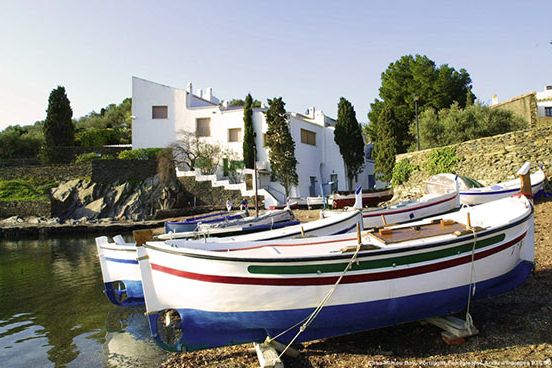 From Miquel Berga, a Girona region native, who is the author of Històries del Motel, which traces the evolution of contemporary Catalan cuisine. He also teaches English Literature at Barcelona's Universitat Pompeu Fabra.
On Catalan menus, keep an eye out for suquet de peix, a fish stew. Catalan fishermen used to take a big casserole on board with potatoes, garlic, tomatoes, and olive oil so that they could toss in the daily catch for a hot meal on the return trip.
For the freshest fish in the region, get to Salvador Dalí's crazy house in
Port Lligat in Cadaquès by 9 a.m. Right in front is a tiny port where you can watch the fishermen coming back with the fish of the day.
The Empordà region has many exciting small wineries, but I particularly admire the wines produced by Celler Hugas De Batlle in the small village of Colera. Their spectacular vineyards, high up in mountains, overlooking the sea, are the first in Catalonia to feel the warmth of the rising sun, and their Coma Fredosa red wine at $15 is a triumph. Also, pay a visit to the small Còsmic Vinyaters in Agullana. Youth, passion, and creativity is what Salvador Batlle's project is all about.
If you're in the area on a Saturday, cross the Spanish-French border and go to Ceret, one of Picasso's favorite places. The Saturday local market is a celebration of the rich tradition of Catalan food and culture that survives beyond country divisions.
My top pick for an off-the-beaten-track restaurant is the rustic Corral de Sant Quirze at the delightful Romanesque abbey of Sant Quirze de Colera in Rabós in Alt Empordà. A unique place.
Resources
Girona Food Tours takes you on trips that delve deep into Girona cuisine, culture, and wine.
For an excellent overview of the city and region, check out the
Costa Brava and Girona Pyrenees tourism website, which covers everything from local festivals to beaches to museums.
Sip your way across the region by following the DO (Denominació d'Origen) Empordà, which meanders through 50-plus wineries in the Empordà.