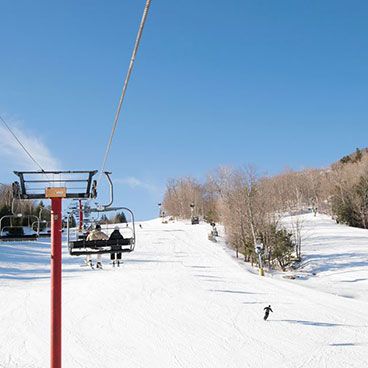 The Catskills offer several excellent mountains for skiing within hours of New York City.
Photo: Courtesy of Hunter Mountain
Where to Stay
Layer on the flannel with zero irony and actual purpose at the Alpine-style Scribner's Catskills Lodge (from $150), complete with outdoor fire pits and indoor fireside nooks, on the doorstep of Hunter Mountain. Opened in October 2016, this 38-room (some with mountain-facing private decks) 1960s-era lodge hardly shows its age following an intense overhaul and a sharp redesign by Brooklyn-based Studio Tack. Hurtling downhill not your thing? Check the events calendar for weekend yoga and meditation classes, or watch others carve out runs as you sip a Misty Mountain Top ($12) cocktail at Prospect, the sleek on-site bar and restaurant. The Swiss-inspired menu from executive chef Joseph Buenconsejo showcases Hudson Valley–sourced dishes such as pork loin to share served with cabbage, sweetbreads, Madeira, and a mushroom sauce. It's a family affair in the kitchen — the chef's fiancée, Mary Choi, is the pastry chef at Prospect. If you didn't save room for dessert after dinner, you can sample her flaky croissants or a slice of dense pie set out each morning as part of the Continental breakfast bar.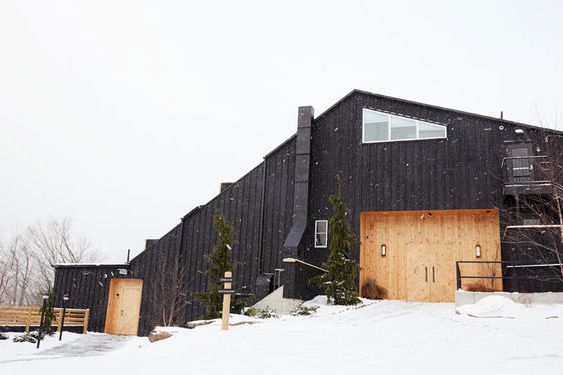 If your idea of après-ski is less live music and booze and more feet up in front of a roaring fire, then the Foxfire Mountain House (from $175) with 11 rooms (all with queen-size beds) and a spacious three-bedroom cottage with full kitchen in Mount Tremper is your spot. It's easy to slip into the role of country squire at this century-old estate, reopened by Eliza Clark and Tim Trojian, the gracious hosts and owners, in the summer of 2015. No corner or nook (look for the little altars everywhere) was overlooked in their cinematic yet relaxed styling of the place, with vintage velvet couches, artful antlers, and Moroccan tilework. A buffet with fluffy biscuits, housemade granola, yogurt, and scrambled eggs is available at the bar each morning in the Foxfire Bar Room. On winter weekends, the restaurant opens in the evenings for hearty fare like French lentil soup ($11). The owners have plans for a glassed-in sauna room and wood-fired hot tub to be added in late February 2017.
Embrace simple mountain living at Spruceton Inn (from $79), a nine-room former motel billed as a "bed and bar" in West Kill. The property has been many things — a Dutch farm, guesthouse, private residence — but most notably it was owned by the Schwarzenegger family. Arnold's cousins cheekily named the family's barroom Conan's Cantina, a moniker the current owners retained; there are now local ciders, beer, and spirits on tap. Warm up with the seasonal, Rhinebeck-made mulled wine Hetta Glogg ($8) and a bar snack. In the winter months, innkeepers Casey Scieszka and Steven Weinberg host retreats, workshops, and an annual artist-residency program (writer Stephanie Danler finished her novel Sweetbitter here).
Where to Eat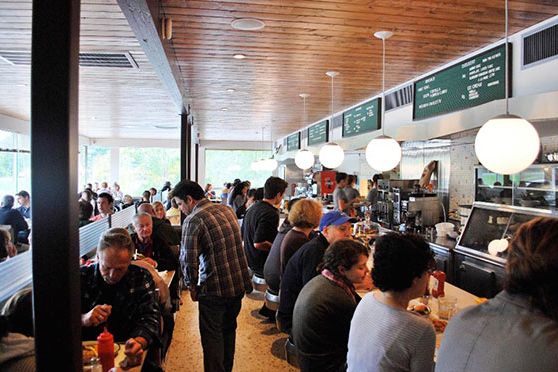 In 2012, former Brooklynite Mike Cioffi took over the 1960s-era Phoenicia Diner on Route 28 in Phoenicia and gave it a kicky revamp, making it the stop-off of road-trip dreams. Breakfast is served all day, and elevated versions of greasy-spoon classics such as the rich duck confit and grits skillet ($11) or fried-chicken-and-waffle sandwich ($12) are the ultimate fuel for a scramble up or down nearby trails. Come spring, a pop-up Airstream trailer on the property will be dishing up quick bites to go.
Straightforward, yet satisfying, Mama's Boy Burgers in Tannersville is the Catskills' answer to Shake Shack. Hoping to re-create the type of local ice-cream stands he frequented in the country as a child, owner Michael Koegel opened Mama's Boy in May 2015. Try a burger from gourmet Angus beef, truffled mushroom, organic turkey, or falafel; add fancy fixings (from $4.95 and up), a side of tater tots ($2.50), and a thick shake ($4). Koegel is also putting the finishing touches on Mama's Boy Pizza, right across the street, pegged for a soft open at the end of January 2017.
If you came to the mountains for tasteful taxidermy and twig chandeliers, then the Deer Mountain Inn in Tannersville is your scene. Built in the 1890s as a summer house for the Colgate family, the Arts and Crafts–style inn (rooms from $250) and restaurant were thoughtfully renovated to preserve period details. The restaurant, with its wood-paneled dining room hung with Hudson River School oil paintings and crackled leather club chairs clustered in front of a roaring stone fireplace, is the sort of place a brawny trapper might have frequented after a day out in the wild. Well, a trapper with a penchant for a sophisticated prix fixe menu ($50) offering venison goulash and a solid wine list, that is.
Venture across the Hudson River to Germantown's Gaskins Tavern, a refined gastropub housed in a late-1890s building that was completely renovated in 2015. Snack on chicken-liver pâté ($12) or more substantial dishes such as roasted littleneck clams with bacon ($19) sourced from area farms and producers.
What to Do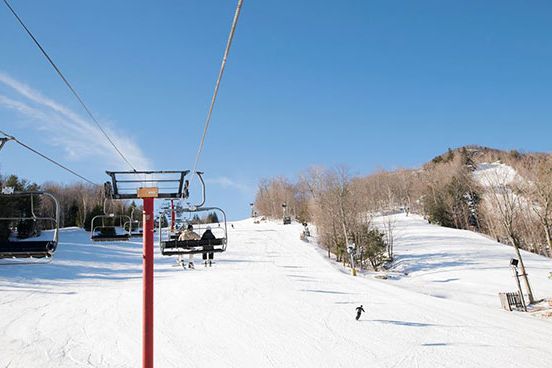 Hit the slopes or snow-covered trails, naturally. Get your gear tuned up or rent skis and snowboards at Hunter Mountain Outfitters in Tannersville. There are three decent mountains with varied runs, all within 30 to 40 minutes of one another. With an elevation of 1,600 feet above sea level, Hunter Mountain is the closest "big mountain" to New York City. The 12 lifts ferry riders to 58 trails and runs with names like Madison Ave. and Bleecker Street. Hunter also features a massive 20-chute snow-tubing park for adults and a mini tubing park for kids. Or try Windham Mountain, where you can hit groomed runs (54 in total) or glide across Alpine trails on cross-country skis or snowshoes. Give the knees a break but still take in the views on a snowshoe summit tour. Set out in the late afternoon on the guided 3.2-mile sunset tour, capped with dinner at slopeside restaurant Seasons. Slightly smaller in acreage than the other two mountains, Belleayre in Highmount still makes for a solid day on the slopes and is a local favorite. Traverse the 50 trails reached by the eight lifts for downhill thrills, or carve your way across nearly seven miles of cross-country terrain.
Winter is the sleepy season here for sure, but there are plenty of diversions for stop-offs on a scenic drive across the Hudson River. Grab a cup of Parlor coffee, and browse tempting house-brand lotions, scrubs, and home goods (many by local artists) at Clove and Creek in Kingston. And Portland, Oregon–based Alder & Co. is opening its East Coast outpost Alder East in Germantown in early February 2017. The shop will feature ceramics, jewelry, and apothecary goodies from local artists and makers from around the globe. Unlike most, the Kingston Farmers Market stays open through winter. Pick up baked goods, homemade soaps, jams, eggs, meat, and seasonal produce from local farmers who come out of hibernation to sell their goods at this indoor market, held every other Saturday through April.
If you need a winter warmer, head to Wayside Cider in Andes. In October 2016, it opened a tap room, so guests can now linger over a pint of their excellent small-batch ciders just steps from the source. Check the events page for winter happenings including Saturday bonfires (complete with s'mores kits for sale), weekend dance parties, and live music on Thursday nights.
Expert's Tips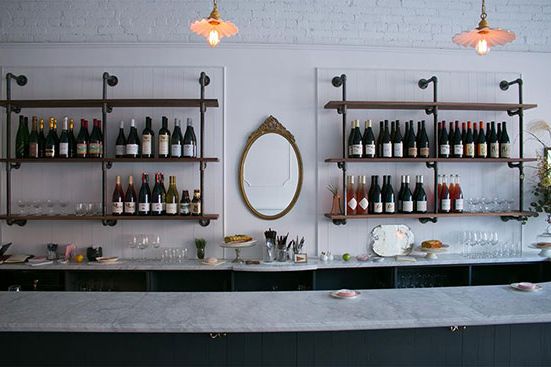 From musician Eleanor Friedberger, one-half of the band the Fiery Furnaces. Her third solo album, New View, was released last January. "I split my time between my home here in Rondout Valley (between the Shawangunk Range and the Catskill Mountains) and the homes of very generous friends with spare rooms and couches in the city—and a life on tour," says Friedberger.
"Hiking in the Mohonk Preserve or Minnewaska State Park is a must; you get the best views of the Catskills from there. After a hike, warm up with a beer and an early dinner at The Mountain Brauhaus. It's an old haunt for rock climbers that opened in 1955, and the bar is plastered with black-and-white photos of the 'Gunks (the Shawangunk Mountains). On your way up to the mountains, stop off in Kingston for a few bottles of wine at Kingston Wine Co., the only shop in the area that has a huge selection of small producers and organic wines. Or pop into Brunette Wine Bar in Kingston for a glass of wine and a snack."
"As for new spots, I'm most excited about the reopening of Slopes in Tannersville. The team behind Brooklyn's Commodore, El Cortez, and the Drift are renovating the hotel, restaurant, and bar."
Resources
Escape Brooklyn is from two Brooklyn-based photographers who cover weekend and day trips, many of them focused on the Catskills and nearby Hudson River area.
Catskill Eats is a food-focused newsletter covering the Catskill region.