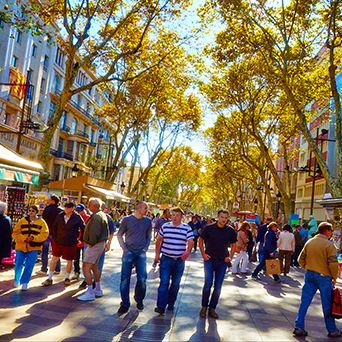 Celebrate Barcelona by helping to preserve its history and integrity.
Photo: Moyan Brenn , via Flickr
Where to Stay
Instead of renting an Airbnb — which was recently fined €600,000 by the city and may be illegally driving up rents and destroying the fabric of its neighborhoods — stay somewhere with a social conscience. Book a room at the beachfront W Hotel, known colloquially as La Vela for its sail-shaped silhouette. Choose a basic "wonderful" room with Med views through floor-to-ceiling windows (from $255 per night) and take comfort in knowing your money supports organizations like UNICEF and Nutrition Without Borders, through which the hotel donates more than a ton of food annually to local soup kitchens. Or check into the Hotel Princess, where you can float in a 23rd-floor sea-view pool while your bill helps provide employment to someone at risk of social exclusion (from $75 per night).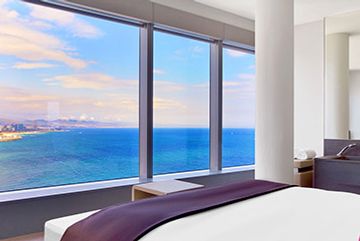 In light of activist mayor Ada Colau's call for a moratorium on new hotel construction, consider choosing a hotel with some history over a brand-new spot. Book the Avenida Palace's Beatles Suite, decorated with newspaper clippings commemorating the Fab Four's 1965 stay at the hotel, which says it has also housed Liza Minnelli, Ernest Hemingway, and Joan Miró (from $167 per night).
Mayor Colau has also suggested that spreading development more evenly around the city could make Barcelona tourism sustainable, so look beyond the overcrowded Gothic Quarter to the neighborhood of Vila de Gracia. Direct your tourist dollars to the indie shops, bars, and restaurants that populate the area, which used to be its own village outside Barcelona's medieval walls. "The Gracia is a great neighborhood for people who already know Barcelona and want to stay a bit outside the craziness," says Ricardo Page, director of the new ten-room boutique Le Palecete, a Relais du Silence hotel. Stay at this 1920s-era textile magnate's residence and former makeup factory and soak in the building's original features (like marble floors and balustrades) while enjoying modern updates (mid-century furniture, designer bathtubs, and Hästens beds; from $187 per night).
Where to Eat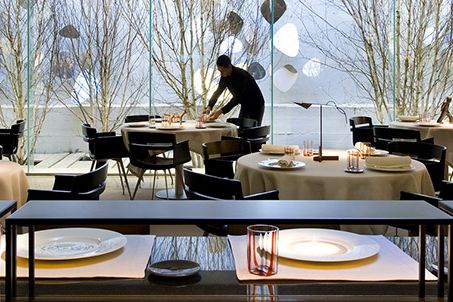 "As a market, the Boqueria has disappeared. It's a tourist attraction," complained Jordi Coy, a regular shopper, while buying meat at a butcher shop in the fabled market. "By definition, a market is a place you come to buy. I don't understand why people would come to a market to take photos." So if you want to visit, do as the locals do and, you know, buy something. Pick up some fruit, wine, and cheese and have a picnic in Parc de la Ciutadella. If you must document your visit for Instagram, ask first and follow the simple advice of Carmen Lopez, whose photogenic market stall has a prominent "No Photos" sign posted by the strands of dried chiles. "Be polite. Don't interfere with the customers. Don't put your camera in their faces. Don't use a flash." Escape mobs by shopping at other historic markets, like Mercat Santa Caterina, built atop 4,000-year-old Bronze Age ruins that are visible through a glassed-in exhibit at the rear of the market, or the gorgeous 1882 Mercat Sant Antoni, which will reopen this fall after a years-long renovation.
If you can't wait a year for reservations at El Celler de Can Roca in Girona, the second-best restaurant on the planet, according to the
World's 50 Best List, try the Michelin-starred Roca Moo, overseen by the same culinary team but located within the city limits and usually bookable at lunch without much advance notice. Take advantage of the four-course lunch special, which includes dishes like a mini Mason jar of squid-ink permentier, plus wine, petit fours, four different kinds of fresh-baked bread, and a variety of amuse-bouche ($51).
Support job-training programs for undocumented migrants just by having lunch at Espai Mescladís, an NGO and outdoor café in the Born. Dine on Moroccan salad and veggie moussaka prepared by an international staff that hails from Senegal, Syria, and elsewhere; the organization gives trainees access to English lessons, art-therapy classes, and internships at top Barcelona hotels and restaurants after the training is done.
What to Do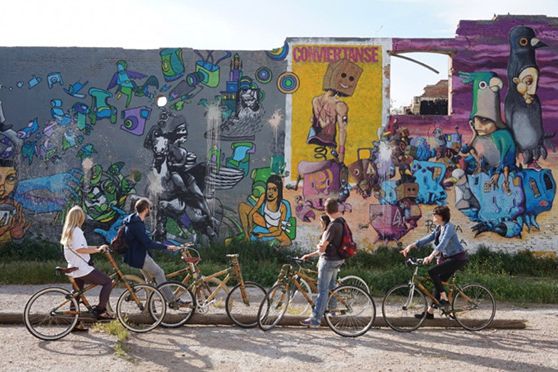 Get your Gaudí fix without the Sagrada Familia crowds at Casa Vicens, a private home the architect built early in his career that will soon open its doors as a museum. Admire his more restrained — but still wild — experiments with stained glass and floral tilework on the geometric exterior and tour the inside of the former private home when it opens to the public later this year. In the meantime, get acquainted with an equally formidable but less stratospherically famous architect of Catalan modernisme like Josep Puig i Cadafalch, who built the curious Casa de les Punxes (House of Spikes) on an oddly shaped corner of the otherwise orderly, homogenous L'Eixample neighborhood. Tour a portion of the building, including its signature spiky turrets, thanks to a newly opened museum on the site; skip the goofy St-George-slaying-the-dragon-themed interactive video on the first floor and head straight for the roof for panoramic city views and exhibits that explain how sources as varied as Catalan nationalism, Richard Wagner, and Bavarian architecture influenced Puig i Cadafalch's work (from $13).
Instead of waiting in line for hours at the Picasso Museum, sign up for a street-art tour, traveling either by bike or on foot. Check out pieces by some of the world's best graffiti artists in the narrow medieval alleyways of the Gothic Quarter, Born, Raval, and industrial Poblenou (from $15.50 per person). Then stop by Base Elements, an urban-art gallery in the Gothic Quarter, to browse art books and works on paper and canvas from top street artists like Btoy and Pez.
Skip the double-decker tourist bus and instead try a
Hidden City Tour, a social initiative that employs tour guides who have experienced homelessness in the city. Take a walking tour of the Rambla with someone who can tell you what it's like to sleep on it and walk away with a greater understanding of the human toll inflicted on the city by the global financial crisis. Or visit the Boqueria market with a former chef who was able to get back on his feet thanks in part to this program (from $15.50 per person).
Expert's Tips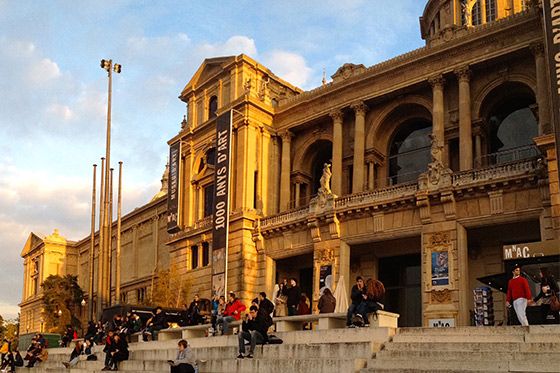 Eduardo Chibás, director of the 2014 documentary Bye Bye Barcelona — a film on the negative impact mass tourism has had on the city — on how visitors can enjoy the city without destroying what made it special in the first place.
"Try to avoid traveling in huge groups, and staying in tourist apartments. And if you're going to stay in one, make sure it's legal. The city council has a page where you can put in the address of the place, and it'll tell you if it has a license or not."
"I love the Poble Sec neighborhood, because there's a lot of very good places to get something to drink or to eat, and it's not too touristy yet. Near Sagrada Familia, there's a very traditional Catalan place called Yaya Amelia (c/Sardenya 364), a neighborhood restaurant with high-quality food that's not too expensive."
"My favorite place to go is Parc de Montjuïc. There's a ton to do there — the Museu Nacional d'Art de Catalunya has a tremendous collection of Romanesque art — and there's a few bars with terraces where you can sit calmly and enjoy a nice view of Barcelona."
"There are always a ton of people at the Sagrada Familia, Park Güell, the Gothic Quarter, and the Boqueria, so if you want to walk and enjoy it, go very early in the morning. We need to think about how to limit the negative aspects of mass tourism in the future, because there's no going back."
Resources
Read up on upcoming art exhibitions, restaurant openings, and weekend events in one of the city's many multilingual culture mags, including
Le Cool Barcelona, BCN Mes, and Miniguide.
Stream the documentary Las Calles Hablan (The Streets Speak) for a primer on Barcelona street art.
Find more tips and resources on sustainable, responsible tourism on the city's own website and Let's Share Barcelona.