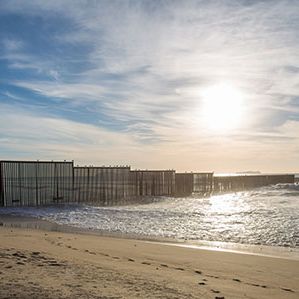 The Tijuana–United States border is marked by the muro, Spanish for "wall," the barrier between the countries.
Photo: Tony Webster, via Flickr
Where to Stay
Scale a discreet flight of stairs from Tijuana's storied Avenida Revolución to reach One Bunk, a nine-room micro-hotel where you can book a queen or bunk-bed room, each done up in a modern-industrial-meets-Baja style. Crack a Lupulosa IPA from local craft brewer Insurgente upon arrival (courtesy of the house), then head for El Roof, home to an in-house coffee roaster, killer city views, morning yoga classes, and the occasional open-air film screening or pop-up bazaar. Get a customized itinerary from the "bunk concierge," who can coordinate cross-border transportation and point you toward great restaurants, coffee bars, and galleries ($65/night midweek, $100 on weekends).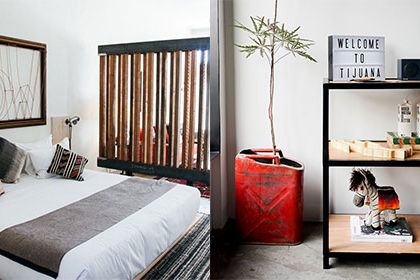 Live like the local artists used to at Estación Federal, a 1940s-era gas station turned artists' compound turned abandoned drug den that was recently converted to a hip, multi-use live-work community by architect Rodolfo Argote and entrepreneur Miguel Marshall. Book Miguel's spacious third-floor apartment on Airbnb ($75/night)—complete with art books, original Abstract Expressionist canvases, and a tiled terrace with views of the border crossing—then head downstairs to the contemporary-art gallery to see work by international artists dealing with trans-border issues. Take in murals by top Tijuana street artists like El Norteño, Panca, and Rod Villa as you sip a beer at the on-site tasting room of a local brewery, slated to open in February.
Starting this fall you can book the new Aloft, a more affordable spinoff of the W Hotel that'll be a welcome addition to the city's hotel scene. In the meantime, stay central at the recently refreshed Real Inn, a serviceable business hotel with 264 rooms and suites that come equipped with wooden floors and panoramic views of the city. As for a room on the executive floor to take advantage of better views, cozy bathrobes, and slippers (from $130/night, plus tax, for a standard room).
Where to Eat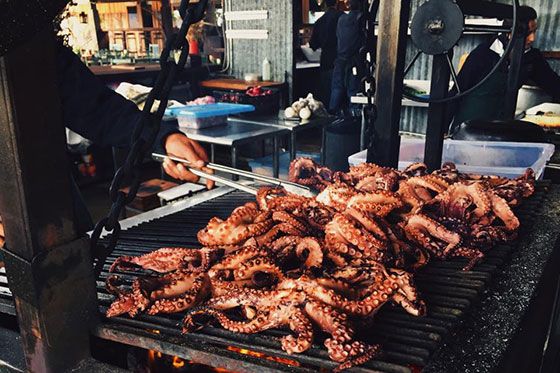 Make a pilgrimage to the spot that put Tijuana fine dining on the map: Mision 19, where Mexican food doesn't mean carne asada burritos as much as fresh Pacific seafood with a Mediterranean twist. Reserve your table in advance at Chef Javier Plascencia's flagship dining room on the third floor of a glass office tower in the Zona Rio neighborhood. Make a meal out of starters like scallop parfait with avocado meringue, Persian cucumbers, and chile-corn "sand" ($8.25); roasted bone marrow with corn tortillas and charred onion ($7.25); and grilled octopus with elephant garlic, pistachios, and burnt-habañero oil ($10.65). For dessert, finish with a selection of cheeses from Oaxaca ($4). Ask for help pairing the dishes with something from the extensive wine list, with bottles selected mostly from the nearby Valle de Guadalupe wine country. If you like what you've tried, stop by La Contra wine shop next door to pick up a bottle to take home.
Stumble on super food and great design in the unlikeliest of places: a former bus-drivers'-union office on a nondescript, potholed street just off Agua Caliente Boulevard. Take a seat in Verde y Crema's indoor-outdoor dining room amid murals by TJ street artists while you study a menu by Chef Jair Tellez, whose wine-country and Mexico City restaurants have both spent time on Pellegrino's list of Latin America's 50 Best Restaurants. Get the Korean beef tacos with turnip kimchee ($8) and pork shank confit with black beans and avocado ($13.50); most dishes are cooked over olive wood from the Guadalupe valley and most ingredients—from the beef cheeks to the beets to the beer—come from local purveyors.
Stretch your pesos even farther at Telefonica Gastropark, an upscale food-truck park in a once-vacant lot in downtown Tijuana. Take a lap and browse the chalkboard menus at the dozen or so stalls selling anything from scallop tostadas to ramen to chargrilled tomahawk ribeye steaks. Come by early for Instagrammable brunch plates like ricotta-honey toast ($2.75) at Azarosa, or park it at Humo and indulge in the only meal you'll need to eat all day: the El Bacon, a house-made smoked bacon sausage served with mayo, mustard, and bacon jam on a fresh-baked roll ($4). Throw in an agua fresca ($0.75) or a Perro Del Mar IPA from Cervecería Wendlandt ($3.50), and you'll still be out the door for less than $10.
Or leave the "food curation" to the pros at Club Tengo Hambre, a movable feast for foodies. Join other hungry explorers on Tijuana taco-and-craft-beer tours and mezcal-fueled sojourns through coastal fishing villages and the Valle de Guadalupe wine country (from $75/person).
What to Do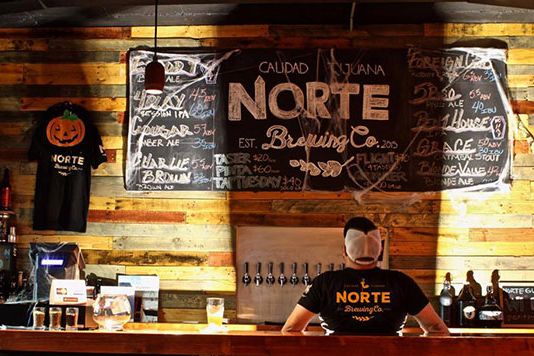 Be a "free tourist" with Turista Libre, a tour company that offers offbeat, "cliché-free" journeys through Tijuana's quirkiest corners. Climb aboard TL's school bus, which has a Ken Kesey–Further vibe thanks to a swirly, colorful interior by local artist David Peña. Sign up to join a few dozen strangers and English-speaking guides for a day at the local water park, a night at the roller disco, a beer-soaked lucha libra match, or an excursion to Caliente stadium to see the Xoloitzcuintles soccer team play. Or book a private tour and have the owner Derrik Chinn, an Ohio transplant, customize an outing for you; themes range from craft breweries to street art to "mega-monuments," including a visit to the stranger-than-fiction home of an eccentric architect who builds houses in the shapes of naked women ($30 to $170/person).
Discover why the border region has produced such thought-provoking contemporary art with a self-guided or group tour of TJ galleries and public-art spaces. Start with the pasajes, a set of long-decaying downtown alleyways that have been reborn as independent cultural centers, complete with small galleries and shops selling local crafts, art books, and souvenirs. Check out the mural in Pasaje Rodriguez by local artist Teak that pays tribute to the TJ creative underground and whose title, #TodosSomosMigrantes (We Are All Migrants), feels especially relevant. Or let the curators of the Museum of Contemporary Art San Diego be your guides on a day-long art-themed field trip; the next one, slated for February 24, 2017, includes a visit to the Ensenada branch of the eminent La Caja Gallery and to the Rosarito studio of artist Hugo Crosthwaite, whose graphite-and-charcoal drawings (held in LACMA's collection, among others) explore the myths and iconography of the border region ($160/person).
Experience a side of Tijuana nightlife that has nothing to do with spring-break-style shot girls or whatever nonsense you've heard about donkeys. Step into an elevator inside a parking garage off Avenida Revolución, and press 5 to arrive at the improbably located Norte Brewing Co., a former strip club reborn as a craft-beer tasting room. Sip a $3 pint of Charlie Brown ale while watching the sunset over the Tijuana arch (modeled after the one in St. Louis but much smaller, it's a downtown marker). Then catch a Latin American art-house flick in the ground-floor screening room at
Cine Tonalá ($2.50), or head for the rooftop terrace for a cognac-and-beer cocktail ($5.50) overlooking the Moorish-style Jai Alai Palace across the street, now a concert venue. Cab it across town to Oryx Capital and make for the back of the restaurant, where a hidden door leads to the Nortico speakeasy; sip a mezcal-based Zaragoza, and pretend you're Clark Gable or Rita Hayworth or any of the other stars who used to dip below the border on the reg during Prohibition. Come back downtown in time to catch a set by a local act like San Pedro El Cortez or Casio-goth Dani Shivers at
Mous Tache Bar. Chat up a barfly over Tecate longnecks at
El Dandy Del Sur, a classic dimly lit dive from the 1950s (one of the city's oldest), then cross the street to shake it to beats from DJ Chucuchu at La Mija de La Mezcalera, a kitschy mezcal bar that's like something out of a Pedro Almodóvar fever dream, complete with neon Virgin of Guadalupe wall clocks and lamps made from cheese graters.
Expert's Tips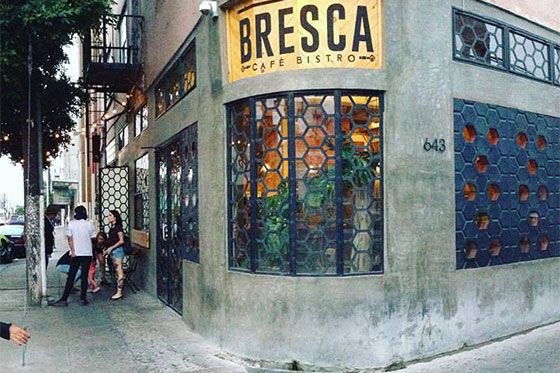 Paola Villaseñor (a.k.a. Panca), a Tijuana visual and street artist. Watch a short documentary about Panca here.
I live and have my studio in Playas de Tijuana now, but I used to live centro (downtown), and one of the things I miss the most is living next door to this taco stand called Los Compadres, on 4th Street in Parque Teniente Guerrero. You go there and say, "Mi compadre!" and he says, "Hey!" and he gives you fish tacos, and they're amazing. I also enjoy getting coffee at
Bresca; I have an emotional tie to the place because it used to be a bar run by some friends and I did my first real mural there. It was closed for a long time but recently reopened as a breakfast place focused on coffee, and the design is pretty futuristic.
Avenida Revolución has always been all about bars, but even if you don't party anymore, you still want go to that street because you run into artists and other people there. Cine Tonalá gives people from all social classes and age groups a reason to mingle and see independent movies. I think Tijuana needed that.
I like Cervecería Mamut because of the quality of its craft beer. Before it came along, you would just go to a dive bar and buy crappy 40s. The company hired me and a lot of other artists to do murals for them at its place in Pasaje Rodriguez. But you can only have one or two beers, because it's really strong. La Corriente Cevicheria Nais is a sort of gourmet take on street seafood, and the prices are really good. They have these ahi-tuna tostadas with fried onions, and I always like the Taco Kalifornia, with a California chile, cheese and shrimp.
Now I live in Playas. Every day I have to go along the muro (border wall) to go home, so I'm very aware of it. If I walk two blocks to the beach, I can see it extending out into the ocean. On the other side, you can see Coronado and all the rest of San Diego, where I grew up, and it makes you realize how insignificant [the wall] is. It seems very against nature.
Resources
Read the essay collection
Tijuana Dreaming: Life and Art at the Global Border (edited by Fiamma Montezemolo and MacArthur Genius/USC prof Josh Kun), especially the work of the late, great border chronicler Rafa Saavedra.
Discover that norteño accordions and techno beats can make oddly compelling bedfellows with this video playlist from Tijuana-based electronic duo Nortec Collective: Bostich+Fussible.
Consider life in a borderless world with the
Borrando la Frontera project, in which artist Ana Teresa Fernandez painted a section of the beachfront border fence to make it look invisible.
Figure out how much TJ craft beer or Valle de Guadalupe wine you can bring back over the border at the U.S. Customs and Border Protection's
website, which has a full list of rules and requirements for cross-border travel.
Get up-to-date info on how long it'll take to cross back into the U.S. on foot or in a car at the CBP's Border Wait Times page.
If you're concerned about crime, check the U.S. Department of State's
Travel Advisories page for information about the risks.