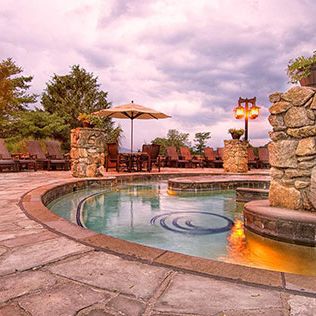 The Omni Grove Park Inn, known as a wellness retreat in the early-20th century, is today a luxury resort with a 43,000-square-foot spa.
Photo: Courtesy of Omni Grove Park
Where to Stay
Sleep in old-world elegance at Grand Bohemian Hotel Asheville (from $169), a 19th-century Bavarian-hunting-lodge-themed luxury hotel. The 104-room property gives theatrical drama, with drawn blood-red curtains serving as the grand entrance; inside, there are stag-antler chandeliers and priceless works of European, African, and American art from the owner's personal collection. There's an on-site art gallery and restaurant, Red Stag Grill, which serves European cuisine made with local ingredients from nearby farms.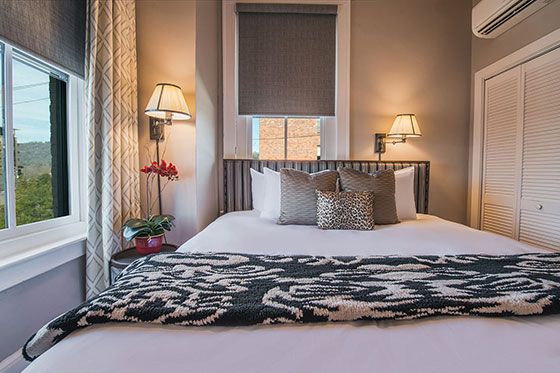 Breathe fresh mountain air at the Omni Grove Park Inn (from $189), where high-society names like F. Scott Fitzgerald visited during the early-20th century (he stayed for two years while wife, Zelda, was in a nearby psychiatric institution). The property was known as a wellness retreat where tuberculosis sufferers could clear their lungs. Today, the resort offers a wealth of New Age treatments in its 43,000-square-foot spa with treatment rooms overlooking the Blue Ridge Mountains. In pre-treatment aura imaging, your hands are placed on sensors and then, using what looks like a vintage Polaroid camera, your particular aura is captured. Next, a treatment (go with the Mountain Honey Wrap, $280), then you're photographed again to see how much your aura has changed. Your therapist will provide a guide to walk you through the meaning of the aura colors.
Crash in your own Parisian-style pied-à-terre at downtown's The Windsor Asheville (from $199). The 14-suite boutique hotel, housed in a 110-year-old building, was initially renovated to become luxury condos before making the switch to a hotel property in late 2014. Each room is decorated with eclectic furniture and artwork sourced locally and from Paris. Guests get a shopping discount at the property's home-décor and apparel boutique, Désirant.
Where to Eat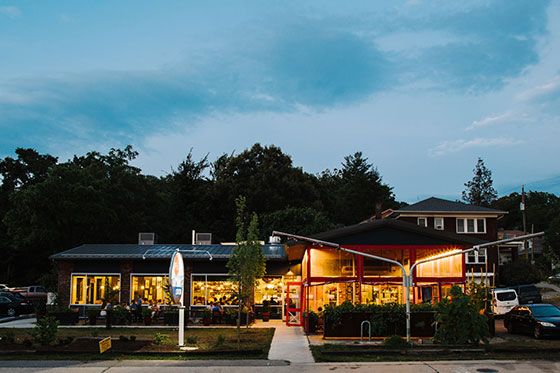 East Asia meets the Southeast at Gan Shan Station, a former gas station turned cozy eatery. Groove to 1960s soul music as the super-friendly and knowledgeable staff talks you through the ever-changing menu of Pan-Asian dishes. Despite its location, Gan Shan Station sources many of its ingredients locally, thanks to the nearby Misomaster Organic Misos, the oldest organic-miso producer in the country, and Lao rice farmers about 45 minutes from the city. Start with the red-miso shrimp toast ($10) served on baguette slices from nearby City Bakery and the spicy-sweet Korean-style chicken wings ($8.50). For a main, try the Spicy Drunken Noodles ($17; it's a two out of five on the spicy scale, but you can ask for more heat). And ask your waiter about the off-menu Laotian sticky-rice cake served with lemon-soy dipping sauce.
Sip carefully crafted cocktails in a former pharmacy turned modern-day apothecary bar at Sovereign Remedies. Glass beakers, bottles, and stirrers serve as inspiration to the talented bartenders and pay homage to the homemade medical remedies commonly used in sparsely populated mountain towns like Asheville in the 19th century. Try the Pre-Hangover Tonic, which is stacked with milk thistle, Shatavari root, coconut water, and more to hydrate and fight liver inflammation before a night of drinking ($6; $12 with aged rum). The menu changes with the season to reflect the freshest ingredients, but the Root Daiquiri ($8) with aged rum, sarsaparilla, burdock, and dandelion (all sourced from the local herb shop Herbiary next door) is an anchor item.
Dine in stacked metal shipping containers along the French Broad River at Smoky Park Supper Club. North Carolina is known for barbecue, but that's not what you'll find here — though nearly every menu item is kissed with smoke. Start with the wood-fired mussels, served on a cast-iron platter straight from the oven, with embered fennel, smoked garlic, and lemon crème fraîche ($12). For supper, order the whole, crisp-skinned Sunburst Farms trout, with preserved-lime sauce and cabbage chow chow ($26). It comes with a side: Get the earthy, smoky local beets with charred citrus farmer's cheese.
What to Do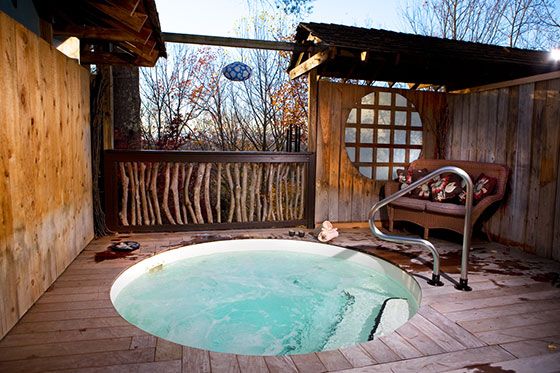 Cleanse your lungs from the inside out at the Salt Spa of Asheville and Himalayan Salt Cave. The therapeutic treatment is known as halotherapy, the act of breathing in fine, dry salt particles to cleanse airways. Cuddle up with a blanket and warmed neck pillow in an anti-gravity chair among millions of pink, glowing salt crystals during a 45-minute session ($35). Negative ions in the air will balance the nervous system and increase the flow of oxygen in the blood, inducing a deep sense of relaxation and, most likely, a nap. Before you go, check the calendar for special events like sound-therapy sessions in the salt cave. Up the serenity factor with a hot-salt-stone massage ($120 per hour).
Trek high into Pisgah National Forest to get to Shoji Spa & Lodge for a soak in the only Japanese-style bathhouse on the East Coast. After rinsing in the slate-tiled showers, don a yukata (cotton robe) and sandals and head to your private outdoor hot tub overlooking black pines and Japanese maples ($45 for a one-hour spa pass). Each bath pavilion is completely secluded, so you can even feel free to soak in your birthday suit. Mix stints in the hot tub or cedar-lined sauna with dips in the icy-cold plunge or outdoor arctic shower.
Discover the local culinary bounty in the mountains surrounding Asheville with No Taste Like Home Wild Food Adventures. Owner Alan Muskat leads a group of hunter-gatherers armed with buckets and digging tools to wander through fields and forests, identifying in-season edibles. Choose the forage-to-table program on the three-hour Asheville tour (suggested donation $75; proceeds benefit the Afikomen Project, a youth foraging-education program). Then, pick from one of six local restaurants (like Rhubarb and Nightbell) to prepare a free dish from your findings — all you pay for is the remainder of your meal. (Call ahead, then bring your ingredients to the restaurant three hours before your reservation.) New to foraging? A mini-tour ($40; 90 minutes) takes place on the grounds of the Omni Grove Park Inn, and onsite restaurant Vue 1913 will craft a free appetizer from your items.
Expert's Tips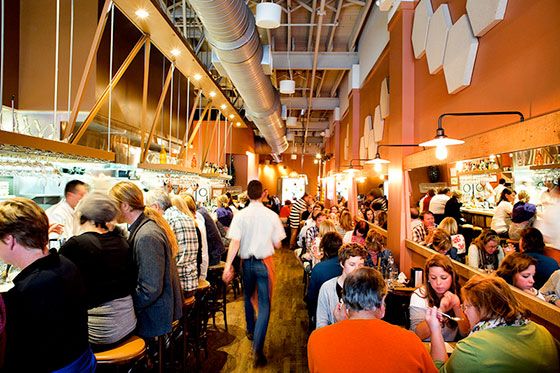 From Jillian Kelly and Kim Allen, owners of Asheville Bee Charmer, a honey boutique featuring local and regional artisan honey, honey-based skin care, and bee-themed apparel.
The brandada de bacalao at Cúrate is spectacular. It's puréed with potatoes and served with hot bread. And everything the restaurant serves its meals in is as gorgeous as the food tastes. The education of the waitstaff is also impeccable.
The menu at Dobra Tea in West Asheville is thick, and you can choose between hot and cold teas or whatever you want, but it's really all about the experience of going in there, having a vegan meal, sitting on pillows on the floor, and enjoying yourself. It's such a laid-back, warm place.
You can spend a full day in the River Arts District. If you go on a weekend, you can see the artists working in their studios.
Malaprop's Bookstore is one of the best independent bookshops I've ever been to. When you first walk in, there's a whole list of books that the staff has read and recommends, so it's a great place to go to if you want to know what's new.
Second Gear consignment store in West Asheville is such a local secret. It's where you can find new and slightly used sports and outdoor athletic gear. You can buy everything from Patagonia pants to a tent or stand-up paddleboard.
Resources
AshevilleGrit and AshVegas detail all the local goings-on in arts, food, and lifestyle, and report on town news.
Explore Asheville is unlike your typical tourism website, offering articles and content from local writers and bloggers, as well as an event calendar and lodging packages.
Asheville Lifestyle magazine and WNC magazinespecialize in features about the people of Asheville, the history of the town, and outdoor living.