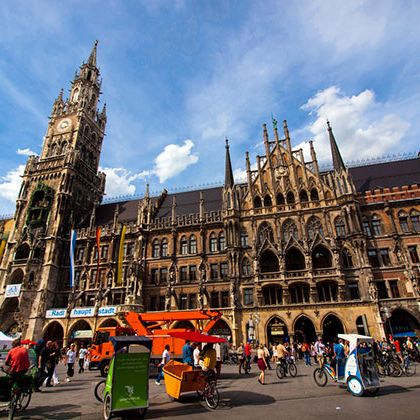 Where to Stay
Ace Hotel devotees will feel right at home at the Flushing Meadows Hotel (from $200), a strikingly cool newcomer in the gritty-hip Glockenbach district run by a trio of young Germans with backgrounds in design and bars. Occupying the top two floors of a former post office, the hotel features a skinny terrace overlooking the city's rooftops and a moody fourth-floor bar (think silver upholstered walls, taxidermy, copper tables, and low-slung couches) that functions as a living room for Munich's creative class. After a night of bar-hopping, recharge with a green juice at the hotel's street-level juice bar, Super Danke.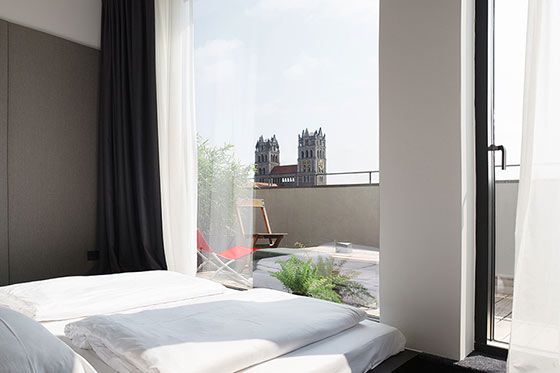 Discreet is the name of the game at the Louis Hotel (from $334), whose subtle signage and hidden lobby provide a sense of being cloistered away from the bustle — even though you're right at the heart of the old city, overlooking the famous open-air market Viktualienmarkt. The hotel's 72 rooms are a study in Danish-meets-Japanese elegance, featuring lighting by Munich design lab Winhart, moss-green velvet sofas, and ikat rugs, along with ingenious cabinets inspired by steamer trunks. On a balmy night, the soigné rooftop bar (a rarity in this town) is the place to be seen.
Spread out at Derag Livinghotel (from $200), a German mini-chain with strong green credentials and sleek, spacious apartment-style rooms. There are several locations, but the one overlooking the Viktualienmarkt is the one to beat, with its proximity to historic Marienplatz Square and some of the city's most buzzy neighborhoods. The vibe is youthful — the lobby sports enough reflective surfaces to suggest a low-key nightclub — but the largely black-and-white rooms are havens, with dreamy beds, soundproof windows, and soaking tubs. Thoughtful touches abound, like free Wi-Fi and complimentary beers in the mini-bar.
Where to Eat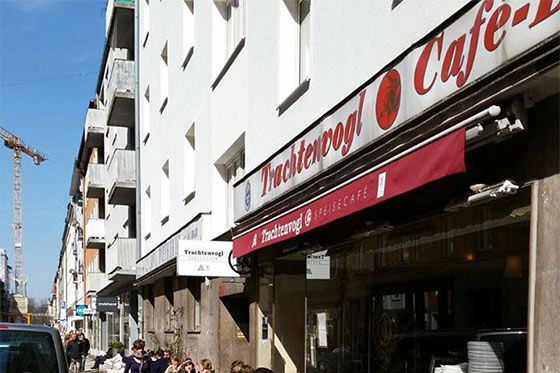 Tuck into a Weisswurstfrühstück, or traditional German breakfast ($7.50) — pretzel, white sausage, and mustard — at Trachtenvogl, a magnet for artists, hipsters, and assorted avant-gardists located in Gärtnerplatz, Munich's epicenter of cool. To a hip-hop soundtrack, waitresses in striped Breton tops move among patrons slouched on kitschy velvet sofas in the lounge-inspired café, whose every surface is adorned with vintage tchotchkes.
Snag a seat in the dramatic open-plan dining room of acclaimed vegetarian restaurant Prinz Myshkin, with its high ceilings, arched windows, huge abstract paintings on linen, and a living tree at its center. The shtick here is transforming traditional comfort-food dishes like stroganoff into meat-free flavor bombs, but there are also plenty of vibrant salads on offer for the carb-phobic. With its location at the heart of the old city and its sunny ambience, it's a perfect spot for lunch.
Herbivores will find nirvana at Tian, a high-end hot spot that continues to set the standard for plant-based fine dining. A five-course tasting menu ($55) makes ample use of unusual market bounty in dishes like cauliflower soup with curcuma (turmeric) and chestnut mushrooms, and a chickpea stew with bergamot and watercress. Plus: There's a fantastic wine list featuring European varieties suited to the delicate complexity of the dishes. Founder Christian Halper steers the kitchen toward sustainable produce and fair-trade purveyors, so expect to feel full of both virtue and delicious food when you roll out of the silver-accented dining room.
What to Do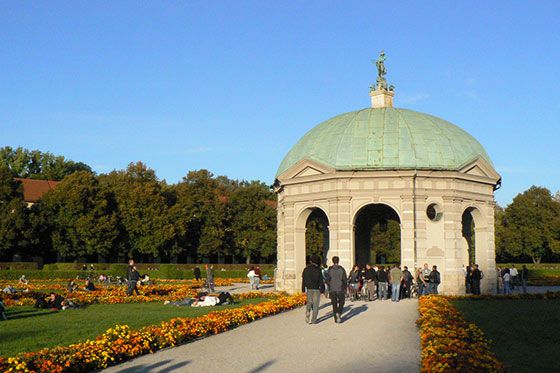 Download the Next Bike app and grab a two-wheeler (from $1.10 per hour); the city's new bike-share program hopes to help transform Munich into Europe's premier biking city. Start with a journey through the English Gardens, a swath of parkland bigger than Central Park and considerably more open-minded — you can drink beer (look for roving vendors on bikes), sunbathe completely naked, and try urban surfing on the standing waves in the canals. Stop for refreshments beneath the chestnut trees at the Chinese Tower beer garden, a 7,000-seater that's one of the city's finest. (Most of Munich's beer gardens allow you to bring your own food.)
Stock up on provisions for a DIY lunch at the Viktualienmarkt, which features purveyors vending wares as varied as cheeses, foraged mushrooms, and weisswurst, or head to the newly minted Munich outpost of Eataly, just around the corner, for a more Mediterranean selection of delectables. Then visit the banks of the River Isar, which recently emerged from a multiyear revitalization and beautification project that has made it both attractive and environmentally sound — the water is reputedly so clean you could drink it. Afterward, drop by the Seidlvilla, a cultural center set in a beautiful 1900s villa, to wander the gardens and perhaps meet an apiarist at work — it's host to several beehives, thanks to an initiative with München Summt (Humming Munich), an organization devoted to bee conservation.
Find Bavarian heaven at the Hofgarten, a formal Renaissance-style garden whose most striking feature is the Temple of Diana, a pavilion designed in 1615. Cross the busy Prinzregentenstrasse to the southern end of the English Gardens, and you'll be at the Haus der Kunst, an austere 1930s building that has acted as everything from a Nazi gathering place to a casino for the U.S. Army after World War II. (It's now a contemporary-art museum.) Inside, you'll find one of the city's most beautiful watering holes, Die Goldene Bar. The cozy inside bar boasts a gorgeous chandelier and 1930s landscape wall murals by Karl Heinz Dallinger; on the alfresco terrace, you can raise a toast to Munich's green heart as you gaze out over the trees.
Expert's Tips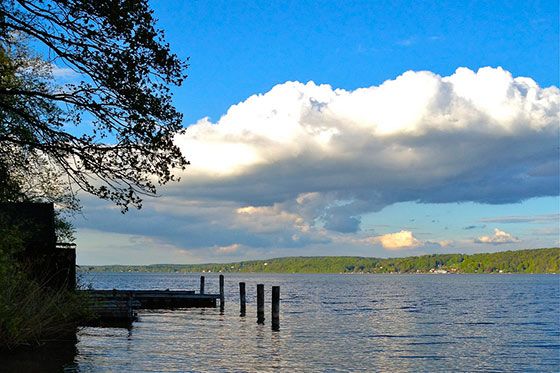 From Helmut Geier, a Munich-based DJ and fashion collaborator who goes by DJ Hell and runs the record label International DeeJay Gigolo Records. He has also produced music for fashion shows by designers including Hugo Boss, Raf Simons, and Donatella Versace.
I love to go to the bar at the Königshof Hotel because it's the most chic place to meet people, talk, or eat, and you can be sure that nobody knows you. The hotel is going to be remodeled soon, so go while there's still time to see some of Munich's finest design from the 1980s.
Shoe Bertl is famous for handmade leather shoes in a Bavarian style called "haferlschuh." This is traditional footwear of the highest quality; there are rumors that Bertl also made shoes for the pope.
Don't miss the small, legendary Werkstattkino, an independent movie theater that features the best of the best. Movies are played mostly in their original versions and screen at 9 p.m. and 11 p.m. every day.
If you're looking to get out of town, Starnberger See is a lake not far outside of Munich that's frequented by all kinds of people from the city. It's a great spot to go swimming and sailing or just spend a day relaxing in the sun.
Resources
Consult Green City for environmentally forward projects and activities around town, from free rentals of a cargo bike to the twice-yearly Street Life Festival, during which 200,000 people reclaim the streets as Munich's main boulevard, the Leopold and Ludwigstrasse, is transformed into a giant pedestrian promenade.
Get all the insider intel on happenings in the city from the Munich aficionados on Spotted by Locals, which gathers insider tips from hand-picked girls and guys about town.
Follow the joys and travails of expat blogger Elena as she navigates quotidian life on My Adventures in Munich, which offers handy tips on where to eat, shop, and play in the city, along with useful primers on topics like biking and "German TV explained for foreigners."