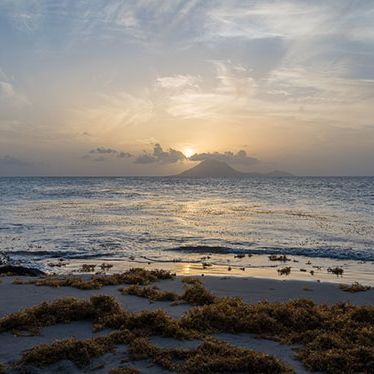 St. Kitts and Nevis offer serene seclusion — like at the Atlantic Ocean–abutting Belle Mont Farm resort.
Photo: Courtesy of Belle Mont Farm
Where to Stay
Become one with the environment at Kittitian Hill's Belle Mont Farm ($299), an under-the-volcano, farm-to-table property dreamed up by founder Val Kempadoo. The 400-acre campus sits high up in the rain forest of St. Kitts — in between dormant volcano Mt. Liamuiga above and the Atlantic Ocean below. Stay in one of the King guesthouses, each complete with an open-air bath, an oversize king bed, an infinity pool, and a veranda with views of fields, sea, and sky. Be sure to do the nursery tour before you leave to learn about foraging and the fresh fruits and vegetables served the resort's two restaurants. Farmers will let you smell and taste the crops before they hit the kitchen — that is, if the resident green vervet monkeys haven't already eaten them.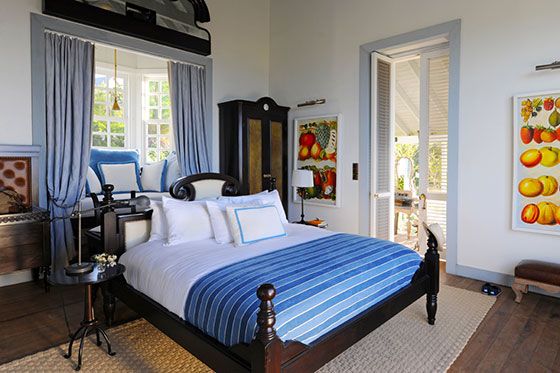 Sleep in solitude at Ottley's Plantation Inn ($285), a dreamy, sophisticated escape on the northwest side of St. Kitts. Towering palm trees line the drive to the large yellow Great House, where the lobby and some of the 23 rooms on property are located. A supreme room in one of Ottley's stand-alone cottages offers a Jacuzzi and a private patio with a sun deck and plunge pool, while queen beds and ocean views greet guests in standard rooms. Play croquet on the sprawling 35-acre lawn, take a dip in the (mostly) adults-only spring-fed pool, and finish your day with a deep-tissue massage in the private Mango Orchard Spa, housed in a cabin that's perched along the rim of the rain forest.
Get away from everything (and everyone) at Golden Rock Inn ($200). Restored from a 19th-century sugar plantation, the 11 rooms here sit unobtrusively on the slopes of Mt. Nevis. Lush tropical gardens surround the rooms and drape over pools and the old stone masonry. The standard garden rooms are located in cottages and include queen beds, private terraces, and complimentary breakfast at the Rocks restaurant. If you want to splurge, try the Sugar Mill Suite (starting at $350) — a family-style accommodation located inside an actual sugar mill. An oversize king bed and full bath sit upstairs, while twin beds and another full bath can be found on the first floor. Its location offers views of Nevis Peak, the lush gardens, and the Atlantic waves rolling up to the nearly private Windward Beach.
Where to Eat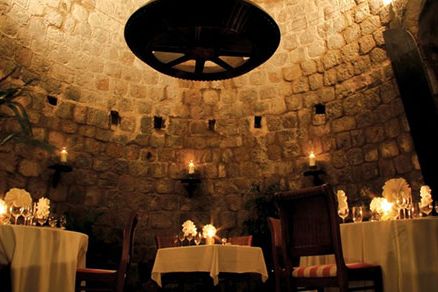 Marshall's Restaurant, located on Frigate Bay, just south of St. Kitts' capital city of Basseterre, offers a wide array of dishes, from fresh seafood to Italian to Asian, in an open-air dining room. Start with the smoked-duck spring rolls ($15), cloaked in a pineapple-ginger glaze, and then go for the grilled rib eye ($33) served with a sweet pepper sauce. Make sure to have a glass of the island-distilled Shipwreck spiced rum (mixed with coconut water) to wash your meal down, and order the homemade sorbet with the bread-and-butter pudding for dessert.
Get in touch with your inner Kittitian at Coopers Bar. Located literally on the side of the road, the makeshift bar and picnic tables may not look like much, but this could end up being one of the best meals you eat on the island. Locals who flock there for lunch order the perfectly cooked stewed mutton, stewed pork, and fried pot fish (all $10; the fish is often caught that morning by the ocean docks just down the road). The macaroni cake and mashed potatoes ($5) are the sides to get. Top the Caribbean-style meal off with a Carib beer and raise a toast to Glenda, the woman who runs Coopers and cooks every meal herself.
Experience an atmosphere like no other at Mill Privée in Nevis. Follow the trail of candles up a long stone staircase, take a seat at one of the intimate, white-clothed tables, and gaze up into the 18th-century sugar silo that provides your surroundings for the evening. The Mill's weekly changing menu is a five-course tasting ($85) for which executive chef Cristian Bassi serves dishes like seared Chilean bass with organic barley. Splurge for a bottle of Champagne (the De Castellane Brut is $110), because, let's face it, when else will you be dining in a 300-year-old sugar mill?
What to Do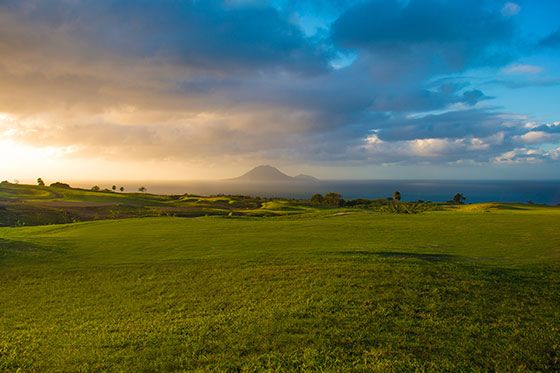 Why hike up and down the hills of the St. Kitts rain forest when you can just zip-line through it? Jack Sparrow and Mountain Dew of
Sky Safari (those may or may not be their real names) will first teach you how to zip on the Monkey Trainer at base camp. Then they'll take your group on a steep, 15-minute drive up through the forest and, whether you're ready or not, you'll crisscross down four lines, 500 to 1,000 feet in length, to get to the bottom again — during which 360-degree views of the ocean, the beaches, and the historic Brimstone Hill Fortress National Park will be all yours.
Spend an afternoon on the "world's most edible golf course" at Irie Fields. Avocado, mango, and coconut trees are just some of the fruit-bearing plantings that line the 18-hole, par-71'er. Signs indicate what's okay to eat and what's not, making golfers feel like they're living in some health-conscious version of Candy Land. Wild flora and strong winds off the nearby Atlantic also come into play on the gorgeous links course — sometimes swallowing a ball or two along the way. But hey: There're monkeys to look out for and Instagram-friendly views at every turn.
Do some good while on vacation and help the NTG (Nevis Turtle Group) track and tag sea turtles. The shores of Nevis welcome Hawksbill, Leatherback, Loggerhead, and green turtles as they lay and nest their eggs throughout the year. Volunteers, along with the NTG, can take notes on where the turtles exit the ocean or dig their holes as a way of protecting the vulnerable species from predation and poaching. Plus: Most of the turtle activity happens at Lovers Beach — a secluded hideaway where you can picnic, swim, and snorkel.
Expert's Tips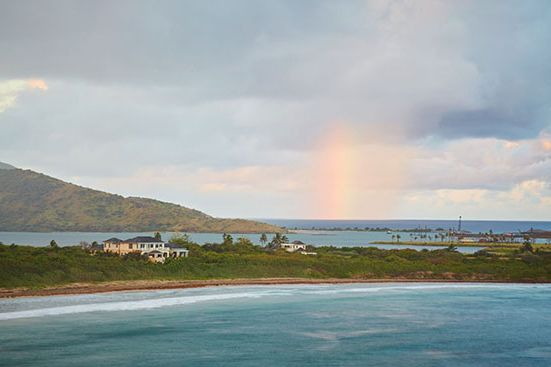 Maurice Widdowson is the owner of Historic Romney Manor and the Caribelle Batik factory.
At lunchtime, I like Boozies. It's on the beach and has a Caribbean atmosphere, very tasty food, and excellent value. My favorite dishes are the oxtail and chicken curry. And Spice Mill's beachside setting is simply sensational, day or night. I'm a bit of a lobster or fresh local fish fan, and Spice Mill has both in abundance.
Sandy Bank Bay is a beach almost unknown by tourists, and it's only accessible by foot. It's about a quarter-mile from the island's main road in the Christophe Harbour Development. Although it's on the Atlantic side, it is completely protected by reef, and the water is very calm. There is no commercial activity on this beach. Just sand, sun, and exquisite ocean.
St. Kitts is steeped in history, so put aside at least one day to discover the amazing Brimstone Hill UNESCO site, formerly known as the Gibraltar of the West Indies. It is a perfectly preserved fort that protected the island for centuries.
Resources
The Experience St. Kitts and Nevis Blog gives visitors an idea of what to pack before coming to the islands and features family, beach, and adventure-related activities.
For details on upcoming events and concerts (like the 2017 St. Kitts Music Festival), check out the St. Kitts and Nevis Observer.
Food fans looking for tours and local gems should visit St. Kitts Food Tours — a site put together by an island transplant that offers lunch, dinner, and, most important, rum tours on a yearround basis.