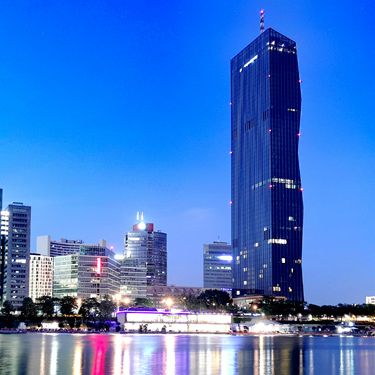 DC Towers No. 1, by the French architect Dominique Perrault, is Austria's tallest building.
Photo: Reza Hosseini, via Flickr
Where to Stay
Designed by Pritzker Prize–winning French architect Jean Nouvel, the 182-room Sofitel Vienna Stephansdom (starting at $280) is a sleek glass-and-steel tower, set aslant, that soars over the banks of the Danube and pierces the city skyline. The hotel's 18th-floor restaurant and bar, Das Loft, is frequented by a glitzy international clientele and offers 360-degree views of the city through floor-to-ceiling windows. Video installations by Swiss artist Pipilotti Rist flash color from the windows, creating an interactive light show that can be seen both from the street and from within. Bonus: slate hammam in the fifth-floor spa and Hermès bath amenities in guest rooms.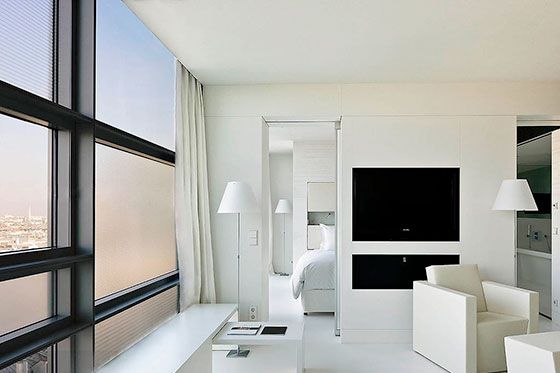 At 25hours Hotel, Vienna (starting at $110), in the achingly cool 7th District, a postwar university dorm turned contemporary hideaway provides a refreshing contrast to the bevy of Baroque buildings nearby. The hotel's 217 rooms, 34 suites, and adjoining hallways are painted with big-top-circus-themed murals, and there's a 2,691-square-foot spa and an outdoor burger stand housed in a vintage Airstream trailer. On Wednesdays in summer, the hotel swarms with locals who flock to Der Dachboden rooftop bar for excellent views of the city and a DJ with a refined ear for jazz.
A concept started by a group of Viennese architects who transform former commercial spaces into well-appointed apartments, Grätzlhotel
(starting at $130) opened a new collection of flats last year, each constructed near a local café or bar that acts as a "hotel reception." There are homes of a former art gallery, lampshade designer, and couture seamstress among the 18 available pieds-à-terre, all housed in spacious, sophisticated quarters throughout Vienna with distinctive traces of the dwellings' original use. These pet-friendly accommodations include mini-bars, kitchenettes with espresso machines, and flat-screen cable TVs. For an additional $16 a day, your four-legged friend receives a dog bed and treats.
Where to Eat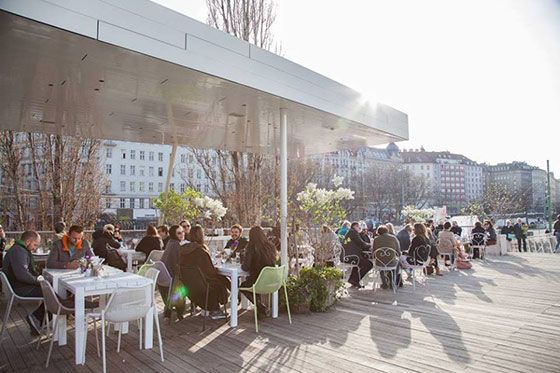 Chic Motto am Fluss occupies two floors of a high-speed boat terminal on the Danube and is part of Vienna's booming canalside renaissance. Well-heeled tourists and locals frequent the upstairs café, but the more formal dining room downstairs steals the show with its dazzling retro décor of mirrored globe pendants, checkerboard floors, and giant windows through which you can see the illuminated skyline. Starters include herbed beef tartare with mushroom sauce ($21), while entrées might be sea bass with chorizo crumble and pumpkin sauce ($30) and duck confit ($25).
While Konstantin Filippou is best known for his namesake Michelin-starred restaurant, which opened in 2013, it's his year-old, casual offshoot next door, O Boufés, that's getting all the recent buzz. O Boufés serves small plates celebrating the chef's Austrian and Greek heritage, such as fava-bean purée with bacon ($10), slow-braised pork cheek ($24), and charcuterie with gherkins ($16) — some of these recipes are included in his new cookbook. The knowledgeable staff at O Boufés are happy to suggest organic wines by the glass to pair with your order.
Last year, celebrity chef Christian Petz took over a simple Gasthaus (a tavern) not far from the Karlsplatz in Wieden, Petz im Gusshaus, where he now offers one of the most authentic bistro menus in Vienna. Bring your own wine for a corkage fee or partake from the extensive regional list to accompany meat-centric Austrian specialties such as Milzagnolotti in Salbeibutter, or spleen-filled agnolotti in sage butter ($19), and Backhenderl mit Erdäpfel-Gurkensalat, breaded chicken with potato and cucumber salad ($21.)
What to Do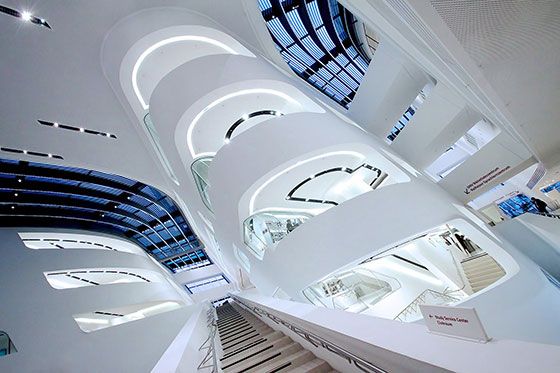 For glimpses of Vienna's ultracontemporary architecture from every angle, hop on a bicycle from Citybike, the city's affordable bike-share program, and pedal along the canal to the Prater, Vienna's equivalent of Central Park and the former hunting ground of the Habsburgs. From here, you'll be right beside the new University of Economics and Business, a mecca of modern architecture opened in 2013 with designs by the likes of London-based architect Sir Peter Cook and the late Zaha Hadid, whose
Library and Learning Centre astounds onlookers, rising like a curvilinear phoenix from the concrete campus.
Return your bike to one of several stations near campus, then stroll back to the city center through Vienna's revived second district, Leopoldstadt, which has, over the last three centuries, been home to the most concentrated settlement of Jews in Vienna. Here, as in Brooklyn's Williamsburg or Tel Aviv's Neve Tzedek, you'll see hipsters brunching in outdoor cafés beside Orthodox Jews purchasing provisions from the kosher butcher. Weave through the fruit and flower stands of the outdoor market, Karmelitermarkt (open daily except Sundays), then sit for a bite of rutabaga flan with puntarelle and black pesto at Skopik & Lohn, a bistro launched by an ex–New Yorker in a former market stall just a few steps from the square. After lunch, move along to TBA21, or Thyssen-Bornemisza Art Contemporary — Augarten, a gallery run by Vienna's dowager countess of contemporary art, Francesca Habsburg. In a sweeping space within the
city's oldest Baroque park, TBA21 holds exhibitions by the likes of Ai Weiwei, Tracey Emin, and Cindy Sherman, as well as interactive classes and open-air performances. If there's time, check out the new MUTH, designed by Johannes Kraus and Michael Lawugger of Archipel, and take in a 5 p.m. concert of the Vienna Boys Choir. Raising eyebrows among some old-school Viennese, MUTH combines modern and traditional elements with its titanium-zinc sloping exterior built into an ancient Baroque gatehouse and wall.
As you make your way back to the center of town, turn your gaze toward Vienna Central Station, with its mirrored, diamond-shaped roof designed by German architect Theo Hotz; it has sparked the creation of an entirely new district in Vienna, Quartier Belvedere. This budding enclave between
Belvedere Palace and the train station is the future home of an upscale residential project and Andaz Am Belvedere Vienna hotel, both designed by Renzo Piano and slated to open in early 2018. Wind down your day with dinner at Motto am Fluss on the landing stage of the Twin City Liner, another architectural hot spot, then head over to Das Loft and sip craft cocktails as you absorb jaw-dropping views of Vienna's imperial-meets-contemporary cityscape.
Expert's Tips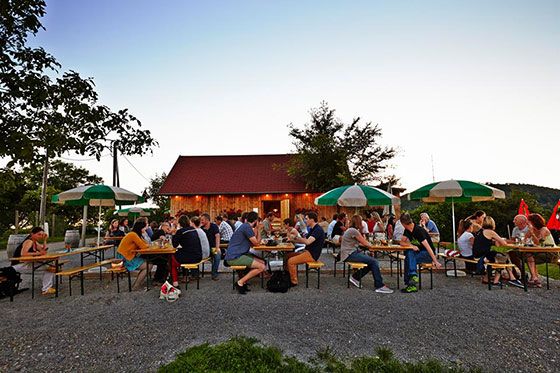 From Erich Bernard, architect and co-founder of Vienna-based BWM Architects.
Any trip to Vienna must include a visit to one of its most beloved institutions, the coffeehouse. Apart from classics like
Sperl and Café Landtmann, there are quirky coffeehouses like
Cafe Korb, where creatives toil away on their laptops surrounded by interiors from the 1950s. Owner Susanne Widl, an actress who has become an icon of the Vienna arts scene, also serves one of the best Apfelstrudls in the city.
For boutiques carrying unique local finds, stroll along Margaretenstrasse near the Naschmarkt. Sandra Heischberger sells tiny, handmade porcelain pieces at Feine Dinge, and next door at Samstag Shop, you'll find fashion by Superrated — a label started by shop owners Peter Holzinger and Christian Moser — as well as other avant-garde Viennese designers.
After a day of shopping, visit a Heuriger, or wine tavern, in the outlying vineyards of Vienna. When heading up to the hills, drive by Karl-Marx-Hof, the longest single residential building in the world and one of the most impressive monuments from the social-housing era of the 1930s. For Heurigen, I recommend Heuriger Wieninger am Nussberg, which offers delicious local wine and snacks and a splendid view of the city and Danube River at sunset.
Resources
Read up on Viennese fashion and architecture on the Viennese Girl, a photo-filled blog by an Athenian stylist now living in Vienna with an impeccable eye for beauty.
Pop by the Architecture Center in MuseumsQuartier which offers guided, theme-based architecture walks and serves as a museum of Vienna's international achievements in the field.
Download the Vienna Tourist Board's handy map and comprehensive guide to architecture in the Austrian capital over the last several centuries.
Book a customized half- or full-day tour of Viennese architecture by a professional architect with niche tour operator Architectural Tours Vienna.