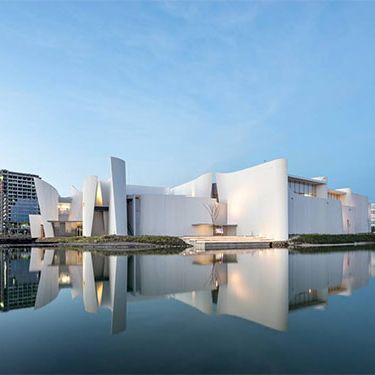 The International Baroque Museum, designed by Toyo Ito, opened in 2016.
Photo: Courtesy of Patrick López Jaimes/Danstek
Where to Stay
Be one of the first to check into the much-anticipated new 78-room Rosewood Puebla, slated to open May 20 near the historic center. Sleep on Rivolta Carmignani sheets and soak in a Victorian-style copper-nickel tub in one of 12 Poblana rooms with 300-year-old original masonry walls. Then head to the rooftop terrace to sip cocktails and take in an almost-360-degree panorama — including, on a clear day, a view of the Popocatépetl volcano from the Talavera-tiled pool. Don't miss the basement bar Los Lavaderos, built on the site of a former communal laundry where 18th- and 19th-century poblanas used to come to do the washing (from $275/night).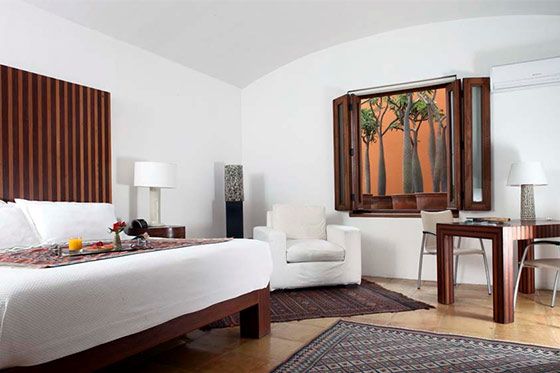 Stay central at the newly opened Casa Rosa Gran Hotel Boutique, with nine smartly decorated rooms and two suites located just across from the city's cathedral. Be sure to ask for one of the brighter street-facing rooms (the interior ones can be a little cavelike), and take in all the sights, sounds, and aromas of the zocalo, or town square, from your balcony. Keep the noise at bay at night thanks to thick soundproof windows (from $100/night).
Live as the colonial-era Spanish did at the recently expanded CasaReyna, with 46 suites spread across a handful of historic 16th-, 17th-, and 18th-century homes. Take in artistic details like hand-carved furniture, woven rugs, and marble baths with Talavera sinks. Drop down to the in-house restaurant for a dinner of crema poblana (creamy corn soup) and the signature chicken in mole sauce, then stroll through the hotel's patios and courtyards, enclosed by looming walls of brick and stone (from $103/night).
Where to Eat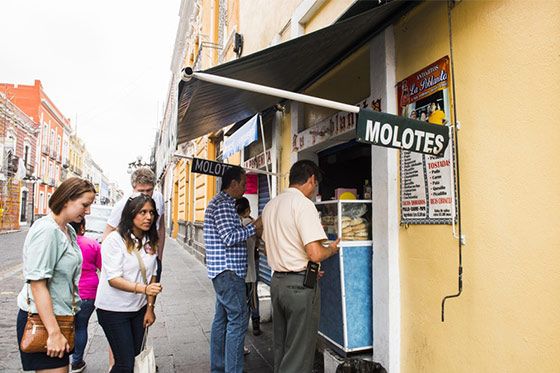 Check out what Puebla's next generation of chefs is up to at Augurio, a recently opened spot from Angel Vazquez just a few blocks from the cathedral at the new Quinta Esencia hotel. Take a seat in the spare dining room and start with something from the cocktail menu, which spotlights tequila and mezcal in drinks like the La Santísima, made with blanco tequila, grilled-pineapple syrup, and grasshopper salt ($6.30). Dig in to dishes like crispy-skinned suckling pig in pipián verde sauce ($12.50), calf's-foot tostadas ($2.50) and chicharrón-crusted prawns served with avocado salsa ($9.50).
Learn to tell your molotes from your empanadas with a guided street-food tour of Puebla, the city that gifted the world with such delicacies as mole poblana and chiles en nogada. Discover the Lebanese roots of Mexico's famous tacos al pastor during a two-hour street-food tour with Soy Poblana ($30/person), on which you'll visit a series of unassuming streetside stands to sample cemitas (breaded-pork sandwiches), tacos árabes (pita-wrapped pork), and fat-crisped chalupas topped with shredded chicken and three kinds of salsa. Or opt for Eat Mexico's more in-depth excursion, which includes a visit to Puebla's oldest market and samples of local sweets like tortitas de Santa Clara, crafted by nuns since colonial times ($85/person).
Snack on ant larvae, toasted beetles, and other ancestral dishes (in season) at the classic El Mural de los Poblanos, named for the wall-size mural that spans the courtyard, depicting actors, politicians, and writers from Puebla history. For inventive breakfasts and lunches, try its sister restaurant Cinco Cocina Urbana, where mornings start with enfrijoladas (mini breakfast burritos bathed in bean sauce; $8.50), and the midday meal ends with flan served three ways: liquid, smooth, and frozen ($3.70).
What to Do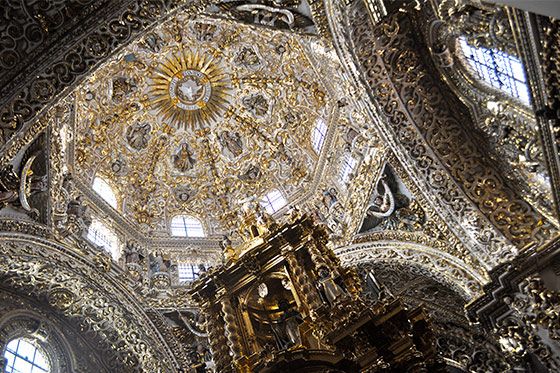 Immerse yourself in the frantic eclecticism of the Mexican Baroque with a tour of some of the city's most impressive and curious churches. Start in the historic city center at the Church of Santo Domingo, home to the Capilla del Rosario, a dipped-in-gold, elaborately adorned chapel built at the end of the 17th century to remind all who entered of the formidable power of the Catholic Church. Hire a cab to ferry you to the next two stops: first, the 18th-century temple of San Francisco Acatepec, with its eye-popping Talavera-tile façade, and the church of Santa Maria Tonantzintla, a temple to an indigenous goddess grafted onto the image of the Virgin Mary. Its interior is entirely covered, every square inch, in intricate carvings of local flora, fauna, and cherubs with indigenous faces. Make sense of it all at the stunning new Toyo Ito–designed International Baroque Museum, with room after room of paintings, sculptures, installations, and interactive displays that explain the movement that pervaded all forms of art in the 16th, 17th, and 18th centuries ($4.25).
Get an up-close look at the craft of Talavera pottery at Taller Talavera de la Reyna. Watch as artisans mix clay, throw pots, and hand-paint an assortment of vases, plates, cups, and even fine-art pieces using centuries-old techniques brought over from Spain (strict adherence to convention is required: Only six very specific colors are allowed, each derived from natural sources and milled on-site using dense porcelain orbs). Shop traditional and contemporary takes on Talavera at the on-site boutique as well as at the gallery across the street, which says it has the largest Talavera collection in the Americas.
Start drinking early at quirky cantina La Pasita, where your sticky-sweet shot of the eponymous raisin liqueur comes garnished with a cube of cheese ($1.30). Sip it while perusing the curios cases full of dubious artifacts, like a pair of spectacles General Ignacio Zaragoza supposedly pawned in exchange for a drink (never mind that he'd been dead half a century by the time the bar opened in 1916). Move on to Sapito Pulquero to join a college-kid crowd in downing 10-peso ($0.50) mugs of pulque, a viscous, lightly boozy drink made from fermented maguey sap; take it natural or cover the funky, tangy taste with flavors like peanut and piña colada. By night, knock back a sangria or two on the other side of the swinging saloon doors at the divey La Terminal Cantina or head for the rooftop Skybar at El Encanto, where you can gaze at the cathedral all lit up while nursing a "pre-Hispanic cocktail" (think bourbon with roasted-corn syrup, lemon juice, and bitters, $6).
Expert's Tips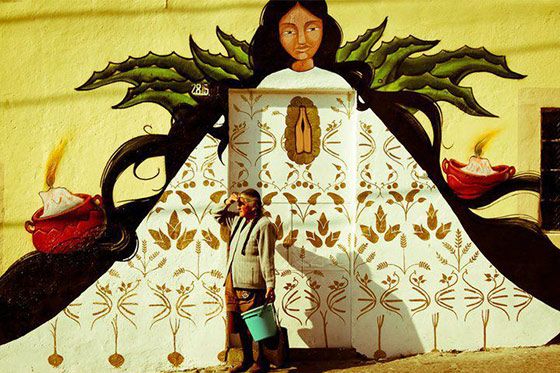 From Paola de la Concha, founder, Colectivo Tomate and Puebla: Ciudad Mural.
Ciudad Mural is a community mural project that began around 2004, a co-creation with artists and the people who inhabit the space. We call in great local and international graffiti artists to depict the preferred narratives of the communities that invite us in: who we were, who we are, and who we want to be. Most of our murals are in Xanenetla, a barrio in the old colonial part of Puebla. It's a beautiful cobblestoned place, but it hadn't been developed economically and had not been supported by the government through investments in infrastructure for almost 40 years. There are about 100 murals spread across the barrio. [See colectivotomate.com for a map of murals around the city.]

Near Xanenetla, there's a small restaurant called Casa Nueve with a contemporary Mexican-coffee-shop vibe and a very hip but simple setting. Different chefs come to cook there seasonally. If you want to eat in a really elegant place, I recommend the Hotel La Purificadora, a cool boutique hotel that used to be a bottle factory. And Pozoleria Matamoros is not an elegant place, but it's fun: You're eating with the locals, and it's really hectic. It serves traditional pork and chicken pozole, and there's a lot of love put into the broth and the preparation.
El Restauro is a restaurant in a beautiful restored colonial home. It's a very refined contemporary approach to Mexican colonial architecture, with really cool design details and yummy Mexican cuisine.
Profética is a library located in a restored building, and it has a lovely bookstore with cool Mexican literature and children's books, plus a coffee shop and bar. It's a great place to go in the morning to plan your day and have coffee.

Resources
The local government publishes a visitor-information website (and app) in English, with downloadable travel guides, hotel listings, festival info, and the like.
Founded in 1646, Puebla's Biblioteca Palafoxiana is one of the oldest libraries in the New World; its English-language website lets history nerds virtually page through some of its most sought-after manuscripts.
To see how Talavera is made, check out this 25-minute documentary (in Spanish) from Canal Once.