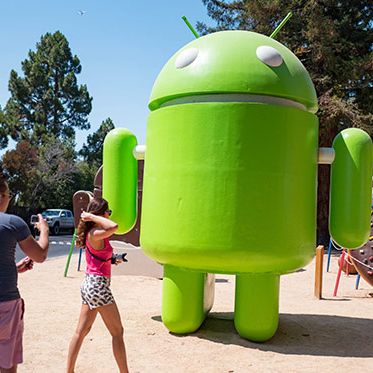 Outside the Googleplex is a sculpture garden featuring figures referencing Android symbols.
Photo: Smith Collection/Gado/Getty Images
Where to Stay
The Epiphany Hotel in Palo Alto, an 86-room property that opened in mid-2014, boasts a fresh design aesthetic that blends nature-leaning touches — think reclaimed-wood desks and tree wall art above beds — with high-tech extras like FitBits available with select room packages (or for purchase). The hotel is just five blocks from the Stanford campus, and free bike rentals make for easy exploration of downtown (if you really want to embrace the hipster-geek persona, request a fixie). Sushi fans will delight over the much-anticipated arrival of Nobu as the on-site restaurant, which is scheduled to open in the summer of 2017. Bonus for leisure guests: Weekend rates (from $310) drop significantly from mid-week prices.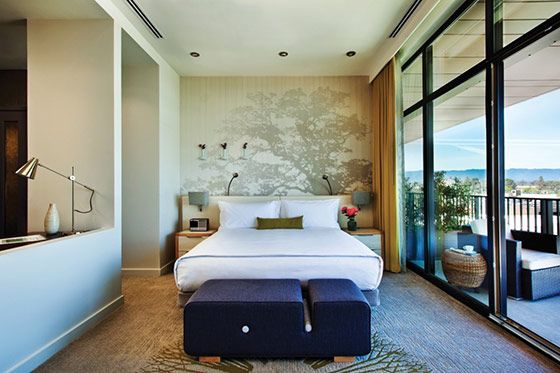 Soak up the romance and opulence of France at the Enchanté Boutique Hotel in the tiny town of Los Altos. Francophile owner Abigail Ahrens has thoughtfully decorated the 19-room property to evoke the feel of a château in the French countryside, drawing from her personal collection of French antiques and artifacts. Rooms (from $225 on weekends) are a refreshing departure from the modern vibe that prevails in Silicon Valley, with romantic touches like majestic beds, marble-accented bathrooms, and wooden windows that virtually beg you to fling them open. Enjoy some alfresco nibbles on the sunny patio — a plate of fromage ($17) accompanied by a glass of French bubbles (from $13) seems especially apropos.
Bed down in the modern minimalist digs of the Nest in Palo Alto. Renovated from a former chain motel, the space is an oasis of calm, starting with the wood-accented lobby and outdoor sitting space, complete with fire pit. Rooms (from $129 on weekends) feature a soothing gray palette and tech-centric amenities like charging stations on both sides of the bed and Apple TV. The on-site restaurant, Fire & Vine, boasts a menu featuring California- and Mediterranean-leaning cuisine. The innovative wine-dispensing system allows you to try a glass (from $8) from a pricey vintage without shelling out for the entire bottle.
Where to Eat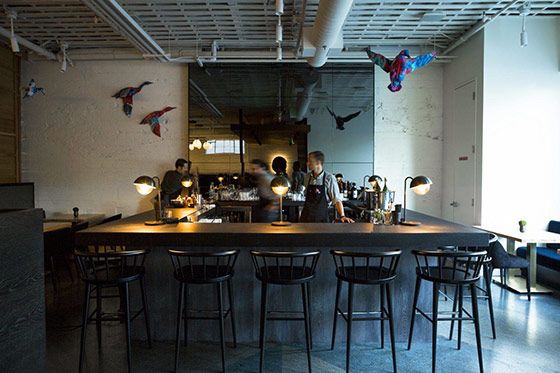 Mangia like a true Italian at Pausa Bar & Cookery, a gorgeous, light-filled spot that opened in January 2017 in downtown San Mateo. Everything is made in-house, including the delectable charcuterie: Pausa is one of only three restaurants in California licensed to make its own, which happens in an on-site curing chamber. Italy native and executive chef Andrea Giuliani shows his prowess with locally sourced ingredients and dishes inspired by authentic Northern Italian cuisine, like the braised lamb shank with polenta, turnips, and spinach ($30). Wood-fired pizzas, which you'll cut with scissors, are a crowd-pleaser: Try one topped with prosciutto cotto, tomatoes, and mozzarella ($24). Reservations are recommended; you can also join locals in the buzzy bar for an Italian-style spritz cocktail ($12), or, on weekend nights, join the hopping new after-hours party called Fermata, with DJs, table service, libations, and late-night eats.
At the ultramodern Bird Dog, executive chef and owner Robbie Wilson's culinary chops — he worked for Thomas Keller and Nobu Matsuhisa — shine with eclectic, sophisticated cuisine that blends East Asian and California influences across a menu divided into raw, hot, and vegetable dishes. Make sure to order the signature wood-grilled avocado with ponzu and fresh wasabi ($15). The wine list is easily one of the most extensive in Silicon Valley; it draws heavily from France, Italy, and, of course, California. And the stunning décor, from the wood-slab tabletops to the hand-blown lighted orbs hanging from the ceiling, is worth a visit alone.
Dig into upscale pub fare at the Oxford, a cheerful Sunnyvale gastropub whose menu is a nod to the street food of London. Choose from hearty classics like fish and chips ($19) and shepherd's pie ($19). Mac and cheese gets upgrades from wild mushroom ($12) and lobster ($24). Keep the British theme going with a cocktail like the Oxford Mule, made with Earl Grey–infused vodka ($10).
What to Do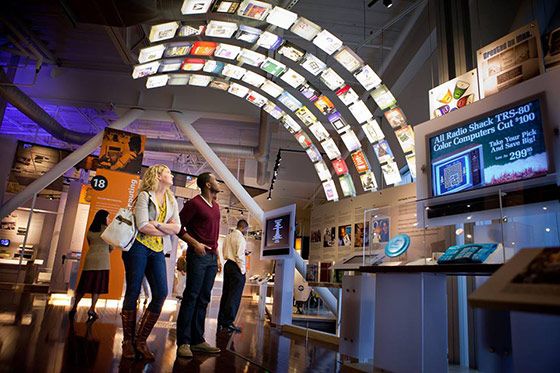 Take a culinary tour of Silicon Valley to see what local entrepreneurs are cooking up. Start off with brunch at Kitchentown, a San Mateo–based production facility and culinary incubator for food start-ups where, at the on-site café, visitors can get a taste of what's happening in the local food scene. Next, learn about sustainably grown cacao at the Chocolate Garage, a tasting room in Palo Alto run by former molecular biologist Sunita de Tourreil. Continue the chocolate education at Alegio, a fascinating Palo Alto shop run by cacao connoisseur Claudio Corallo. Serious carnivores, meanwhile, won't want to miss a visit to Belcampo Meat Co.'s Palo Alto outpost, a hybrid restaurant–butcher shop where you can get an in-depth education and tasty sandwiches featuring pasture-fed meat. Finally, consider a class at Bold Food, run by former neuroscientist Muffie Fulton, who teaches workshops ($165) using molecular and modernist techniques in her garage turned teaching kitchen in Los Altos. The Modern Burger class lets students create burgers, fries, and ice cream using liquid nitrogen and a futuristic gadget called a Pacojet.
No trip to Silicon Valley is complete without a little geeking out on tech landmarks, but forgo pricey guided excursions and opt for a self-guided trek. Start at the Android Statue Garden outside the Google complex in Mountain View, where a cornucopia of sweet treats — a cupcake, an éclair, and a gingerbread man among them — nod to the names of Android operating systems. A lesser-known gem on the Stanford campus is the Cantor Arts Center, whose 44,000-odd artworks include the second-largest collection of Rodin works outside of Paris. Tech geeks and history buffs alike should stop at the Computer History Museum. And for some tech-savvy souvenirs, snag the latest in digital gadgets at b8ta in downtown Palo Alto, which showcases brand-new products from Silicon Valley start-ups.
Sip your way through the urban wineries on the Mid-Peninsula Wine Trail. No massive tour buses or souvenir-filled tasting rooms here: Just in-the-know locals sipping remarkably good wines that are a fraction of the cost of their Napa counterparts. Start off at the newest kid on the block, Flying Suitcase Wines, run by husband-and-wife duo Anders and Vikki Vinther — grab a bottle of their robust Zinfandel ($35). From there, head next door to Russian Ridge, a family-owned winery with a cozy tasting room, for the outstanding Concerto, a Bordeaux-style blend ($28). Also within easy walking distance are Cuvée Wine Cellars, which helped kick off the wine scene in the peninsula, and Domenico Winery, a family-owned winery that specializes in Italian varietals. When your palate is puckered, head to Devil's Canyon, a pioneer in the Northern California craft-brewery scene.
Expert's Tips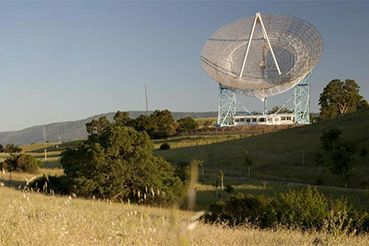 From Addie Iskow, a native of Los Altos Hills who runs the Instagram account @paloaltoca, which covers tech-celeb spottings, local restaurants, and other Silicon Valley news.
The Palo Alto Creamery is this really cool old-school diner that has been around since the 1920s. You can get a quality burger with a glass of Dom Pérignon, called the Bubbly Burger. It also has three different types of French toast, but the classic brioche is a must-try! On Tuesday or Wednesday nights, you'll often see Mark Zuckerberg there with his wife.
I love Bumble in Los Altos. It's a restaurant in this little white cottage with a kids' playground in the back. It's delicious all-organic food and super-Instagram-worthy décor: modern and chic but homey.
The Dish is where all the locals go for a quick hike. It's called the Dish because there's an old NASA satellite dish that the hike goes up to. You can see views of the entire Bay Area, and it gives you an overview of the Stanford campus. And the Rancho San Antonio Preserve also has really good trails that rival the Dish.
At Madera restaurant in the Rosewood Sand Hill in Menlo Park, you're almost guaranteed to see tech founders, CEOs, and venture capitalists. One of their signature dishes is an octopus arm as an appetizer. It serves breakfast, lunch, and dinner, and the restaurant has a really pretty view that you can take in while you're rubbing shoulders with industry elites. And it has especially amazing fresh-squeezed mimosas at Sunday brunch.
Art lovers should visit the Pace Gallery in Palo Alto, which now has a permanent West Coast home below the Cardinal Hotel. There's usually some interesting digital-art exhibit happening there.
Resources
Silicon Valley magazine is the place to go for lifestyle intel around the peninsula, from restaurant reviews to profiles of technology elite.
Palo Alto Online, the website for the Palo Alto Weekly, provides a hyperlocal look at happenings around Palo Alto; check out its calendar for event listings.
Get the lowdown on art performances and shows in the "Arts & Life" section of The Stanford Daily, the Stanford student newspaper.