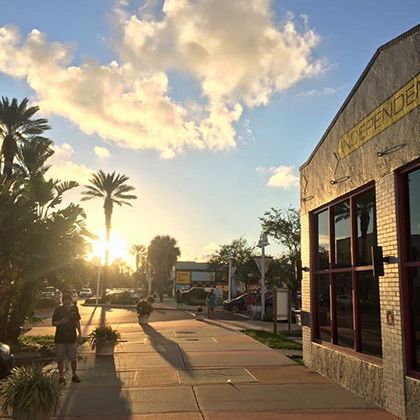 Central Avenue is a major strip in St. Pete that's home to the Central Arts District (it's also home to the Independent beer hall, seen at right).
Photo: Courtesy of the Independent
Where to Stay
The Treasure Island Beach Resort's fresh white façade adds a pop of modern panache to its beachfront stretch. Opened in spring 2016, it has 77 one- and two-bedroom suites (from $190) that offer incredible bang for your buck, all with Gulf of Mexico views, full kitchens, and outdoor spaces. The aesthetic beautifully blends beachy and elegant, with soaring ceilings, kicky aquamarine accents like rugs and throw pillows, and colorful ocean-inspired artwork. Grab a bite and a beer at the cheerful on-site restaurant, BRGR — go for a signature creation like the Little Bo Peep, lamb on toasted brioche.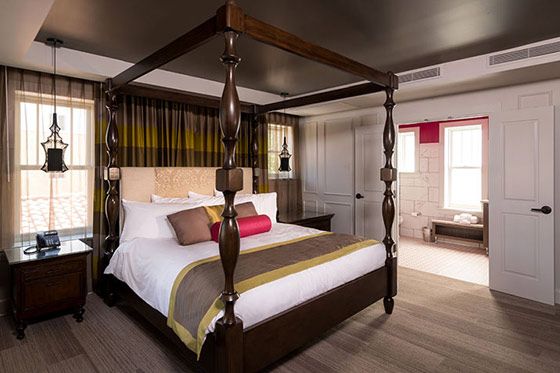 Bed down at the 18-room Birchwood Inn (rooms from $300), an impeccably restored former apartment building that's now on the National Registry of Historic Places. Handsome four-poster beds, jewel-tone upholstery, and porcelain claw-foot bathtubs lend a classic air, while the hotel's proximity to downtown attractions makes it an ideal hub for exploring. The on-site restaurant, Birch & Vine, serves creative takes on Florida favorites, like scallops served with pork-belly polenta ($32). And head to the roof for sunset cocktails from a private cabana at the Canopy. Locals flock here on the weekends for the best bay views in town — as a hotel guest, you can skip the line.
Savor the postcard views from the Postcard Inn, fresh off a major renovation. The two-level lobby sets the laid-back vibe, with surfboards and skateboards and a chalkboard listing daily weather and tidal conditions. Rooms (from $159) feature surf-centric photography from local artists, plus vintage touches like map-themed headboards. Splurge on a beach-cabana room, whose patios open onto the pool.
Where to Eat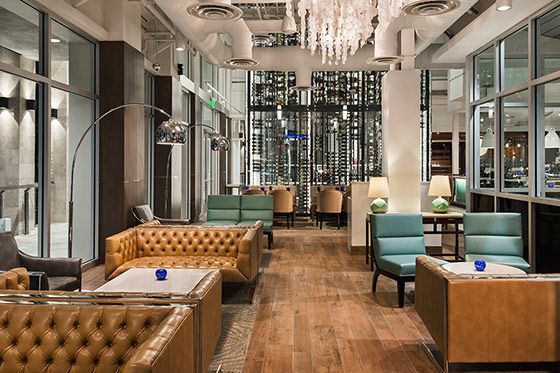 Dig into the best of St. Pete's red-hot food scene at the Mill, one of the buzziest restaurants in the area (and the state, for that matter). Start off with a Washed Ashore ($12) cocktail, made with rum and pineapple, while you peruse the seasonal menu and soak up the farmstead-inspired décor: worn gear parts adorning the walls, a sink made from a tractor wheel in the men's room. Chef Ted Dorsey's menu draws on Southern and local influences: starters like watermelon bruschetta ($12) and fried frog legs ($16); an entrée mainstay is the massive pork tomahawk ($29), served with yucca chorizo hash. Save room for the extraordinarily good pound-cake grilled cheese ($14): two thick slices of pound cake stuffed with cranberry Stilton and white chocolate and drizzled with Champagne-soaked cranberries.
Slurp the finest bivalves from the Gulf and beyond thanks to the expertise of the oyster sommelier at Sea Salt, whose culinary philosophy focuses on fresh seafood and, of course, salt — more than 130 global varieties complement executive chef Fabrizio Aielli's dishes. The menu changes daily, but you can always count on an inventive oyster menu (the tartufata, $16, comes with burrata and black truffle); seafood-centric pasta plates like linguini with blue crab and broccolini ($23); and a selection of whole fish, simply but impeccably prepared. Wine lovers will delight in the 20-foot wine tower and 4,000-plus bottle inventory, one of the most robust in the state.
Take a gastronomic journey through Locale Market, a 20,000-square-foot foodie fantasyland from celebrity chefs Michael Mina and Don Pintabona. Peruse gourmet goodies hand-selected from the chefs' favorite farmers and artisanal producers — think handmade pastas, English sweets, and fresh produce, meat, and fish galore. Or opt for a sit-down meal at FarmTable Kitchen, which turns out Italian favorites like wood-fired pizza (from $14) and seafood-centric dishes like the Florida-grouper BLT ($18); on Wednesdays, stop by from 5 to 7 p.m. for a complimentary wine-and-cheese tasting.
What to Do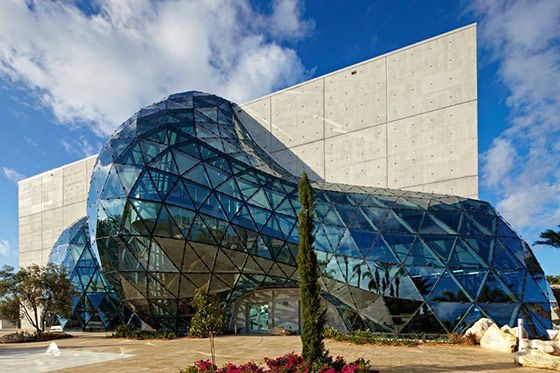 Raise a pint to St. Pete's rapid rise as a craft-beer hotbed, with 20 independent breweries making up the St. Pete–Clearwater Craft Beer Trail. One of the newest and largest craft breweries, 3 Daughters Brewing is an adult playground in a massive warehouse filled with games galore — ring toss, corn hole — along with live music, and, of course, plenty of beer. Choose from 18 rotating taps with names nodding to the area: Stern Line Stout ($5.25), Key Lime Cider ($6). Locals also love Cage Brewing; look for the mural of the caged red octopus on the exterior. This quirky, sprawling space has an 18-tap selection of creative beers — go for the Galaxy Cat IPA ($5) or the Mango IPA ($6) — and free pinball and arcade games. Wrap up your self-guided beer tour at Green Bench Brewing Co., which kicked off St. Pete's microbrew scene when it opened in 2013. Try the signature Green Bench IPA if it's available, and settle into a lawn chair in the sunny, 5,000-square-foot beer garden.
Immerse yourself in St. Pete's exploding arts scene. Start off in the Central Arts District, where you'll caffeinate for the day at Brew D Licious, a cozy, art-filled coffee shop with some 15 varieties of java (but, proudly, no WiFi). Admire the artistry of the 50-plus murals around Central Avenue, or opt for a tour ($20) offered Saturdays at 10 am at Florida CraftArt, a nonprofit arts organization worth a stop on its own, with a 2,000-square-foot gallery space. Also nearby is the Modernist Morean Arts Center, which houses the Chihuly Collection of awe-inspiring large-scale sculptures by renowned glass artist Dale Chihuly. Admission ($20) also gets you access to the center's Glass Studio & Hot Shop across the street, where you can watch glass artists demonstrate their craft — or, create your own masterpiece during a workshop. And any visit to St. Pete must include a trip to the Dalí Museum, whose striking $36 million building helped kick St. Pete's arts scene into high gear when it opened in 2011. On Thursday evenings, the regular $21 admission is reduced to $10.
Take a trip back in time by exploring St. Pete's classic landmarks and attractions. Start off with hearty plates of food like housemade sausage and cheese grits at Munch's Restaurant and Sundries, a 1952-opened diner. From there, it's onto the Sunken Gardens, a 100-year-old verdant oasis of 50,000 tropical flowers and plants — but the resident pink flamingoes and the iconic, Old Florida sign out front tend to steal the show. Afterward, at the beach, find plenty more Instagram inspiration at the Don CeSar, also known as the Pink Palace, a sprawling historic hotel that opened in 1928. Watch the sun dip into the Gulf at the newly opened Rowe Bar, with an outdoor deck that stretches over the sand dunes. Finally, on Friday nights, grab a tang and biscuits — that's insider-speak for a shuffleboard stick and discs — and join the throwback fun at the downtown St. Petersburg Shuffleboard Club, the world's largest shuffleboard club and one of the oldest, dating back to 1924.
Expert's Tips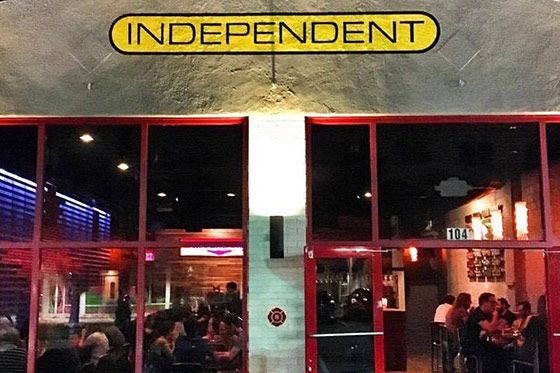 Courtesy of Chad Mize, a multimedia artist and designer in St. Pete and committee member of the Shine Mural Festival, which brings renowned mural artists to town every year.
"In West St. Pete, where I live, Alésia is a Vietnamese-French restaurant that does great bánh mì and pho. You feel like you're in Europe. It's got an outside area that's really nice, with lots of flowers. Also in my neighborhood is a place called Craft Kafé, a gluten-free bakery. I go there in the morning for my coffee, and they do Buddy Brew, which is based out of Tampa. They're actually opening another location right in downtown St. Pete."
"A wonderful place to watch the sunrise is from Vinoy Park, which is on the waterfront in downtown St. Pete. And for the sunset, I always go to Sunset Beach on Treasure Island."
"Agave is my favorite place for Mexican food on St. Pete Beach. The owners are themselves Mexican, and they might be the ones waiting on you — ask for Nina. It's a really tiny place, and the food and the margaritas are always great."
"I love the Pinellas Trail, which is a bike path that goes all the way from St. Pete north to Tarpon Springs, a little town that has a strong Greek heritage. What's great about the trail is that it goes over the major roads with these overpasses, so you never really have to worry about traffic. We also have the Coast Bike Share. You can rent a bike for a couple of hours at a time, and there are pickup locations all over St. Pete now."
"For bar-hopping in St. Pete, I recommend the EDGE District. The Independent, which locals refer to as the Indie, is a very cool European-style beer hall. For cocktails, the Blue Goose is a great choice. At
the Bends, try a drink called the Drunk in Love. It has vodka and fresh watermelon juice."
Resources
Get the low-down on Tampa Bay–area happenings in
Creative Loafing, the revered alternative weekly.
Discover local festivals and events while finding inspiration for shopping, dining, and entertainment at
I Love the Burg, a blog run by St. Pete PR firm RKC.
Find out intel on St. Pete's locally owned businesses at Keep Saint Petersburg Local.