It's been an interminable winter made ever-more unbearable by a run of spring-denying nor'easters. Which means that there's never been a better time to fly off to an island in the middle of nowhere. But how to find the time-share-less, bikini-body-T-shirt-less, and in some cases people-less escape that's right for you? Here, 16 writers muse on their favorite less obvious islands: From one who scooted through vineyards on the "windy wine island" of Bozcaada, Turkey, to another who spent a week petting stray kittens and picking wild pomegranates in Folegandros, Greece (pictured above), to the one who pretty much did nothing but swim and eat massaman curry on the tiny Thai island of Koh Sriboya, there's a lesser-known escape for every type of traveler.
Craggy Beaches + Fresh Scallops in Belle-Île-en-Mer, France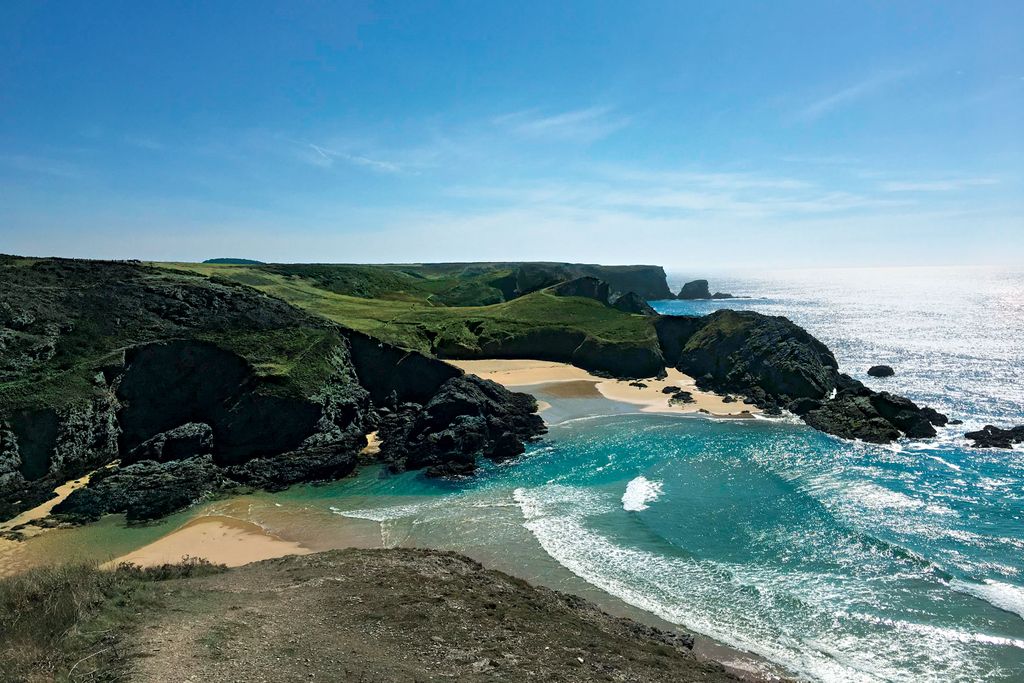 Unlike St.-Tropez and Nice, with their scene-y beaches, Belle-Île-en-Mer has remained largely undiscovered by international tourists. Most vacationers making the pilgrimage to the rugged Breton island eight miles off the west coast of France are French; they come for the rocky cliffs and tucked-away beaches. I was lucky enough to spend a week there at a family friend's house several years ago.
After lazy mornings of flaky pastries, we'd bump along the island in an ancient Army-green Jeep with an iffy stick shift or spend hours thrashing around in the waves. Blissed out and bronzed, we'd pass most evenings at home, ending our dinners of grilled fish, goat cheese, and local Breton crackers with hours of card games and lots of wine. If we ventured outside, our evening walks found us strolling along the harbor in Le Palais, where we'd stop at Café de la Cale for scallops served on the half-shell and admire the boats and horizon with a fast-disappearing ice-cream cone. —Leah Bhabha
To Get There: From Paris, catch a 3.5-hour train to Lorient, then drive one hour south to Quiberon. Finally, a half-hour ferry ride.
Stay: Castel Clara, a cliffside hotel that offers seawater-infused spa treatments (from $235).
Eat: The galettes de sarrasin at Crêperie Chez Renée.
Mangrove Flats + Hammock Naps in Koh Sriboya, Thailand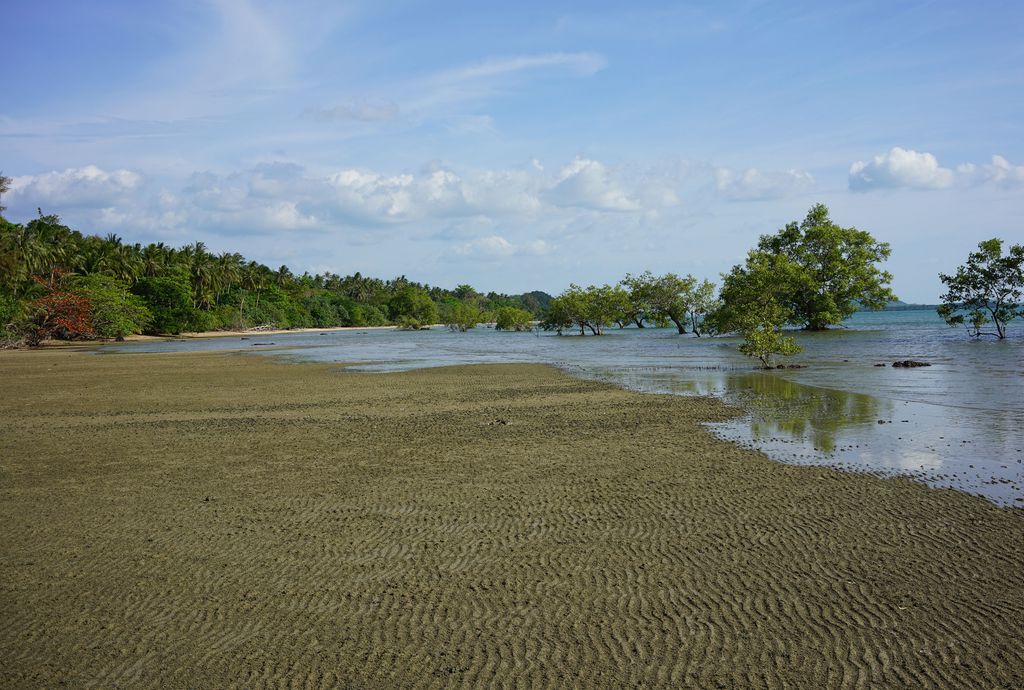 It was one of those moments travelers dream about. My neighbor Johnny was telling me about this little island in Thailand where he had been going for years. Unlike most other islands in southern Thailand, which had been swarmed by tourists, Koh Sriboya held little more than a few villages and some rubber-tree plantations. "But there's a catch," he warned. "There's no beach."
In lieu of a beach is a mangrove flat — a vast expanse of hard-packed sand across which herds of tiny crabs scuttle and through which mangrove trees worm their fingerlike aerial roots. Some find it ugly. I find it hauntingly beautiful. When the tide is low, you can lay a towel on it, just like on a normal beach. When the tide is high, you can swim. The water, warmed by the long expanse of dark sand, is the warmest seawater I have felt anywhere on Earth.
The island's best resort — if you can call it that; it calls itself "Siboya Bungalows" — was started by Weechan Longban, whom everyone calls Mr. Jung. He'd run another resort so expertly that when he decamped to start his own place on an unvisited island 20 years ago, the regulars followed him. The compound itself is simple: a few dozen thatched-roof bungalows, an excellent restaurant, a library, and a sala where you can get a massage from the island's only masseuse (when she isn't off harvesting durian).
I have been to Sriboya twice now, and both times I've found myself falling into its lull. I wake, I eat, I lie in the hammock. In the afternoon, I may go for a run along the mangrove flat or play takraw or badminton with the locals. At night, I eat well and drink green bottles of Chang beer. That is all. —Robert Moor
To Get There: Fly to Krabi from Bangkok. Either hire a private driver to take you to Laem Kruat pier (about $35) or take a local bus to Nuea Khlong and switch to another bus bound for Laem Kruat. From there, a ferry will take you to the island for about $1.60.
Stay: Siboya Bungalows (from $11 a night).
Eat: Siboya's massaman curry is rumored to be the best in all of Thailand.
Coastal Vineyards + Crystalline Beaches in Bozcaada, Turkey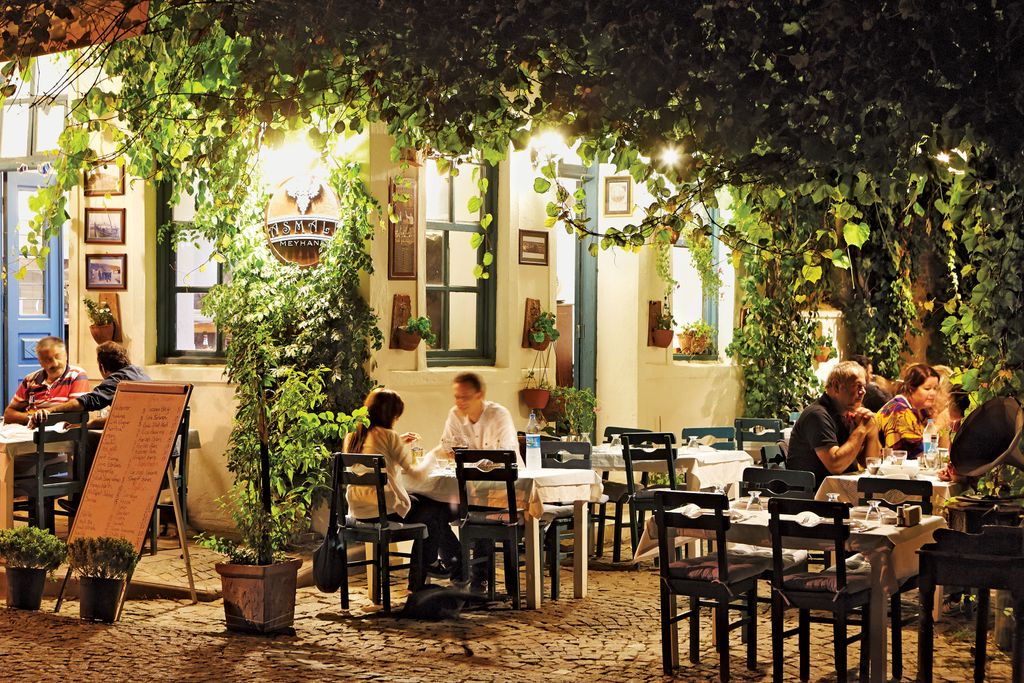 I was on the mainland Turkish coast when the owner of the cottage I was renting noticed that I liked wine. "You should head to Bozcaada," he said, "the windy wine island."
The narrow streets and whitewashed buildings are all reminders of the island's Greek heritage and history. Recently, Bozcaada has been discovered by chic Istanbul kids who come here for the beaches (it's some of the clearest, most crystalline water I've found in the Mediterranean), though it's remained off the usual island-hopping circuit. The whole place feels blessedly undeveloped.
My friend called it the "windy wine island" for a reason. The wind provides natural temperature control for the vines even at the apex of summer. I made a day of my wine tasting with a scooter, driving the circular road on the island's perimeter, and stopping at as many wineries as I could. Pick your favorite, buy a bottle, and scoot over to the Polente lighthouse to watch the sunset.
Afterward, I scooted to my dinner reservation. Maya restaurant alone is worth the whole trip. Selcuk Aykan, the man behind it, is a scientist turned chef, and almost everything that touched my plate came from his farm: the bread, the cheese (he makes 26 kinds), endless meze, and a perfect, rarer-side-of-medium-rare rib eye. If you're lucky like I was, after dinner the servers will invite you onto the roof to smoke pot and watch a meteor shower. Be very, very careful scooting back home. —Stephanie Danler
To Get There: All told, it takes seven and a half hours from Istanbul on buses and a ferry. The first bus will drop you in Canakkale (I took an overnight bus), then a taxi can to take you to the Geyikli Ferry Pier. From there, it's a 35-minute ride on the ferry.
Stay: There are lots of simple, clean rooms to rent around the narrow-laned village. The best might be at Amaranda Ada Evi (from $60).
Look For: Turkish women selling figs and rosewater in front of their houses.
Douglas Firs + Nettle Pesto in Denman Island, British Columbia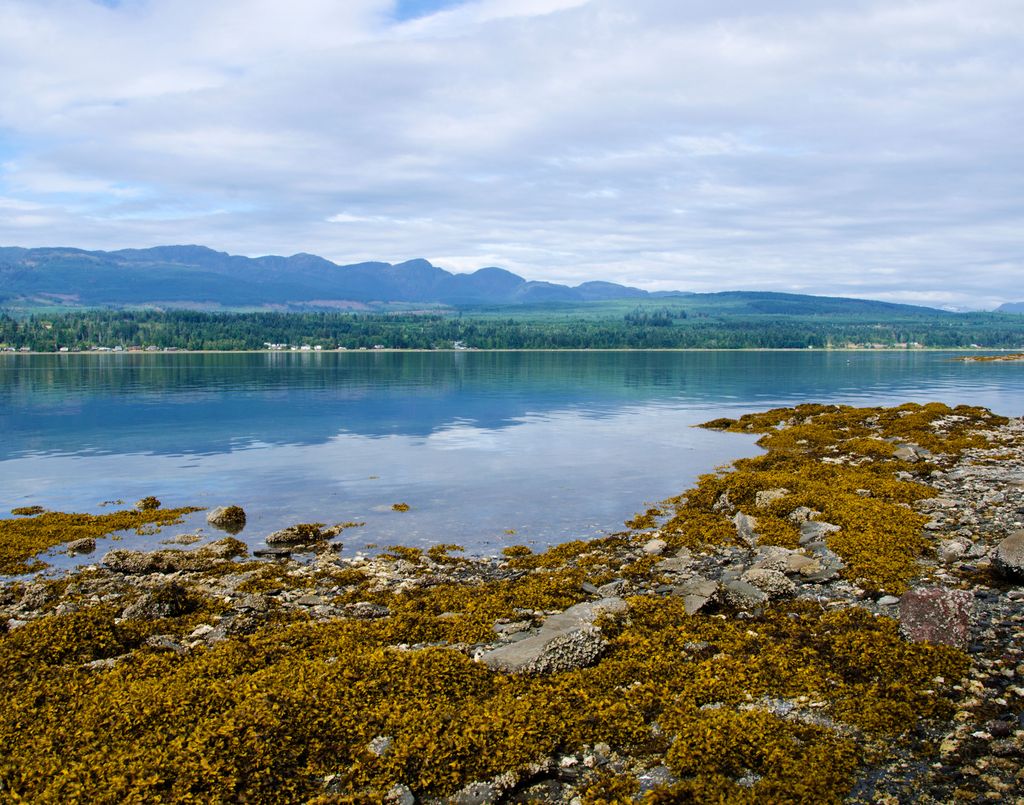 Denman Island, about 20 square miles with barely a thousand full-time residents, is like many of the small communities of coastal British Columbia. It attracts people who like trees: organic farmers, artists, cottagers, and loggers.
With this in mind, my friends and I drove off the ferry and headed south. Today Denman's interior is a patchwork of Douglas-fir forests, old logging sites, and farms. But before Europeans cleared the old growth, the indigenous Coast Salish peoples used Denman, or Pentlatch Island, as a summer camp. It's said that when needed, they would hunt deer by forming a line and chasing the animals into the water, where their hunters waited in canoes.
Dining options have changed, but self-sufficiency still reigns. Locals make and trade farm tools. Visitors like us pack in supplies, as if camping, while young homesteaders make parakeet-colored pesto from nettles, which they sell at the Denman Island General Store — the island's most reliable coffee shop.
Snacks in hand, we made a dash to Morning Beach Park, where during certain low tides, you can cross a sandbar to Tree Island. We dug our beer into an icy tidal pool and collected oysters. Eagles floated above on thermal drafts. Just as the raw beauty was getting to be too much, the tide came rushing in, sending us running back to the forest, and the car nearby. —Berkley Brady
To Get There: Take a ferry or fly to Vancouver Island (Comox is the closest airport) and drive 30 minutes south to Buckley Bay. From there, the new 15-minute cable ferry will take you, and your car, to Denman Island.
Stay: The Blue Owl (from $108), run by a local mother-daughter duo.
Crater Lakes + Florentine Pizza in São Miguel, Portugal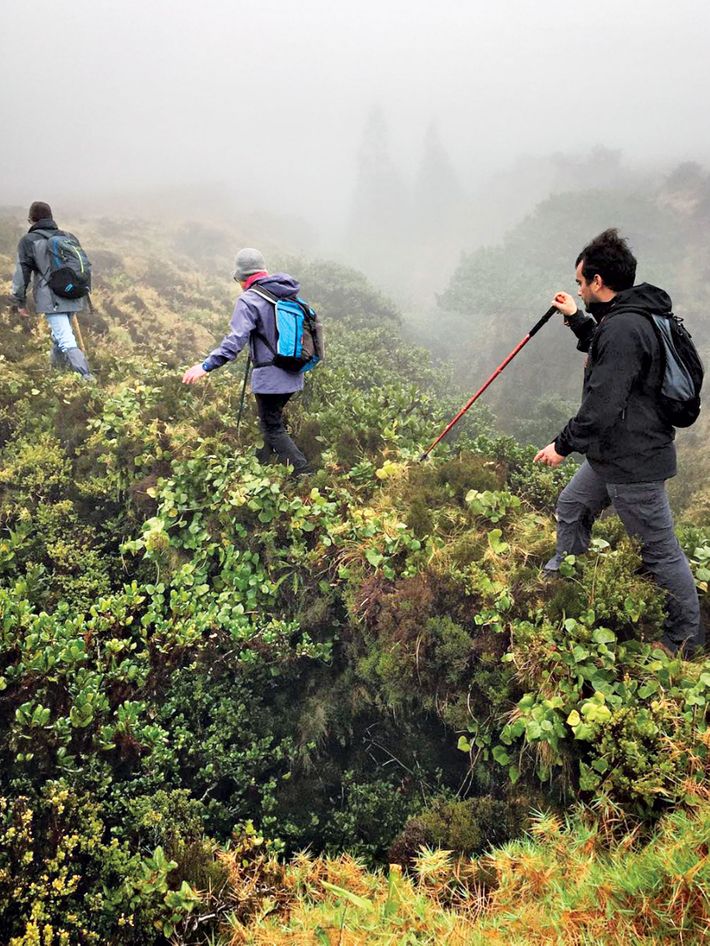 I'd been living in Berlin with my boyfriend for a year and a half when one night, after a bottle of wine, we decided to take advantage of our proximity to the rest of Europe. Almost immediately, he found a cabin on a Portuguese island; only later did we realize São Miguel is in the middle of the Atlantic, some 900 miles from Lisbon. So: There were closer places to go, but we felt drawn to the Azorean archipelago.
We stayed in a tiny farming town called João Bom for two weeks and considered the trip a writing retreat. But each day we took little breaks — exploring the island's towns, swimming in natural springs along walking paths. The hiking is surreal. Open trails take you past the ocean in every direction and all the natural wonders on São Miguel, the largest of the nine Azorean islands: hot springs, waterfalls, and crater lakes, which sit in a pair, one electric blue, the other bright green.
We did go to Ponta Delgada, the biggest city, to see cobblestoned streets and try restaurants. They were fine, but by far our best meals were away from the city, like the pastas and pies, which rivaled meals we'd had in Florence at Pizzeria Fantasia in tiny Mosteiros. Turns out, the Italian owners had visited São Miguel on holiday and never left. —Alex Ronan
To Get There: This summer, Delta will offer a nonstop flight between JFK and Ponta Delgada in São Miguel. Or fly through Lisbon.
Stay: Casa da Lomba (from $85), near Mosteiros, a quaint town with black-sand beaches and lava pools.
Do If You Can: The Pico de Mafra hike, followed by a swim in the oceanside thermal pools at the Termas da Ferraria spa.
Pack: Rother's Azores hiking guide.
Stray Kittens + Outdoor Backgammon in Folegandros, Greece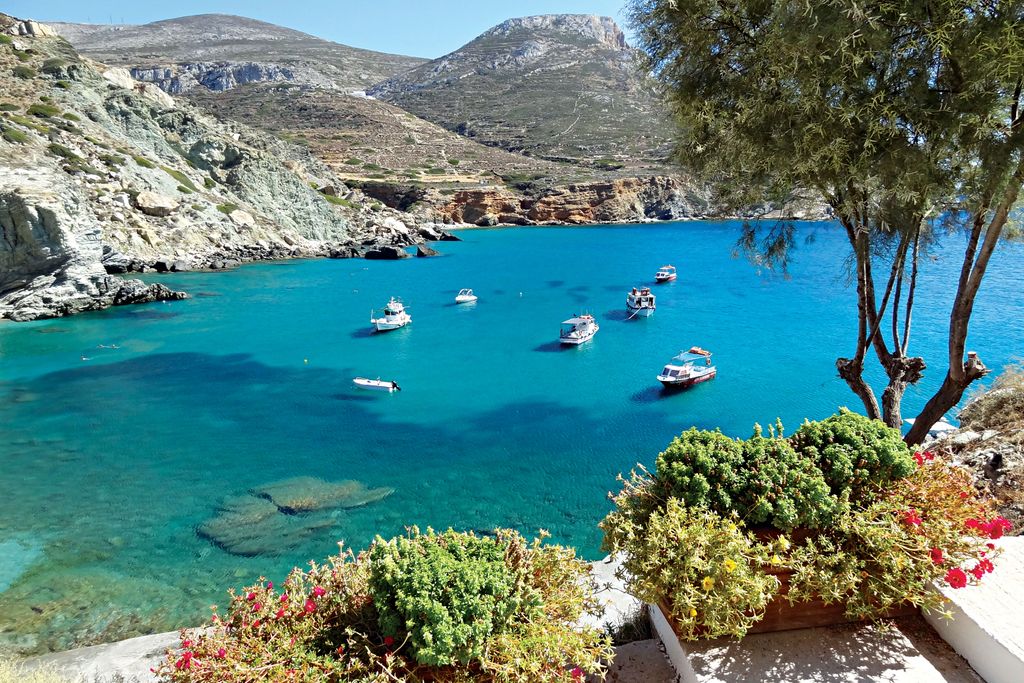 There is something about the smallness of Folegandros that makes it a perfect place for doing nothing. Whatever you're doing is exactly what you need to be doing: trudging along a beach clutching a meat pie, spacing out during sunsets, petting stray kittens, wondering how old certain crumbled buildings are, shaking pomegranates off trees and smashing them on rocks.
Our non-itinerary went like this: We'd take a boat to a beach (the only other way to get there is to hike) wait for the next boat to arrive, then get on that boat to another beach. On beaches, the dining options are limited, and it's almost a relief — the sameness. We'd order stewed meat and fried potatoes, Greek salads, a delightful fava purée topped with tomato and onion and those ubiquitous capers. We'd see the same cast of characters around town, and it's fun to ID them, like being in a Greek-island Twin Peaks. Every night, we drank cold Alfa beer and played backgammon at one of the many outdoor tables at Nicolas Michailidis café, whose point of pride is that they can make over a hundred types of cappuccino-foam art — probably the most choice you'll get in all of Folegandros. We wound up never ordering a single cappuccino. —Rachel Khong
To Get There: Fly into Athens and take either the six-hour slow or four-hour fast ferry.
Stay: In Chora, a short walk from the port. Antheia Hotel (from $45 per night) is near the restaurant Pounta, which serves homemade breads on homemade plates — it's the best breakfast in Folegandros.
N.B.: You don't need a car or a scooter; to get anywhere, you can either take a bus, boat, or walk.
The Case for Other Obscure-ish Greek Islands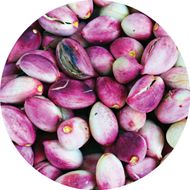 The secret about Aegina is not the Temple of Aphaia — it's the pistachios. A stop at the pistachio stalls at the Port of Aegina shouldn't be missed. —Ithai Schori, photographer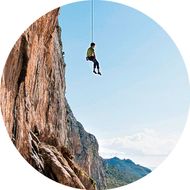 Apparently, back in the day, nobody went to Kalymnos; the joke was that it was where God left all the leftover rocks. Then it became famous for extreme climbing. On the boat over, an old marine biologist said to buy sponges: They have the best in the world. Who knew? —Stephen Grivno, location manager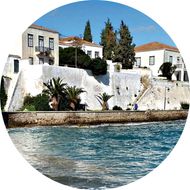 You might see the occasional super-yacht pass by, but Spetses is less exposed, with children on bikes, old couples walking dogs, and small seaside restaurants setting up tables in the pebbly sand as the night rolls in. —Justine Kahn, pediatrician
Monkey Hikes + Mangoes in Isla Ometepe, Nicaragua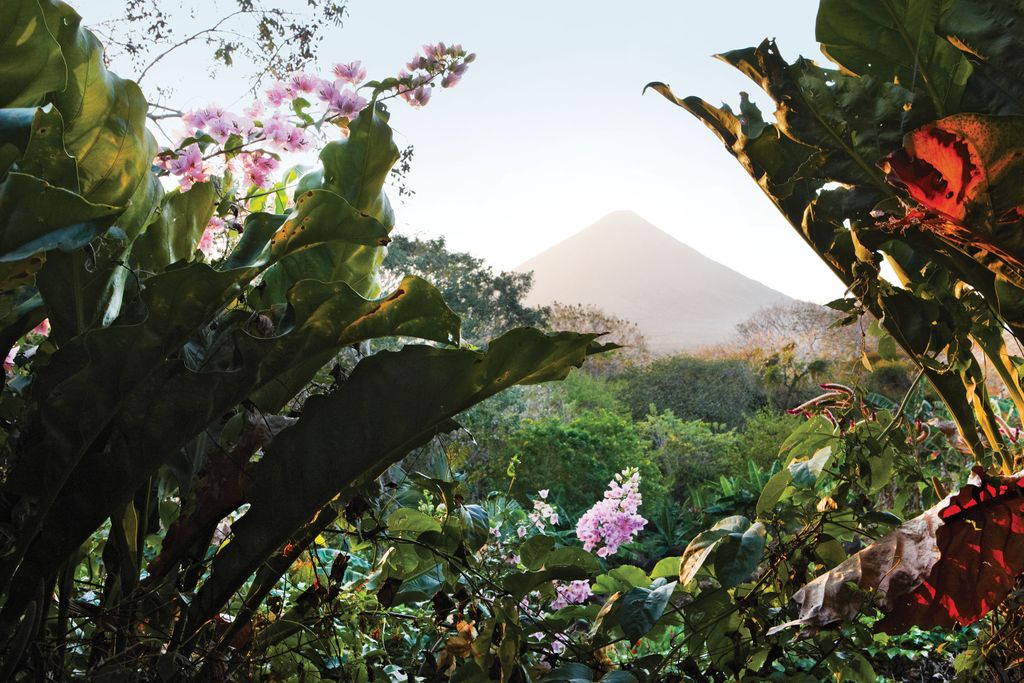 On the choppy, hour-long ferry ride to Isla Ometepe, you can see the island's two volcanoes eerily looming over Lake Nicaragua; the 5,000-foot Volcán Concepción is still active and occasionally puffs out a cloud of smoke. Once you arrive, Ometepe is less imposing, more unbelievably serene — pretty jungles, black-sand beaches, volcanic natural swimming holes. Change has come slowly here; an extension of the paved road to the southern half of the island amounted to a monumental update. (Still, the paradise is nevertheless threatened: Plans to build a multibillion-dollar canal through the lake have been proposed though, to date, they've been shelved.)
I drove around for days but saw few tourists. On the jungle outskirts of Balgüe, on the island's southern half, there were a handful of volunteers, mostly Europeans, working on organic farms and a coffee plantation. Everywhere I walked, there were mangoes in dozens of varieties, sweetly rotting. A guide I hired to hike into the cloud forest on the higher points of the Maderas volcano said he made jam with them, but there was only so much jam he could eat. Locals told me about the thousands of petroglyphs hidden in the jungle, left by Macro-Chibchan-speaking cultures long ago. Perhaps someone with a machete and extra time would enjoy searching for them; I was content to spend my days lying on an empty beach ringed with palm trees. —Nicholas Gill
To Get There: Fly to Managua, rent a car, then drive two hours south to the one-hour ferry at San Jorge to take you (and your car) to the island.
Stay: Totoco, an ecolodge on a farm with an infinity pool on the slopes of a volcano (from $45).
Do If You Can: A rugged hike up the Maderas volcano, while spotting snakes and white-faced monkeys, to the San Ramon Waterfall.
Golf-Cart Taxis + Stone Skipping in Great Cranberry Island, Maine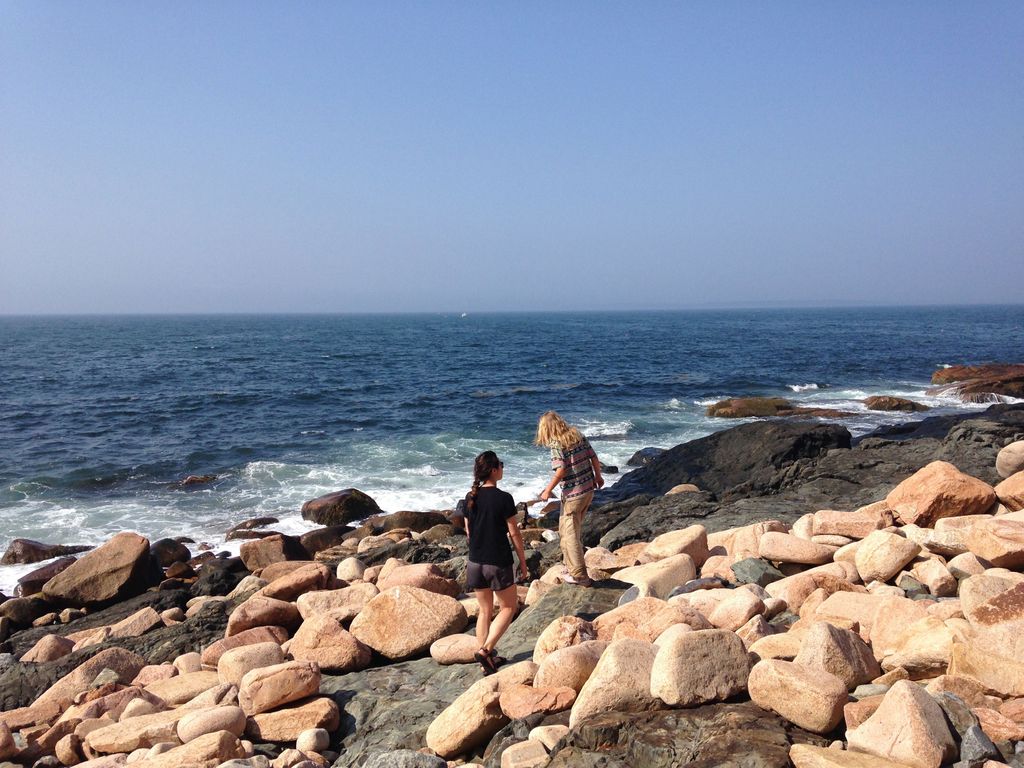 Though just one mile from Acadia National Park, Great Cranberry has a summer population that peaks at about 300 — and even that's a huge swell from the year-round population of about 50. At two miles long, it's the largest of the five Cranberry Isles, but in area only. Great Cranberry has no schools, no hotels, and no restaurants, save the general store.
There's a single long, paved road; it runs down the spine of the island, and the only reliable traffic on it is the Cranberry Explorer, a seven-passenger golf cart that takes summer day-trippers from the town dock to the other end of the island and back.
But only when exploring on foot will you realize how many landscapes are contained in this small place, like the pebbly cove near the dock that's ideal for skipping rocks, and a mossy forest with a narrow trail that opens up onto a rocky beach with granite boulders peeking out from the waves and a view of Acadia in the distance. Getting there requires a bit of sleuthing — finding the trailhead hidden between poorly marked private-property lines, and making your way down a muddy path — but you'll know when you've arrived because you'll be enjoying the view alone. The only other people I've seen on either the trail or the beach are those I've brought with me. —Maxine Builder
To Get There: Head to Mount Desert Island first, by driving about eight hours from New York City or flying into Hancock County–Bar Harbor Airport, and load onto the mail-boat, run by Beal & Bunker ($16).
Stay: A five-bedroom Airbnb ("Large Maine Cottage on the Beach," $450 per night).
Black-Sand Beaches + Salva Vidas in Amapala, Honduras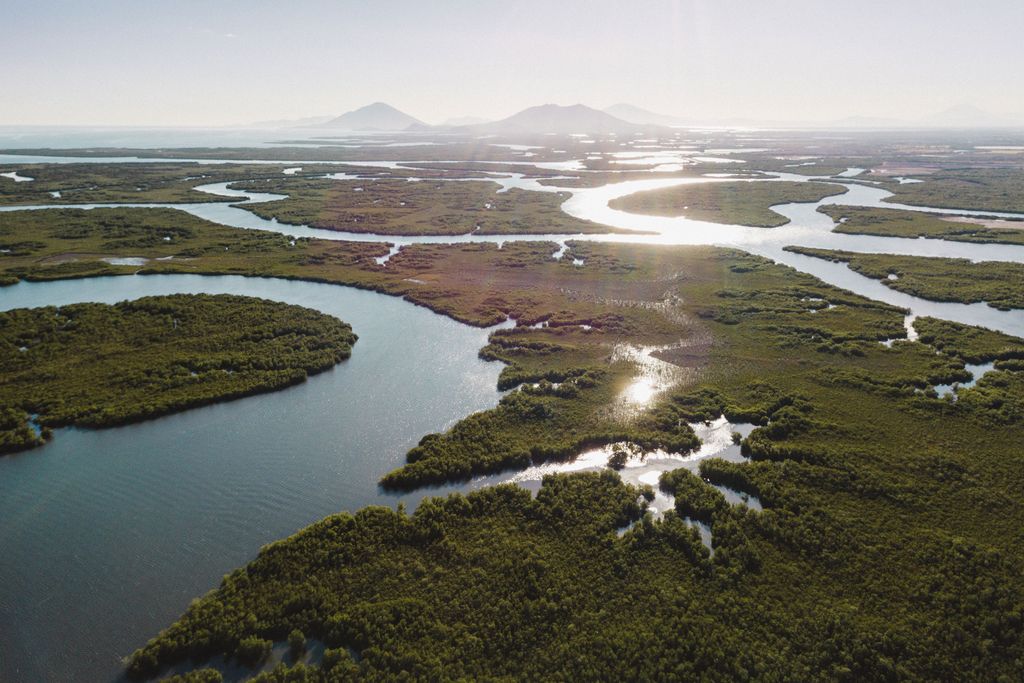 Amapala, in the Gulf of Fonseca, was once a thriving port city; today it's an almost-forgotten chunk of volcano whose foliage-covered peak rises like a sentinel 2,500 feet over the tiny town. It's near the borders of Nicaragua, El Salvador, and Honduras, home to two of the world's deadliest cities — but people there don't talk about violence. That's a mainland problem, they say; there is little crime reported on this tiny island.
On holidays, Amapala can teem with vacationers, but when I was there, tourists numbered in the tens, zipping on mototaxis between a handful of beaches on the ring road. Each beach has a few modest guesthouses and hotels, plus a seafood shack or two. There's not much to do besides nurse a Salva Vida beer in a hammock and watch local kids play soccer on the black sand as sun-bleached panga boats rise and fall on the tiny waves. Go-getters can hike to the top of the volcano, once home to a DEA base, to take in panoramic views of the gulf.
A recent law has enabled the creation of zedes, foreign-backed free states, in the gulf. Which makes Amapala, where locals have yet to be displaced from prime coastal real estate, feel like a miracle. —Maya Kroth
To Get There: Fly to Tegucigalpa.Then take a three-hour ride to Coyolito ($5 for a bus) and a 30-minute ferry to Amapala.
Stay: Paz Camping Playa Negra ($60 for a basic room).
Do If You Can: Take a boat to Isla Exposición, cruising past mangrove forests and summer homes of the Honduran elite.
Pack: Cash (few ATMs).
The Chesapeake Choice: Virginia Ham or Feral Horses?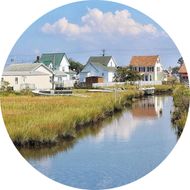 The pace of Tangier Island is a revelation: water and sky everywhere, no cell reception, and very few cars. You get around by golf cart or bicycle (which I rented by putting a few bucks in a coffee can). Its community is mostly descended from the English colonists who have lived there for more than 300 years, and up until recently, its near-isolation meant that the islanders retained a Restoration-era accent that is distinctive even today. My favorite of the island's two inns, Hilda Crockett's Chesapeake House, serves a memorable Virginia ham, superlative potato salad, and excellent pound cake. I bought the little cookbook the inn sells and still make the potato salad and rolls — although I suspect the crab cakes would be impossible to replicate outside the Chesapeake. —Sadie Stein
Assateague Island, Maryland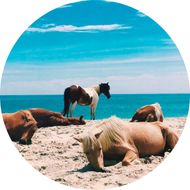 If we leave D.C. around 2 p.m. on a Friday, we usually pull up to the island's bridge just before sunset. It's total magic hour, with sandy dunes and the Atlantic Ocean on the left, the salty marshes of Chincoteague Bay to the right. This is your classic East Coast barrier island, 37 miles long and off the coast of Maryland, and every year it looks slightly different from the summer before; the winter's winds cause the sand and the campsites to slowly shift. One recent weekend, our group made its way to the end of the island (we like campsites 80 to 100), but the road there was slow with constant braking for roaming feral ponies (the island has 300 or so). Once parked, we set up camping chairs, start a fire, roll a few joints, and get to work planning the night's grill menu. —Christina Dequadros
Wallaby Burritos + Vulva Sculptures in Tasmania, Australia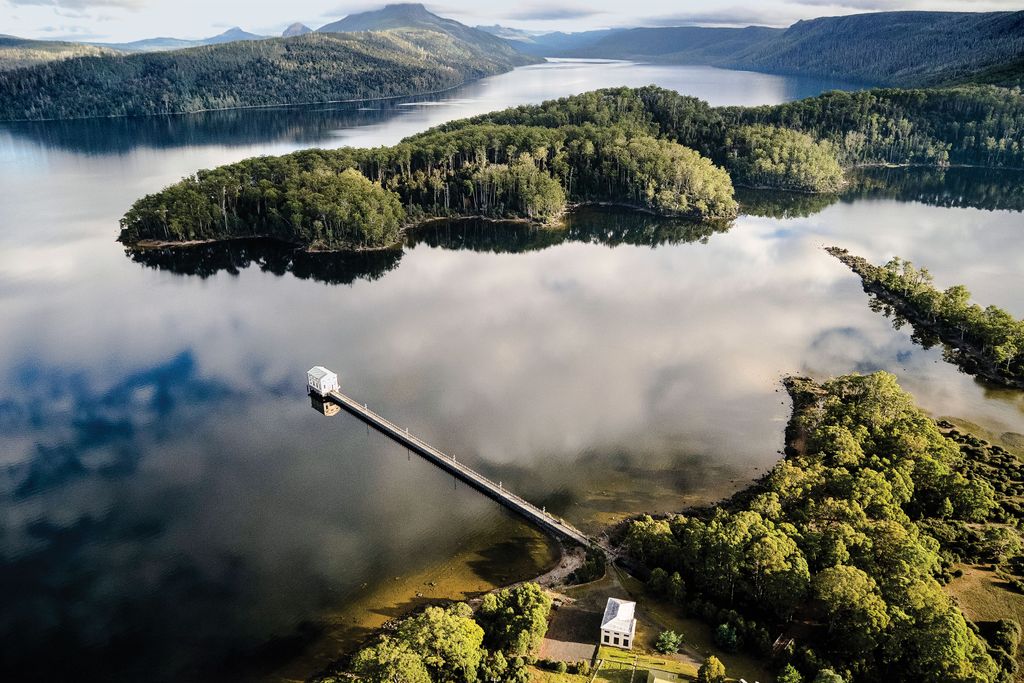 Okay: Tasmania isn't exactly obscure — but it is underrated. (And the name alone lends it a certain zaniness.) I traveled full-time for nearly four years, and I've yet to meet another American who's been. But my road trip through Tasmania remains a highlight of those years. The wilderness in Australia's southernmost state is unimaginably beautiful, the piney freshness of its air startling. It combines ghost-white beaches, towering sea cliffs, and dense forest with designer boutiques and one of the most provocative art museums on the planet. And though it's near Melbourne and Sydney, you can easily disappear into the countryside and drive for hours without passing another motorist.
I timed my trip so I'd arrive on a weekend; I wanted to check out Hobart's Salamanca Market. Beyond the tourist tat were hand-painted silk scarves, alpaca blankets, and local foods, like a slow-cooked wallaby burrito with bush-pepper cheese from Pacha Mama. My other priority in Hobart, the capital, was to visit the Museum of Old and New Art, built underground like a sandstone Batcave. The collection dives deep on themes like death and sex (to wit: 77 porcelain vulva sculptures by artist Greg Taylor). Before leaving Hobart, I took a half-hour detour to Mount Wellington, some 4,000 feet above sea level; when it's clear, the summit grants 360-degree views to Southwest National Park and the sparkling Tasman Sea.
My next stop was Freycinet National Park: On a dream day, I kayaked around Coles Bay, hiked the 6.8-mile Wineglass Bay and Hazards Beach loop, and slurped homegrown Pacific oysters at Freycinet Marine Farm. And in Launceston, two hours northwest, I stumbled upon Design Tasmania, a furniture showroom peddling everything from Huon-pine cheese boards to elegant timber dining tables, all made domestically. The grand highlight of my island getaway, however, was staying at Pumphouse Point in Cradle Mountain–Lake St Clair National Park, a Tasmanian Wilderness World Heritage Area. Here, 19 modern suites are spread across three buildings, one of which includes a hydroelectric pumphouse in the middle of the lake. I read books by the fireplace, took a lazy nature walk, and relieved my in-room larder of its locally crafted cheese and charcuterie. For the first time in forever, I had time to simply relax, enjoy the scenery, and breathe. —Ashlea Halpern
To Get There: Fly to Melbourne or Sydney, then hop a short flight to Hobart.
Stay: Pumphouse Point (from $205), a forest retreat on Lake St Clair.
Eat: For a splurge in Hobart, get reservations at Franklin, where chef David Moyle's menu is heavy on the seafood and indigenous roughage.
Do If You Can: Pennicott Wilderness Journeys' speedboat tours to Tasman Island. We whipped past multistory waterfalls and past Cape Pillar, the tallest vertical sea cliff in the hemisphere.
Dhow Rides + Cardamom Doughnuts in Lamu, Kenya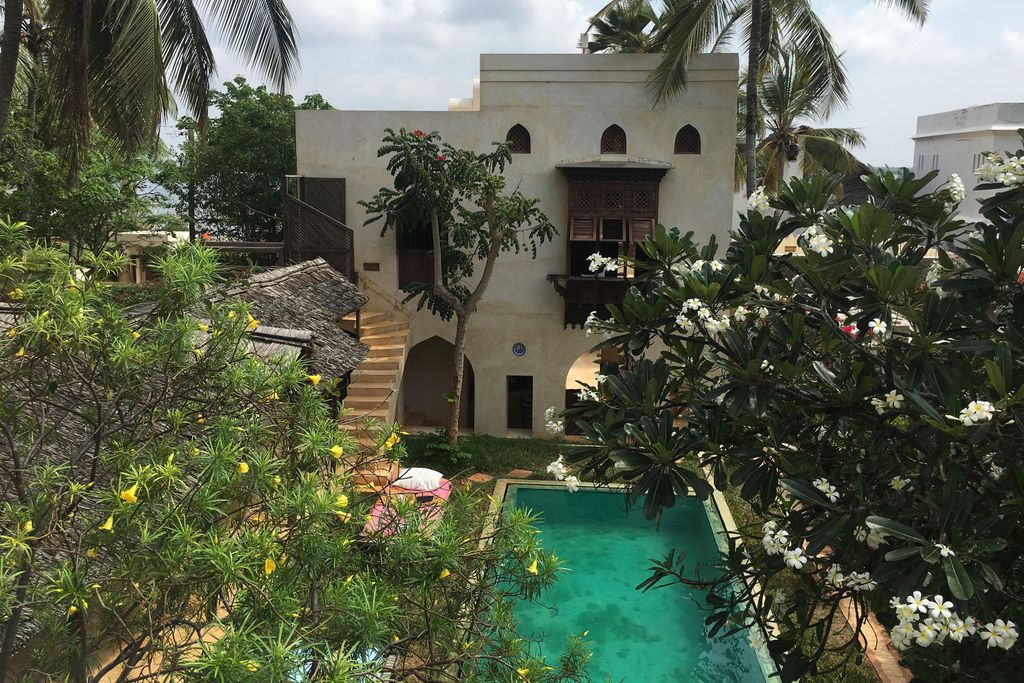 My first night in Nairobi, late last spring, I joined a group of expats for Ethiopian food. As we unrolled spongy strips of injera, all the talk was of the back-on-people's-radar vacation spot Lamu, a small island in the Indian Ocean off the coast of Kenya. I was headed there the following day, and my companions had just returned. To hear them tell it, Lamu was either provincial — a two-bar town where one might end slow days at the beach drinking Tusker Lagers with washed-up misfits — or the sort of cosmopolitan outpost where, they'd heard, Marina Abramovic had gone to recover from a divorce.
These, I'd soon find out, were just two versions of the many-layered island. Settled in the 14th century and once a port of call rivaling Mombasa or Zanzibar, Lamu is a jostle of different cultures — African, Arab, Indian, and Portuguese — and an improbable mix of colonial vestige and thriving Muslim center. Arriving in Old Town, the port, we passed men heaving bricks onto dhows — ubiquitous wooden boats with long, thin hulls — street-side cafés serving hot curries, and a covered market where baskets overflowed with green okra, peppercorns, and dried beans. The shoulder-narrow network of streets can't accommodate cars. You get around, instead, on dhow, donkey, or foot. I saw just one reminder of the area's complicated 21st-century politics (since 2011, the terrorist group Al Shabab from neighboring Somalia has been active in the region surrounding Lamu; check the State Department's travel guidelines for Kenya before traveling), scrawled in English on a concrete wall: WATCH YOUR ASS B4 YOU OBSERVE OTHERS LIVES.
In fact, Lamu's Swahili architecture — all high windows, interior courtyards, and enclosed pathways that connect neighboring houses — makes it almost impossible to be a voyeur. I wanted to wander Old Town's back streets in search of the renovated palm-oil factory where Ambramovic filmed her video Confession (in which she confesses her sins to a Lamu donkey) and Anish Kapoor painted gouaches. But I knew I'd never find it.
Instead, we retreated to Shela, a quiet fishing village that's been built up by the European jet set (Princess Caroline, the Peugeots). Here, it's possible — thanks to the dip in tourism, and prices, in recent years — for a normal person to get a feel for a flashier, if somewhat outdated, take on island life. After checking into our breezy, Swahili-style house, we met friends for a sunset cruise. We mixed gin and tonics and slurped quarter-size oysters as our dhow emerged from the dense mangroves that line the Mkanda Channel. —Merrell Hambleton
To Get There: From Nairobi, book an almost-two-hour flight to Lamu on Fly540. Once you land at the tiny, open-air Manda airport, you'll be picked up by one of the motor-powered dhows that cluster along the pier like taxicabs.
Stay: Once the residence of Anne Spoerry, a French-born physician and pilot known as the "flying doctor," the Moonhouses are located just above the beach in Shela. With a 290-degree view of the water, lush gardens bursting with bougainvillea and jasmine, and an astonishingly accommodating staff, this might be the best place to stay, anywhere. Rates start at $150 per night.
Eat: Many of the accommodations in Lamu have in-house chefs who will shop for and cook daily meals on request. Ask for fresh fish — whatever was caught that morning — prepared in a biryani or curry, fragrant, spicy staples of Swahili cuisine. In the morning, pick your way through Shela's labyrinth of narrow "rat routes" to stalls that sell cardamom-spiced mandazi, a lightly sweet, airy doughnut, and coffee. For a light lunch, the waterfront Sea Suq sells kingfish samosas, smaller and lighter than the American equivalent, and addictive, tender chapati.
Pack: Since Lamu is still predominantly Muslim, bring light, loose-fitting pants and shirts that you can throw over your swimsuit for a drink at Peponi or a visit to Old Town.
N.B.: On the main commercial drag in Old Town, there are two narrow storefronts run by silversmiths. Slim — tall and, well, slim — and Mohammed — short and heavyset — claim to be brothers, but I got the impression that this was a white lie told for their own amusement. At either one, you can choose a small shard of porcelain (collected from the Lamu beach) and have it set in silver for just about $8.
*A version of this article appears in the April 2, 2018, issue of New York Magazine. Subscribe Now!