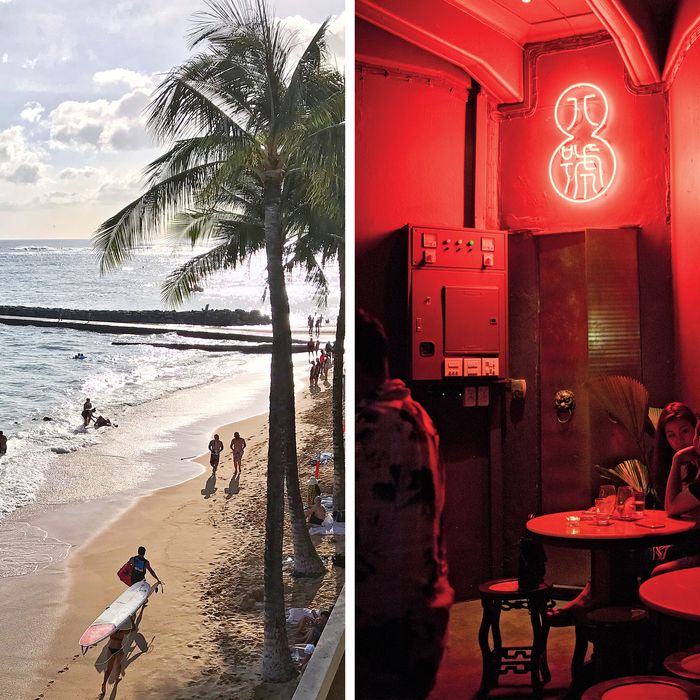 Left:
 5 p.m. strolling around Waikiki Beach near Outrigger Resort in Honolulu. 
Right:
 11 p.m. hanging out at Ba Hao cocktail lounge in Bangkok.
Photo: Matthew Nagatori/@kicksonrice/Jason Lang
The typical days and ​play-it-by-ear nights of locals from Lagos, Stockholm, Beijing, Honolulu, Dubai, San Francisco, Bogotá, Bangkok, and Oslo.
Lagos
Day: Lagoon Hangs + Record Shopping
Getting around the historic waterside neighborhood of Ikoyi with creative director Papa Omotayo.
8 AM I head to a hole-in-the-wall joint run by a middle-aged woman fondly known as Mama Funke (nr. 40 Glover Rd.). There, I have the best ogi, a corn-based porridge, along with some akara, deep-fried ground beans.
10 AM Next, I'll walk somewhere with a view of the lagoon. Queen's Drive (more recently known as Oyinkan Abayomi Drive), with its stretch of palm trees, is five minutes from Mama Funke's. There, by the water, I'll jot down notes and plan the day.
Noon My days tend to revolve around southwest Ikoyi, where my office is. The Orchid Bistro (40b Raymond Njoku Rd.), a three-minute walk from work, has great natural lighting, Carrara-marble tabletops, and plants. I'll get a meat pie and coffee.
2 PM Lunch is always late, if it happens at all. I'll take the short walk through the traffic on Awolowo Road to Syrian Club (41 Ribadu Rd.), an outdoor restaurant next to the Syrian mosque; there's something calming about the club's layout. People relax against distant calls of muezzins, a familiar sound in the city.
4 PM After lunch, I stop at Jazzhole (168 Awolowo Rd.) to listen to some classic high-life records and Chimurenga editions. Next I'll go to hFactor (26 Moloney St.), a little quirky bar with a great rooftop above some of the oldest parts of Lagos.
Night: Barbershop Bars + Late-Night Shawarma
A lap around Lagos's bar circuit with events organizer Mobola Awe.
7 PM Shiro (3 Water Corporation Rd.), a Pan-Asian restaurant nestled in Landmark Village, has an excellent view of the Atlantic and great cocktails, the mojitos especially.
8 PM But the night really starts ten minutes away at Sabor (14 Adeola Hopewell St.), which serves seafood, salads, and grilled meats, but I like to go here to smoke shisha (fruit-flavored tobacco smoked through a glass pipe) and catch up with friends.
9 PM It's a buzzkill to travel all over the city, so our group tends to keep it local on nights out. Next, we head to BarBar (15 Victoria Arobieke St.), a high-end barbershop and bar, for a few more drinks. We'll eat some sticky wings, drink whiskey sours, and dance, especially if AYE! is DJ-ing.
11 PM We'll head to the restaurant RSVP (9 Eletu Ogabi St.) for some tequila and late-'90s hip-hop by the pool.
1 AM By now, the night is getting good. My friends and I will go to Vellvett Lounge (19b Idejo St.). They're usually playing some mix of Afrobeat and hip-hop; everyone ends up here to dance.
4 AM I usually tap out around this time, though clubs like Escape (234 Adeola Odeku St.)are just getting going around now! But we're on the hunt for food, trying to sober up. We like Maroccaine (317b Akin Ogunlewe Rd.) for shawarma and rehashing the night.
—Wale Lawal
Stockholm
Day: Sourdough Cinnamon Rolls + 18th-Century Operas
8 AM A walk through the vast lawns of Haga Park, followed by sourdough cinnamon rolls at Lillebrors (Rörstrandsgatan 12); I get here early, when they're just out of the oven.
Noon Lunch is traditional Swedish fare, like shrimp salad or meatballs with lingonberries, at Waldemarsudde Art Museum(Prins Eugens Väg 6).
2 PM I walk off lunch by exploring the up-and-coming Stockholm Gallery District, just north of the Odenplan neighborhood, specifically the studio of contemporary artist Serinyà (Gävlegatan 12b) for surrealistic fine-art photography.
4 PM I love catching afternoon concerts at Confidencen Ulriksdal Palace Theatre(Slottsallén 3), Sweden's oldest rococo theater, from the 17th century. Every week, you can see 18th-century-themed stage plays and operas.
Night: Arctic Char + Trivia Nights
Tooling around the cobblestone-y Gamla stan neighborhood with singer Germaine Thomas.
5 PM I wind through Gamla stan's old, tiny streets for happy-hour drinks at Wirströms Pub (Stora Nygatan 13), a 17th-century cellar that's always humming with pop-culture-trivia nights.
7 PM Dinner in these parts means the Flying Elk (Mälartorget 15), a Swedish gastropub that serves up Arctic fish like char and turbot.
9 PM Onward to Stampen Jazz Pub (Stora Gråmunkegränd 7) for their After Work soul sessions. Honestly, it's one of the very few places in Stockholm to enjoy good jazz music.
11 PM Last stop is the Temple Bar (Kornhamnstorg 55) to meet up with a few more friends: It's warm and relaxed and kind of feels like your favorite college sports bar. This is a spot where I often sing with my band, the JamNation Band, on Thursday nights. It is not uncommon for people in the crowd to just jump up onstage and start jamming with us. And you can generally expect some version of this on any given night.
—Lola Akinmade Åkerström
Beijing
Day: Plum juice + lake strolls
How Fiona Yang, tour guide for Bespoke Beijing, spends her days off.
8:30 AM Breakfast, especially a hot one, is important to local Beijingers. I usually get a jianbing (a savory Chinese crêpe) from a little hole-in-the-wall vendor on Jiaodaokou Nan Dajie. The lady who whips up these delicious things from a hot plate had to move because her rent doubled, but luckily she didn't go far.
9:30 AM One of my favorite hidden temples — Guanghuasi (31 Ya'er Hutong) — is nearby, and free. Legend has it that it was built by a monk who collected one grain of rice per day until he had enough to pay for its construction.
10 AM I'll go for a stroll around Houhai Lake. It gets touristy on weekends, so stick to the northwestern shore — quieter and arguably more beautiful anyway.
12:30 PM Lunch would definitely be at Xincheng Mian (56 Dianmenwai Dajie), a noodle joint that's been serving traditional Beijing dishes since the 1950s. I usually get the Zhajiang noodles, xiaomai (mushroom sticky-rice-stuffed dim sum), and traditional Beijing suanmeitang (sour-plum juice), which they serve in cute little beakers.
2:30 PM I'll hop on the subway to the Dashilan area; it used to be Beijing's red-light district. Yangmeizhuxiejie is a street with little boutiques, hidden cafés, and cute parks. I always try to stop into Beijing Postcards (No. 97) to see if they have any new photographs or old maps of the city.
4 PM A stop at Soloist (39 Yangmeizhuxiejie), a onetime public bathhouse, for coffee. There's a lovely rooftop terrace to perch on and people-watch.
—Crystal Wilde
Night: Oolong-Tea-Infused Craft Beer + Mung-Bean Bar Food
Debbie Ma, a traditional-Chinese-medicine doctor, bounces around the city's growing craft-beer scene.
6 PM NBeer Pub (Unit 132, 69 Fuxing Jie) is where we'll grab our first round. Opened in 2013, it was one of the first completely Chinese-run craft-beer bars in Beijing. There are over 30 taps, including nitrogen taps and two hand pumps. I'll get spicy Sichuan-style peanuts.
7 PM We'll move to Great Leap's No. 6 branch (6 Doujiao Hutong) next; I love sitting in their quiet yard whatever the season. The Honey Ma Gold beer is spiced with Sichuan peppercorns; oolong tea is infused into the Iron Buddha Blonde.
8 PM Peiping Machine Taphouse (just south of the 46 Fangjia Hutong courtyard; enter on Jiaodaokou Hutong) has 32 taps, but also excellent bar food: zha ge zhi, fried rolls made with mung-bean flour, dipped in salty garlic sauce.
10 PM Jing-A is my favorite pub in Beijing, so we stop by their newest venue (57 Xingfucun Zhong Lu). The craft beer has Beijing flavor and taste — their wheat beer is brewed with watermelon from Beijing's Daxing district.
11 PM Last call is at Design Beer Pub (Room 2808, Bldg. 1, Hesheng Kylin Community), which overlooks Wangjing Soho, the trippy, Zaha Hadid–designed trio of skyscrapers. During the day, the venue is more of a workshop space for craft-beer lovers — you can buy materials and experiment with other makers.
—Jamie Fullerton
Honolulu
Day: Flower Markets + Wine Flights
A new-meets-old Chinatown day-hang with public-arts programmer Laurien "Lala" Nuss.
9 AM For breakfast, I'll go to Manifest (32 N. Hotel St.). Their avo toast is the bomb.
10 AM I'll head west on King Street for the traditional lei shops, Chinese herbalists, fruit and vegetable booths, and meat markets.
11 AM I like to walk by the Old Blaisdell Hotel (1154 Fort St. Mall), a neoclassical building that has been turned into creative workspace studios.
Noon For lunch, I'll pop into Ethiopian Love (1112 Smith St.) for sambussas.
2 PM I like to swing by the local art galleries: Pegge Hopper (1164 Nu'uanu Ave.) has folk art and more contemporary stuff, and Ravizza Brownfield (1109 Nu'uanu Ave.), the newest gallery on the block, promotes Euro­pean art in Hawaii.
3 PM Tattoo culture in Hawaii is huge. Black Cat Tattoo studio (1111 Nu'uanu Ave.), where I got my own tattoo, has native-Hawaiian tattoo artists and modern tribal artists.
4 PM On First Fridays, cars aren't allowed on Hotel Street, and the public takes over for mural painting and live music. I'll take it all in with a drink at Tchin Tchin! Bar (39 N. Hotel St.), which has a patio area for ordering rotating wine flights.
Night: Slack-Key Guitar + Kahuku-Corn Polenta
Live-music venue hopping around the city with music blogger Roger Bong.
5 PM First stop of the night: Kani Ka Pila Grille at the Outrigger Reef Waikiki Resort (2169 Kalia Rd.). The slack-key guitar shows spur impromptu hula-ing from the crowd.
7 PM Downbeat Diner and Lounge (42 N. Hotel St.) is part bar, part restaurant, and a welcoming rocker's haven featuring mostly local acts and a solid whiskey selection.
9 PM For a proper food-with-live-music option, I like Blue Note Hawaii (2335 Kalakaua Ave.). Might go for a main like short ribs on Kahuku-corn polenta. They mostly feature jazz but also book folk, rock, R&B, and reggae artists.
11 PM For a more low-key venue, I'll go to The Dragon Upstairs(1038 Nu'uanu Ave). My friend Dae Han, a jazz drummer, often performs here; other regular acts include the Chris Yeh Quartet, Pat King Koh, and Gypsy 808.
1 AM Hawaiian Brian's (1680 Kapiolani Blvd.) does a real mix of everything — EDM, reggae, rock, hip-hop. This would be a good place to end the night.
—Ligaya Malones
Dubai
Day: Mega-Malls + Tucked-Away Boutiques
The best shopping stops, according to stylist Jade Chilton.
8 AM Most mornings begin at Comptoir 102 (102, Beach Rd., Jumeirah), a lovely raw-food café with rattan chairs and Moroccan metal coffee tables. I'll get the buckwheat pancakes and look at work projects.
10 AM As I navigate the upscale neighborhood of Jumeirah for work appointments, I make a pit stop at IF (Villa 125, Al Manara Rd.), which carries a lot of modest styles that fall to ankle length but are still bright with sculptural elements.
11 AM The Collective by Ripe (the Courtyard, St. 4b), is a leafy, riad-style shopping space with a water fountain tucked away in the dusty warehouse district of Al Quoz. I'll browse the leather goods from Made by Native and cool indie cookbooks at Georges of Dubai.
1 PM Lunch is at the Flamingo Room by Tashas (Jumeirah Al Naseem), surrounded by gold flamingo ornaments, pink velvet banquettes, and marble tables. I'll share the chargrilled butternut carpaccio and calamari Mozambique.
3 PM I can't spend a day in Dubai without stopping by the Dubai Mall (Sheikh Mohammed bin Rashid Blvd.), which has over 150 luxury brands, including the new three-story Gucci flagship store.
5 PM Once I've clocked off for the day, I pick up my baby girl and meet my husband on the Beach at JBR for a stroll on the promenade. I like to check the local market stalls for imported floaty beach dresses.
Night: Bowling Alleys + Cheap Shrimp
Filmmaker Amirah Tajdin plots out the best of old-school Dubai.
6 PM For a glimpse of the real Dubai, a spot of late-afternoon bowling and a glass of watered-down whiskey at Al Nasr Leisureland (behind American Hospital, Oud Metha) is the best place to begin.
7 PM Fish Hut (behind Lamcy Plz., St. 8, Oud Metha) is a simple gem in the depths of Bur Dubai with great seafood at very reasonable prices. Must-orders: the chargrilled sea bream and oats-fried shrimp.
9 PM For proper drinks, we regroup at City Walk in Jumeirah (Al Safa St.), which straddles old and new Dubai with stylish, licensed (alcohol permitted) restaurants and bars. We'll flit between the renowned British restaurant Galvin Dubai for a perfectly executed G&T and Lima, a Peruvian bar with an excellent pisco sour.
10 PM We'll then walk upstairs to Toro & KO's (the Square, City Walk) brilliant bar for some potent sangria. It's lively, and a great warm-up for our next stop.
Midnight Fighting off sangria fatigue, we'll make our way to Club Africana (Rush Inn Hotel). The sounds of live Lingala music come from behind a nondescript door that opens up to a sweaty dance club with a ten-piece band.
—Laura Coughlin
San Francisco
Day: Stoner-Approved Science Museums + Crowd-Free Parks
Marijuana-dispensary director Robbie Rainin's cannabis-fueled field trip.
11 AM I like to consume a lot of cannabis before I go to brunch, because the lines in San Francisco are very, very long; it makes the wait more tolerable. Kitchen Story (3499 16th St.) has really good American-Asian fusion food, for your stoner with a savvier palate. What they're really known for is Millionaire's Bacon, which is triple-thick bacon covered with syrup and spices.
1 PM I'm not a huge nature person, so if I'm out enjoying the day and I'm specifically like, "Let's use a lot of cannabis and go do something fun," I like to do touristy things. I'll walk around Fisherman's Wharf or go to the Exploratorium (Pier 15, the Embarcadero), a hands-on science museum.
3 PM My favorite afternoon place is B (720 Howard St.). They have an amazing happy hour with dollar oysters.
4 PM Later on, we'll wander over to the Seward Mini Park (30 Seward St.). They have these hidden slides in the Castro made of cement, and you go down on a piece of cardboard. The ride is just a few seconds, but it's fast and fun, and you can do it again and again.
5 PM I like to walk around Pacific Heights and look at all the beautiful mansions and imagine myself living in them. Near the top of Pacific Heights is Lafayette Park (Gough St. and Washington St.). It's not as crowded as some of the other parks — good if you like to avoid crowds when on cannabis.
Night: Pinball Machines + Fortified-Wine cocktails
Where you'll find bartender Nicholas Torres when he's not behind his own bar.
5 PM Uptown (200 Capp St.) is a good five-o'clock spot because it's so beat. This is a shot-and-a-beer kind of place, so I'd just get a Budweiser.
7 PM I really like this Mexican restaurant LoLó (974 Valencia St.). They have amazing margaritas. They use good tequila, lime, agave nectar, and a little bit of their own house orange bitters. Food-wise, their chicken tinga is on fire, just simple shredded chicken in a classic Mexican red sauce, with pickled onions.
9 PM Next, we'll mosey on over to Dalva (3121 16th St.), a divey neighborhood bar. There's another little bar in the back, called The Hideout, that has superior no-frills cocktails — cheap, too. Any one of the bartenders will make you a damn good Tom Collins, which is what you should be drinking anyway.
11 PM Royal Cuckoo Market (3368 19th St.) is a market and bar in the outer Mission, run by this guy Paul Miller. Originally the market was just supposed to be a bottle shop, but then he put in a little bar called the Horsies Saloon, where he serves fortified-wine cocktails.
1 AM Silver Crest Donut Shop (340 Bayshore Blvd.) is an old diner, run by a Greek couple, with pinball machines from the '50s. Grab a Coors and shoot some pool.
—Aislyn Greene
Bogotá
Day: Palm-Tree Walks + Flea-Market Finds
La Macarena is the Bushwick of Bogotá — local gallerist Catalina Salguero shows us around.
9 AM I love smelling the bread baking outside of Azimos (Carrera 5 No. 26), an organic-food shop. They also sell cuajada cheese and native potatoes from nearby farmers.
11 AM Then, a stroll beneath the wax palms, rubber trees, and pine trees at Parque de la Independencia (Esq. Calle 26), the neighborhood's largest green space.
1 PM Andante (Carrera 5 No. 10-92), while slightly trendy, is still one of the most reliable cafés: I usually get a blue-cheese or plum pizza.
3 PM On to Bogotá's most classic flea market, the Mercado de Las Pulgas de San Alejo(Carrera 7 No. 2470). Past loot: antique horns, wooden utensils, and handwoven hammocks.
Night: New Wave Dance Clubs + Braised Zebu Cow
Record-store owner Julián Correcha runs through his dancing and late-night-snack itinerary. 
8 PM Dinner is at Mini-Mal (Carrera 4 A 57-52), set in a large house located in Chapinero. Expect super-traditional Colombian ingredients with a twist: braised morrillo, or hump of the zebu cow, with tucupi, a fermented yucca extract.
10:30 PM Next stop is Matik Matik (Carerra 11 No. 67-20), a performance space in Chapinero, with the best live avant-garde music — electroacústica, experimental, contemporary, or free jazz — in the city.
12:30 AM For some dancing, it's Asilo Bar (Avenida Caracas No. 40-66) in the Teusaquillo neighborhood: a lot of New Wave, punk, and postpunk.
2 AM Then we dance our way over to Siboney (Carrera 70 No. 22-34), a hard-core salsa bar in the Galerias neighborhood. We fuel up on local aguardiente and rum. Some people bring their own percussion instruments, leading to spontaneous performances all night.
4 AM Around this time, I'm going to need something to eat. Desayunadero El Canon del Chicamocha (Calle 57 No. 19) has delicious Santander-style arepas.
—Nicholas Gill
Bangkok
Day: Congee With Doughnuts + Ferry Rides
Designer Pomme Chan's favorite things to do around the creative Old Town neighborhood.
10 AM For Thai iced coffee (oliang) and cubed white bread covered in pandan-flavored coconut custard (sangkhaya), I start at Plearnwan Panich, a café inside Lhong 1919 (248 Chiang Mai Rd.), a converted warehouse–Chinese shrine.
11 AM There's plenty of street food in Old Town, so I might get congee (jok) with doughnuts (pa tong go) — another traditional Thai breakfast — in the morning, from the incredibly popular roadside stand Jok Prince (1391 Charoen Krung Rd.).
Noon Next, I take the three-baht (about ten cents) ferry across the river from the Si Phraya pier to Klong San. A two-minute walk away is the Jam Factory (41/1-5 Charoen Nakorn Rd.), a gallery that shows contemporary art and photography. I really liked Thai artist Lolay's exhibition [in 2014].
1 PM Lunch is at The Fox and the Moon café (52-60 Charoen Krung Rd.) — I always get the moon soup, a mix of squid ink, crabmeat, and egg yolk.
3 PM Deep in the Talad Noi section of Old Town is the historic mansion So Heng Tai (282 Soi Wanit 2). It's a strange combination — both casual café and diving center! I haven't taken a lesson; it's more of a relaxing afternoon spot for tea. It's very untouched. There is still a King Rama I picture hanging up, rare these days.
5 PM Last stop is River View Guest House (768 Soi Phanurangsri). Ignore the dated design: Just head to the roof for sunset views of the temple Wat Pathum Kongka and cold Singhas.​
Night: Fermented Pork Ribs + Gooey Tiki Cocktails
An eating evening courtesy of photographer and restaurateur Jason Lang.
7 PM I kick off dinner at either Raan Jay Fai or 100 Mahaseth (100 Mahaseth Rd.), chef Chalee Kader's temple to Thai nose-to-tail dining. There's no bar here; it's a food-forward place for chefs and industry types. Order the fermented pork ribs (naem), salt-cured pork chops, and tongue — it's for meat-eaters — while drinking an ice-cold yaa dong — an herbal-infused fermented-rice spirit.
There's a rumor that 70-something-year-old chef Jay Fai used to cook for the Thai royal family before she opened Raan Jay Fai (327 Mahachai Rd.) almost 30 years ago. Ski-google-wearing Fai is probably best known for her legendary crab omelet (six eggs and a pound of crabmeat). Earlier this year, it was awarded a Michelin star, and two-hour waits are now commonplace. I get there early.
9 PM The next stop is 80/20 (1052-1054 Charoen Krung Soi 26) for outhwatering desserts. Saki Hoshino is arguably Bangkok's best pastry chef. Last time, I had her "Rice" dessert, which involved creative expressions of the grain, including mochi, fermented-rice ice cream, and French tuiles.
10 PM After dessert, get a gooey tiki cocktail at Tropic City(72/65 Charoen Krung Soi 28). I usually drink off-menu there — Mai Tais and Painkillers. The Jungle Letter 23 is great as well; it's essentially a pineapple-infused rum old-fashioned.
11 PM The interior at Ba Hao (8 Khwaeng Pom Prap) is decidedly In the Mood for Love, with low-key red lighting. They serve ginseng Negronis and litchee gin; overall, it's quiet and hushed — making it the perfect spot for a first date.
Midnight I normally end my nights at Je Mai Moo Jeum (across from the police station on Soi Suan Plu 3), for some of the best Isaan street food in Thailand. Try the grilled pork neck and papaya salad or the spicy jim jum soup. Just order plenty of Leo beer to mitigate the heat.
—Andrew Parks
Oslo
Gallerist and restaurateur Einar Jone Rønning's favorite spots in Oslo.
Coffee: "Mocca (Niels Juels Gate 70B) is where I go after kindergarten drop-off.
You might spot members of the royal family sipping their morning coffee or ordering takeaway (while their security guards hide behind newspapers)."
Lunch: "Den Franske Sal is maybe Oslo's best-looking restaurant — it's hidden inside the National Gallery (Universitetsgata 13) and has a real classic Versailles look combined with modern elements."
Dance: "Located in Grünerløkka, Dansens Hus (Vulkan 1) is great for seeing contemporary dance. Shows here feature both Norwegian performers and visiting ensembles from abroad, so I always check its site to see who's traveling through."
Dinner: "I used to live next door to Kolonialen (Sofiesgate 16); it's in St.
Hanshaugen, and I still go there regularly. It's run by one of Norway's best sommeliers, Pontus Dahlström. I always start with the coppa di Parma — it truly melts in your mouth."
*This article appears in the August 6, 2018, issue of New York Magazine. Subscribe Now!