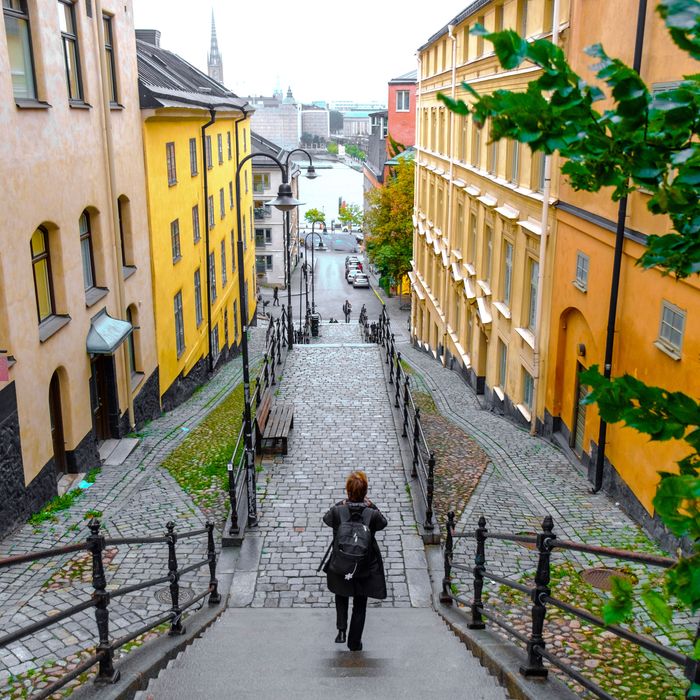 A street in Södermalm, Stockholm.
Photo: CSP/Getty Images/AWL Images RM
It's commonly understood that the best way to explore a new place is to go straight to the locals. Each week in the Urbanist, we take that wisdom one step further by seeking out not just locals but local experts — those who are especially well versed in their cities' newest and most noteworthy scenes — to give us insider tips. This week, we asked Johannes Carlström, interior architect and founder of Note Design Studio, for his recommendations in the Swedish capital.
"I think Stockholm has the same kind of values as Scandinavian design: clean, functional, democratic, and aesthetically pleasing. The city has been preserved quite well. There's a strong idea of preserving old buildings and restoring and keeping what has been for the future. If you come to Stockholm, come in the spring or summer. The days are long and people are just starved for sunlight from the long, dark winter and the city is buzzing with activity. Stockholm is surrounded by water, so you can easily end a late night by having an outdoor swim or go out in the archipelago to enjoy nature and relax. Gamla Stan, the Old Town, is a bit touristy during the summer, but otherwise it's a really nice part to visit just to walk around — lots of narrow streets and old buildings. In Djurgården, you have the Nordic Museum (Nordiska museet, Djurgårdsvägen 6-16), which shows the history of the Swedish home, as well as Vasa Museum (Vasamuseet, Galärvarvsvägen 14), which has a big old wooden ship from the 17th century. That's quite impressive."
His Other Musts