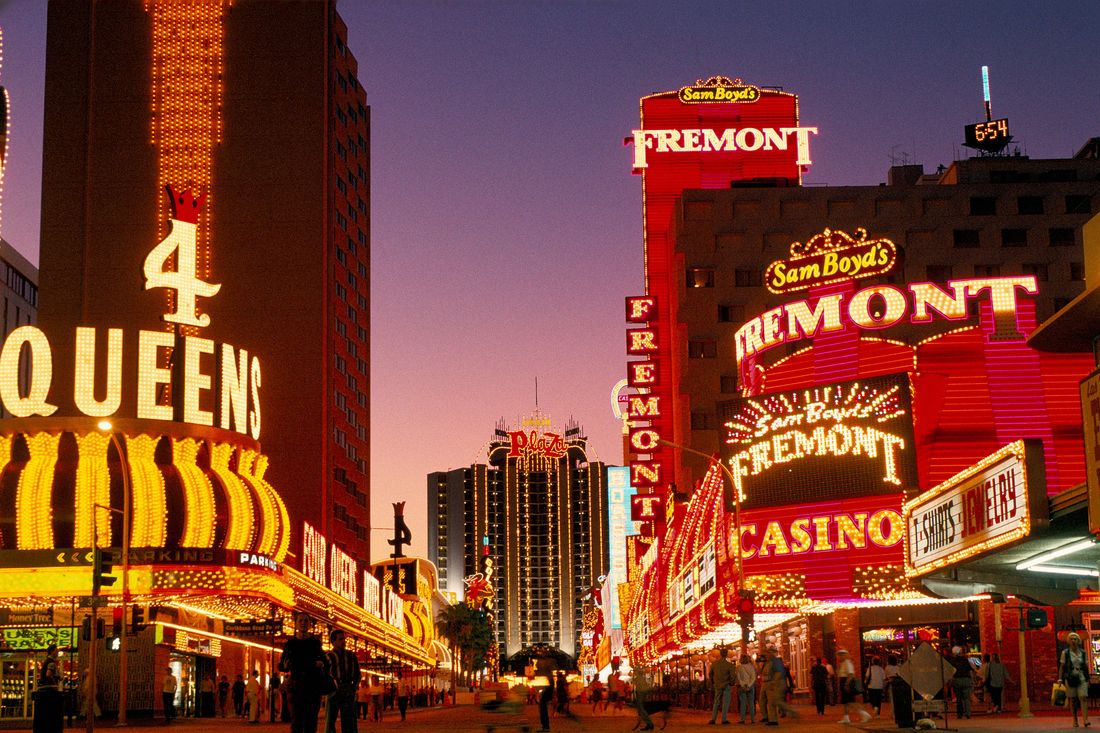 Fremont Street in Las Vegas at dusk.
Photo: Jonathan Olley/Getty Images
It's commonly understood that the best way to explore a new place is to go straight to the locals. Each week in the Urbanist, we take that wisdom one step further by seeking out not just locals but local experts — those who are especially well versed in their cities' newest and most noteworthy scenes — to give us insider tips. This week, we asked veteran Las Vegas chef Gina Marinelli, the chef and owner of newly opened La Strega,  for her recommendations in Nevada's biggest city.
"Everybody outside of Las Vegas thinks of it as the Strip. That's what drew me here, but it's the city that captured me. We always want to be known for more than the Strip, and while it's still the core of the city, we're expanding a lot beyond it. The hotels go up, and then they come down; Las Vegas hosts some of the biggest shows, the best restaurants, that 24-hour lifestyle. Winter is the best time to visit, when the nights are cooler, but every time you come there's something new. The off-Strip dining scene keeps growing. Our Chinatown on Spring Mountain Road is incredible. It's hard to call it Chinatown, because you'll find every type of Asian cuisine there; you go there if you want Korean or Thai. Golden Tiki is a great tiki bar. You can stay on Spring Mountain for an evening and hop around. On my days off, I'm always there. Mordeo Boutique Wine Bar is new, and there's EDO, which is a supercool, molecular tapas place with food from Spain. Pho Kim Long (4023 W. Spring Mountain Rd.; 702-220-3613) is the famous pho place, which is open 24 hours. The last time, I went at 3 a.m. You'll see everyone there, from chefs after service to lines of people in four-inch heels. When you walk in, there's this small aquarium that opens to a big dining room. The service is very quick."
Her Other Musts