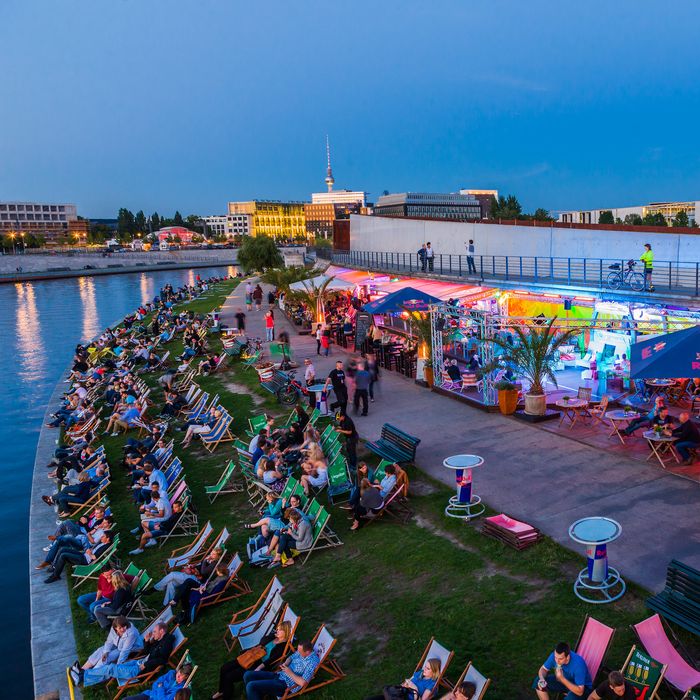 Along the Spree River.
Photo: Maremagnum/Getty Images
It's commonly understood that the best way to explore a new place is to go straight to the locals. Each week in the Urbanist, we take that wisdom one step further by seeking out not just locals, but local experts — those who are especially well-versed in their cities' newest and most noteworthy scenes — to give us insider tips. This week, we asked Andreya Casablanca and Laura Lee Jenkins, of Berlin-based punk and garage band Gurr, for their recommendations in Germany's capital.
"Berlin has a certain spirit to it, that makes people want to come back again and again: It feels urban and historical but also young, fresh and arts driven. Berlin certainly isn't classic 'German' — I know a lot of expats who come here and didn't learn any German in the nine years they've been here. It's very international and you often cross paths with people you could also meet in New York, London, or Paris. If you want to experience Berlin like a local, take a stroll in the closest park in your area (like Tempelhofer Flugfeld, Hasenheide, Volkspark Friedrichshain, or wherever you are), eat a peanut-sauce Falafel Sandwich at Sahara or Nil (Grünberger Str. 52), and get a drink in Neukölln or Kreuzberg. And definitely get a beer or Club Mate at a Späti (which is what we call the little bodegas that are open here all day and night). Oh also, if you dare, buy a 'Sternburger' Beer, which is the cheapest but also kind of popular beer in Berlin — it gives you an amazing headache the next day! The best time to visit is definitely in the summer. I wouldn't suggest coming here in the winter or (even worse) on New Year's Eve. Many people living in Berlin try to leave town around that time and leave the city to the tourists … it's a bit like Paris in August where all the locals are on the Coast."
Their Other Musts
"25hours Hotel Bikini Berlin (Budapester Strasse 40) is good — they also have a great (and a bit fancy) bar on the tenth floor called MonkeyBar and a great restaurant (Neni Berlin) attached to it. I would also recommend the Michelberger Hotel (Warschauer Str. 39-40) in Friedrichshain, as they have the famous Monster Ronson's Ichiban Karaoke (Warschauer Str. 34) right next door. A lot of bands stay there. For Airbnb, definitely look in Kreuzberg or Neukölln neighborhoods. Both are really lively neighborhoods, where lots of cultures coexist with one another: You will see lots of shisha bars and sports bet studios, but then an art gallery, second-hand store, or cute café right next to it."
"The Marheineke Markthalle (Marheinekepl. 15) in Bergmannstrasse is less touristy and hipstery than Markthalle Neun (try that if you are into street food though), but they have really nice food stalls. My favorite is Die kleene Aubergine: It's only vegan-vegetarian and tastes delicious, especially the salads, spätze, and mango lassis. If you want to be overwhelmed by the super cheap and delicious food in Berlin, go to Restaurant Assam (Sonnenallee 54). It's Syrian food and you will get a gigantic plate of hummus, falafel, halloumi, or if you eat meat, shawarma, for like 5€ or so. If you are looking for something fancy, I really like Parker Bowles (Prinzenstrasse 85d) near Moritzplatz — they have such creative dishes like pizza with seaweed. The restaurant has a nice and modern décor too. Long March Canteen (Wrangelstrasse 20) has such a great dark atmosphere and great dumplings. All of the waiters and waitresses walk around in jeans-overalls and just come around with wagons to show you the appetizers — it's pretty artsy and right in the heart of Kreuzberg."
"Try Das Gift (Donaustrasse 119) for a drink, it's actually right around the corner from Assam. It is owned by Barry Burns from the band Mogwai. They have a big smoking room in the back, good beers on tab, and local DJs from time to time who can probably tell you what is going on in the city. At Tennis Café/Bar (Reuterstraße 95), you also have great beers, a friendly bar staff, a small smoking room. (Yes! You can still smoke indoors in Berlin in lots of places which is a bit crazy.) Sometimes you can even sing karaoke in their grungy basement. If you are a fan of rock 'n roll and psychedelic music, 8mm Bar (Schönhauser Allee 177b) in Prenzlauer Berg will be your favorite place on Earth. We also DJ there from time to time and it's a bit like our family in Berlin."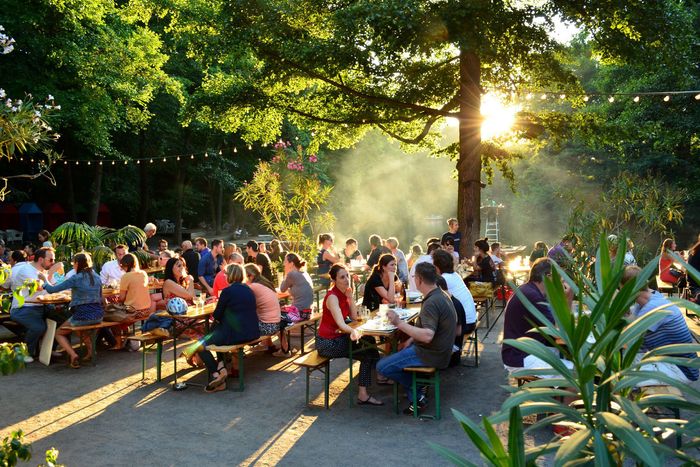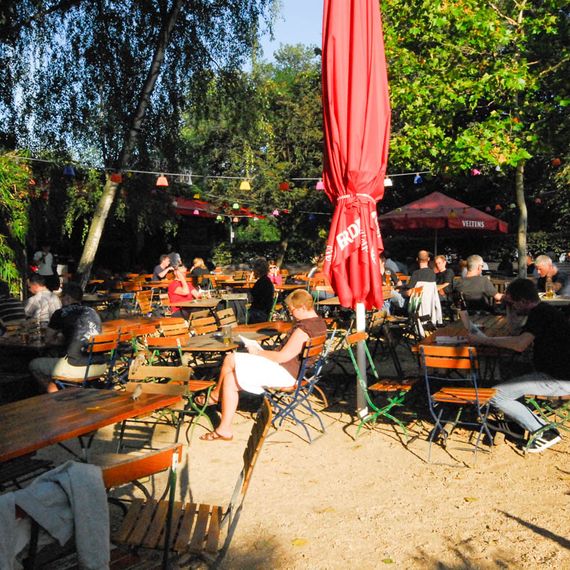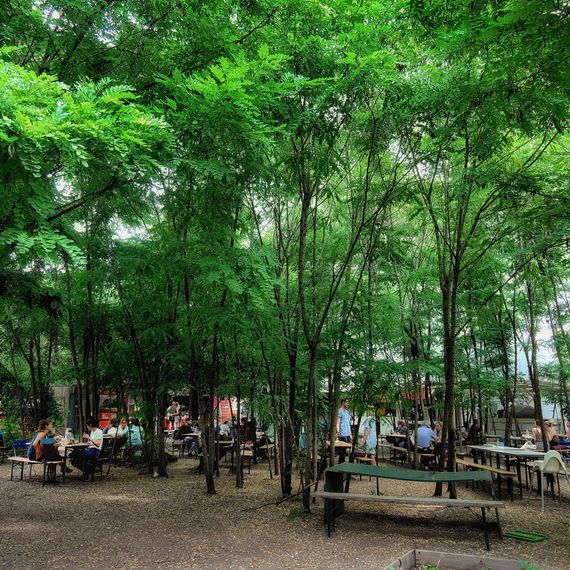 "The most beautiful biergartens are Schleusenkrug (Müller-Breslau-Strasse 14b) or Café am Neuen See (Lichtensteinallee 2). They are both right at the water. One tip, definitely don't try Berliner Weisse. Only tourists drink it and it's disgusting — way too sweet. I have to admit, though, that Prinzessinnengärten (Prinzenstrasse 35-38) at Moritzplatz is probably more my thing. They have lots of microgardens there and it feels like a little jungly paradise in the middle of the city. Another great one of my favorites is in the middle of Hasenheide Park called Café Hasenschänke. While Café am Neuen See is located in Berlin's prettiest park (Tiergarten), Hasenschänke is located in Berlin's grungiest park, Hasenheide, where the 'cool kids' hang out. Hasenheide also has a great outdoor cinema in the middle of it. It's screening most movies in English too."
"Berlin is known for its electronic music worldwide, but there are many great bands here that are worth checking out, like Jealous, Fenster, Plattenbau, John Moods, Sofia Portanet, Laura Carbone, Kamoos, Jettscreams, and Shybits. If you're looking for live music, check out what booking agencies and promoters like Puschen, Landstreicher Booking, or Paper & Iron are putting on — they usually book the touring indie bands or German indie bands in Berlin. If you want to go underground, check out Shameless/Limitless, which is run by Kevin Halpin, who always books the coolest latest music from in and out of Berlin. Most of these shows take place at Loophole nightclub in Neukölln. Loophole is a great venue since it's a bit smaller and gives a stage to more experimental but also rock and roll things. (Urban Spree (Revaler Str. 99) is great for that too!) You might see anything from more electronic drum sample-based projects to a classic punk-band set-up."
"Spend at least one day taking one of these touristy boat tours on the Spree River that explain the history and architecture of the city — it's actually quite beautiful. If you're on a budget, you can also take the bus line number 100 (public transport ticket will cost you only 2,70€) which will stop by all the major sites of the city: Alexanderplatz, Brandenburger Gate, Berlin Wall, etc. Berlin is full of history and much of it is still vivid in its architecture and museums. But after crossing that off your list, go a little off path. The most unique sites in Berlin are actually Teufelsberg and Tempelhofer Feld. Teufelsberg is an old spying tower by the U.S. army and is an unnatural hill, built on the debris of World War II. Hiking up there is always a great experience and some artists have started to create sound installations there because the place is so unique, sonically. Or go for a walk at Zoologischer Garten (Hardenbergplatz 8), which has the world's largest variety of species. Berlin also has a museum of streetlight lanterns (Gaslaternen-Freilichtmuseum, Strasse des 17) in Tiergarten Park. It sounds very random, but you can look at streetlight lanterns from different years. Then walk by the river and sit down in the cafe or beer garden for a coffee or radler. (A 'radler' is beer mixed with lemonade. We love it. It doesn't get you drunk drunk, but gives you a refreshing buzz that tastes sweet and slightly beer-y.)"
"The Kindl (Am Sudhaus 3) is in the building of an old brewery and they have a café where you can sit next to the machines of the brewhouse. I love going there, as they have enough space for massive installations. Every summer, there is an event called 48h Neukölln where different locations participate as an gallery for artists. It's amazing. You can just walk around the streets of Neukölln and check out different art for two days. In September, there is also the Berlin Art Week. A lot of galleries participate and there is a big art fair and a lot of events."
"PICKNWEIGHT (Bergmannstraße 102) at Bergmannstrasse is a giant vintage store, a bit pricey, but you can find some really unique and fun stuff there. There are also lots of great vintage stores in Neukölln: neuzwei, Let Them Eat Cake, Bohei, or Le Magass. There is also a vintage store in Mitte called Made in Berlin (Neue Schönhauser Str. 19) which has covered every clothing style of the past decades — from floral dresses to cowboy boots. The neighborhood is really pretty, central and you have most of the great sites of Berlin in walking distance. It's also really beautiful and international: I always think I'm walking around young entrepreneurs, start-up-owners and fashion bloggers there. If that's your scene, you'll have a great time there. If you love punk, check out the record stores Wowsville Record Store (Ohlauer Str. 33) and Static Shock Music (Bürknerstraße 6). If you go by Wowsville, which is a record store in a bar, don't forget to pick up one of their pizza slices across the street — they are big and yummy."
"If you are in the city in the summer, you should go to a lake once. A very reachable and beautiful one is Teufelssee Lake — you can also go nude swimming there if you like, which is a custom coming from the old East-Germany. If you are going to Teufelssee and are in the Grunewald area, you can go and visit the Velvet Underground singer Nico's grave. She is buried in the Friedhof Grunewald-Forst (Schildhornweg 33), which also was called the 'suicide cemetery' in the 19th century. The river Havel has a shore near the cemetery, where a lot of people who drowned as an act of suicide were stranded and then buried there. If you go in the summer, be prepared to have an intense experience, as there are usually a lot of mosquitoes and the whole atmosphere is a little eerie. If you want to go for a little sail or walk around a not so crowded lake, visit Tegeler See. If you get off the S-Bahn at Treptower Park, there are one or two kayak rentals along the shore in the park."