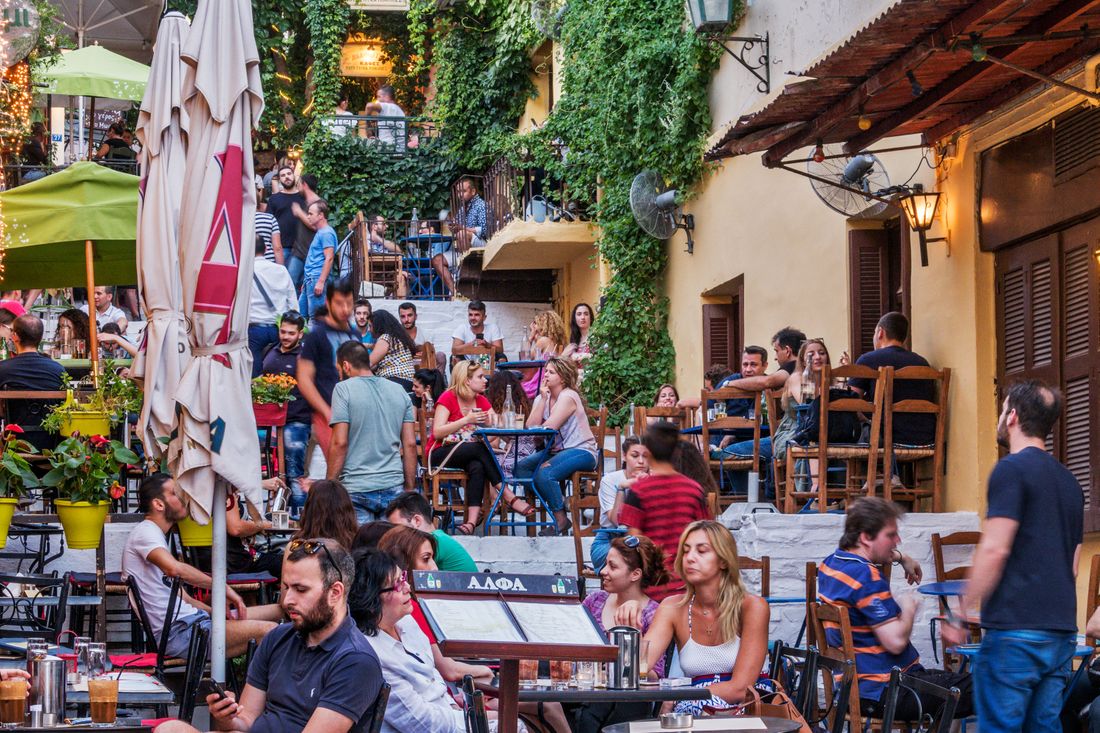 Locals drinking freddo in the late afternoon in Athens, Greece.
Photo: Izzet Keribar/Getty Images/Lonely Planet Image
It's commonly understood that the best way to explore a new place is to go straight to the locals. Each week in the Urbanist, we take that wisdom one step further by seeking out not just locals but local experts — those who are especially well versed in their cities' newest and most noteworthy scenes — to give us insider tips. This week, we asked Greek artist Eugenia Vereli, whose sculptures are currently on view in a solo exhibition at Allouche Benias gallery, for her recommendations in Greece's capital city.
"Athens is the definition of Mediterranean. You can see this in the kitchen, in the seaside, in the nature. It's a really youthful city. People stay out until late into the night every single day of the week. It's not like the north region of Europe or even France or Italy. We are out all day long. We have many bars, many cafés, many shops. When you wake up, you'll go out and drink coffee. The nice thing about Athens is that because it has so much history, all the ancient buildings and art, you can walk through these ancient things every day. You can see these things and live your modern life today. People from other countries can't do that. The best time to see the Acropolis is in the late afternoon because it's not too hot and it's really nice when the sun sets. Everything looks gold. The art scene is really popular these days in Athens. There's a contemporary gallery called Allouche Benias (Kanari 1) that features a lot of emerging artists. I have an exhibition there right now. It's in Kolonaki, which is one of the nicest places downtown with all the good shops and expensive brands. Most of the galleries are in this neighborhood. Every Thursday night there's an opening. There's also a great art museum called National Museum of Contemporary Art, or EMSD in Greek. This is one of the biggest for contemporary art."
Her Other Musts
"Academia of Athens (Akadimias Street 38) is a new hotel in the center of Athens. A bit expensive but really nice. It has a roof garden. It's downtown within walking distance from the Acropolis and near all the big shopping centers, the parliament, and Syntagma Square (the most important square in Athens). Also, there's Hotel Grande Bretagne (1 Vasileos Georgiou A), which is one of the best (and most posh) hotels in Athens — David Bowie stayed there while on tour. It's one of the oldest, really big, really in the center of the city. It has a roof garden too; you can see the Parthenon from it. (You can see the Parthenon from most of the roofs in Athens. The architecture of the city is made for every street to look to the Acropolis.)"
"There's a neighborhood called Exarcheia that's the more creative part of the city: bars, galleries, underground places. Young people go there. It has a lot of nightlife as well. There's a bar called Santarosa (Asklipiou 69); you'll find a lot of locals there. They have good Negronis and good wine. Ama Lachei (Kallidromiou 69) is a great restaurant there. It's not too expensive. Sit outside in the garden. It's a mezedopoleío, so there are a lot of small dishes. I like to order a Greek salad and chicken fillet saganaki with smoked cheese from Metsovo. We have a lot of cheese in traditional Greek food."
"In Athens, we drink all the time the same coffee, freddo, which is espresso or cappuccino with ice. In the summertime, everybody drinks freddo. We also drink frappe, but it's not in fashion anymore. I wouldn't recommend it. Only freddo now. There's a coffee place called Village; it's in a really small and cute square called the St. George Square in Kypseli. Many people hang out there in the summer. It's a nice neighborhood with big trees and a lot of other cafeterias and restaurants nearby. Aerostato (Ptolemeon 4) in Pagrati is the same way, in a square with lots of trees. You can get a coffee and sit in the square or explore the neighborhood. In Athens, we sit a lot in squares. We have many, many squares. Greek people want to go somewhere they can people-watch."
"One of the best reasons to visit Athens is because of Greek food. A nice Greek restaurant that's not too expensive is Seychelles (Keramikou 49). If you want to order like a local, you would order pappardelle with kavourmas, which is marinated meat from Komotini in northern Greece. You can find many dishes from many different places in Greece. For example, there is a cheese called manoura that's from Sifnos. Sifnos is a Greek island that's really nice. You should go when you come. We don't only have Mykonos and Santorini; we have many, many islands. There is also a restaurant with fish called Varoulko Seaside (Akti Koumoundourou 52). It's a bit expensive, but it's the best. It's Greek modern cuisine. You can see the boats outside from inside the restaurant. Every day there is a different fish in the restaurant."
"You can find feta everywhere. Everywhere, literally. Most of the time it's good quality. But there's a place in Athens where locals go. Varvakios Central Market (Athinas 42) is a big market downtown with many different shops that sell cheese. They sell fish, meat, and cheese. It's huge. If I wanted to make a picnic, I would go there and get feta, marinated meat like kavourmas, olives, and good bread. In the summertime, we eat a lot of melon. The great combination we do here is feta with melons. If I came to Athens for the first time, I would take home olive oil."
"People go out for drinking or clubbing after midnight. If you to a club after two or three 'clock, it will be crowded, not before that. Some bars close at 4 a.m., others close at 9 or 10 in the morning. In Psiri, there's a place called Cantina Social (Leokoriou 8). People are there until the sun comes out; it's open until 10 a.m. They play electronic, experimental music. There's a garden where people can sit down and drink, and there's another area for dancing. There's another bar that's a great experience for visitors. It's called Batman Bar (Theodoritou Vresthenis 40) and it's a very Greek after-hours bar. You should go there around 4 a.m. You can hear only Greek music — it's really emotional, always about love. It's really small but very famous among locals. It was one of the oldest gay bars in Athens; the owner was one of the first bar owners to come out. There's a long bar, rows and rows of vinyls on shelves against the wall, and an LGBTQ flag. You see everyone there. Latraac (Leonidou 63-65) in Metaxourgeio is also very popular with local artists. They have great electronic and experimental DJs who play there. Metaxourgeio is a very artsy neighborhood."
"You definitely must go to the National Archaeological Museum (Athina 106 82). I think it's one of the best places to see ancient art. My favorite is the ceramics. There are about 16,000 sculptures in the collection, and some date back to 700 B.C. If you want to have a better look into ancient Greek history, go here. Also the Acropolis Museum (Dionysiou Areopagitou 15) — architecturally, you will pay attention when you see it. This year, the museum has its tenth anniversary. You will find caryatids there, the sculptures of female figures that are the pillars of buildings."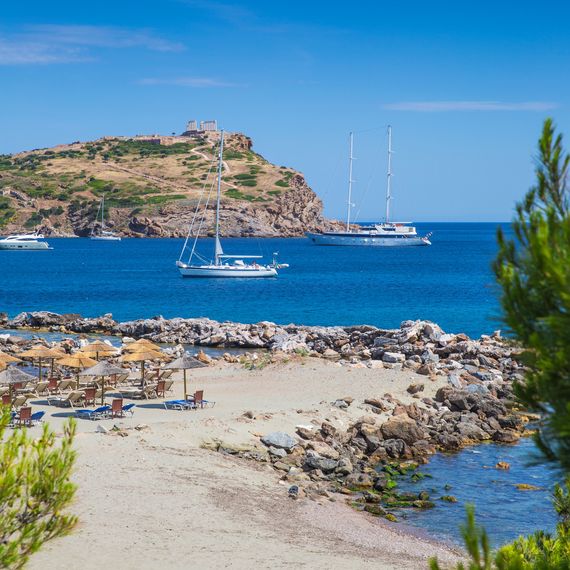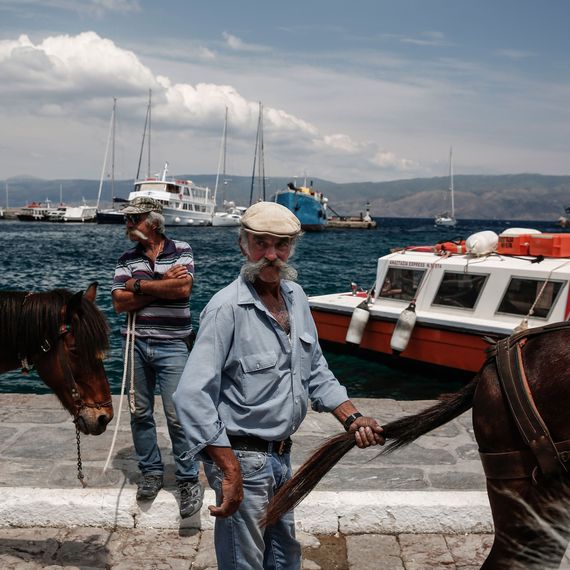 "You can go swimming approximately 30 minutes away from the city center. Sounio is a really nice place where you can swim along the southern coast of Athens. Some of the beaches don't have names, but Cape Sounion is a great beach where you can have a view of the ancient Temple of Poseidon. It's really popular, but the atmosphere is really nice. You can swim and you can see the ruins, so it's perfect. For a day trip, I would definitely recommend going to Hydra. It's only an hour or an hour and a half from Piraeus, which is the main port of Athens. You can take a ferry there from Piraeus; there are no cars allowed on Hydra. The name is from Lernaean Hydra, the ancient mythical beast with many heads. You can find the DESTE Foundation for Contemporary Art there. They show contemporary art in an old slaughterhouse. Every year in June, there are openings. Every year they have a great artist. This year it's Kiki Smith."