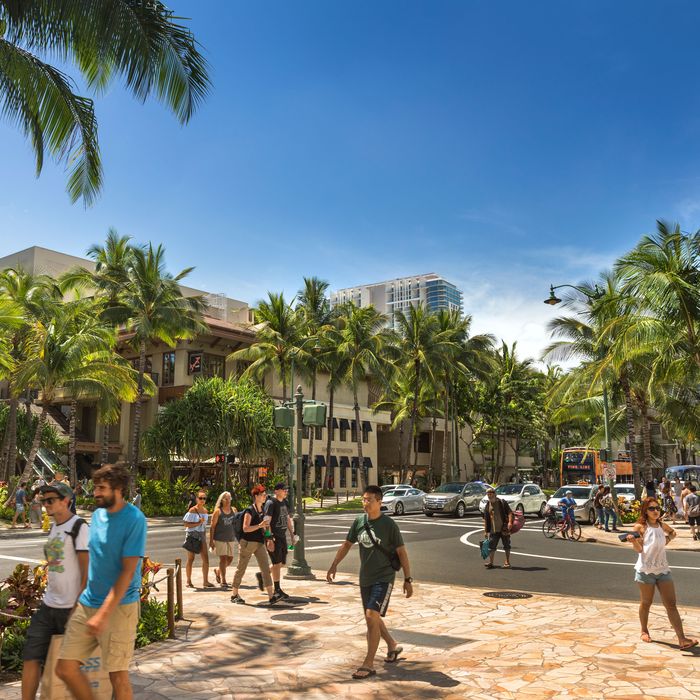 Waikiki's main thoroughfare, Kalakaua Avenue.
Photo: Paul Giamou Photography Ltd./Getty Images
It's commonly understood that the best way to explore a new place is to go straight to the locals. Each week in the Urbanist, we take that wisdom one step further by seeking out not just locals but local experts — those who are especially well versed in their cities' newest and most noteworthy scenes — to give us insider tips. This week, we asked Matt Kato, surf instructor at Ohana Surf Project, for his recommendations in Hawaii's capital.
"Honolulu can definitely be romanticized, but it is a city. Those of us that live here lead fairly regular lives, but we do it in a beautiful place with comfortable weather. May, September, and October are the best times to visit. Just before summer and just after summer. The beaches in Waikiki have the most activity. Waikiki is pretty much a city vibe, especially the three-mile block near the ocean. There are streets that run parallel to the beach. You have Kalakaua Avenue, which is the closest street to the beach, then Kūhiō is right behind. Anywhere in Waikiki is pretty much a block away from the ocean. If you're trying to get away from the hotels and resorts, you can go to North Shore or Mokuleia Beach. If you want to see the large waves on the North Shore, then visit during the winter. Mokuleia is on the northwest part of the island. It's more secluded with super-beautiful beaches. But Lanikai Beach in Kailua on the east side is one of the all-time nicest beaches in Oahu."
His Other Musts
"The Vive Hotel Waikiki (2426 Kūhiō Ave.; 808-687-2000) is pretty nice and affordable. It's on Kūhiō Avenue, not on the beachfront. A lot of the beachfront hotels are a little more pricey. At Vive, a couple of the suites are themed. I've stayed in the Musician suite before. It has this huge painting of John Lennon against the wall. It's a boutique hotel, so not that big. Ask for Daniel, who's the manager there, or Kasi at the concierge desk. They'll take care of you."
"Waikiki is great, but make sure to also get outside of Waikiki. Kaimuki is a really laid-back neighborhood. The people are nice. It's also really close to Diamond Head, Waikiki, and it's like the center of town. It's a residential area, so you get away from Waikiki and all the hotels, but it's close enough to all the things you want to do in Waikiki. In Kaimuki, the main street is Kapahulu Avenue, which is maybe a mile or two long. On Kapahulu, they have restaurants and bars. My favorite is Uncle Bo's Pupu Bar & Grill (559 Kapahulu Ave.; 808-735-8310). You can go there for a nice dinner and drinks. If you're looking for something a little cheaper, Rainbow Drive-In (3308 Kanaina Ave.; 808-737-0177) is a local plate-lunch place on Kapahulu. Rainbow has been around for a long time, since 1961. It's a place where a lot of the guys who surf in Waikiki would go. My grandpa would go. He was a 'beach boy' here. (Beach boy is what we would call guys that work on the beach, like who do the surf lessons, canoe rides, etc.) He and his friends would eat there after surfing or after work."
"Kaka'ako is the neighborhood that has been growing and becoming as they would say gentrified. It has a lot of fun bars now and is a fun hangout area. There's a lot of art, specifically in large murals on the big concrete walls of many of the buildings. There are mural tours you can take. And there is an event a few times a year called the Night Market, which features local artists and artisans. The Honolulu Museum of Art (900 S. Beretania St.; 808-532-8700) also hosts an event called Art After Dark, which has a different theme every month."
"The fish tacos at South Shore Grill (3114 Monsarrat Ave.; 808-734-0229) are so good. They put aïoli coleslaw on top of them. They sprinkle it with green onions. I like spicy, so I put Sriracha on that. It's amazing. It's a small restaurant. You walk in, order from the register, and then there's seating in the back. It's pretty casual. I've been going there forever. They call me by name. It's a local spot. I only go on Tuesdays. It's cheaper on Tuesdays. There's surf pictures on the wall."
"I like Zippy'sthe best, but Rainbow in Kapahulu is a good place to check out for the visitor. I always order the mixed plate. Being born and raised here, I've been going to Zippy's since I was a kid. It's probably the one I've been to the most. The good thing about Zippy's is that it's open 24 hours. You can go for late night after the bars. There's also L&L Hawaiian Barbecue. It's another plate-lunch place that's been around forever. A plate lunch comes in those Styrofoam containers with different sections, which are then filled with your source of protein (like chicken katsu, barbecue chicken, beef stew), rice, and macaroni salad. That's a pretty standard plate lunch."
"If you're in town, you'll want to go to Waiola Shave Ice (2135 Waiola St.; 808-949-2269). The original one is on Waiola Street, but there's one off Kapahulu Avenue too. It's a little cottage-looking place. You order from the window, and then there's outside seating, benches with umbrellas. You can also get vanilla ice cream on the bottom of your shave ice. I like to get ice cream on the bottom. My flavors are li hing mui, piña colada, or blue Hawaii. We have a lot of Asian influences here. Li hing mui is one of the flavors we've adopted from China. It's plum flavor — it's a sweet-sour flavoring that we put on everything."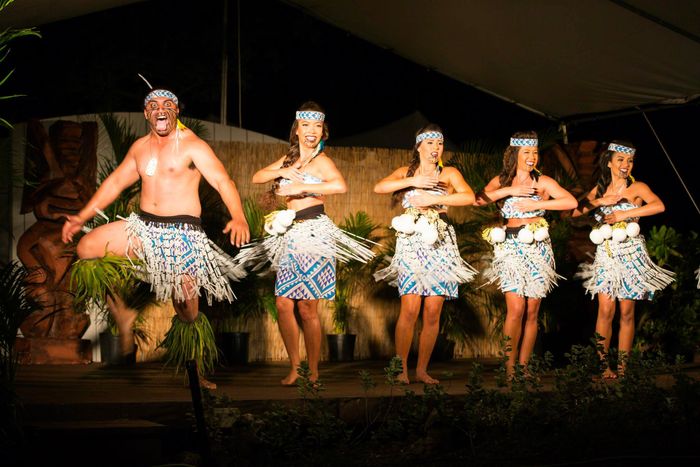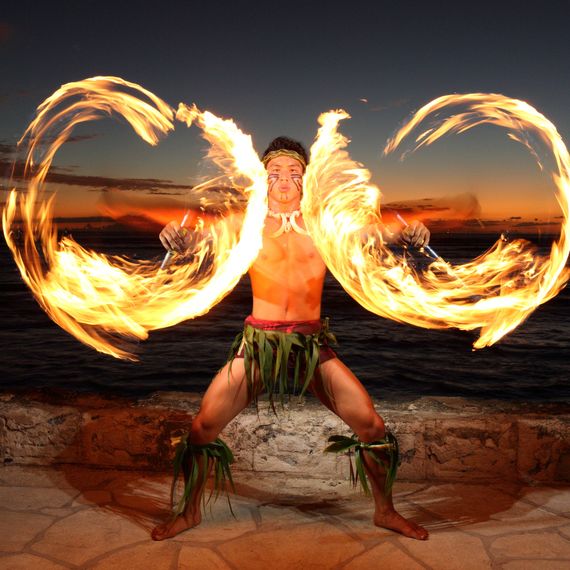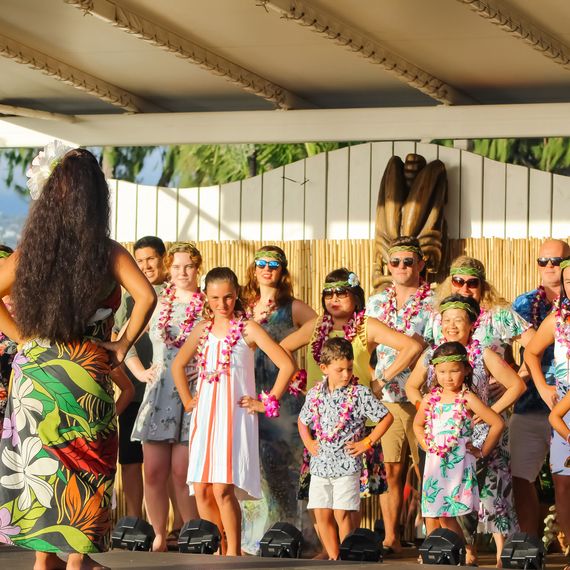 "The luaus that the hotels provide are actually a pretty fun time. They throw a good show. They give you a Hawaiian plate of food. They give you drinks. There's always some sort of entertainment like fire dancing or a good ukulele player. They bring people up from the audience and teach them little Hawaiian dances. I always tell my friends who are traveling here to check them out. It seems a little corny at first, but they always have fun. Sea Life Park (41-202 Kalanianaʻole Hwy.) has one called Ka Moana Lu'au. There's also Diamond Head Luau at the Waikiki Aquarium (2777 Kalakaua Ave.) and Paradise Cove Luau at the Ko Olina Resort (92-1480 Ali'inui Dr.).
"Lulu's Surfer Bar & Restaurant (2586 Kalakaua Ave.; 808-926-5222) is a surfer casual bar. For surf instructors in the area, Lulu's has always been good to us. Also, I like the bars downtown and in Chinatown, like Bar 35 (35 N. Hotel St.; 808-537-3535), which has more than 175 beers from around the world. They frequently have live music and DJs. There's an outdoor patio. On weekends and First Fridays, Chinatown goes off for nightlife. In the afternoon, there's an art walk at local galleries, but it almost turns into a block party at night. Everyone flocks to Chinatown on a First Friday. Besides Bar 35, there's also a punk-rock music bar called Downbeat Diner and Lounge (42 N. Hotel St.; 808-533-2328). Or there's Manifest (32 N. Hotel St.), if you want to dress up for a nightclub-cocktail-bar vibe. Or the District Nightclub (1349 Kapiolani Blvd.; 808-949-1349), if you want bottle service.
"If you want to go surfing, you definitely want to go surfing in Waikiki. Take a lesson. I work at Ohana Surf Project, and our top-notch crew works with many levels and helps introduce you to the Hawaii waters. It's not that the waves are crazy. The reason you need a lesson is because in surfing, it's more than just catching a wave and then standing up. There are so many more factors that go into it. Unlike skateboarding and snowboarding, where your hill or ramp is right in front of you, in surfing we're dealing with the ocean. That's the biggest thing about surfing, knowing the ocean, reading the ocean, knowing where to be. That's basically what we do for you. We use the knowledge and experience we have. We take you to a spot. We judge the waves for you so that you only really have to concentrate on paddling and actually standing on the board. It's a lot different than what people think. I know people who try to start surfing. They go out day after day after day and barely catch a wave. If you come out with us, you're going to be riding ten-plus waves on your first day here."
"Diamond Head is a good hike for anyone's first time here. It's very close to Waikiki. Some of the other hikes are farther away. You can hike up Diamond Head, which is a volcanic crater that's like 300,000 years old. When you get to the top, you can see all of Waikiki, but it's not very long. You'll break a sweat, but it's not crazy. Maybe an hour or two out of your day."
"You can obviously get Hawaiian snacks from chain grocery stories, but Don Quijote is better. Don Quijote (801 Kaheka St.; 808-973-4800) is an Asian grocery store just outside Waikiki. It's a great place to find local snacks at a good price; it's way cheaper than anything you'd find at the ABC Stores that are everywhere in Waikiki. Popular snacks to take home are chocolate macadamia nuts and li hing mui. They also have a locally made section with T-shirts, souvenirs, hula-girl bottle openers, and other little knickknacks. In Chinatown, some of the blocks are lined with leis, like flower shop, flower shop, flower shop. It's like the old-school Asian aunties who sit in their shops stringing up flowers. If you want a good Hawaiian lei that smells amazing, they have really good flower shops in Chinatown. There are a ton on Maunakea and Beretania streets."