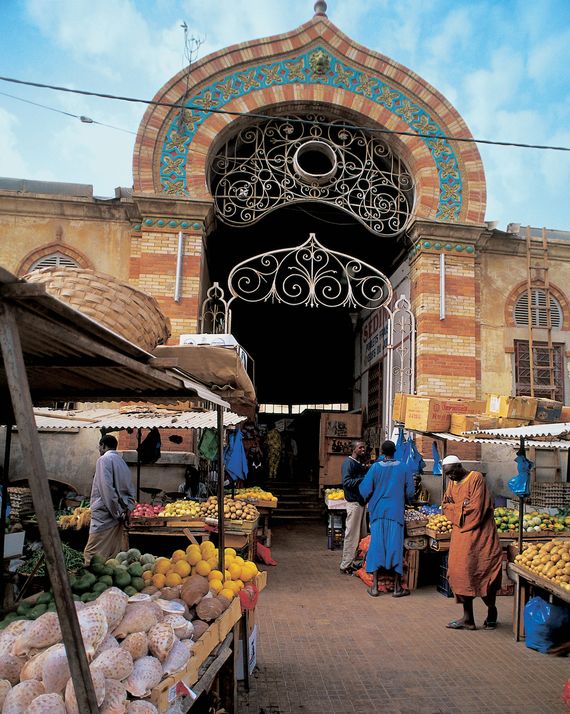 Dakar is a city of vibrant colors, as seen here at Kermel Market.
Photo: De Agostini/Getty Images
It's commonly understood that the best way to explore a new place is to go straight to the locals. Each week in The Urbanist, we take that wisdom one step further by seeking out not just locals but local experts — those who are especially well versed in their cities' newest and most noteworthy scenes — to give us insider tips. This week, we asked Abib Djenne, senior architect behind Black Rock, Kehinde Wiley's Dakar art compound, for his recommendations in the Senegalese capital.
"Dakar is the capital of French West Africa, and because of its position at the westernmost part of the continent it's also a hub for Europe, America, and Asia. It's a "little Paris," a cosmopolitan city with all the facilities and amenities you'd want. There are common misconceptions about the safety risks in certain neighborhoods, especially the banlieue. But here different ethnic groups live in perfect harmony. And Senegal is known for its culture of hospitality, called teranga. Guests get a very warm reception — it's the culture. I'd suggest coming from November to June, when the temperature is in the 70s. That season is the best time for fishing and seafood, and cattle is abundant then as well."
His Other Musts
"My favorite hotel is Lagon 2, because of its location (Route de la Petite Corniche Est). It's on the eastern edge of the city, right on the water. A lot of the rooms have views of the sea. I prefer it for its unique architecture as well — the structure is shaped like a boat! Their restaurant, Lagon 1, has great seafood, of course. And the fitness center overlooks the beach, which is easily accessible."
"For tourists looking for Airbnbs, I'd recommend the city center, Dakar-Plateau. It is the most modern area of ​​the capital, located in the south of the peninsula of Cape Verde, facing the island of Gorée. It's got the IFAN Museum (rue Place 18), which houses West African art and artifacts. Sandaga Market, too. Even if you don't want to buy, it's a good place to see what it's like — see Senegalese people going about their lives. Chez Loutcha is a popular, more casual restaurant (101 rue Mousse Diop). The menu is very big, and so are the portions. Lots of local West African and Cape Verdian dishes, including vegetarian options."
"My favorite restaurant is La Fourchette (4 rue Parent, Kermel). It's managed by my friend Hanoue. He's Senegalese-Lebanese. The cuisine is truly international — French, dakaroise, Asian, vegetarian. Dakar is diverse, and therefore the food is too. It's different depending on ethnicity and custom, but always with a strong and hot, spicy flavor. The social custom surrounding food is notable as well. It's part of teranga — eating is communal. Guests are always invited to share in meals. A dish tourists must have is thiebou djenn, a traditional shared dish of rice, fish, and vegetables. And yassa casamançais, chicken with onions and lemon over rice."
"Marché Sandaga (avenue Pompidou and avenue du Président Lamine Guèye) is central, located in the heart of the city on the Plateau. It's also unlike the other markets. First because of its impressive Sahélo-Saharan architecture — the building is historical — and also the vast array of products available. You can find everything there. Fabrics, clothing, artwork, jewelry, and of course food. And so many people and stalls. The result is a multitude of smells unlike anywhere else. It's where locals shop. It's not for the faint of heart. If you're a tourist and want to buy souvenirs, there's also Marché Kermel (rue de Essarts). It's close by — you can walk from one to the other. There are food stalls inside — go see the fish they've caught — and art stalls outside. You can watch the vendors create handmade pieces to buy. Tourists should bring home artisanal sculptures and handmade African dolls made of wax tissue—waxed cotton that's commonly used and comes in many colors."
"There are a lot of options. Galerie Antenna is famous — it's the oldest, and one of the best (9 rue Félix Faure). Definitely Galerie Cécile Fakhoury (rue Carnot and Béranger Féraud). It looks like a gallery you'd see in New York. The Museum of Black Civilizations opened less than a year ago (Autoroute Prolongée and place de la Gare). Its architecture is modeled on the medieval city Great Zimbabwe. It has contemporary-art exhibitions and historical relics, all examining and celebrating Africa as the cradle of our civilization, and decolonization."
"The best club is Kings (32 rue Victor-Hugo). It's an institution. Also on the Plateau. It's a diverse, cosmopolitan crowd. People go for the international music — hip-hop and R&B from Africa, Europe, the U.S. I live nearby, so it's very convenient for me. Thursday and Saturday at 1 a.m. is a good time to go and meet cool people from all over the city. Simple dress — no dress code. There's also Play Club for musical artists (46 rue Jules Ferry). It's a little more touristy."
"You're surrounded by the Atlantic on the Cap-Vert Peninsula, so of course there's surfing, fishing, and beach sports on la corniche ouest. Tourists love to go to see Lac Retba, known as Lac Rose. The water gets its famous color from the very high salt content interacting with the local bacteria. Obviously there are opportunities for beautiful photos you can show to everyone back home. And it's only an hour from the city. You can take a public bus, but the most convenient is to have your hotel arrange a private taxi. The water isn't always as pink as you see in the photos; some times are better to visit than others — the dry season is best. Me, I prefer to bring friends who visit Dakar to see the migratory birds that fly between America and Europe in December. We take a little canoe to Îles de la Madeleine, where there are basically two hills that face Medina. You see so many different kinds of birds. It's pretty amazing."