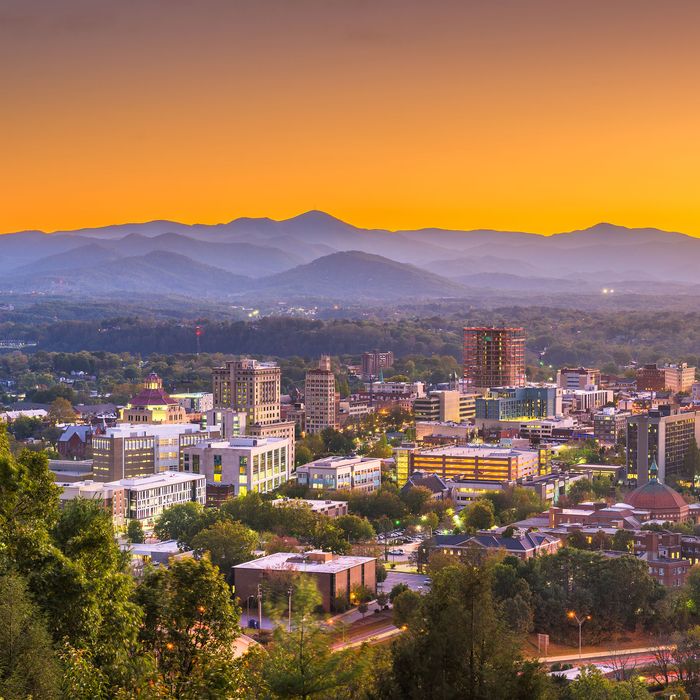 Downtown Asheville at dawn.
Photo: Sean Pavone/Getty Images/iStockphoto
It's commonly understood that the best way to explore a new place is to go straight to the locals. Each week in the Urbanist, we take that wisdom one step further by seeking out not just locals but local experts — those who are especially well versed in their cities' newest and most noteworthy scenes — to give us insider tips. This week, we asked John Swanson, head brewer at New Belgium Brewing Asheville, for his recommendations in the booming North Carolina city.
"I compare Asheville to an onion — if you keep peeling back the layers, you'll find more and more. Experiencing Asheville like a local can be a loaded question because it is full of tourists and locals end up doing the things that tourists do whether they like to admit it or not. Whether you go to the Orange Peel, the Gray Eagle, or Salvage Station (468 Riverside Dr.; 828-407-0521), you're going to be surrounded by the local music scene. I would suggest that people park their cars downtown and get out on foot. The town is becoming more walkable and pedestrian- and bicycle-friendly. Because we're in the mountains, it's cooler in the summer than other nearby Southern cities. Springtime is the best time to visit, particularly April. The weather is still mild and it's not quite humid yet. But fall is probably the most popular time. 'Leafers' come and post up for two to three weeks in October, just waiting for that peak season foliage. The Blue Ridge Parkway, which runs from Virginia all the way to Cherokee, North Carolina, cuts through Asheville and it's a hidden gem in America. It's a great scenic drive to see all the fall colors."
His Other Musts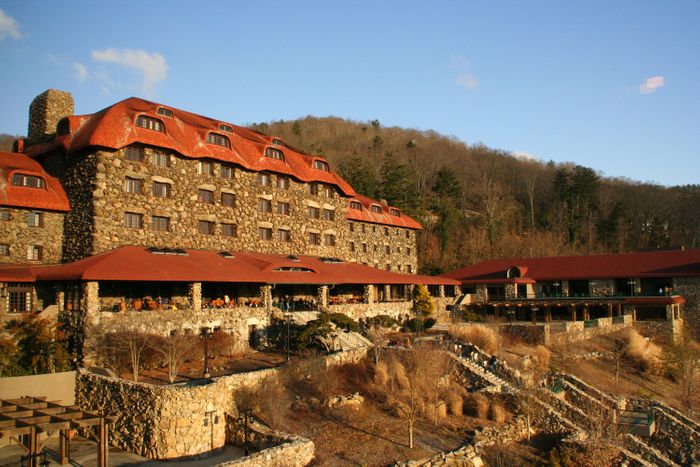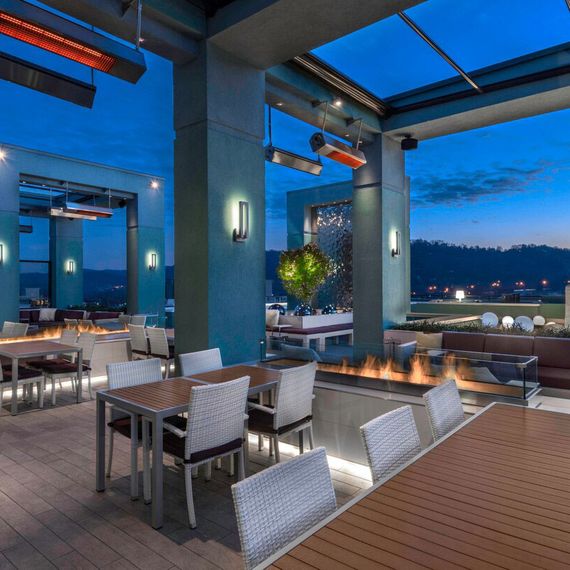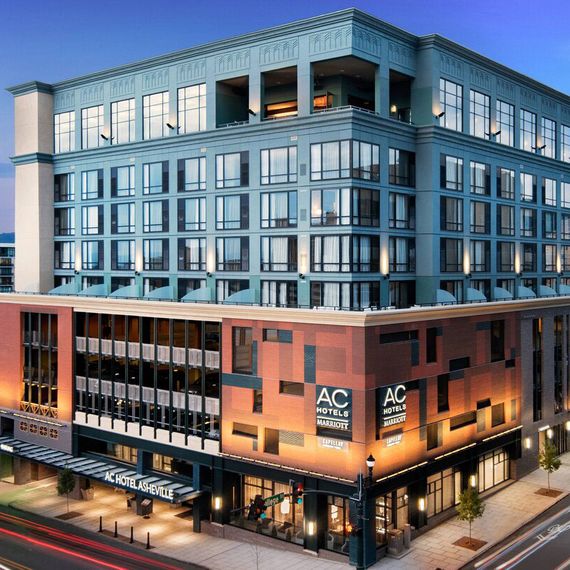 "The top of the list is the Omni Grove Park Inn (290 Macon Ave.; 828-252-2711), where the Obamas sometimes stay. This Arts-and-Crafts-style hotel is gorgeous with a cavernous subterranean spa and an 18-hole golf course. It has two of the biggest fireplaces you've ever seen and this old-timey, great-hall/lodge feel when you walk in, with lots of stone. The best place to watch the sunset is the Edison, which has outdoor seating with a panoramic view of the Blue Ridge Mountains. Even if you don't end up staying there you should still have a drink at Edison and enjoy the view. They also host the National Gingerbread Competition every winter, and the whole hotel is decked out in Christmas trees and very impressive gingerbread houses. For a more city vibe, the AC Hotel by Marriott (10 Broadway St.; 828-258-2522) is in the middle of downtown. It's new and modern. It doesn't have the history [of the Omni], but it's cool and welcoming. The rooftop bar, Capella on 9, has unbelievable views of the downtown skyline."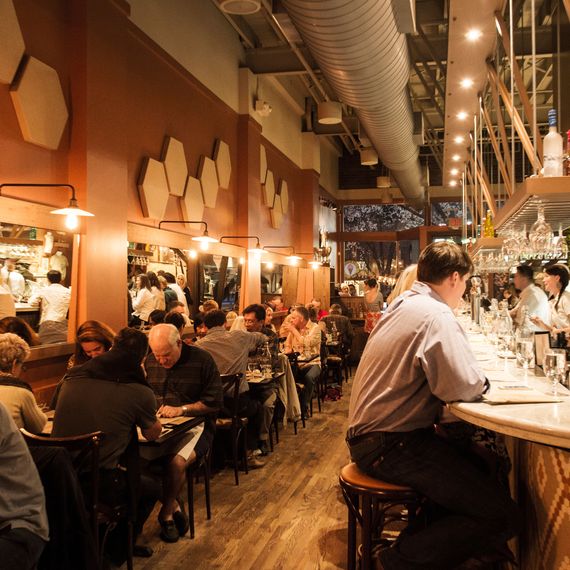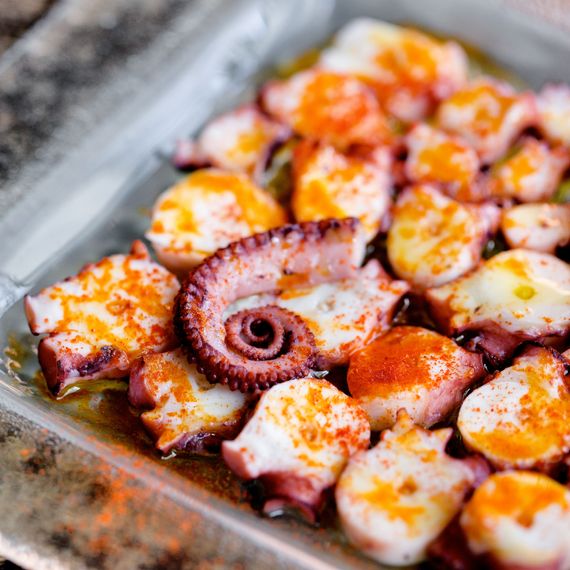 "Cucina 24 (24 Wall St.; 828-254-6170) is James Beard-nominated chef Brian Canipelli's place on a really cute, cobblestone street. It's an Italian restaurant that sources their ingredients from local farms in North Carolina. The menu changes a lot, but I love their traditional Bolognese and house-made pastas. Cúrate (13 Biltmore Ave.; 828-239-2946) is also great, by another James Beard-nominated chef, Katie Button. It's a Spanish tapas bar with an all-Spanish wine list. I love the pulpo a la gallega, which is Galician-style octopus served warm, as well as paella de verduras with seasonal vegetables. Those are two of the finer places that Asheville has the offer. We've certainly got our share of vegan and vegetarian places, like Plant (165 Merrimon Ave.; 828-258-7500) and Laughing Seed Cafe (40 Wall St.; 828-252-3445), but the quintessential Asheville dish is definitely barbecue."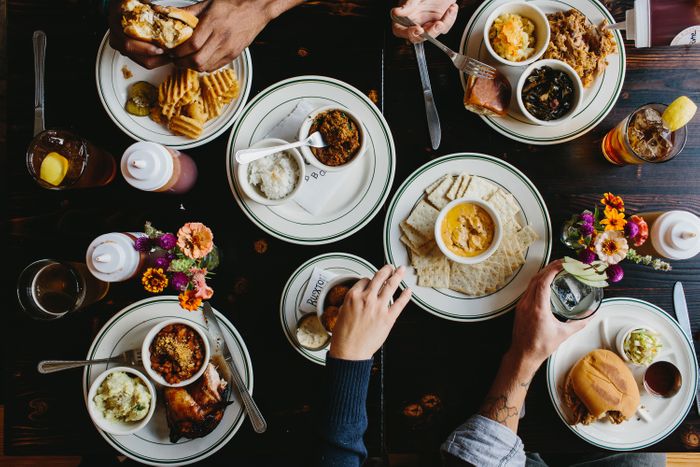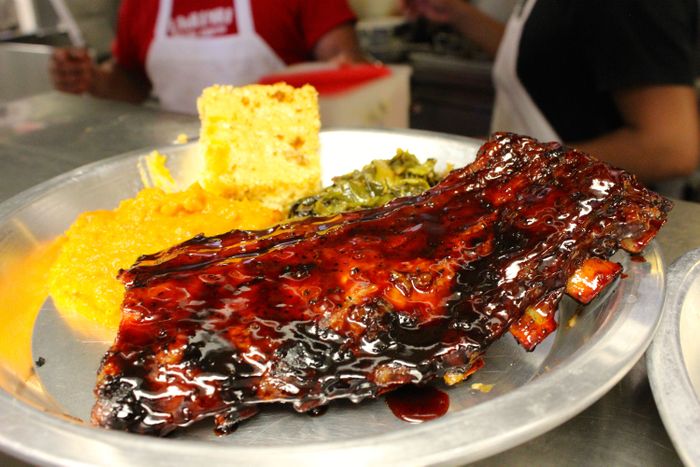 "Funny story: Musician Dave Grohl, who's an avid barbecuer, once played a secret show at the Orange Peel and ended up at Buxton Hall (32 Banks Ave.; 828-232-7216) eating pig and taking shots of bourbon until like four in the morning. The Eastern-Carolina style barbecue restaurant is in South Slope, which is a ten-minute walk from downtown. Get the Whole Hog BBQ & Hash Combo, which comes with pulled pork and BBQ hash, along with rice, slaw, cornbread, pickles, and choice of two sides. (Go for the green beans, which are cooked under a BBQ pig, and waffle fries.) The 'Mussels Cooked Under the Pig' is a great appetizer. But pro tip: order the buttermilk fried chicken sandwich. It's the best in the world and just like the most tender, awesome meat ever. It comes with a slice of American cheese, pimento cheese, pickles, and Alabama sauce — basically like a white, mayonnaise-based barbecue sauce. It's to die for, in my opinion. The space itself has brick walls and an open kitchen. They have this cool open bar where they make really nice Southern inspired cocktails. Get the Cheerwine slushie with bourbon in it. It's unbelievable."
"If you want to eat ribs, 12 Bones (5 Foundy St., Ste. 10.; 828-253-4499) is 100 percent the place you must go. It's right in the River Arts District and they do a little bit of everything, but just like Buxton Hall's chicken sandwich is the top of the line, the ribs at 12 Bones are the best. Order ribs and the pulled pork plate. The 'Hogzilla' sandwich with sugar bacon, pulled pork, bratwurst, and pepper jack cheese will give you the meat sweats. The blueberry barbecue sauce is really good. There's a line there every day and they're really only open for lunch or until they sell out of barbecue. But if I want barbecue and I'm not going to Buxton Hall or 12 Bones, I'm going to go Luella's (501 Merrimon Ave.; 828-505-7427) for their great wings, or I'll end up at Bonfire (1056 Patton Ave.; 828-255-0020)."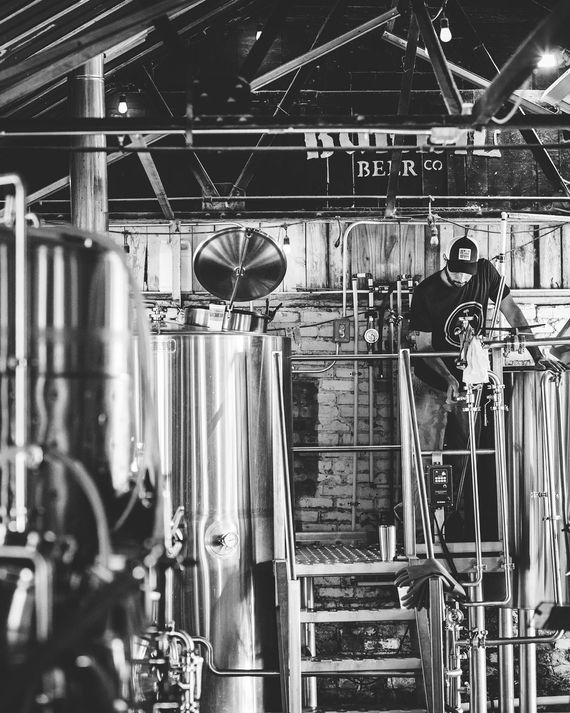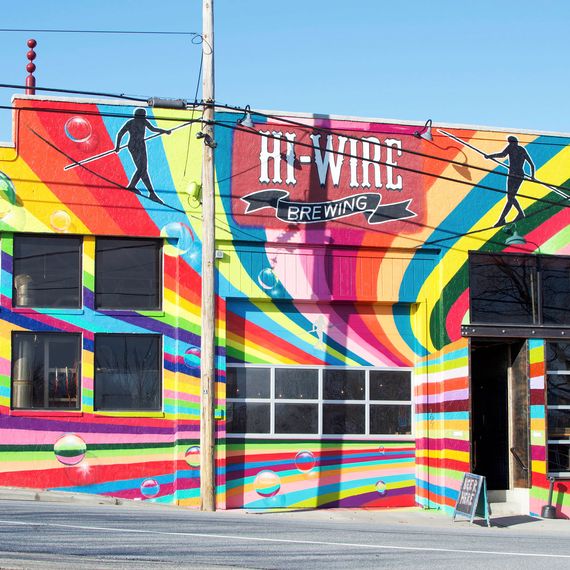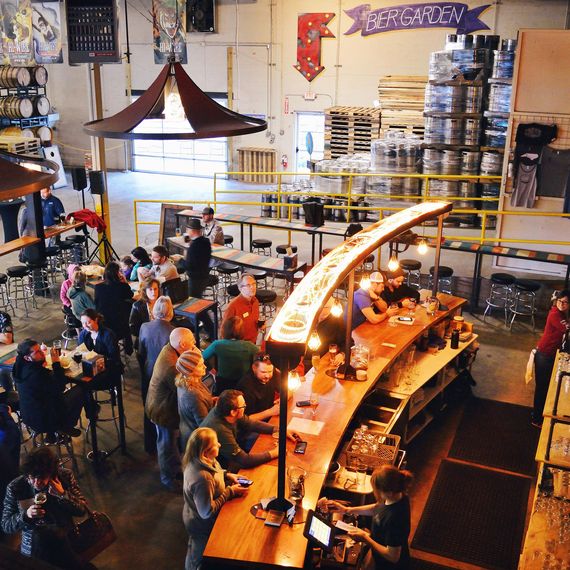 "Head to the South Slope, which is just the south end of downtown. There's probably a dozen breweries within walking distance. You're gonna wanna hit Hi-Wire (197 Hilliard Ave.; 828-738-2448), Burial (40 Collier Ave.; 828-475-2739), and Green Man (27 Buxton Ave.; 828-252-5502). The cool thing about Asheville is there is every style of beer. At Burial, I enjoy their big, juicy, double IPAs. I like the saisons at Archetype (265 Haywood Rd.; 828-505-4177). They make lots of good lagers and porters too. Another place I'll go for a good lager is Zillicoah (870 Riverside Dr.; 828-424-7929). I like our tasting room at New Belgium (21 Craven St.; 828-333-6900) for sour beers. I think Highland Brewing Company (12 Old Charlotte Hwy; 828-299-3370) is worth a mention because they're the oldest craft brewery in Asheville, and they've got a great space. But note: You can't buy more than one drink at a time in Asheville, so you can't walk away with two beers."
"Asheville has some older liquor laws, so some bars technically have to be a private club. You'll see bars with 'private membership only' signs, which does tend to keep away tourists. I like The Prospect, where a lifetime membership is five dollars and totally worth it. It's a great pre or post spot for any adventure on the South Slope. Order some brown liquor and hit up the jukebox and pool table. They have an awesome backyard space. It feels like you're at someone's house. And it's sandwiched in between Buxton Hall and Burial."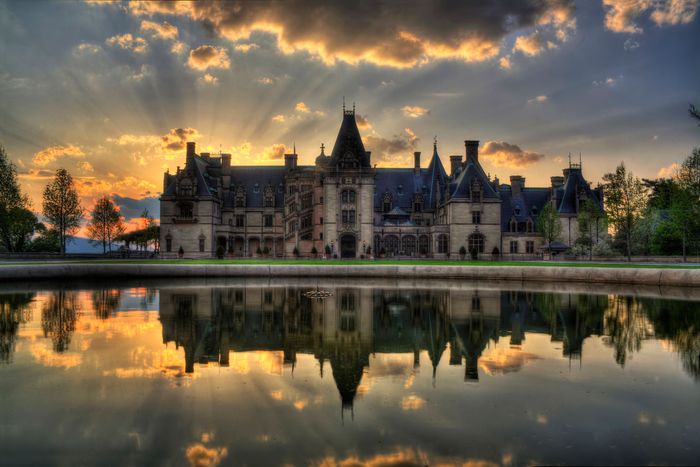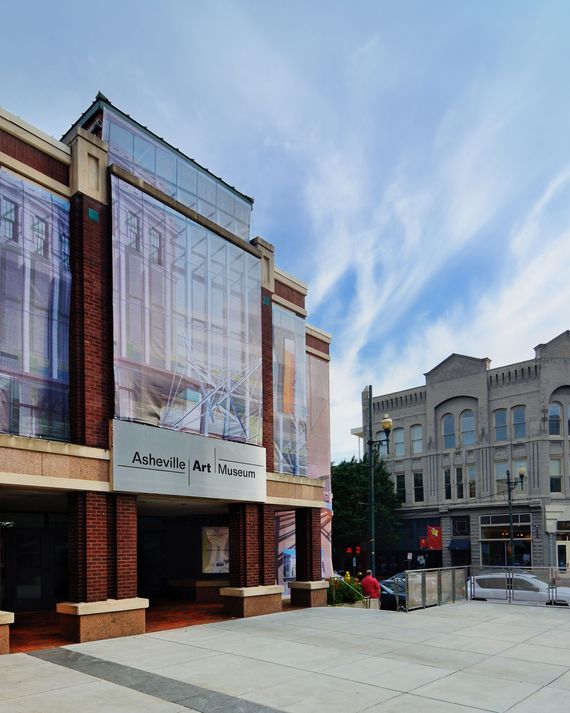 "The Asheville Art Museum (2 South Pack Sq.; 828-253-3227) is just about to open after a couple years of renovation. They have a whole floor on North Carolina, which I think is pretty cool. But if you want to see something even more local, head to the Biltmore estate (1 Lodge St.). It's kind of an obvious choice, but it's really, really cool. If you're going to go to Biltmore, plan for a full day to do it. To paint a picture, it's a 250-room mansion that the Vanderbilts built back in 1895. It's still the largest private residence in America. When you go there, you feel like you're transported to another time and place. It's otherworldly to think some people lived like that. The grounds are also beautiful, with huge gardens, greenhouses, and running trails. You can go horseback riding there. During Christmas time, they have an extended tour. Every room is decked out with a different Christmas tree. It also has beautiful views of the mountains. You just can't believe you're in the middle of Asheville."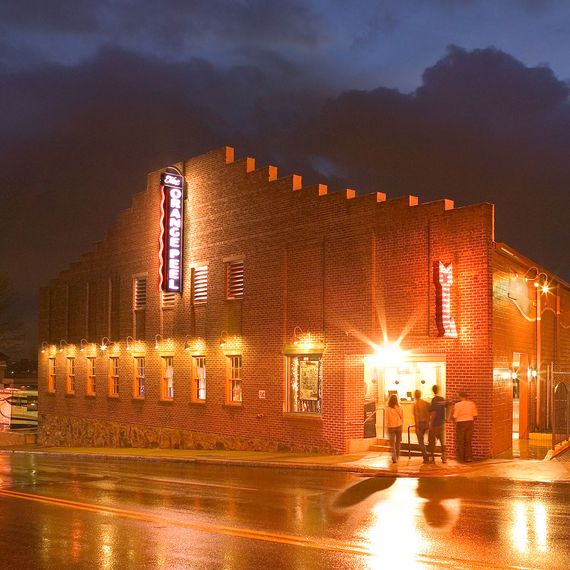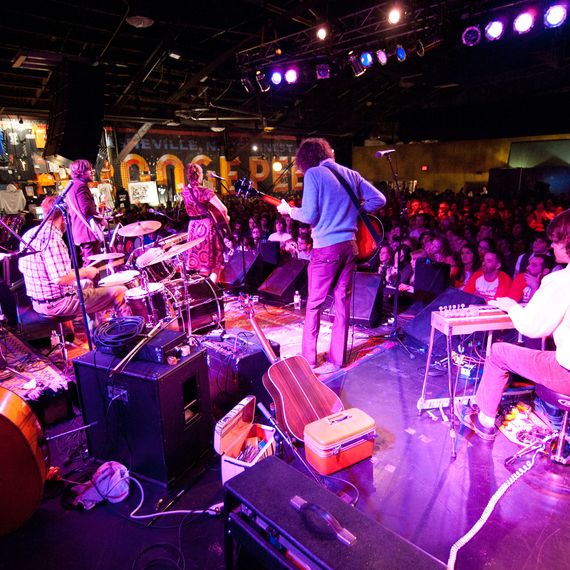 "The Orange Peel (101 Biltmore Ave.; 828-398-1837) is Asheville's medium-sized venue, but it attracts national acts. It's located in the southern part of downtown, which makes it very walkable from anywhere downtown, and there are bars and restaurants all around it. Generally, if artists are coming through Asheville, they're going to play the Orange Peel. Last year, the Flaming Lips played a special show there, though they weren't on tour. And, who knows, maybe you'll run into Dave Grohl. You never know. The Gray Eagle (185 Clingman Ave.; 828-232-5800) is really a great place for a more intimate show. Everyone from Band of Horses to the Avett Brothers have played there."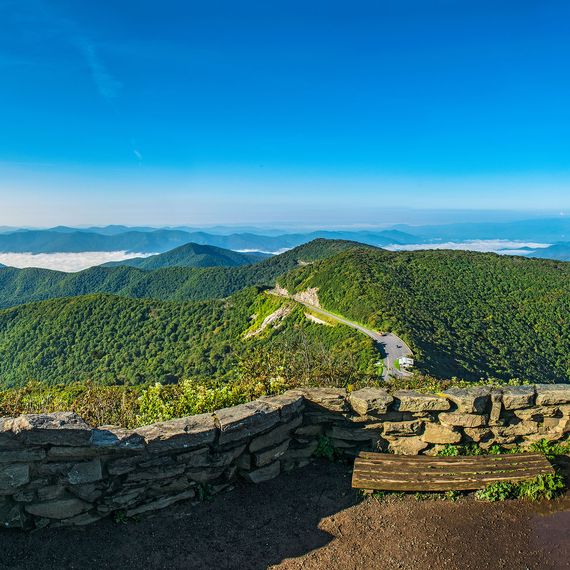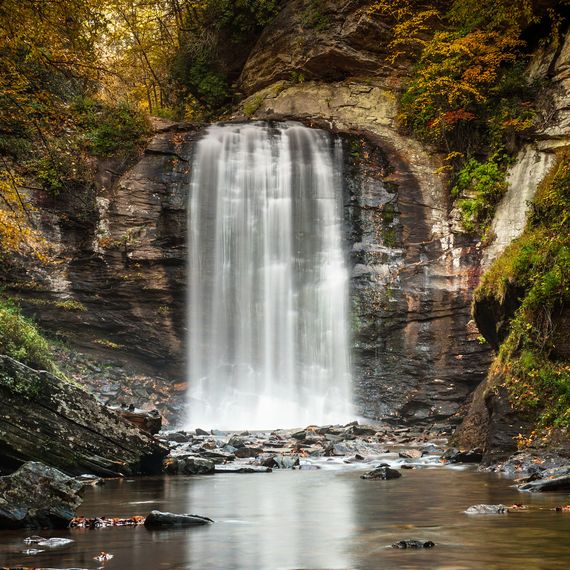 "The Blue Ridge Parkway is the way to go for easily accessible hikes and views. You can hop on it throughout Asheville. If you drive for 20 minutes, there's hundreds of trails right off the parkway, especially if you head north. You can find yourself at Mount Mitchell, which is about an hour drive north and the highest peak east of the Mississippi. You can find more difficult hikes along the parkway, but the majority of them are easy hikes that you can take your kids, parents, and dog on. There are also tons of waterfalls. Some people keep their locations pretty tight-lipped when they find them. I usually end up at Great Smoky Mountains National Park. The Mountains-to-Sea Trail there runs all along the parkway. You can literally almost pick up on it at any stop on the parkway. Pisgah National Forest has epic mountain biking and fly fishing. If you want to see a waterfall and do just a little hiking, go up Looking Glass Falls in Pisgah National Forest. It's about a 45-minutes drive from Asheville. The waterfall is a very short hike, just a little off the main road. It's beautiful and the drive up, [along] the Davidson River, is really awesome."