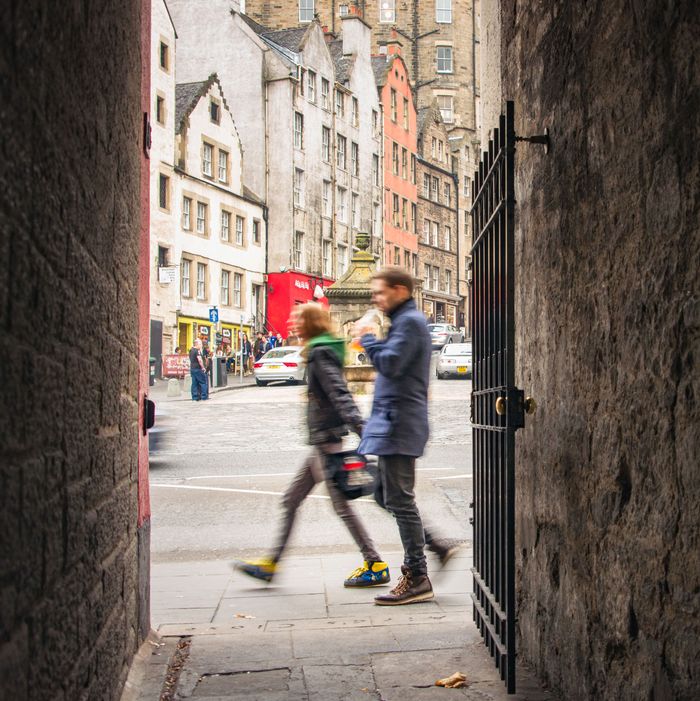 An alleyway leading onto the Grassmarket, in Edinburgh's historic Old Town, with Victoria Street in the background.
Photo: George Clerk/Getty Images
It's commonly understood that the best way to explore a new place is to go straight to the locals. Each week in the Urbanist, we take that wisdom one step further by seeking out not just locals but local experts — those who are especially well versed in their cities' newest and most noteworthy scenes — to give us insider tips. This week, we asked theater director and playwright Eve Nicol, whose latest work, If You're Feeling Sinister: A Play With Songs (adapted from Scottish band Belle and Sebastian's album) will be performed at the Edinburgh Festival Fringe from July 31 to August 26, for her recommendations in Scotland's capital city.
"Edinburgh is a beautiful city and really unique topographically. How many other cities are built on top of an extinct volcano? It's a city best enjoyed on the move. Get lost. Find new shortcuts and pathways between the buildings. Check out Victoria Street, which has a weird sort of Diagon Alley vibe of one street on top of another. It's Edinburgh at its most Edinburghiness, but without the mania of the Royal Mile. Edinburgh is a really exciting place to be in August if you're up for an adventure. There's loads of theater, comedy, film, and music to enjoy with the festivals. I'm a big, big fan of the Edinburgh International Festival. It's really come alive in the past couple of years. You'll get massive operas and theater, high-profile musical acts from across the world. I love the grandeur of it. The quality of the work is always exceptional. This year I'm really excited to see National Theatre of Great Britain's adaptation of Peter Gynt and National Theatre of Scotland's Red Dust Road, an adaptation of Jackie Kay's memoir."
Her Other Musts
"You can't really go wrong with the Scotsman Hotel (20 North Bridge), which is one of the two swankier hotels in Edinburgh. That's where I go if I'm having a bit of a treat. The building is Baroque, and it's very luxe, marble staircase and stained glass windows. It's in an old converted newspaper building, right down by the Waverley train station. It's got all the Scottish charm, with kilted doorman at the door. The rooms are quite traditional, lots of gold and green and big four-poster bed. If you can get rooms that overlook the station, you can watch the trains coming in and out, which is quite cool. I'm also a fan of the Sheraton Grand Hotel & Spa (1 Festival Square), which is close to the Lyceum and Travis theaters. They have a rooftop pool and spa. It's a really great space to chill and mental cleanse."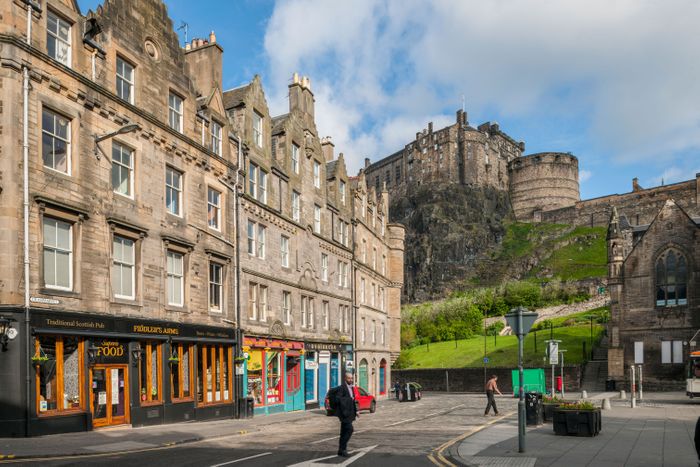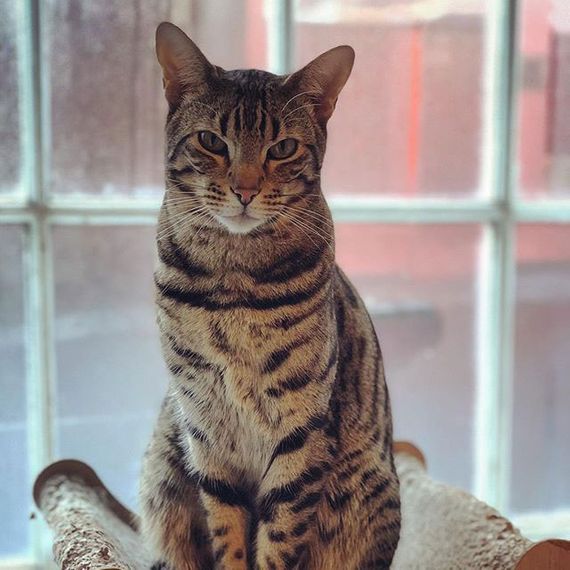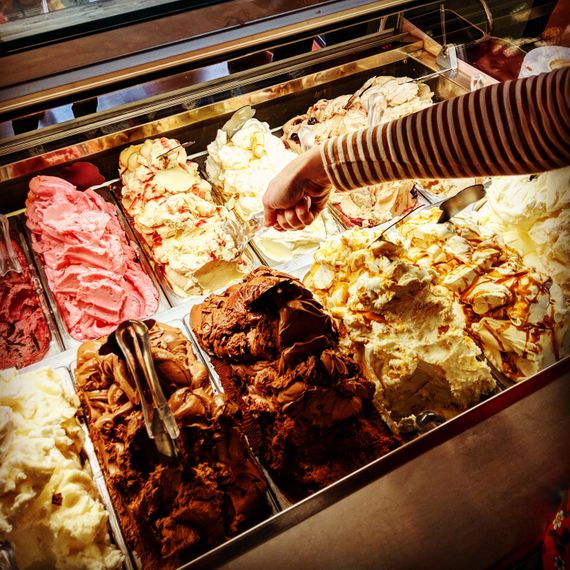 "Grassmarket and West Port keeps you close to the action with plenty of local shops, good eating, and the best views of the castle. Sure, it's also hoaching with stag and hen nights at the weekend and on sunny days, but hey, there's always another pub next door to pull a chair up in. My faves are Mary's Milk Bar (19 Grassmarket), Maison de Moggy (17 West Port), and Lovecrumbs (155 West Port). Grassmarket is a two-minute walk from the Royal Mile, which is the main drag, but there's loads more interesting things going on down there. If I have an hour between rehearsals, I'll just go the Maison de Moggy cat café and sit with the cats. My favorite is Marcel, who is a Bengal mix. They have a really luscious menu of really extravagant cakes and coffees as well. I go for a black Americano because, honestly, I'm there for the cats. I'll usually save my money for cake to go to a shop that's slightly up the road called Lovecrumbs. They have an excellent selection of vegan cakes. I like to do a carrot cake there. They have seats at their window, which is my favorite place to write. It does feel a little bit like you're on display, but you can't beat the people watching. Mary's Milk Bar is a complete and utter indulgence. It's beautiful gelato with really inventive flavors that are all quite luxe with rose hips, pistachio, and gooseberry."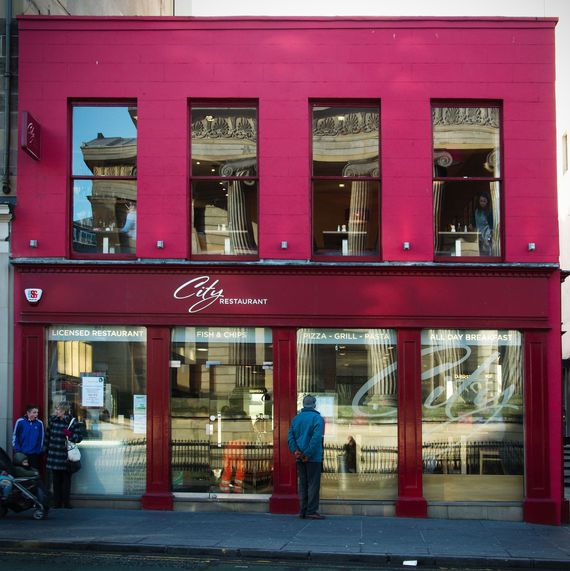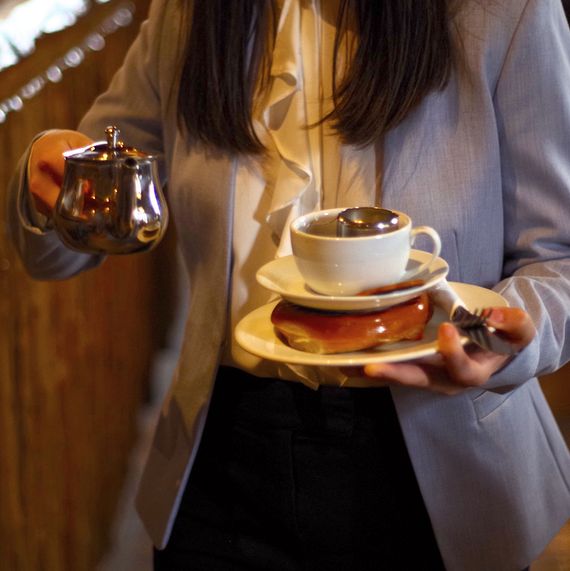 "Scottish food tends to mean game, like venison and ostrich, but it can also mean deep-fried pizza and chips. The City Restaurant (35 Nicolson St.) is a bit of an institution. It's everything that you'd expect to get at a chippy. Everything is deep fried. Good ole fat chips. It's a proper dirty treat. If you need a hangover cure, Black Medicine Coffee Co. (2 Nicolson St.) will heal your soul. It's really great for its big chunky sandwiches. They do really good fruit smoothies too. There's loads of wood and cozy corners to snuggle up in. It's got two floors so you're often able to get a seat as well. It's a daily thing for me. Another place that is a real institution in Edinburgh is the Mosque Kitchen (31-33 Nicolson Square), which offers really cheap and cheerful curries. It's a real community feel and a real go-to. It's so affordable too because they're cooking at such large volumes. I'll usually go for some chickpea curry. Red Box Noodle Bar (51 W. Nicolson St.) is brilliant. It's a very lo-fi, grab-it-and-go noodle bar, but you can sit in as well. The food is cooked fresh in front of you, and you'll be eating it within five minutes. It is glorious. My go-to there is udon noodles with Thai red curry sauce, tofu, broccoli, bok choy, peppers, spring onions, and loads of chilis because I really like it hot. It's quite cheap. You can get a really substantial noodle dish, a side, and a drink for under ten pounds. I always go in there and say I'm going to get something else, I'm going to change my order, but I never never do because it's that good."
"The Blue Blazer (2 Spittal St.) is an institution and the default go-to for people working at nearby Lyceum and Traverse theaters. The Blue Blazer sits between there and what's called the 'Pubic Triangle' where lots of strip clubs are in Edinburgh. It's got a really mixed clientele: people working in the arts and old boys sitting there with their racing post. It's got two rooms, lots of dark wood and red pleather benches. If you're working in a show and you're having a good night, that's where you end up. You'll get the actors there, the technical guys, the director, the writers as well. It's small and tight, which means if you're with groups of people it all gets mixed up pretty quickly. It often feels like one big party. It's quite an old, traditional pub with the added bonus of an exceptional rum selection, maybe the best in Edinburgh. I'll be having a Dark Matter Spiced Rum, which is locally made. There is a bar literally across the road called Footlights (7 Spittal St.). They've got loads of show posters on the wall, but everyone goes to the Blue Blazer, which is not trying to be that thespian loving place."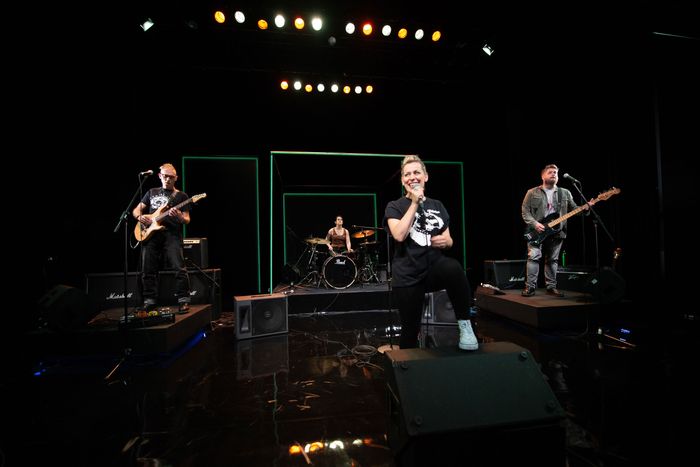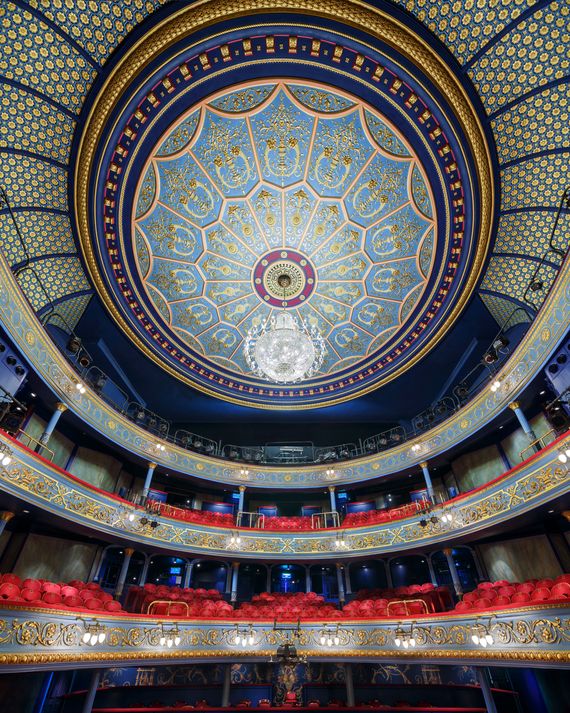 "A night out for me only ever means a night at the theatre. My favorite is the Lyceum (30b Grindlay St.), known as the 'old lady of Grindlay Street.' It's a lush Victorian theater with a year round program of exceptional Scottish, European, and international plays made in Edinburgh. When you think of a traditional theater, you think of plush red but the main color at the Lyceum is this beautiful rich blue and gold. It's rich and indulgent and exciting, a giant chandelier, richly painted walls. It's a quite small theater as well. Every seat is a good seat. They have a different show every four to six weeks. This season I'm really excited for are a stage adaptation of Solaris, which is set in a space station, and a fantastic young company Blood of the Young's adaptation of Pride and Prejudice (sort of), it's called. It's a really fun, seriously female adaptation of the novel. There's going to be karaoke machines and mad costumes. If you want to see shows that are completely brand new, new ideas, the Traverse Theatre (10 Cambridge St.) next door is really the place to go. It's smaller, more modern, studio based work. They've got two spaces, so there will be a different show in their studio as well as their main house and often another show happening in the bar. There's a real mix of stuff going on there, more often times is it's work by contemporary Scottish writers. One of their recent shows, What Girls Are Made Of, went on to London, Melbourne, the States. Traverse is producing a lot of work that's originating in Scotland and exploding out into the world. It's quite fun to say I saw it when it was just in a room with 60 other people before it got big."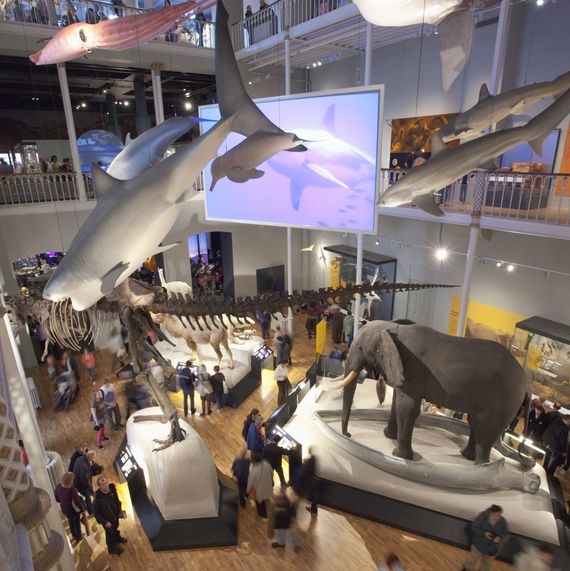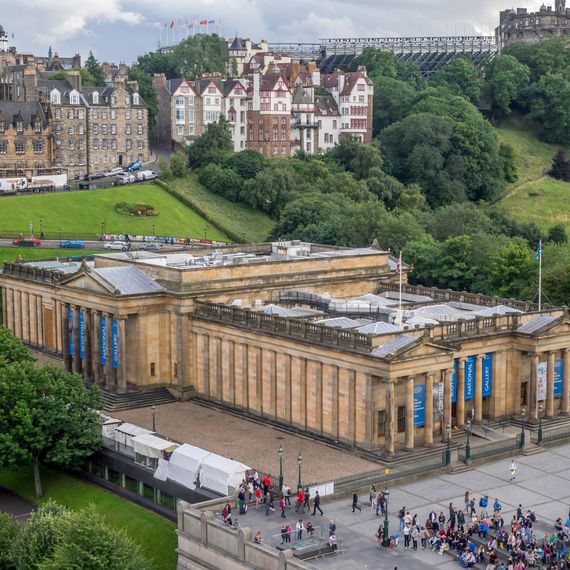 "The electric collection of the National Museum of Scotland (Chambers St.) always raises a smile. It's is pretty new compared to a lot of the museums in Edinburgh. The natural history hall is a particular joy with taxidermy animals suspended from the ceiling. The room is filled top to bottom with animals, so it kind of feels like you're caught between an exploding Noah's ark. It's properly fun and properly magic. Their contemporary exhibits are quite exciting as well. Last year they had a really cool exhibit called 'Rip It Up,' which looked at Scottish pop music back through the 1950s. I'm really looking forward to the current exhibit at the Scottish National Gallery (The Mound) called 'Cut and Paste: 400 Years of Collage.' It's another beautiful beautiful space. A lot of the museums are free entry for the main collection. It's also a great place to get shelter because if you're in Edinburgh it will rain at some point. Scottish National Portrait Gallery (1 Queen St.) is a great if you're looking for something a bit more Scottish. The building is really beautiful, a big red sandstone building with lots of colorful glass work inside. It's more traditional with paintings of Robert Burns, Mary Queen of Scots, and Prince Charles Edward Stuart."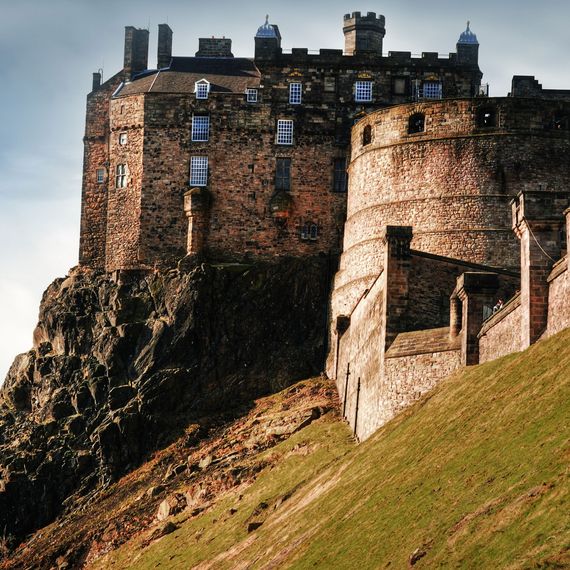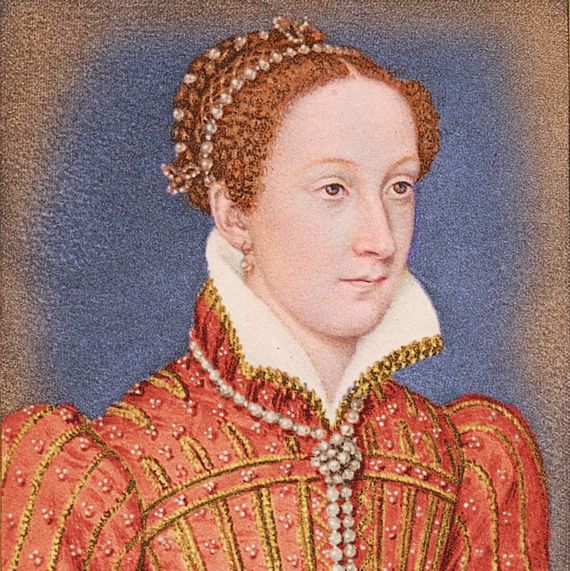 "You can't escape castles in Scotland. In Edinburgh, it's right there on top of the hill. But in terms of going into the castle and exploring around it, I think Scotland has got better castles on offer than Edinburgh Castle. A lot of its history focuses on its role as a military base. It is great, but it's quite expensive. I will quite often just go up to the esplanade and get in the view from there. I was surprised by how much I enjoyed Holyrood Palace. It's part of the royal palaces and right at the bottom of the Royal Mile, sitting opposite the new Scottish Parliament building. It's quite fun to have the new seat of power that is democratic and local right next door to the queen's official residence in Edinburgh. What I find really interesting is that you can see how different generations of royals have added onto this site. It's been a royal residency for hundreds of years, and they've all left their mark in there. It's layered with history from Mary Queen of Scots through to the Windsors. I'm particularly interested in its history of Mary Queen of Scots, who's a very much romanticized figure in Scotland and throughout the world. They have an awful lot of her belongings and rooms that she stayed in. I think it really humanizes her for me and gives me a sense of what she was interested in, what her life might have been like, and what was going on in Edinburgh at that time. My favorite room though is probably the Grand Hall. It's very extravagant. You can just imagine it being filled with lords and ladies of the land. It's got lots of secret doors for servants to pop in and out."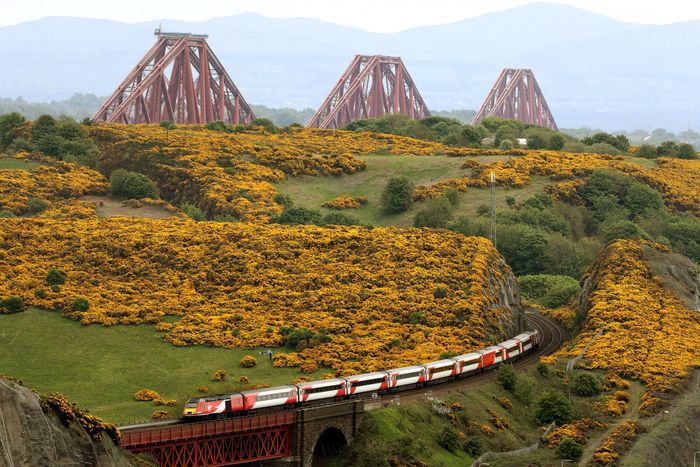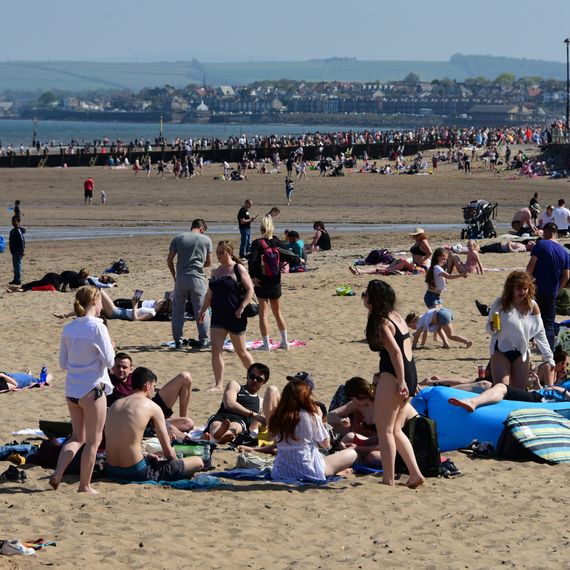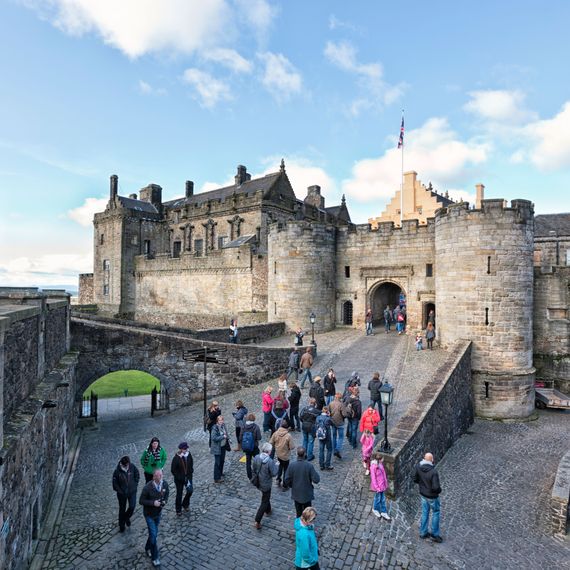 "Head to Portobello Beach for an ice cream and a paddle. You can pop on the train or the bus from the city center and get down there in about a half an hour. It's a proper seaside. There's an awful lot of surfing down there too. It's just a really fantastic place to relax and chill out. It's quite exposed and open, so you're going to get battered by the east coast winds. There's a lot of ice cream stalls there. Whatever is closest at hand is always going to do you a good job. Take the train to North Queensferry for the magical joy of crossing the Forth Rail Bridge. Once you're there there's not a whole lot to do but go back to Edinburgh again. But the trip out is magical. It does feel like you're crossing into another kingdom. A day trip to Stirling is great. It's another old old Scottish city. There's where you'll get your good castles. Stirling is about a 45 minute train ride, and trains to North Queensferry take about 20 minutes."