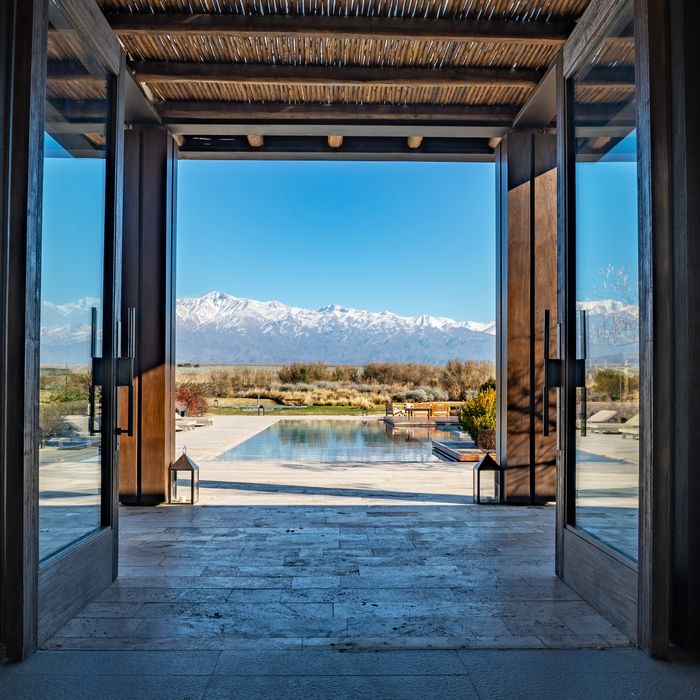 "The Vines of Mendoza offers luxury villas surrounded by vineyards with some of the best views of the Andes mountains," says winemaker Susana Balbo.
Photo: Courtesy of The Vines Resort & Spa
It's commonly understood that the best way to explore a new place is to go straight to the locals. Each week in the Urbanist, we take that wisdom one step further by seeking out not just locals but local experts — those who are especially well versed in their cities' newest and most noteworthy scenes — to give us insider tips. This week, we asked Pablo Gimenez Riili and Michael Evans of the Vines of Mendoza Winery & Private Vineyards, and Susana Balbo, of Susana Balbo Wines, for their recommendations in the heart of Argentina's wine country.
"Mendoza is a beautiful city with amazing weather — we have over 330 days of sun each year. A desert oasis originally settled by the Spanish, the city is full of central plazas, tree-lined avenues and canals carrying meltwater from the Andes Mountains. Our location in the foothills of the Andes gives us both stunning views of snow-covered peaks and incredible access to nature and outdoor activities. And our long history with winemaking has given rise not just to wines that today compete with the best in the world, but also to a rhythm of life centered around long meals, shared moments, changing seasons, and creation. Mendoza's City Center is a great place to start. Arístides Street is the most popular for locals and tourists to eat and drink — here you can find a wide variety of restaurants, bars and shops. Chachingo (Av. Arístides Villanueva 383) or Ground (Av. Arístides Villanueva 347) are great for beer and bar food, while El Mercadito (Av. Arístides Villanueva 521) and Josefina are favorites for lighter, healthier fare. Maria Antonieta (Av. Belgrano 1069) — located on Belgrano Street just a couple blocks from Arístides — is one of the best restaurants in Mendoza and worth a visit. The same chefs also have a pizza place called Orégano (Av. Belgrano 1007) on the same block — it was inspired by Roberta's in New York and all pizza is made in wood-fired ovens." —Susana Balbo
Their Other Musts