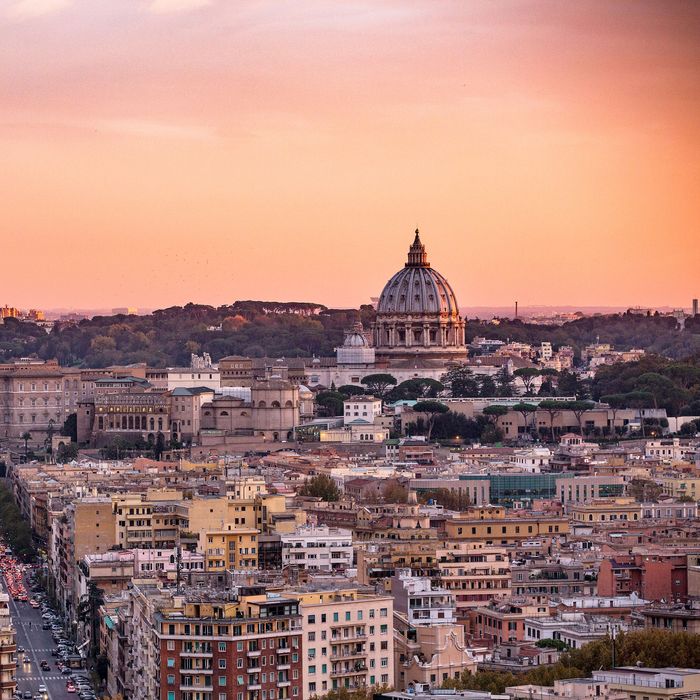 A view of the sunset from Monte Mario in Lazio, Rome.
Photo: Fotia Francesco/AGF/Universal Images Group via Getty
It's commonly understood that the best way to explore a new place is to go straight to the locals. Each week in the Urbanist, we take that wisdom one step further by seeking out not just locals but local experts — those who are especially well versed in their cities' newest and most noteworthy scenes — to give us insider tips. This week, we asked Italian fashion designer Stella Jean, who lives and works in Rome, for her recommendations in Italy's capital city.
"Rome is one of the few truly unique cities in the world — it deserves to be seen at least once in a lifetime. It is a gift to the spirit for us locals, I can only imagine how it feels to walk around these streets for the first time. The main thing to do to experience the real city is to walk a lot, get lost in the alleys, beside monuments, that's where you can get a real taste of Rome. In the morning in Rome, it is important for us to start the day with some coffee. When at a café, we usually go for caffè al vetro, which is an espresso in a small glass. This is an old tradition. Another typical drink you can order is the sambuca alla mosca, which is a glass of sambuca with a bean of coffee. Late September and October is the best time; it's still warm, but not too hot to walk endlessly and get lost. This time of the year is also famous as ottobrata romana ("Roman October time"): Trees turn orange, like the sunset, locals are back in town, and the overall vibe is very romantic and you can still go to the seaside, for lunch or aperitivo — Fregene, which is a neighborhood by the sea, is a very popular destination for that."
Her Other Musts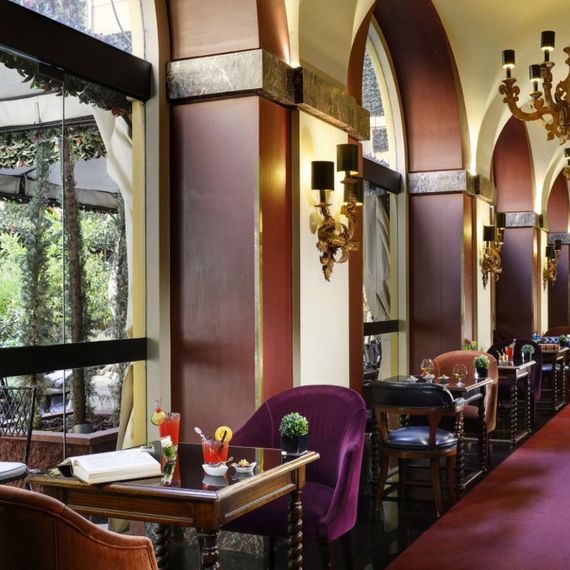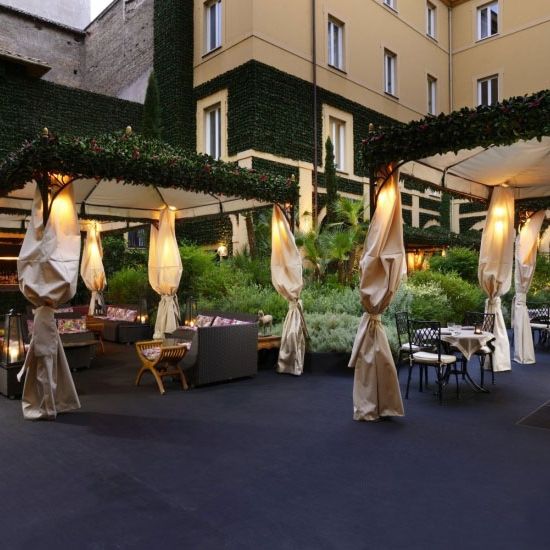 The Residenza di Ripetta (Via di Ripetta 231) is a former 17th-century monastery and convent with Baroque style, nice restaurants, big rooms, and a beautiful courtyard garden. It's near Piazza del Popolo and the Spanish Steps. The hotel doesn't feel like a monastery though. It has high ceilings and classic Roman bourgeois decoration, with antique furniture covered in velvet and modern art, including a replica of Italian artist Arnaldo Pomodoro's famous bronze sculpture Sphere Within a Sphere in the lobby. In the evenings, head to the roof terrace at their restaurant Giardino di Ripetta, which has a nice view. Chef Rodolfo Chieroni does a really good parmigiana di melanzane, or eggplant parmesan.
Ponte Milvio is always full of life, thanks to restaurants, cafés, bars — it used to be a bit rough back in the days, a mainly working-class area, now it has become quite popular to hang out, and not so cheap to live in. It's a really young audience there. My favorite place is Trapizzino (Piazzale di Ponte Milvio 13). They serve what's basically a corner slice of pizza that they have transformed into a kind of pocket. They put some traditional Roman dishes inside. The one I prefer has burrata e alici (burrata and anchovies).
My ideal shopping spot is the plant nursery. I suggest to pay a visit to Mercato Trionfale (Andrea Doria 3) early in the morning to find an incredible selection of plants and flowers. I go around 5 or 5:30 in the morning and it's over by 7:30 a.m. It's open on Tuesdays. You'll probably see a lot of nuns there buying flowers. I don't know why, but I've noticed them there a lot. There are people of all ages, but no one looks sleepy. They're really energetic for that early in the morning. I usually buy white lilies and birds of paradise. I always buy something really Italian and something really exotic.
Nia (Via Vittoria 48) in Via Vittoria is a small boutique with great women's clothes. Erminia Ferrante, who's behind the items, always picks the best new designers. They carry my favorite Italian shoe designer, Maiorano, who has really elegant and sophisticated sandals and boots. Carmina Campus's Re(f)use concept store sells reused but really elegant and high-end home goods and accessories. It's really sophisticated and you can see the Italian artisanship. Gibot Kids and PURE in Via Frattina are great stores for kids.
You should also try to find a woman named Miss Angela, who's a 98-year-old lady selling crochet doilies. There is not an exact address where to find her, you can surely find her wandering around Prati neighborhood, where I met her recently. Doilies belong to our tradition. If you go to the home of someone who's over 60 years old, our mothers, our grandmothers, you will find doilies under all the objects in the living room. There's also Coloriage, a social atelier where migrants learn and develop their sartorial skills producing handmade pieces.
For an authentic taste of Rome, go to Candido's La Sagra del Vino (Via Marziale 5) in Via Marziale. It's a Roman family-run osteria where the genuine Romanity of the family members will entertain you from the moment you enter the place to the moment you leave. They have a few dishes that are really authentic, like trippa and pasta cacio e pepe. They are also the king of the polpettone, which is an enormous meatball. They serve it with local vegetables like escarole and puntarelle. There's a mystery around their polpettone; they say the recipe is a family secret. The good thing about La Sagra is that they serve enormous portions. You have to finish everything on your plate because the family will come again and again to ask you about it. For brunch, which is actually not a very Italian thing, but still a good excuse to try new places, I like to go to La Veranda at Hotel Columbus (Via della Conciliazione 33) in S.Spirito in Sassia, near the Vatican. It is a special place, very Roman, with frescos and a magically quite courtyard. It looks like a courtyard of an ancient monastery; in fact, it's still used by people of the church, so part of it is private. I like to order the risotto with oysters.
Usually we have pizza for dinner, not lunch. For a good pizza, I suggest the La Locanda dei Girasoli (Via dei Sulpici, 117H) in the Cinecittà neighborhood, where the famous film studios are — Federico Fellini filmed La Dolce Vita and 8½ there. I really like the four cheese pizza, it has mozzarella, stracchino, Brie, and Gorgonzola. Before pizza I also like to order 'fiori di zucca,' or squash blossoms. It's a really simple restaurant, wood tables and chairs with checkered tablecloth. They have a spectacular team there — the restaurant's goal is to promote the employment of people with Down syndrome.
For an after dinner, or day time fresh drink, the kiosk Dar Pistola in Piazzale Ponte Milvio is a must go. The kiosk sells fruits and vegetables and they make juices and granita with them. It's a very authentic spot, there are not so many other places like this left around the city. This one is 150 years old, and the owners say it's first one in Rome to sell watermelons. It's full of the young Roman generation, and it's a really joyful place. Sometimes you can find chairs to sit down, but most of the time people just stand there drinking while having a chat and listening to music. I love the beverages they make with fig and blackberry. Another great place is the Rinascente rooftop (Via del Tritone 61); it's perfect for a drink with a view, especially at sunset. You can see the center of Rome from there and part of Trinità dei Monti. Go there before 6:30 p.m., and you will see the Roman sunset. The golden light is amazing.
Look for the golden Virgin Mary of Monte Mario, an almost 10 meters tall statue, that stands from the highest point of Rome and has been protecting the city for 66 years now. Santa Maria della Concezione dei Cappuccini, or Our Lady of the Conception of the Capuchins, is famous for the skull crypt right under the church — quite shocking, not suggested for sensitive people. Stadio dei Marmi and the Piscina dei Mosaici are part of a sports complex built during the fascist era, and it's an incredible triumph of marble and mosaics. Forum of Augustus by night to see a 3-D reconstruction projected on the ruins. Visit Baths of Caracalla to experience something really unique, such as the opera and ballet (from Puccini's Tosca to Verdi's Traviata), in such a breathtaking location. On a rainy day stop by the historic center. After the rain there is a magic scent in the air, that of ancient Rome, I'm sure that gladiators and the ancients could smell it too. For a special view of Saint Peter's dome you have to head to Via Piccolomini, a residential street in the Aurelio neighborhood. Here something particular happens, if you start walking towards Saint Peter you'll see it getting smaller, while when you'll start getting far from it, it will gradually look bigger. An unconventional view of one of the symbols of Rome. Last but not least I would also suggest to go on a bike tour looking for graffiti around Rome's suburban areas such as Quadraro, Ostiense, Pigneto, Torpignattara, Tor Marancia.
Maxxi — National Museum of 21st Century Art (Via Guido Reni, 4A), designed by Zaha Hadid, is a great example of how contemporary architecture can find place and be embedded into a more traditional setting. The contrast with the surrounding buildings of the Flaminio neighborhood is undeniable, but it actually gave birth to one of the most successful cases of contemporary architecture in Italy. There's an exhibition of Maria Lai right now that's really good. She's an Italian artist from Sardinia who would have been 100 this year. Galleria del Cembalo (Largo della Fontanella di Borghese 19), situated on the ground floor of Palazzo Borghese, stands out among Italian galleries for its well thought-out program. It's inside the property of one of the oldest aristocratic Roman families. To enter the gallery, you have to cross this beautiful garden inside the building. The recent exhibition with Daniele Tamagni was one of my favorites. She's an Italian photographer who was behind Solange's "Losing You" music video.
Ponza is the main of the Pontine islands. It is a real gem, that can be reached by ferry. It takes about 40 minutes, but it depends on the sea. There you must go eat fish at Acqua Pazza restaurant (Piazza Carlo Pisacane 10). They only cook what they can get from the fishermen, whose boats are visible from the restaurant because it's right in front of the port. You can see all the colorful houses on Ponza — light blue, pink, yellow — sea port, and small fisherman boats while you sit and eat. Order the antipasti and prawns with burrata too.
If you prefer not to change region and remain within Lazio, you can't miss Castelli Romani. It's a collection of small towns about an hour southeast from Rome by car. It's where the pope goes for holidays in the summertime. It's also where Romans go for some fresh air. One town is Ariccia, where they have incredible 'porchetta' (spit-roasted pork). It's street food. You eat it with bread and cheese.