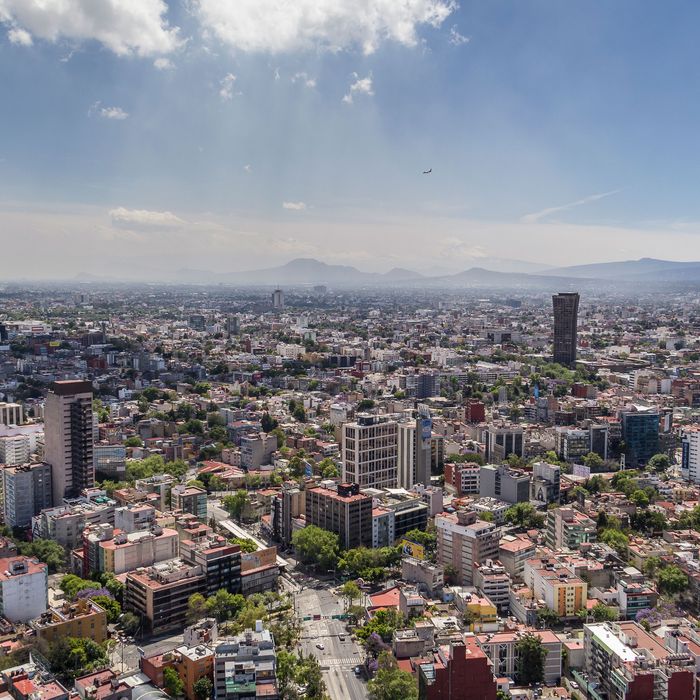 Above the Condesa neighborhood in Mexico City.
Photo: Ulrike Stein/Getty Images
It's commonly understood that the best way to explore a new place is to go straight to the locals. Each week in the Urbanist, we take that wisdom one step further by seeking out not just locals but local experts — those who are especially well versed in their cities' newest and most noteworthy scenes — to give us insider recommendations. This week, we asked Fernando Mesta and José Rojas, founders of House of Gaga, for their picks in Mexico's capital city.
"Mexico City has everything, from the fanciest to the cheapest, super-raw to the most sophisticated of everything. It's also a city where culture is important and where artists' voices are heard. There are many great young galleries and independent spaces and artists from all over working here and visiting. Our politicians are the worst, but the people are nice and generous. It's fun and young and old — we have thousands of years of culture. Mexicans are very welcoming and do not make big distinctions between tourists and locals. If you want to experience the real Mexico City, we would just recommend walking through its neighborhoods and taking it easy. La Condesa is an old neighborhood with many Art Deco buildings that date back to the '20s and a lot of trees and gardens, like the famous Parque México and the very green Amsterdam Avenue. The weather is always nice all year round, but our favorite is the rainy season from June to October, when the air feels the freshest."
Their Other Musts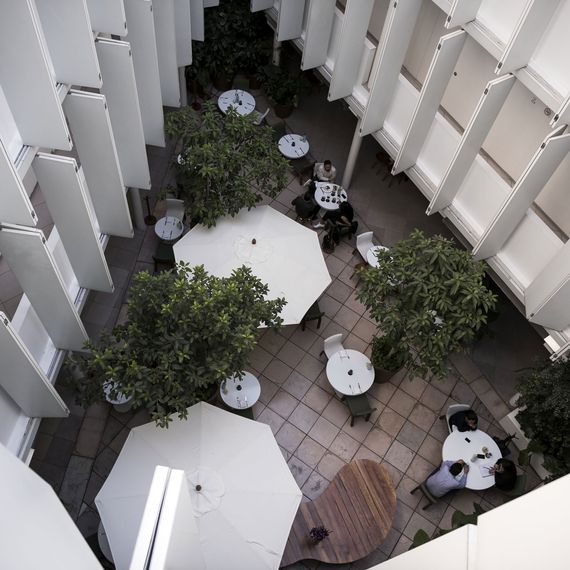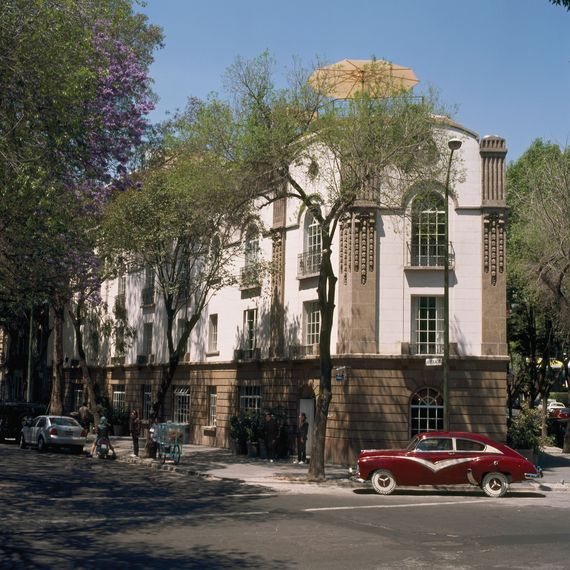 "We put artists in hotels like Hotel Condesa (Av. Veracruz 102), which is very hip. Architect Javier Sánchez and interior designer India Mahdavi did the space. It's an old 1928 building, and the interiors were completely remodeled. There's an inner patio where the restaurant is, and all the rooms surround the patio. There's also a big terrace on the roof, and some of the suites have their own private terraces. The whole space is surrounded by vegetation, so it's very green. There are many small places that are great, like Stella bed and breakfast (Amsterdam 141) and boutique hotels like Casa Nuevo León (Av. Nuevo León 120) and Izta 54 (Iztaccihuatl 54). Casa Stella is an old house in Condesa built in 1930 by Francisco Serrano. There are only seven rooms, but they are supercomfortable. The décor is a mix of antiques and Art Deco furniture. Izta 54 and Casa Nuevo León are by the same people. It's very hip, minimal, and more affordable than Condesa."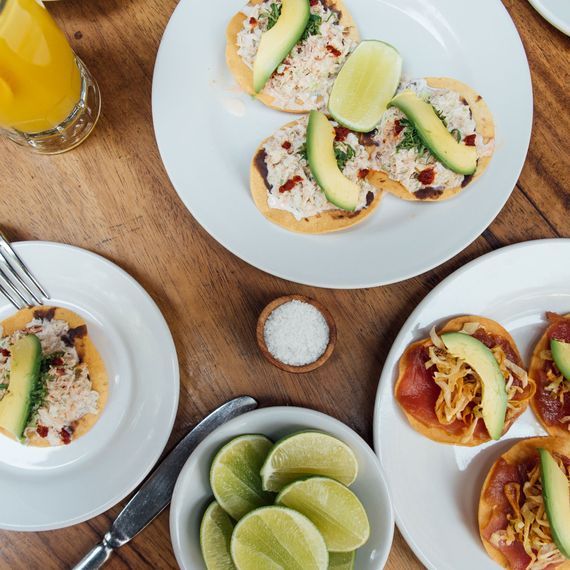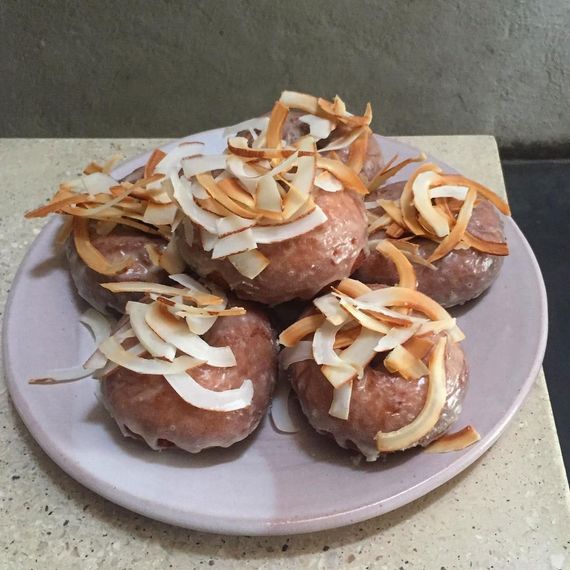 "Our favorite restaurant in Mexico — and maybe in the world — is Contramar (Calle de Durango 200). It's just a magical place, the service and the simplicity of everything. It's definitely the best seafood restaurant here. The menu has recipes from the whole Pacific coast of Mexico. It's like they brought a palapa, which are those palm-leaf constructions commonly found on Mexican beaches, to Mexico City. The tostadas are delicious. When they have sea urchin, you have to try it. Anything with sea urchin is so good. And if you're hungover and you need something really delicious, order the huevos rotos con patatas y chistorra or the breaded shrimp. It's so good. If you can't get a table there, Masala y Maíz (Calle Gobernador Protasio Tagle 66A), which combines Mexican and Indian flavors, is great for brunch. Our favorites are the housemade doughnuts and the Esquites Makai Pakka — basically Mexican street corn in a coconut curry. Otherwise get breakfast at Fonda Margarita (Adolfo Prieto 1364 B), a small, traditional, family-owned restaurant only open for breakfast with communal tables and the best breakfast in town. They have the best chilaquiles I have ever tried, and their scrambled eggs with beans are like nothing you have ever experienced. And a churro for dessert."
"Casa Merlos (Victoriano Zepeda 80) has the best mole in town. This restaurant is epic. It's been operating since 1985 with recipes that chef Lucila Molina de Merlos brought from Puebla. People say they have the oldest mole recipe in Mexico City. The menu is very simple and very authentic. They have seven dishes with different types of mole. The green mole (served with chicken leg and thigh, breast, or pork) and mole poblano over turkey are so good."
"For tacos, our favorite are Los Panchos (Tolstoi 9). Try a taco campechano [carnitas and chicharrón] and the squash-blossom quesadilla. It's delicious. The restaurant first opened in 1945, and now they have a few locations. There's also El Farolito (Altata 19). Every time we arrive from a trip, we go straight there. And next to our gallery, there are the legendary tacos de guisado at Tacos Hola (Amsterdam 135). It's an easy, quick, and cheap lunch. Our favorite one is chile relleno or rajas con queso with hard-boiled egg."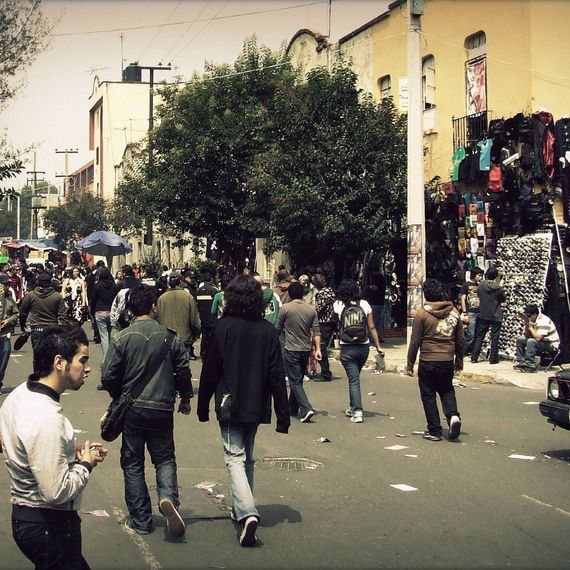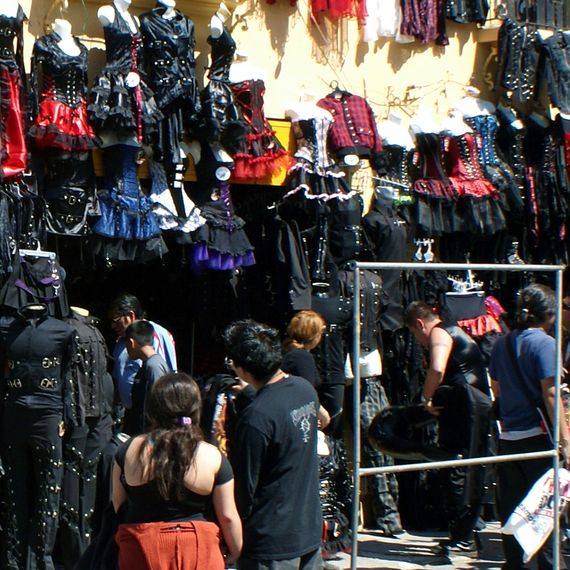 "We always send our friends to Victor Artes Populares Mexicanas (Isabel la Católica 97) from the legendary Fosado family. It's the first and oldest vendor of Mexican folk art, including textiles, jewelry, and small, painted wood sculptures Also San Cristóbal Antigüedad (Calle de Durango 87) has the best antiques in town. Tianguis Cultural del Chopo, the city's goth-punk-metal-grunge-themed flea market, is not to be missed. It happens every Saturday on Calle Juan Aldama. There are tons of amazing things if you're looking for goth, metal, or even reggae merch. One vendor has a 'No Trespassing' rope with a great selection of T-shirts of every obscure band from all over the world. Oh, and Hi-BYE (Frontera 105BIS), which opened in 2018, is a cool lifestyle shop that sells clothes, homewares, and souvenirs, all made by local designers."
"Bósforo (Luis Moya 31) has great mezcal and overall ambiance. It's downtown in the Centro neighborhood, and they recently opened a restaurant that's supergood. The menu is basically food from Oaxaca. You can have a quesadilla and drink mezcal or pulque, which is a Mexican alcoholic drink. We love Montejo (Av. Benjamín Franklin 261-A). It's a traditional Mexican cantina with food from Yucatán and really good mezcal, too — not as many as Bósforo but a full bar with lots of tequila and high-end whiskeys. It's also great for bigger groups. You can go with 15 people and they'll seat you, no problem. This is where we have all our parties after art openings. We've been going there for 10 years."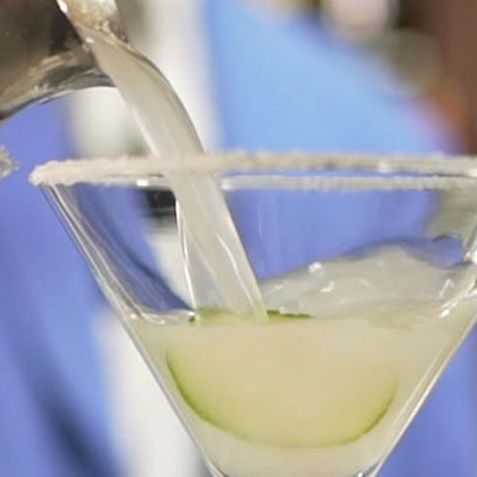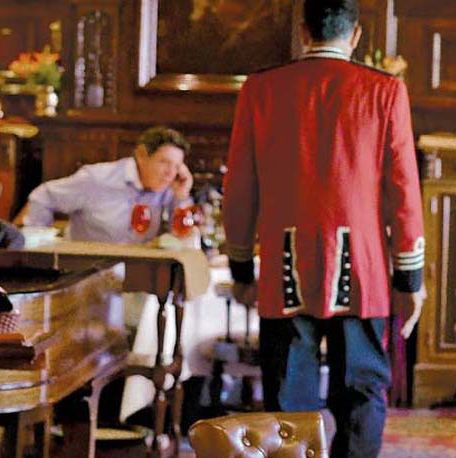 "Páramo and Cantina Riviera del Sur are great for having food and drinks at night. Covadonga in Calle Puebla at Roma Norte is a place where you can meet locals and tourists alike. San Ángel Inn (Diego Rivera 50) serves some of the best margaritas in their incredible garden. It's a stone's throw away from the Diego Rivera and Frida Kahlo studio in San Ángel. Sir Winston Churchill's (Perif. Blvd. Manuel Ávila Camacho 67) is like you are in a time capsule. Every detail is perfect, from the glassware to the uniforms, and the private rooms are just amazing."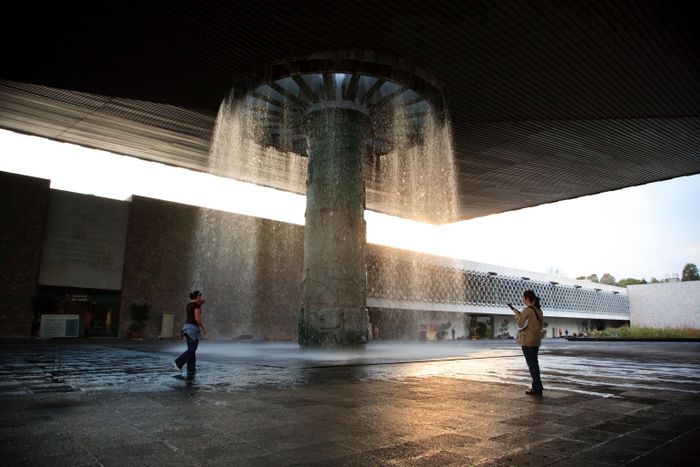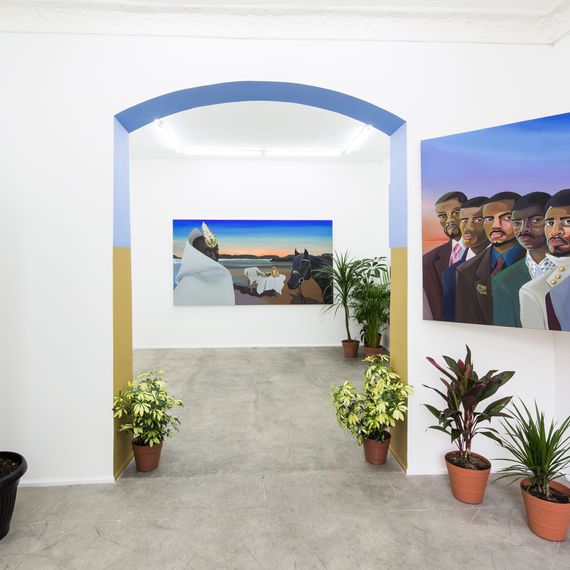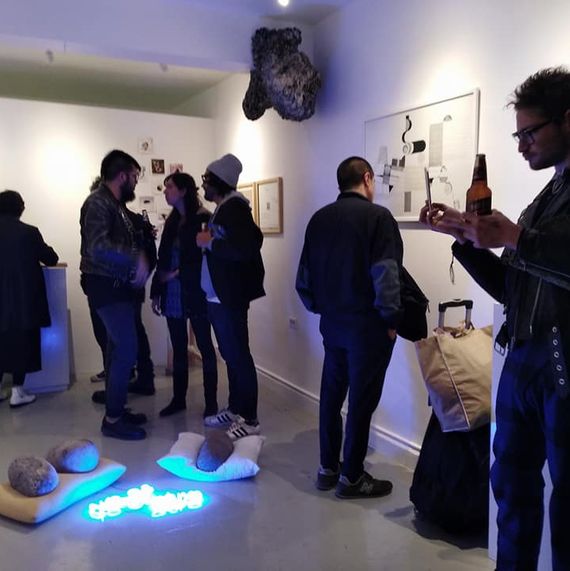 "The best museum in the city is definitely Museo Nacional de Antropología (Av. Paseo de la Reforma). It's an anthropology museum that focuses on preserving Mexico's indigenous legacy. The collection and architecture are like nothing you have ever seen. The best part is the sculpture hall, where you can find the huge monolithic 'Aztec sun stone' sculpture and the central fountain called El Paraguas ["the umbrella"] in the courtyard.
"Of course, Frida and Diego, both of their houses and studios are amazing, but I always recommend the Leon Trotsky House Museum (Av. Río Churubusco 410). The museum presents a darker but very moving history. To think about what happened there and how he was persecuted and eventually killed. It's kind of sad, but I love it there. It completes the story of Frida and Diego in a way, and it's kind of like a monument to radical thinkers.
"For galleries, the young ones are running the show in Mexico City. Make time to go to Lodos (Calle Artículo 123), Ladrón (Agustín Melgar 73), Agustina Ferreyra (Ignacio Manuel Altamirano 50), and Salón Silicon (Minería 60). Rosa Aiello's recent solo show at Lodos was amazing. In terms of neighborhoods, the galleries are in Condesa, Roma, and Centro. They're not that far from each other, so you can see a lot in one day. It's great to see how young artists and galleries are having a moment."
"You can take a car and drive an hour or so northeast to the Teotihuacán pyramids. Head there early in the morning to avoid the scorching sun and a lot of tourists. Arriving by 7:30 or 8 a.m. is best. It is worth the effort of waking up early. The weekends are packed with people, but I kind of like that because it feels so massive. You realize the scale more when there are so many people. It was a metropolis, a 1 million-people city. There's not much to do around the pyramids, but on the way back you can stop at the Basilica of Guadalupe or Plaza de las Tres Culturas."