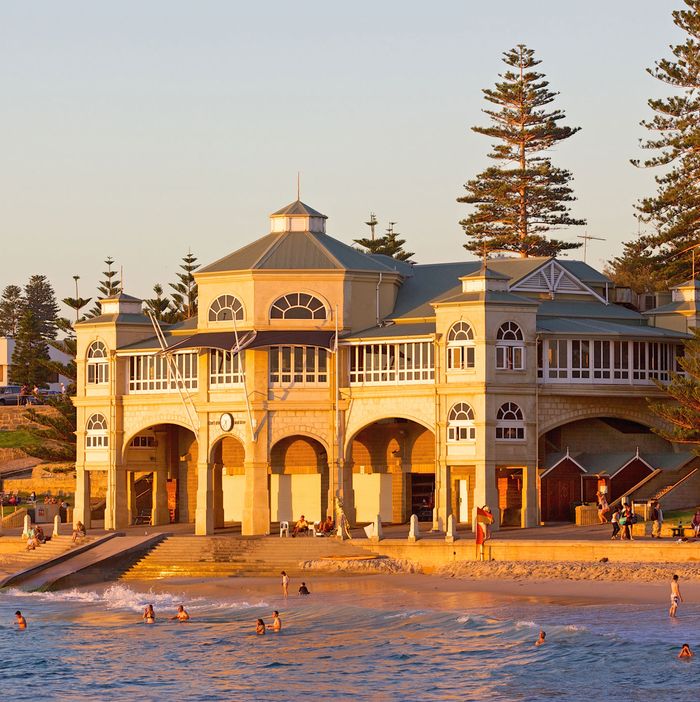 An old pavilion at Cottesloe Beach in Perth, Western Australia.
Photo: ZambeziShark/Getty Images
It's commonly understood that the best way to explore a new place is to go straight to the locals. Each week in the Urbanist, we take that wisdom one step further by seeking out not just locals but local experts — those who are especially well versed in their cities' newest and most noteworthy scenes — to give us insider recommendations. This week, we asked Australian singer-songwriter Katy Steele, frontwoman of Perth indie rock band Little Birdy, for her picks in Western Australia's state capital.
"The isolation makes Perth an anomaly — you won't see anywhere as untouched. The best thing about Perth is the beaches. It's a huge part of our lifestyle. We have some of the most beautiful coastline in the world. City Beach, Cottesloe, and Fremantle are just some of the beaches that will absolutely blow your mind. Cottesloe Beach is my top pick. It looks like a postcard. It's beautiful for swimming but also to sunbathe and to enjoy the view. I love going there at dusk and getting takeaway fish and chips from North Street Store (16 North St.) and watching the sun go down. It's peaceful and romantic. Otherwise you could head to Il Lido (88 Marine Parade) for a sit down meal. The best time to visit is January and February when Fringe Festival and PIAF (Perth International Arts Festival) take over Northbridge. The whole city is really buzzing. The consistently beautiful weather makes Perth a great place in the summer, when it's so hot all you want to do is cruise in shorts, singlet, sandals, and a big floppy hat. I really recommend a really great sunscreen too as the sun is brutal here — you can burn within five minutes of full sun. Summer here is December to February but usually continues all through March. Perth doesn't have much of a winter, but even then the sun shines."
Her Other Musts
Hotel
"Alex Hotel (50 James St.) is right in Northbridge and close to The Bird, which is a great intimate venue that has music most nights. The rooms are pretty minimal and contemporary and some come with private balconies. It's a nice modern, boutique hotel with a rooftop bar and restaurants all within walking distance. Rooftop Movies (68 Roe St.) is a few blocks away and also across the road is PICA (Perth Institute of Contemporary Arts, 51 James St.) and the Blue Room Theatre."