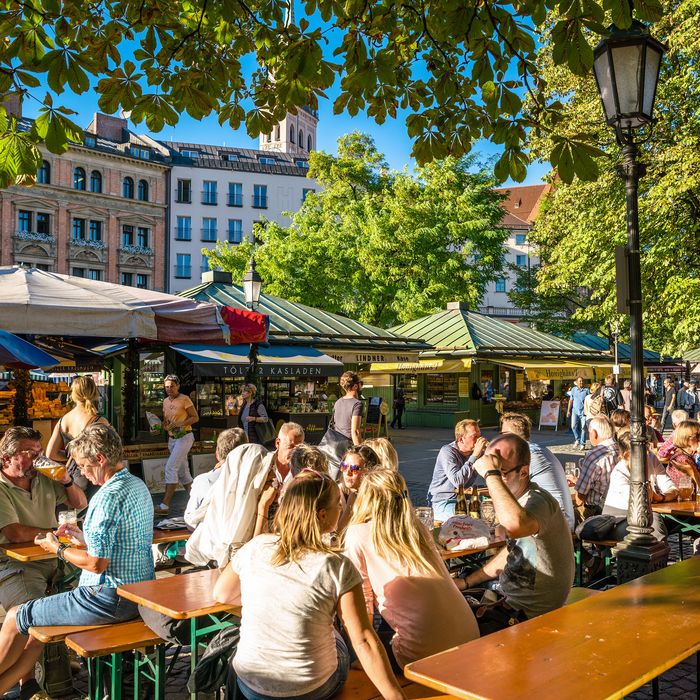 Viktualienmarkt beer garden.
Photo: Nikada/Getty Images
It's commonly understood that the best way to explore a new place is to go straight to the locals. Each week in the Urbanist, we take that wisdom one step further by seeking out not just locals but local experts — those who are especially well versed in their cities' newest and most noteworthy scenes — to give us insider recommendations. This week, we asked brewer Thomas Girg, owner of the Haderner Bräu München, for his picks in Bavaria's capital city.
"People in Munich don't just wear lederhosen and dirndls because there's a carnival or whatever. The people live this tradition. They live Bavaria, they talk Bavarian. Throughout the year, there are many small festivals and other beer festivals in Munich and Bavaria. This is the real Munich. Oktoberfest is more for the world. I absolutely recommend going to Auer Dult (Mariahilfplatz); it's a mixture of a traditional festival and market that happens three times a year, including two weeks after Oktoberfest. There you can have a beer and walk through stalls selling rare books, handmade soaps, and wooden goods. During the summer months, almost every district has its own street festival. Especially popular is the great Streetlife Festival on the Leopoldstraße but also the Hans-Sachs-Straßenfest or Ois Giesing. The time just before Christmas is something: the many small Christmas markets, the people of Munich really love those. The best known is the one on Marienplatz, but just around the corner, at the Viktualienmarkt, a small but colorful Christmas market called Winterzauber takes place. Here you have delicious homemade cheese or warm glühwein (mulled wine) or glühbier (mulled beer). We make one ourselves with our dark organic beer, cherry juice, rum, and many Christmas spices."
His Other Musts