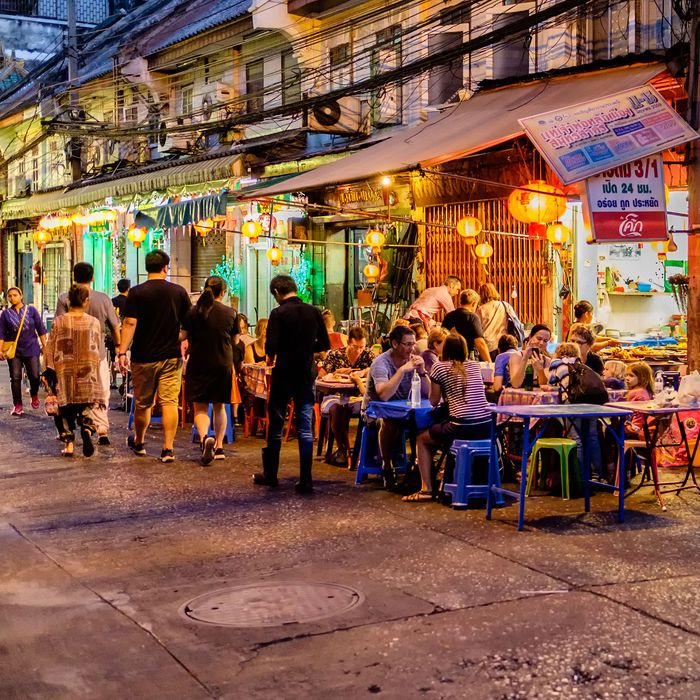 The night market in Bangkok's Chinatown.
Photo: MC Noppadol/Getty Images
It's commonly understood that the best way to explore a new place is to go straight to the locals. Each week in the Urbanist, we take that wisdom one step further by seeking out not just locals but local experts — those who are especially well versed in their cities' newest and most noteworthy scenes — to give us insider recommendations. This week, we asked Rydo Anton, former head chef of Gaggan and the upcoming Gaggan Anand Restaurant, for his picks in Thailand's capital city.
"Bangkok has always been known internationally for its street-food culture. Traditional Thai cuisine is packed with sweet, sour, salty, fermented, and spicy flavor combinations. You can literally find mouthwatering dishes everywhere and anywhere. The best spot for me is Silom, Bangkok's main financial district, or Nay Lek Uan's very delicious noodle soup in Chinatown. But as more international tourists continue to flood into Bangkok, we've seen the food scene grow at a rapid pace with many more street-food vendors, restaurants, and even fine-dining restaurants opening up. There are many more cuisines to choose from: You can start your day with a street food dish moo-ping (grilled pork on a stick) with sticky rice and a side of freshly squeezed O.J. and end the night with a bowl of the hardiest Japanese ramen accompanied with ice-cold Japanese beers."
His Other Musts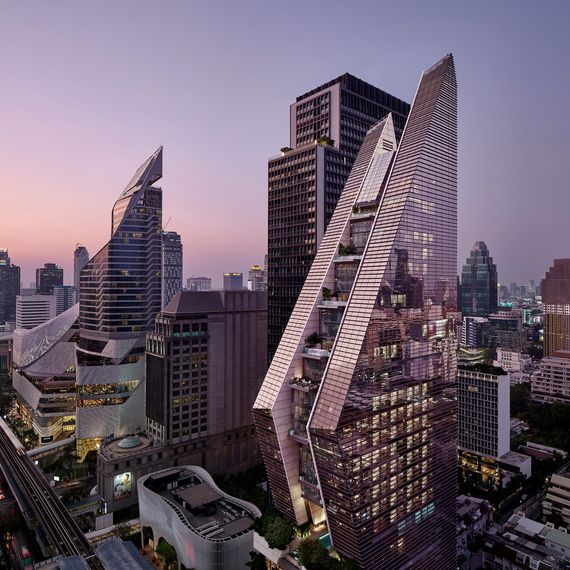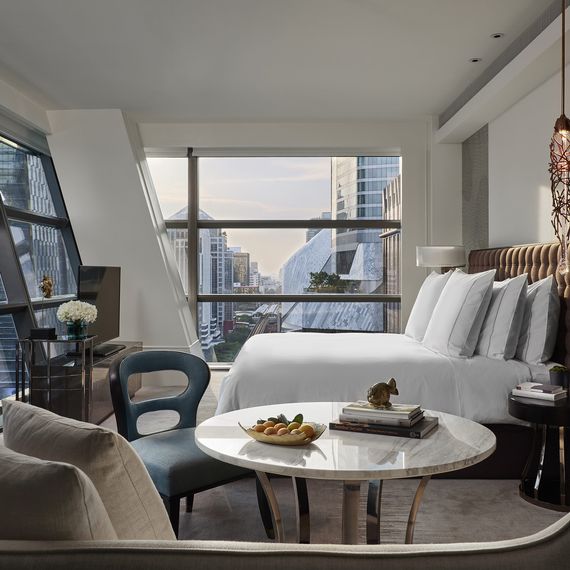 "Rosewood Bangkok (1041 38 Ploenchit Rd.) is a 30-story, ultraluxurious hotel in the Pathum Wan District. It's a modern hotel, beautiful and intimate. Some rooms have a private terraces and a view of the Bangkok skyline. The nicest room even has its own outdoor plunge pool. It's right in the prime central business area, walking distance to Bangkok's gigantic megamalls like Central Embassy (1031 Ploenchit Rd.), and a short drive to my favorite museum, the Jim Thompson House and Museum (6 Rama I Rd.), which features the art collection of an American-born Thai businessman, called the 'Thai Silk King,' who is known for reviving Thailand's traditional cottage industry of silk weaving."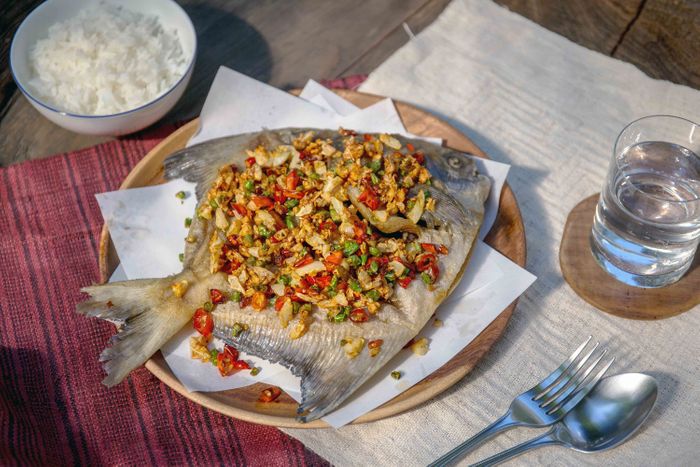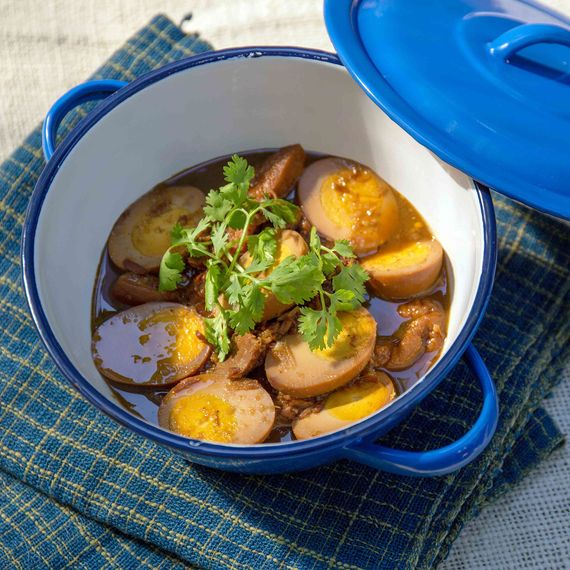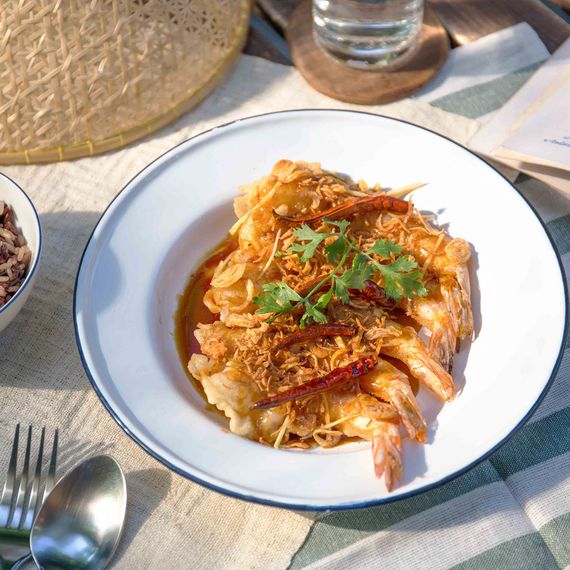 "The Local (32-32/1 Soi Sukhumvit 23) is my favorite restaurant for authentic Thai cuisine. It's a fine dining restaurant, and all the dishes are based on secret family recipes. Khua Kling Pak Sod (98/1 Sukhumvit 53 Alley) is a family-run restaurant that has a homey feel and focuses on Southern Thai cuisine. My favorite dishes are gaeng luang (yellow curry with coconut shoots and fish), khua kling (a very spicy meat and curry paste stir-fry, and pad setor (stir-fried stinky beans). Sabai Jai Gai Yang (87 Ekkamai 3 Alley) is a famous Thai restaurant among locals. The favorites are the gai yang with nam chim jeaw (grilled chicken with spicy, salty dipping sauce and toasted rice), and the som tam (raw-papaya salad). And for the best late-night Thai food, go to 55 Pochana (1093 Sukhumvit Rd.). This place is open until 4 a.m. and serves delicious Thai-Chinese dishes, including a pan-fried oyster omelet and pad krapow (Thai basil chicken)."
"El Mercado (490 Phai Singto Alley) is an Mediterranean deli and bistro. My favorite dishes are mussels à la plancha and baked gurnard, and their charcuterie and cheese selections are amazing. Mensho Tokyo (Sukhumvit 31) is a modern and casual Japanese ramen shop with counter seating to see the chefs in action. Try the chicken-based broth Tokyo ramen. My favorite dish is tori paitan, a milky-rich chicken-bone-broth ramen complete with cabbage, bamboo shoots, charred pork char siew, and duck breast."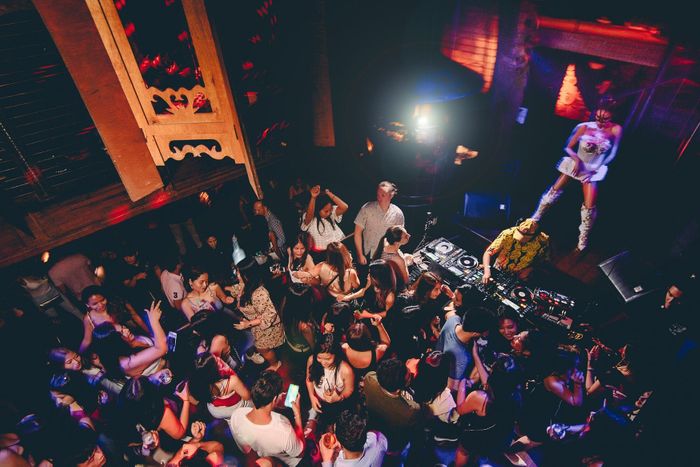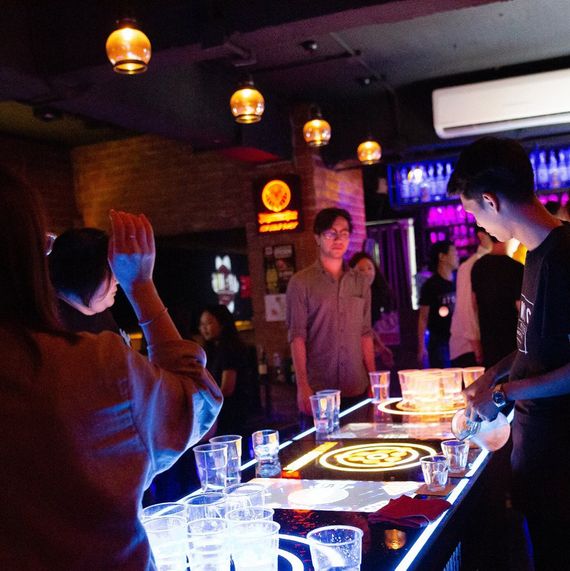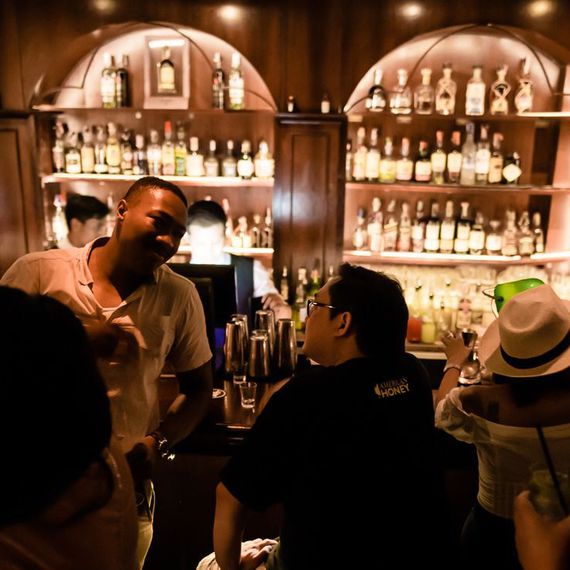 "Sukhumvit, one of Bangkok's most modern and cosmopolitan neighborhoods, is located in the central part of the city. It's very convenient for public transport (BTS Skytrain and MRT subway), has lots of street food, and is lively at night. My favorite bars are Havana Social Club (1/1 Sukhumvit Rd.; 02-8216-6111) and Sing Sing Theater (Sukhumvit 45 Alley), which is a theater-club known for its live music and dance performances. Havana Social Club is a secret cocktail bar. To get in, you have to call ahead to get the entry code. In Thonglor, Bangkok's many scenes come together all in one neighborhood. You can bar hop all night: speakeasies, cocktails, beer bars, private bars, wine bars, and clubs. Atomic Beer Pong (139 Opus Bldg.) is dedicated to the classic drinking game. The Bamboo Bar (48 Oriental Ave.) at the Mandarin Oriental hotel plays live jazz and has great cocktails in a classy and intimate setting. Vertigo restaurant and Moon Bar on the 61st floor at Banyan Tree hotel (21/100 S. Sathorn Rd.) is one of the highest rooftop bars in Bangkok with an outstanding 360-degree view."
"Bangkok markets are vibrant, chaotic, and diverse in every word. If you're adventurous, try the fried insects or the stinky monthong durian fruit at Khao San Road. The best places for shopping are the Night Market and Chatuchak Weekend Market. At the Weekend Market, which is only open on weekends from 9 a.m. until 5 p.m., get as many Thai local crafts as you can: porcelains, wooden crafts, and leather. It is a bargain. The famous Talad Rod Fai Train Night Markets has two branches — the original, bigger one is located in Srinakarin and the other in Ratchada. Both markets are open from 6 p.m. until late; a stroll through them will take about five hours. You can shop for locally made fashion, vintage goods, furniture, stationeries, appliances, and more at very affordable prices. There are many street-food stalls to try, from simple steamed pork buns to deep-fried chicken and pork ribs smothered in hundreds of bird's-eye chiles."
"Go to the Temple of the Emerald Buddha (or Wat Phra Kaew) in the Grand Palace. It is Thailand's most important and sacred temple, so you're expected to act with due respect inside it. It houses the tiny (between 60cm and 75cm) Emerald Buddha, which is located high above the heads of the worshippers and tourists. Not much is known for certain about the statue, except that it isn't actually made of emerald but rather of green jade or jasper. Getting a good look at it is difficult, as photography is forbidden inside the temple, and it's perched so high up inside its glass box that it's difficult to see in detail. It's thought to have been made in the 15th century and was the cause of several wars before ending up in Bangkok for good in 1782. It's considered a talisman and holds tremendous significance for Thailand and the Thais. The 'robe' that it wears is changed three times each year by the king himself at the start of each season: a diamond-encrusted gold robe during the hot season, a solid-gold robe in the cool season, and a gilded monk's robe in the rainy season."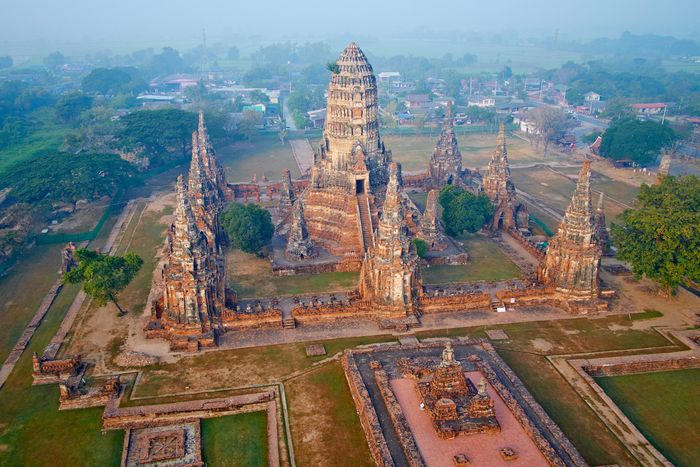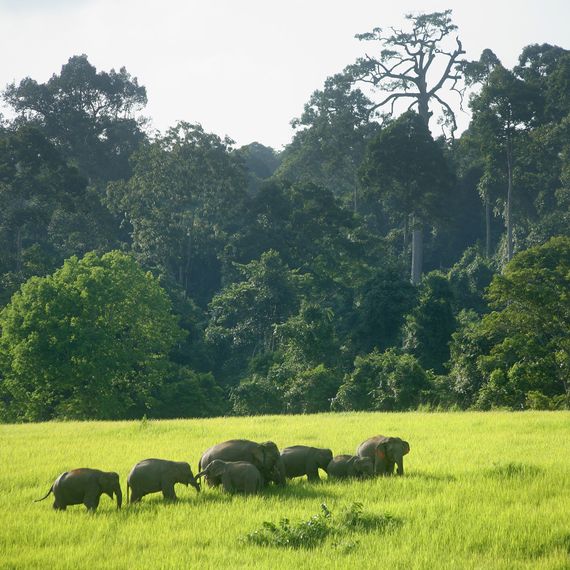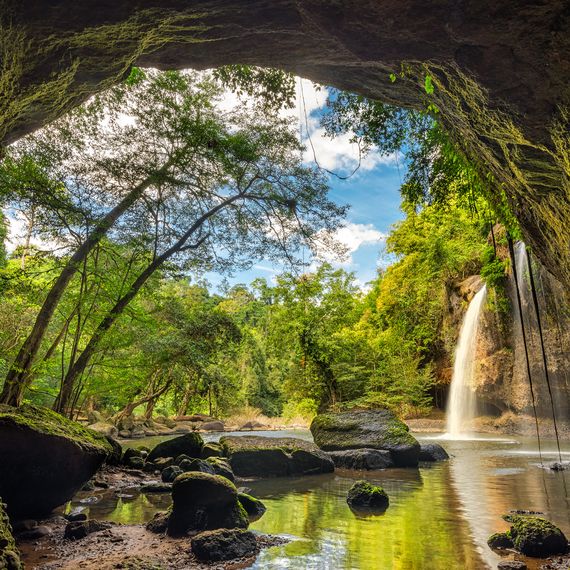 "Khao Yai National Park was the first national park to be established in Thailand. It's to the east of Bangkok, not too far away from the regional city of Nakhon Ratchasima (also known as Korat). It's about two hours away in a taxi, but you can also take a three-hour bus ride from the Mo Chit Bus Station. These days, it is the second-largest national park in Thailand, with amazing scenery and wildlife. The animal collection includes gibbons, barking deer, hornbills, Asian-fairy bluebirds, reticulated pythons, crocodiles, and crested lizards, to name just a few. Of course, it is also home to the largest elephant sanctuary in Thailand. Ayutthaya, the ancient capital of Siam, is also an incredible day trip. You can take an hourlong train from Bangkok's Hualamphong Station. When you get there, rent a bicycle. Roam around and take loads of photos. The Ayutthaya Historical Park is full of ruins of ancient temples and palaces. Also, treat yourself to some delicious freshwater river prawn dishes, available in many local restaurants."