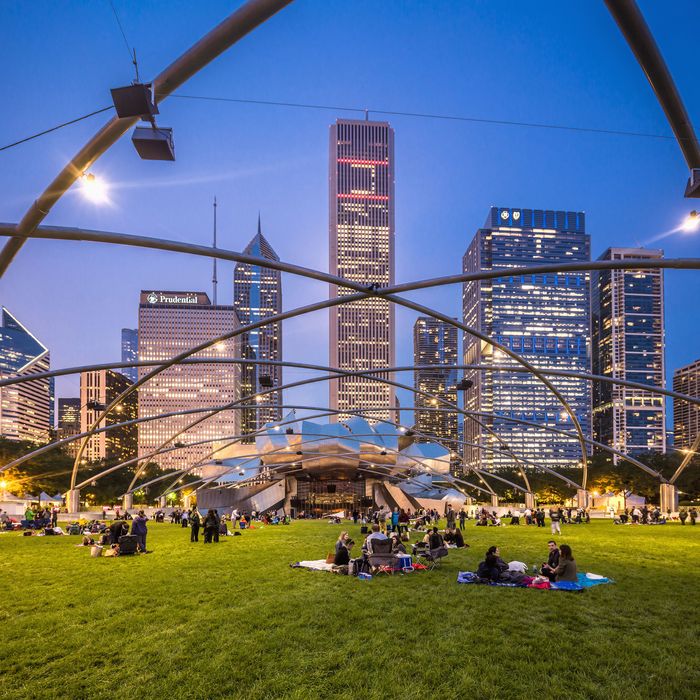 An evening at the Jay Pritzker Pavilion, a band shell designed by Frank Gehry, in Millennium Park.
Photo: Massimo Borchi/Atlantide Phototr/Getty Images
It's commonly understood that the best way to explore a new place is to go straight to the locals. Each week in the Urbanist, we take that wisdom one step further by seeking out not just locals but local experts — those who are especially well versed in their cities' newest and most noteworthy scenes — to give us insider recommendations. This week, we asked architectural and urban designer Paola Aguirre Serrano, founder of Borderless urban design studio and a visiting artist at School of the Art Institute of Chicago, for her picks in Illinois's largest city.
"Chicago has an incredible (and complicated) history, but you can feel its ambitious future too. You have the 'big city' — skyscrapers, the financial district, the Loop (which is what locals call the downtown central business district) — and the 'hyperlocal neighborhood' feelings in very short distances. It's a common misconception that everything worth seeing is in the Loop. Each neighborhood is its own universe. I also love the relationship of the city and the water, where man-made meets nature. When architect and urban designer Daniel Burnham worked on the 'Plan of Chicago' in 1909, public space as civic space was a huge ambition. Today, Chicago's lakefront is 20 continuous miles of accessible public space. I love walking along the shoreline. My husband and I actually started a photography project about this called From the Shore to capture all 1,638 miles of Lake Michigan's shoreline."
Her Other Musts