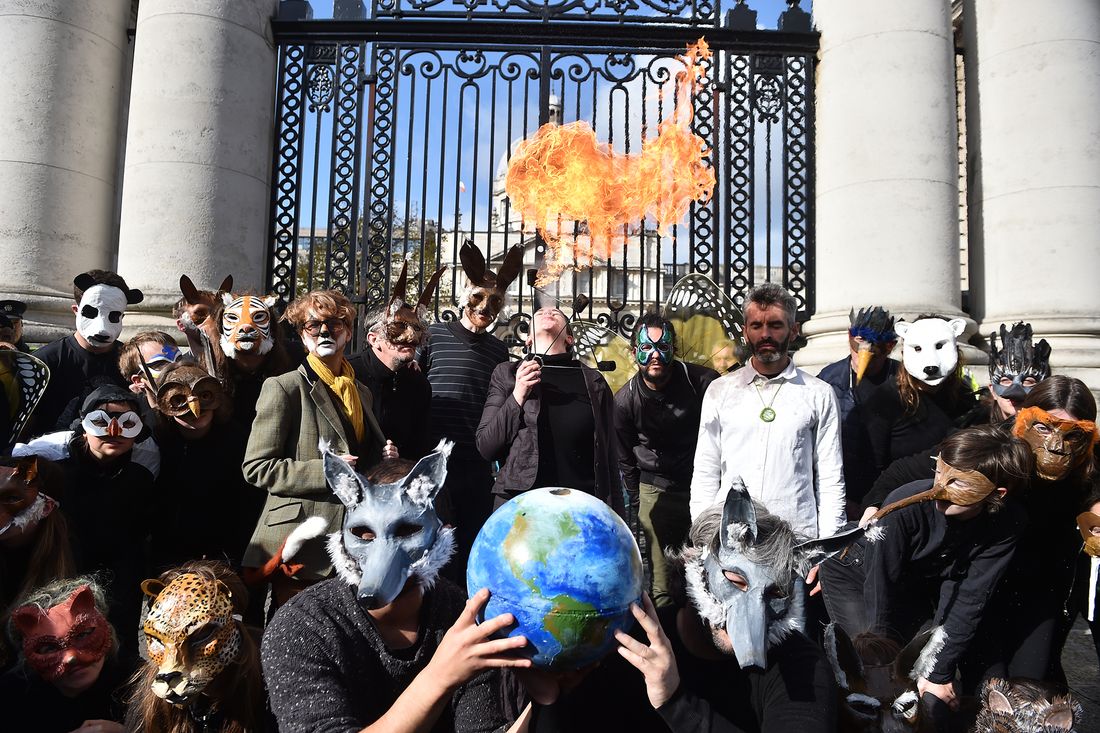 Environmental activists protesting outside government buildings in October.
Photo: Charles McQuillan/Getty Images
If you ask the average tourist to list four things about the Irish capital, that person is likely to fire off the following: Guinness, James Joyce, Molly Malone, and rain. All true, the rain particularly. Ireland's most populous city is in the midst of massive change; a decade after the 2008 recession, a graffiti-centric arts scene has emerged, as has a newfound social awareness (the country recently repealed the Eighth Amendment, an abortion ban, and in 2017 Ireland became the first country to legalize gay marriage by vote). While the city's cultural history remains one of its main draws (the massive Museum of Literature opened in late September), people across the world have found themselves obsessed with a new crop of Irish cultural exports (Derry Girls and novels from Tana French and Sally Rooney overtook the summer of 2019). With numerous international companies choosing Dublin as their European HQ (Google, Facebook, Twitter, and Slack among them), the city has become increasingly multinational: These days, you'll find a Brazilian corner store as easily as you'll find a pokey "old man" pub on the city center's main drag. Chefs are reimagining traditional fare (crubeens — here, roasted pig's tail — are being stuffed with lobster and razor clams) and introducing new categories of food altogether: A formerly brunchless city is seeing a surge of morning menus boasting fluffy pancakes with apple syrup and sausages.
1. A Day-to-Night in Stoneybatter
Many of the street names in this on-the-up-and-up northside enclave (Sigurd Road, Thor Place, Ivar Street) recall the era (ca. A.D. 841) when the neighborhood's primary inhabitants were Vikings. Here's how longtime resident and Today FM radio DJ Ed Smith would spend an ideal day toodling around.
11 a.m.
I'd first head to Maureen's (Manor Pl., Arran Quay), probably the most famous — or maybe infamous — convenience store in the neighborhood. She is a true Stoneybatter legend; you never know what mood you'll find her in. Then pick up a newspaper and head down to Cowtown Cafe (73 Manor St.) for a Breakfast Bap, a soft, floury roll with sausage, bacon, pudding, and egg, all beautifully fried, with a nice mug of proper Irish tea.
1 p.m.
I'd then go to the nearby Phoenix Park for a ramble through the trees. Walk up the main stretch, Chesterfield Avenue, and pass Áras an Uachtaráin, the president's house. On the way back, head up to Arbour Hill, where there's a quirky market run by a sweet old guy, Peter, that nobody knows about. He opens up his shed and sells trumpets, amp stands, guitars, vintage radios, and a vinyl collection.
3 p.m.
Stop off at the Green Door Bakery on Manor Street; they do a fantastic Bakewell slice. Directly across the road is Mooz (1 Manor St.), an Italian grocer that does phenomenal coffee. Take a cup to the Irish United Nations Veterans Association Garden (Mount Temple Rd.), which you enter through a secret blue door. It's beautiful and just beside Arbour Hill Cemetery — which is a very historical spot as a lot of the lads from the 1916 rebellion are buried there.
6 p.m.
For dinner, go to a Vietnamese food truck called Vietnom at the back of the Glimmer Man pub (14 Stoneybatter). It is probably the most eccentric pub in Stoneybatter — it's like the bar from Star Wars. Or try Grano for some authentic Italian. There's literally an Italian grandmother in the back making proper hearty fare.
9 p.m.
My favorite pub is Walsh's (6 Stoneybatter). Anto the barman will look after you there — it has the best pint of Guinness in the country. That's right, the country. If you fancy a craft beer, on the other hand, you can't beat L. Mulligan Grocer (18 Stoneybatter), a.k.a. Mulligan's.
Midnight
On the way home, you've gotta pop into Sorrento (10B Arbour Hill) for a bag of chips. They're outrageous. There's a guy in there called Christian who even does his own homemade gelatos.
2. Not the Usual Restaurants and Bars
Contemporary takes on Irish classics, recommended by chef Damien Grey, owner of Liath.
For Brunch: Gertrude, 130 Pearse St.
"Dublin has a newfound brunch scene that has emerged only in the past couple of years. For my money, I especially love the Gertrude Stack: big, fluffy pancakes finished with Highbank Orchard apple syrup and these sausages from Whole Hoggs, which uses a free-range rare-breed pig. They also fire in a little sneaky hot sauce, too."
For Dinner: Chapter One, 19 Parnell Sq.
"Years ago, you would cook down the crubeens, the feet of the pig. Chapter One uses the pig's tail instead of the feet and stuffs it with lobsters when they're in season or razor clams. Then it's glazed with this really thick treacle, and fresh apples and sorrel are put on it. It's just such a divine dish."
For Dessert: Mr. Fox, 38 Parnell Sq. W.
"Anthony Smith plays on people's memories of '80s and '90s sweets. They do ice creams like Brunch (a traditional U.K. ice-cream bar covered with biscuit crumbs), and a fantastic Walnut Whip (named after the popular-in-Ireland chocolate and whipped-vanilla candies). They really play on nostalgia; when you're eating them, it's like, 'Yeah! I remember this!' It's the stuff everyone remembers from when they were kids, and it's done so well."
And some worthwhile Guinness alternatives, according to Beth Berry, mixologist at the Lucky Duck.
For an Unaged Whiskey: Bar 1661, 5 Green S.
"Bar 1661, a new poitín (an unaged spirit) bar on the north side of Dublin, is small and cozy. It'd be a crime not to go for their house spirit; they do a poitín flight with a selection of whiskeys."
For a Gin–and–Pea Cordial Cocktail: 9 Below, 9 St. Stephen's Green
"People describe 9 Below as a speakeasy because it's hard to find. Find the sign on the gate, go down the steps, and you're suddenly in one of the most luxurious bars in the city, with unusual cocktails like the On the Green, a mix of gin, green chartreuse, a pea cordial, and egg white."
For a Potent Drink: Gold Bar, 20 Lower Camden St.
"It's on the top floor of a Chinese restaurant called Hang Dai. Their tequila and mezcal range is incomparable, but if you're feeling brave, try the Death-Proof Chinese Zombie — they limit it to two per guest per night."
3. If You Want to Rile up a Dubliner
Bring up …
Rising Rents
It's a familiar conundrum: The big companies (in this case, Silicon Valley transplants) move in, the rents go up, and the locals are forced out. Leo Varadkar's government has been criticized for failing to take measures to both avoid and solve this problem; homelessness is now at epidemic levels, and housing prices are unattainable for many (the average cost in Dublin's city center is now over $2,000 a month).
Brexit
Ireland's history with the U.K. is long and complicated — and it's set to get even messier with the looming threat of Brexit. It's unclear how this will affect the capital, but reports have suggested that a "no deal" Brexit will have a damaging effect on the home sales and rental markets. There is fear that the expected influx of companies and workers from the U.K. will deepen the housing crisis and impact residents' day-to-day lives—from decreasing discretionary shopping to the possibility of a return to the turbulence that ended under the Good Friday peace agreement.
Cultural Erosion
Many Dubliners have been angered by what they see as the "cultural erosion" of their city — buildings being knocked down and redeveloped as hotels, making for a place that increasingly favors tourists over locals. Recently, the Dublin City Council voted to limit the number of hotels being built in a bid to stem the tide, but many people think it's too little, too late.
4. Where Locals Would Stay
If they weren't locals.
$
Kelly's Hotel
36 S. Great George's St., from $88 a night
"This 16-room hotel located in the Creative Quarter has a rustic feel — brick walls, exposed beams — and a popular-with-locals rooftop bar. Step outside and you've got great record stores, cafés, independent art galleries, and traditional pubs on your doorstep." —Ruth Medjber, photographer
$$
The Hendrick
6–11 Hendrick St., Smithfield, from $110 a night
"It feels practically like a gallery — there's interesting graffiti and paintings on nearly every wall of the place's five floors, from people like painter Conor Harrington, street artists Maser and Sam Le Bas, and abstractionist James Kirwan. The rooms also happen to be incredibly comfortable, and the city center is within walking distance." —Brandon Felczer, part-owner of Token
$$$
The Westbury Hotel
Balfe St., from $327 a night
"For a five-star hotel, it's warm, unstuffy, and welcoming with a real buzz, especially on weekends. The location couldn't be better — tucked away from the main thoroughfare but right near Grafton Street. The Art Deco interiors are luxe but cozy, the perfect refuge on a rainy Dublin day. Try the afternoon tea in the Gallery or a cocktail in the Sidecar bar." —Aoife Kelleher, film and television director
5. Art Three Ways
An equine-themed mural on Stirrup Lane, 20th-century paintings in a former hospital, and a perfectly preserved artist's studio.
1. "Subset are a really interesting collective of street artists, but they're constantly running into conflict with the city's planning authorities. Try to see their #Horseboy (corner of Church St. and Stirrup Ln.) before it disappears — the mural has become one of the most popular fixtures in the Smithfield area."
2. "The Irish Museum of Modern Art (Military Rd., Kilmainham) was launched in 1990 at the 40-acre former Royal Hospital Kilmainham. The collection centers on Irish art from the mid-20th century on. Nextdoor is a hidden gem, the Irish National War Memorial Gardens, a riverside park with formal gardens designed by Edwin Lutyens."
3. "Francis Bacon's art studio was picked up and moved from London to Dublin (Charlemont House, Parnell Square N., Rotunda) in 1998. Everything from the walls to the ceiling to the medical books and magazines strewn around the place was perfectly preserved as it was when he died in the early '90s."
—Patrick Murphy, RHA Gallery
6. The Bookstore Mentioned in 'Ulysses'
And two others, recommended by author Sinéad Gleeson.
Books Upstairs, 17 D'Olier St.
"This long-standing shop can't be bettered on its excellent range of literary journals, zines, magazines, and its particularly excellent essay section."
Marrowbone Books, 78 the Coombe
"Dublin was once home to thriving secondhand bookshops; dim rooms full of dusty spines. There are less of them around, but this small shop in the Coombe is full of old Penguins and pre-loved paperbacks."
Hodges Figgis, 56–58 Dawson St.
"The oldest bookshop in Dublin (it was founded in 1768 and mentioned in Ulysses) has a lovely old-fashioned-looking façade, behind which lie four floors of new books and a great bargain basement."
7. A Real-Life Sally Rooney Tour
Where Trinity College students hang out, courtesy of Judith Robinson, the college's entertainment officer.
For a Coffee Pit Stop Between Lectures: Clement & Pekoe, 50 S. William St.
"Their signature drink is their mocha, and it's unbelievable — high-quality chocolate that they put on the end of a stick so you can melt it into your coffee."
For Books and Vinyl: The Secret Book & Record Store, 15a Wicklow St.
"It has a big selection of secondhand books and is a bit old and cluttered, which makes it very charming. In the same shop, Freebird Records has a great range of vinyl and CDs."
For a Party in the Back of a Japanese Restaurant: Yamamori Tengu, 37 Great Strand St.
"At night, this Japanese restaurant becomes a club. The best student nights happen here — they host great Irish DJs."
8. Day Trips That Are Worth It
Go inside a Stone Age passage tomb.
Less than an hour's drive from Dublin
History buffs will especially appreciate a visit to Newgrange, the Stone Age passage tomb and World Heritage Site that was rediscovered in the late-17th century. As any Irish person will proudly tell you, it's older than both the Egyptian pyramids and Stonehenge — and just as impressive. While you're in the Boyne Valley area, take in the Hill of Tara, the seat of Ireland's ancient high kings.
Stroll Along the Irish Coastline
45-minute train ride from Dublin
Irish winter weather is notoriously unpredictable, but on a clear day, it's hard to beat the ever-popular Bray-to-Greystones cliff walk. The rugged but accessible trail linking the two seaside villages offers stunning views across the Irish Sea while snaking up Bray Head along a heather-strewn path for four miles. Upon arrival in Greystones, dine at vegetarian café the Happy Pear.
Spend the Day in a Playground for Grown-ups
30 minutes by car from the city center
You could easily while away a day at Jam Park in Swords, just outside the city center. The multipurpose venue (a former nightclub) is now owned and operated by the hip Bodytonic group. In addition to restaurants (get the cauliflower tacos!) and several bars, you'll find Ping-Pong, miniature golf, arcade games, karaoke, and even a market on Sundays.
*This article appears in the October 28, 2019, issue of New York Magazine. Subscribe Now!