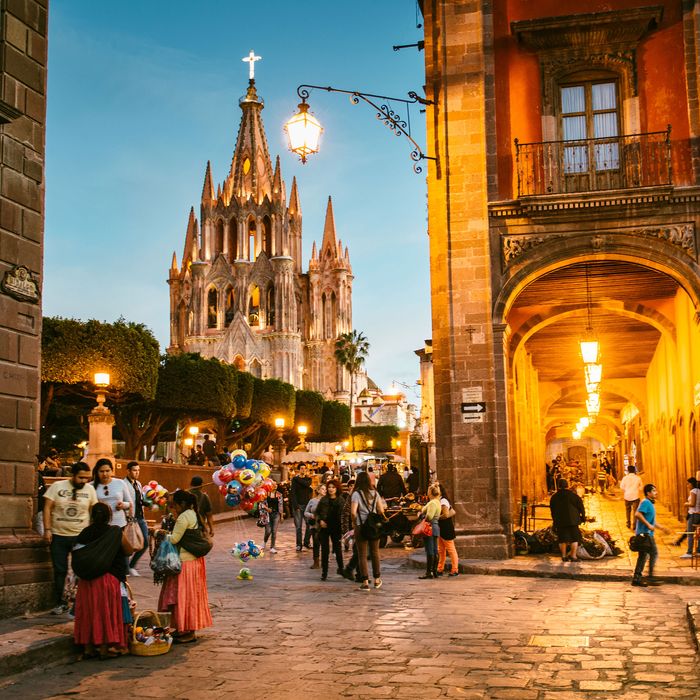 Just off the town center of San Miguel de Allende, Mexico.
Photo: Ferran Traite/Getty Images
It's commonly understood that the best way to explore a new place is to go straight to the locals. Each week in the Urbanist, we take that wisdom one step further by seeking out not just locals but local experts — those who are especially well versed in their cities' newest and most noteworthy scenes — to give us insider recommendations. This week, we asked artist Sabina Arias, creator of the Malo artist residency, for her picks in the Mexican city.
"San Miguel de Allende has always been a magnet for artists from around the globe. It's a unique place to visit because of its beautiful 18th-century Spanish architecture and its relevance in Mexican history. San Miguel was one of the most economically important towns during the Spanish rule and the cradle of the independence movement in 1810. Life here is very beautiful. The weather is really great. The houses are all yellow, red, and all these warm colors. It's a very vibrant place. Near the Fabrica la Aurora art galleries, you can find the studios of extraordinary San Miguel artists such as Margaret Dawit and Gerardo Ruiz. And there are current efforts in San Miguel to revindicate its long-standing artistic legacy through many festivals, including the Guanajuato International Film Festival in July, the Chamber Music Festival in August, the Writers' Conference and Literary Festival in January, and the Jazz Festival in November."
Her Other Musts