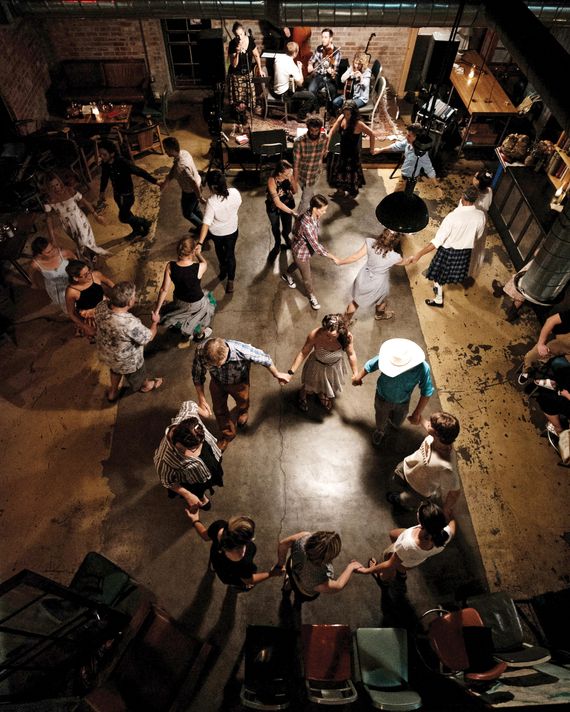 The back room of coffee shop Exo Roast Co. turns into a mezcal bar at night.
Photo: Julius Schlosburg
Tucson's never really had an official nickname. There's "Old Pueblo," meant to evoke the city's ancient roots — it was settled by 17th-century Spanish missionaries on prehistoric Hohokam land. Some locals reject it as sounding too sleepy or because it was coined as a marketing ploy to siphon tourists from other southwestern cities (like Santa Fe, the long-reigning popular girl of the Southwest). Recently, such tactics have become unnecessary. In 2015, Tucson was the first "city of gastronomy" to be named in the U.S. by the U.N. Educational, Scientific, and Cultural Organization. The body chose Tucson for its agricultural history (it has been continuously cultivated for 4,000 years — the longest in North America) and wide variety of cultural influences (take the popular bacon-wrapped Sonoran hot dog). All of a sudden, restaurants and bars with newfangled menus started popping up throughout the city, luring food-obsessed visitors and averaging an opening a week by 2018. The formerly sparse downtown became home to breweries, shops, and stylish hotels, but, as is often the case, rents shot up and longtime beloved businesses closed. A bright spot: Tucson elected its first Latina mayor, Regina Romero, in November, cementing its status as a "blue dot in a sea of red." As for visiting, winter and spring are the best times to go (most people fly into Phoenix and drive the hour and a half to Tucson), when temperatures rarely drop below 60 or go above 80 degrees.
1. Four Ideal Evenings
Shamanic walks and dive bars.
Visit an Unruined Dive
"Danny's Baboquivari Lounge (2910 E. Fort Lowell Rd.) is a classic watering hole, named after my favorite mountain in southern Arizona, and has charismatic bartenders and a great patio. In the era of shows like Bar Rescue, it breaks my heart watching classic bars being converted into half-hearted man caves. Danny's still has their timeless cowboy wallpaper, hand-drawn cactus sign out front, and weird outsider-art robot structure out back." —Bryan Eichhorst, drink programmer at Owls Club
Attend a Star Party
"Kitt Peak National Observatory and Mt. Lemmon SkyCenter observatory both have nighttime programs that are great — from explorations of the moon to overnight telescope observing sessions where you get a full tour of the cosmos that lasts right up until sunrise. There's also the Tucson Amateur Astronomy Association, which hosts regular star parties open to the public. Also, if you just want to be able to see the Milky Way with your naked eye, go west, over Gates Pass, toward Saguaro National Park." —Buell Jannuzi, head of the University of Arizona's astronomy department and Steward Observatory
Take a Witch-Approved Walk
"There is a full-moon labyrinth walk hosted by the Web of Life–Intuitive Shamanic Animists group. The labyrinth is created monthly in the desert and outlined in lights, with an altar in the center. Or if you want a drink, Crooked Tooth Brewing Co. (228 E. 6th St.) makes Full Moon beer that is brewed under the full moon each month and crafted in ritual with a variety of crystals and herbs that support the intended vibration of the beer." —Melisa Doran Cole, owner of witchy-goods store and community space the Ninth House
Catch a Word-of-Mouth Waila Band
"Waila bands play out in the Tohono O'odham Nation, at the San Xavier Dance Ramada, but it's mostly word-of-mouth. Waila has that norteño-style polka sound with jazz elements but differs in that it's almost exclusively instrumental. You can also hear waila on Rez Radio here every Friday night." —Duncan Hudson, music director of KXCI Community Radio
2. From Kimchee Egg Sandwiches to Ají Ceviche
A day's worth of food options, according to James Beard Award semifinalist Don Guerra of Barrio Bread.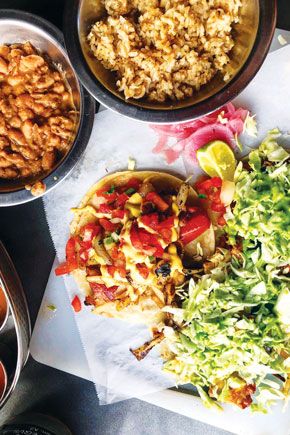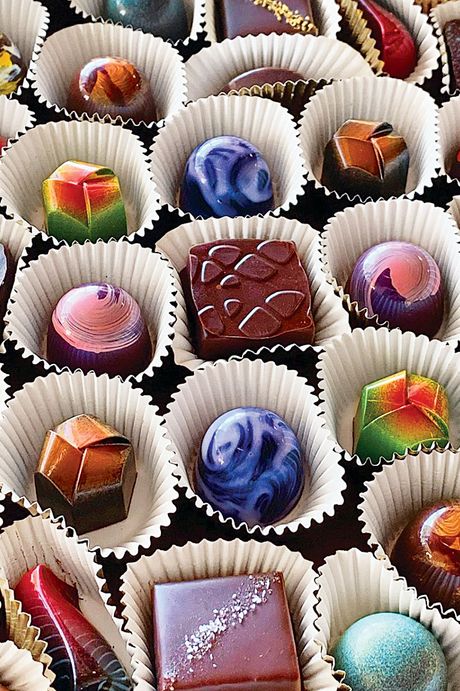 Breakfast
"Start at Exo Roast Co. (403 N. Sixth Ave.) and keep it simple with a beautiful coffee, which they roast in house — the owners are really into preserving the true flavor of the coffee. They have these inventive breakfast sandwiches, like Kimchee Egg. It's made with Bajo Tierra Kitchen kimchee, a little local, Sonoran-style kimchee company that uses local chiltepin and cilantro. They have a lovely back room, which turns into El Crisol mezcal bar at night."
Lunch
"For lunch, I'd go nearby to BOCA Tacos y Tequila (533 N. Fourth Ave.) and people-watch the crowd walking by. I love the Rajas tacos with roasted Anaheim chiles in a cheese sauce. The tacos, which arrive on a cutting board, come with three or four salsas to try that they walk you through. It's not just a red salsa, a green salsa, and that's it. Chef Maria Mazon changes them daily and is really creative — you might get a basil salsa or a fruit salsa."
Dinner
"Go down to Charro del Rey (178 E. Broadway Blvd.). It's a seafood restaurant from the Flores family, who own the Mexican restaurant El Charro — a Tucson institution — and are icons in the community. Their ají ceviche is so fresh and delicious. It's plenty for one person or great to share, and the price point is $12; when you consider the obvious thoughtfulness and preparation that goes into it, that ceviche would easily be $20 if you were eating up at Ventana Canyon resort."
Dessert
"Go to Monsoon Chocolate (234 E. 22nd St.). The owner, Adam Krantz, opened in an old tortilla factory. They have a frozen hot chocolate that, when it's 105 here in July and your brain is melting, will make you feel like a million dollars."
3. Want to Rile Up a Tucsonan?
Bring up … Phoenix
To an outsider, Tucson and Phoenix may seem indistinguishable. Confusing Tucson with its rival 90 minutes to the north, however, will result in a terse correction from a local. Fueling the grudge are the bitter sports rivalries between the state's two biggest colleges — the University of Arizona in Tucson and Arizona State University. Then there's the tendency for Tucsonans to look down their noses at Phoenix's moneyed sprawl. Though no stranger to resorts, Tucson thinks of itself as more accepting of its natural desert habitat — bland dirt, rocks, and all. Some of the city's rougher-hewn charm is captured beautifully on local photographer Kristine Peashock's Instagram account Tucson Ordinary.
The Immigration Crisis
The city is home to anti-deportation human-rights groups like No More Deaths, which has long provided water and food to immigrants crossing the harsh Sonoran Desert on foot. No More Deaths volunteer Scott Warren became a national story when he was arrested by Border Patrol agents in 2018 and charged with three felonies for providing temporary shelter to two young men crossing from Central America.
Downtown
The recent revitalization of Tucson's downtown has pushed out artists and small businesses. The 2019 razing of a longtime music venue (to make room for high-rise apartments) fanned the flames of the decade-long "Keep Tucson Shitty" anti-gentrification movement, a play on similar pleas from Portland and Austin to keep their towns "weird."
4. Where a Local Would Stay If She Weren't a Local
Acupuncturist Kelly LeGendre on the best places to spend the night (and possibly spot Diane Keaton).
$
The Downtown Clifton
485 S. Stone Ave.
"A newly renovated motor lodge with a Western, mid-century, Pendleton-blanket kind of vibe, located just south of downtown. It's also home to the Red Light Lounge, which features Sonoran-inspired cocktails, food, and little bites like delicious masa pretzels."
$$
The Fig (Barrio Viejo)
Location provided upon booking.
"An updated, four-bedroom historic adobe. It's in the charming historic district, Barrio Viejo, and is the place to stay if you want to experience Tucson like a local. You might run into Diane Keaton, who recently bought a house nearby."
$$$
Posada
Location provided upon booking.
"A truly gorgeous lodge-style inn with a modern Sonoran feel. Right at the edge of Saguaro National Park, it's a 30-minute drive from downtown and perfectly located for hiking and exploring the nearby Sonora Desert Museum."
Plus One for the 'Gram
$
Hotel McCoy
720 W. Silverlake Rd.
"It's affordable and filled with colorful pieces by local artists. You drive in under a painted rainbow archway that says 'Tucson Is Magic' and is begging to be photographed."
5. A Muralist's Favorite Mural
Plus a gallery and museum recommended by artists.
420 S. Main Ave. 
"What I love about this mural is how it's influenced by the Chicano style; it's not trained or academic. It is so beautiful and simple and tells the timeline of a family's Aztec roots. It was restored about ten years ago, so the colors are super-beautiful." —Racheal Rios, muralist
135 S. Sixth Ave. B
"They put on world-class exhibitions with local and international artists. Their latest installation, 'Land Re-Form,' showcases incredible gelatin-silver-print landscape photos. I also love a series of self-portraits taken by Arizona artist Mark Klett; they're of him and his daughter, and they date back to the early '90s." —Nick Georgiou, sculptor
6000 E. Valencia Rd.
"There are about 350 aircraft, and you can go right up to them — close enough to see the nose art painted on each of them. Their helicopters are very fun for little ones because you can touch them, and they also have tons of jumpsuits and artifacts on display." —Ishi Glinsky, artist
6. A Mid-Century Architecture Tour
Tucson Historic Preservation Foundation CEO Demion Clinco shares a day's worth of the city's notable churches, storefronts, and signs.
Start at the Welcome Diner
902 E. Broadway Blvd
"A wonderful example of restored Googie architecture."
Then Head East to the Sunshine Mile
East along Broadway Blvd. from the Welcome Diner to Country Club Rd.
"You'll see clusters of incredibly intact storefronts by local mid-century legend Bernard Friedman: the sculptural former Valley National Bank Building (3033 E. Broadway Blvd.), which was built in 1971, then Hirsh's Shoes, built in 1954 (2934 E. Broadway Blvd.), which is one of the few surviving examples of this type of commercial architecture in the country."
Travel North Along Country Club to Catalina American Baptist Church|
1900 N. Country Club Rd.
"Cox did a few churches. This one has an angled, hyperbolic-paraboloid thin-shell roof and is on the National Register of Historic Places."
Drive Northwest to Miracle Mile
"It's full of intact mid-century motels and neon signs. There's the iconic Tucson Inn sign (127 W. Drachman St.), but another really special neon sign was designed by Georgia O'Keeffe for the Ghost Ranch Lodge (801 W. Miracle Mile), which has since been turned into senior housing.
Drive Southeast and Finish at The Shelter
4155 E. Grant Rd.
"This bar was built in 1961 by Anne Rysdale, the only female architect working in Tucson during the '50s and early '60s."
Plus One Mid-Century House You Can Stay In:
"We recently bought and restored the historic Ball-Paylore House, by architect Arthur T. Brown. We made it rentable on Airbnb. It's the quintessential example of desert mid-century architecture."
7. Bring Home Some Tepary Beans
The best spots for Tucson-specific wares.
For Heiress Vintage:
"Tom's Fine Furniture and Collectables (5454 E. Pima St.) has a mishmash of antiques and jewelry. He once bought the estate from the heiress to the Fry's grocery-store chain. There was like 30 years' worth of Chanel in there." —Salima Boufelfel and Roberto Cowan, owners of Desert Vintage
For Ephemera on a Ranch:
"The Antique and Vintage Fair at Medella Vina Ranch (4450 S. Houghton Rd.) is the first Sunday of the month and has a great cross section of vintage clothes, books, jewelry, and odds and ends. And it's beautiful out there on the fields." —S.B. and R.C.
For Native American Seeds:
"Native Seeds/SEARCH (3061 N. Campbell Ave.) is likely the only place to buy tepary beans and mesquite cutting boards while supporting a nonprofit dedicated to conserving southwestern crop diversity." —Tawney Weir, owner of Little Toro Designs
8. Easy Excursions
Courtesy of ceramics artist and frequent outside-the-city-limits explorer Lia Griesser.
Stroll Around a 17th-Century Mission
45 minutes south of Tucson
"Mission San José de Tumacácori, which is situated in a mesquite bosk, was founded in 1691, and the gardens and orchards have been replanted. Across the street is Abe's Old Tumacacori Bar — a charming, real desert watering hole and tavern. Next to that is Santa Cruz Chili & Spice. Pick up a pack of chiltepins, the wild progenitor of domesticated chiles that originate from the Sonoran Desert."
Stay in a Clay-Forward B&B
About 80 minutes southeast of Tucson 
"Stay at a B&B run by Bill and Athena Steen of the Canelo Project in nearby Canelo. They literally wrote the book on building with clay, and their land is covered in examples of the craft. Then drive south and get lost in the maze of backcountry roads with epic prairie views."
Eat at a Restaurant Built Into a Cliff
About 75 minutes south of Tucson
"The border wall runs straight through the city of Nogales, and you get a real sense of how intrusive it is for the people who live there. The area is architecturally fascinating, with most storefronts dating to the mid-20th century, when the town was booming. Eat at La Roca, built in the late 1800s in the style of a Mexican hacienda. Sit in the bright-blue main dining room built into the rock wall of a natural cliff."
*This article appears in the February 3, 2020, issue of New York Magazine. Subscribe Now!