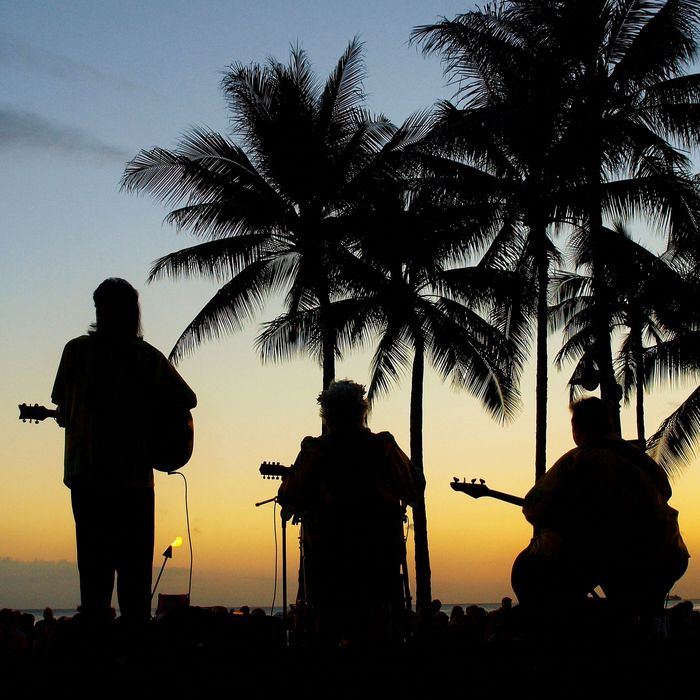 Hawaiian musicians play guitar and ukulele at Waikiki Beach in Honolulu.
Photo: TheBigPineapple/Getty Images
When the sun slides under the horizon, Honolulu's live music scene heats up. Roger Bong is the founder of Aloha Got Soul, a popular music blog turned record label focused on highlighting rare and lesser-known music of Hawaii across all genres. Whatever you're in the mood for — acoustic tropical vibes, throbbing house, or groundbreaking hip-hop — he knows where to find it. The following venues should be top of mind.
Kani Ka Pila Grille
"There's a lot of great Hawaiian music in Waikiki, but Kani Ka Pila hosts music every night of the week in a relaxed, outdoor setting that often spurs spontaneous hula accompaniment from someone in the crowd. Both new artists and award-winning musicians like slack-key guitarist Sean Na'auao or traditional and contemporary Hawaiian music group Maunalua play here."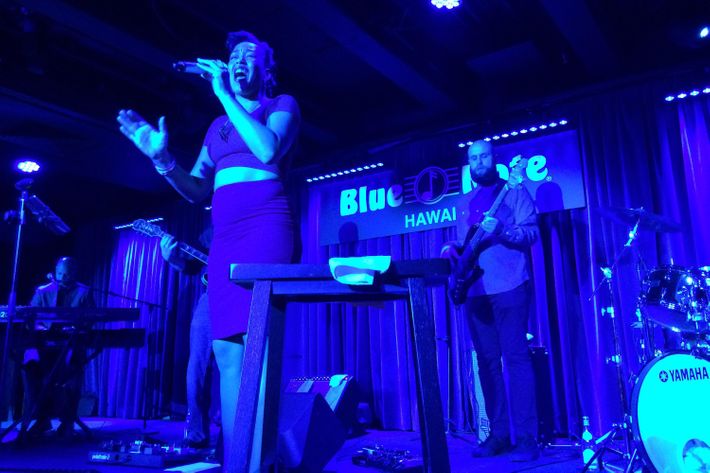 Blue Note Hawaii
"Ever since they opened up a couple of years ago, Blue Note in Waikiki has brought in big acts like Kamasi Washington. It's located in the Outrigger Waikiki Beach Resort, where the old Society of Seven showroom used to be. SOS was Waikiki's most popular variety show from the 1960s until the early 2000s. Blue Note has music every night, and while they most often feature jazz, they also book folk, rock, R&B, and reggae artists. They even do a series called 'Local Spotlight,' featuring artists like Anuhea, Makana, Tim Rose, Kalani Pe'a, Mike Lewis, and many more."
The Dragon Upstairs
"Another go-to for jazz. Where the Blue Note is polished, modern, clean, and spacious, this venue has more of the character you'd expect from Chinatown — it's dark with quirky décor, charming but a little chaotic. My friend Dae Han is a jazz drummer and performs regularly at the Dragon Upstairs; other regular acts include the Chris Yeh Quartet, the Pat King Koh Band, and Gypsy 808."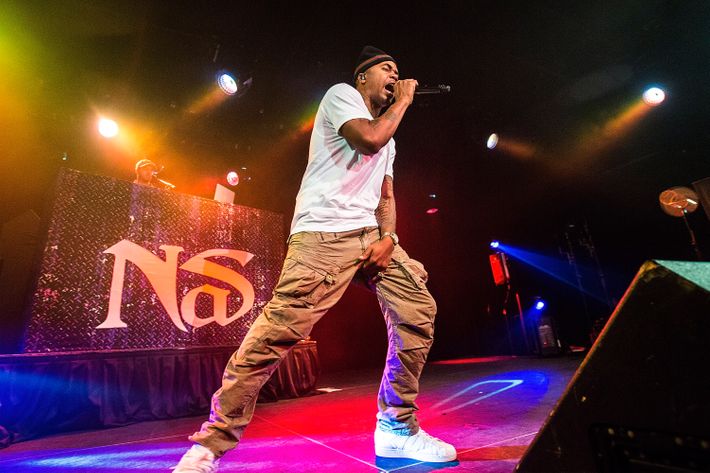 The Republik
"This is a cool space to see big-name bands, musicians, and rappers like STRFKR, Mac DeMarco, and GoldLink, plus other acts that aren't quite big enough to pack the Blaisdell Arena or the Waikiki Shell. Those venues draw international acts like Jackson Browne, Lana Del Rey, Nas, and Lauryn Hill."
ARS Cafe
"ARS Cafe consistently hosts new art gallery openings every month, but recently they've been testing out weekly music programming as well, including acoustic jam sessions from local punk legends like Josh86 of Black Square. The art gallery is curated by successful modern artist and sculpturist John Koga. The cafe's owner also runs Pioneer Saloon, which is a go-to plate lunch spot for me and my wife."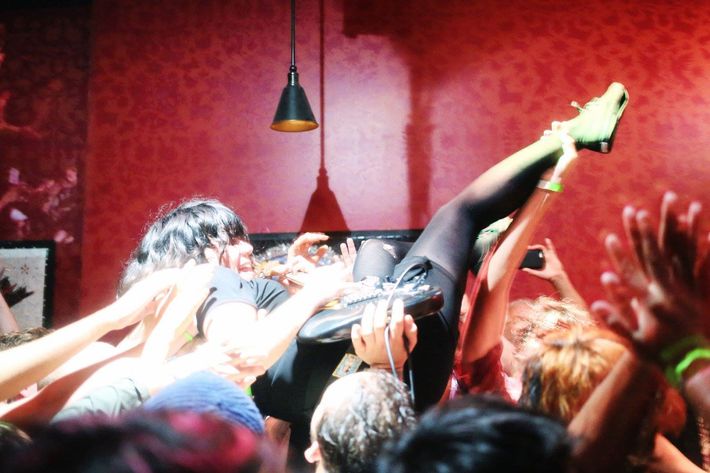 Downbeat Diner and Lounge
"Downbeat is part bar, part restaurant and a welcoming rocker's haven featuring mostly local acts and a solid whiskey selection. It continues to hold its own as Chinatown changes from a late-night music-and-counterculture hotbed into a dining destination."
Hawaiian Brian's
"Hawaiian Brian's does a real mix of everything — EDM, reggae, rock, hip-hop — because it's actually three venues under one roof: The Studio, Crossroads, and Electron."
Hawaii Public Radio's Atherton concerts
"Hawaii Public Radio does a series of events twice a year in their studio space. During the summer and winter seasons, they have live music every Saturday. The capacity is 60 to 70 people max, and it's a really intimate space where musicians interact directly with the audience, feeding off the energy of the room in real time. We saw Hawaiian jazz songstress STARR Kalahiki with industry veteran Kit Ebersbach, and were right up front. Best to buy your tickets in advance online because shows can sell out quickly."