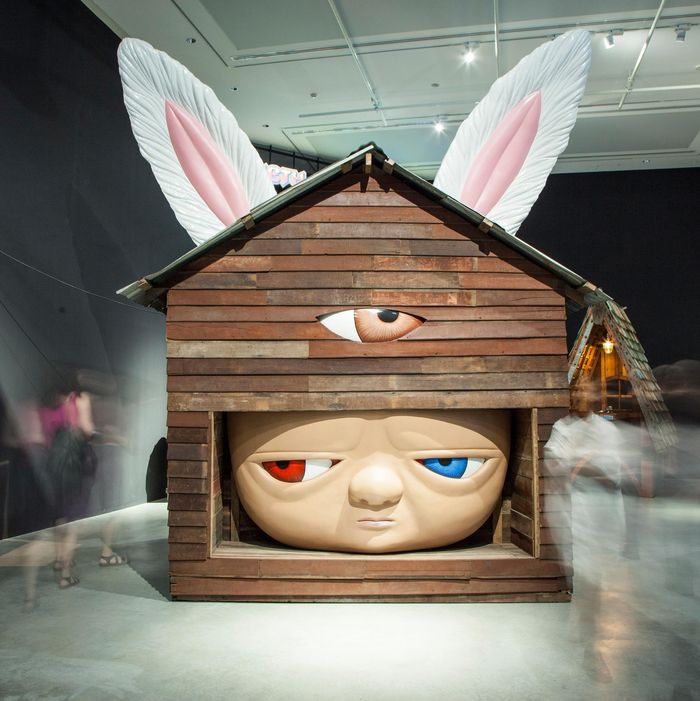 AlexFace at Bangkok CityCity Gallery
Photo: BANGKOK CITYCITY GALLERY
For decades, Thailand has been called the Land of Smiles. The moniker is well earned, but those pearly grins mask deeper troubles. Six months of social unrest nearly brought the country to its knees in 2014. That's when the Royal Thai Armed Forces staged a successful coup d'état to defang democratic leaders and institute a "temporary" National Council for Peace and Order. A proverbial reset button — in the form of elections — was promised by military leaders but has not yet come to fruition. (Interim Prime Minister Prayuth Chan-ocha has already pushed back the date four times.) 
No one knows this better than Bangkok's underground art community. Although the Thai government supports some vital arts institutes, like the Bangkok Art & Culture Centre and the Thailand Creative & Design Center, independent gallery owners sometimes go head to head with military personnel, who monitor their work for controversial social, political, and religious themes.
As the capital gears up for its inaugural Bangkok Art Biennale, kicking off this July and running through September, artists and curators are gathering the courage to speak out in new and subversive ways. Here, four art-world insiders reveal their favorite spaces for seeing Bangkok's most thought-provoking work. 
Somrak Sila, co-founder and curator of WTF Bar and Gallery
Until last year, many artists, curators, and academics, myself included, fled the country or took a break from all of it. People found residency programs and worked abroad. But things are changing; more people have realized it is time to fight and we need to find a way around [the censorship]. People are getting smarter by making work that's multidimensional and carries subtle political messages. Our next show at WTF Gallery is like this: It's called '[R]Ejecting Mantra' and it's about the impact of nationalism.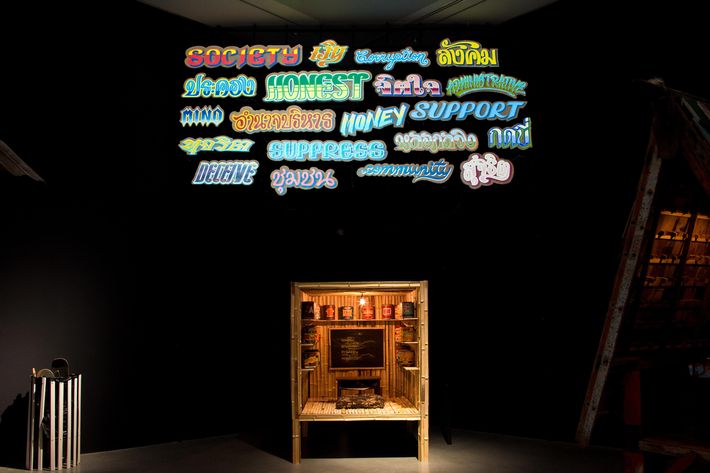 Bangkok CityCity Gallery has great programming, including street art, social advocacy shows, and art book festivals. Their recent exhibition, "SOS Souled Out Studios," was a good example of subtle criticism of our current political situation. Some of the street artists in the show, like Alex Face and Muebon, are well established. Alex Face is the most prominent graffiti artist in Thailand — a true pioneer. Muebon's work in "SOS" was about an affordable condo project [Rangsit City Village] built more than 20 years ago. The project was aimed at working- and middle-class people, and launched with a massive advertising campaign. It was a dream for people to have their first house with a swimming pool and a nice community. But it has since become a slum, with empty pools and lots of toilet bowls, which Muebon incorporated into the show as a nod to Marcel Duchamp. Muebon has been very involved with the kids in this community, organizing workshops with them. So his art is about this dream-turned-nightmare and what's left right now.
'SOS' was curated by British expat Beejoir, whose own work was also part of the show. The piece he did was inspired by a community on the Southwestern coast of Thailand, where he has a house and where he has observed local fishermen struggling with less and less fish in the sea. When they can no longer fish, they sell their boats and their personal belongings to survive. He bought a boat from the fishermen and rebuilt it as this beautiful, small house with an old-school Thai roof and fish scales. Inside there was a silver sculpture of a dying fish, which he molded from silver belongings he bought from the fishermen. The whole exhibition was very well executed — energetic, sarcastic, and funny, but also melancholic."
Jakkai Siributr, a contemporary textile artist
"TARS Gallery in the Sukhumvit area has some of the edgiest exhibitions in the city, like Giles Ryder's spatial installation of neon lights, 'Night Visions and New Fundamentals.' It's not always open, so make an appointment for your visit.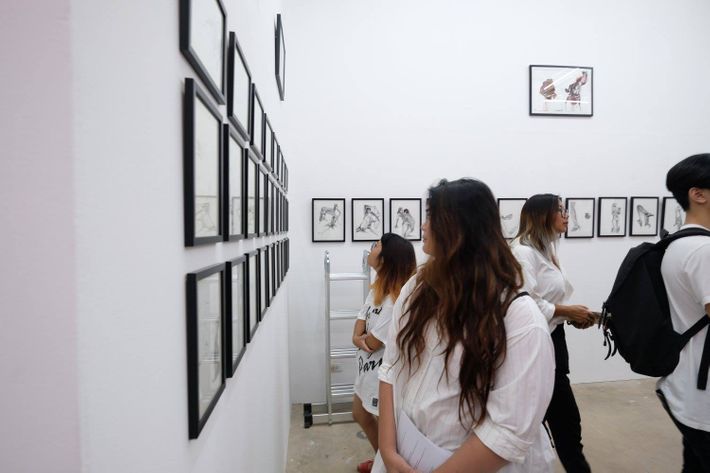 N22 on Narathiwat Road houses at least five galleries and artist studios inside a warehouse complex. The exhibitions are often politically charged; military personnel have been regular visitors in the past. Officers removed a few works from Harit Srikhao's 'Whitewash' exhibition at N22's Gallery VER, while Tada Hengsapkul's 'Shards Would Shatter at Touch' show at Cartel Artspace was shut down completely.
Then there's Cinema Oasis, which opened just a few weeks ago. It's an independent movie theater and art gallery owned by a husband-and-wife team, artist Manit Sriwanichpoom and filmmaker Ing Kanjanavanit. It's located minutes away from the glitzy Emporium and EmQuartier malls, and promises to promote, support, and honor oppressed and neglected filmmakers and artists. Ing and Manit's own controversial movie Shakespeare Must Die — a Thai adaptation of Macbeth — was considered damaging to national pride, as well as national security. The film censorship board makes it very hard for filmmakers in Thailand to express their ideas. Visual artists, on the other hand, don't need to submit their work to any censorship board, but it doesn't mean their works cannot be censored. The authorities never use the word censorship; they just ask for cooperation to remove certain works or to close down the show earlier than scheduled. The worst part is when galleries and artists self-censor their exhibitions to avoid trouble with the authorities. It is important for a gallery to have a clear objective in mind to fully support its artists, and I believe that Ing and Manit understand that mission because of their own first-hand experience."
Tulapop Saenjaroen, artist and filmmaker
"I like the galleries at N22 — including Cartel Artspace, Gallery VER, and Tentacles — because you can see several exhibitions in one go. They have an interesting mix of young and established artists, which encourage a broader perspective. I really enjoyed Ho Rui An's talk at Tentacles, where he discussed his anthropology background and art in general, emphasizing his then-current project 'Screen Green.' His approach is very interdisciplinary and rhizomatic, yet it also makes a lot of sense and provokes new ways of looking at things. I also liked Latthapon Korkiatakul's '(UN) COMPOSITION' exhibition at Gallery VER. The work seems to slow time down, leaving a lot of space to connect, disconnect, and reflect."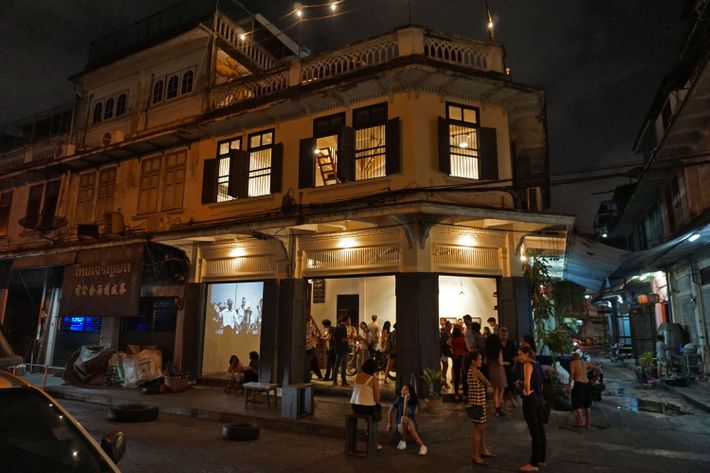 Luke Satoru, owner and resident artist at Black Pig Tattoo and founder of the Bukruk Urban Arts Festival
"Speedy Grandma was one of the first art spaces to open in Bangrak, which is now a popular part of town for burgeoning galleries, bars, and restaurants. Speedy Grandma highlights young local and international artists who exist on the fringe of street and conceptual art [like illustrators Aaron Grech and Tae Parvit]. Led by curator Lee Anantawat, their exhibitions include installations, performance art, video projections, and prints.
Serindia Gallery, meanwhile, showcases some of the best modern and contemporary art in Asia, from the striking multi-medium photography of Bangkok's Piyatat Hemmatat to the daring architectural designs of Hong Kong's Chi Wing Lo. Curator Shane Suvikaparkornkul has an exquisite eye for design and is an active member of the arts community, bridging the gap between conceptual artwork and traditional handicrafts.
Cho Why is a gallery produced by a creative collective, including photojournalist Nick McGrath, kombucha brewer Tibb Phungtham, and Bangkokfile co-founder Kay Jotikasthira. The gallery highlights work that's as concerned with aesthetics as it is political commentary; that goes for everything from film screenings to group shows."