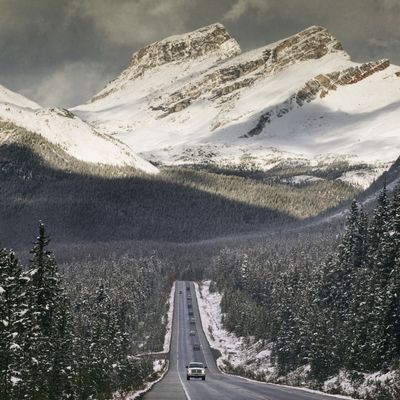 The Icefields Parkway (Highway 93) runs parallel to the Continental Divide and cuts through both the Banff and Jasper National Parks.
Photo: Walter Bibikow/Getty Images
You've seen the photos clogging your Instagram feed: enviously lithe things clad in Outdoor Voices, standing with their backs to the camera, arms outstretched, thigh gap just so. They're usually on a precipice, with an impossibly blue lake or craggy mountain peaks glinting in the distance. They implore you to #getoutthere, #exploremore, #seetheworld. And while their stances are heavily art directed, the stage on which they act is real — and often more accessible than you think.
The Canadian Rockies, specifically Banff and Jasper National Parks, have earned their gold-plated influencer status. What gets less attention are the vibrant cities east of the Badlands: the multicultural capital of Edmonton and the oil town of Calgary. A weeklong road trip through Alberta blends the best of both worlds: fresh air and majestic landscapes with burgeoning art and fashion scenes, boutique shopping, and estimable restaurants. And tackling the trip in winter — like I did this past January — means you may even have that precipice all to yourself. (#Blessed.)
When to Go
Summer is the busiest time of year to visit Alberta. That's when the cowboy-saturated province hosts its famed Calgary Stampede, the nature trails in Banff and Jasper open fully to hikers, and the temperature hangs out in the 60s and 70s. But there's also something unexpectedly magical about experiencing Alberta in the icy grip of winter, when the mercury hovers around 5 to 10 degrees — with the occasional dip to negative 50. That sounds torturous on paper, but those deep freezes don't stop locals from making the most of their extremes, throwing bows at citywide snowball fights or whipping down giant ice slides during the annual Ice on Whyte festival (January 24-27 and January 31-February 3, 2019). If you do book a trip to the Rockies in winter, and particularly if you plan to drive the enchanting Icefields Parkway (more on that in a minute), rent a 4WD vehicle. The roads may well be impassable without one.
Where to Stay
To pull off a proper Alberta road trip, you need to lock in hotels throughout the province. Fly into Edmonton International Airport (YEG) and start at the centrally located Metterra Hotel on Whyte (from $139). The rooms are clean and modern, and the hotel is located in the heart of the Old Strathcona district; good eats and a handful of indie shops are within easy striking distance. For everything else, bicycles are on loan at the front desk.
In Jasper, about four and a half hours west of Edmonton, reserve a room at Fairmont's recently renovated Jasper Park Lodge (from $185). The 446-room property borders a sparkling turquoise lake, Lac Beauvert, and serves as the ideal base for skiing at Marmot Basin or trekking the frozen cavities of Maligne Canyon. Ice fishing, sleigh riding, tobogganing — you'll never run out of things to do here. Even the evenings are packed: Sign up for a fireside folklore session with First Nations storyteller Matricia Brown, or join a team of amateur cosmologists to see firsthand why the Royal Astronomical Society of Canada named Jasper National Park a Dark Sky Preserve in 2011. After eyeballing constellations through the lens of a powerful telescope set up on the lodge's frozen lake, head indoors for an immersive stargazing experience inside a pop-up planetarium.
Next stop is Banff National Park, home to the storied Fairmont Chateau Lake Louise (from $268). Time your visit between January 17-27, 2019 and you'll land there during the annual Ice Magic Festival, one of North America's most renown ice-carving competitions. Elaborately chiseled sculptures dot the premises, but they're hardly the main attraction; that would be the view. The 552-room resort, flanked by rugged mountains, overlooks Lake Louise and the Victoria glacier. In winter, the lake is frozen and covered with snow — except a large stretch that the hotel clears off for ice skaters. Winter guests often rent snowshoes or cross-country skis and schlep 2.2 miles past frozen waterfalls and across the Plain of Six Glaciers to cozy Lake Agnes Tea House, built in 1901 by the Canadian Pacific Railway. Others sign up for a scenic heritage tour led by one of the Chateau's experienced Mountain Adventure Guides.
After Lake Louise, do a couple of nights near Canmore, about an hour west of Calgary. The 10-month-old, 50,000-square-foot Kananaskis Nordic Spa at Kananaskis Mountain Lodge, Autograph Collection is reason enough to book there: five outdoor pools set to varying temps, two saunas (Banya and Finnish), a eucalyptus steam cabin, a hammam-style exfoliation room, hot-stone massages, heated hammocks and walkways (so your buns and dogs never get cold), snow-capped Adirondack chairs clustered around cauldron-style fire pits, and hygge-ready flannel robes. The spa is open year-round and the hotel itself is handsome, too, having recently gone through a major facelift. (Rooms start at $158 a night.)
Following this route, you'll be flying out of Calgary International Airport (YYC). I advise ditching your rental car and booking a night or two downtown. The 185-room Hotel Arts (from $152) is walkable to a host of shops and restaurants, as well as major tourist attractions like Calgary Tower and Studio Bell, home of the National Music Centre.
Where to Eat
From high-end Italian wining and dining at Uccellino to doro wat and curried lamb tibs at Langano Skies (a favorite of Ethiopian cabbie Paulos, my airport driver), the cuisine in Edmonton is surprisingly diverse. National Geographic called its City Market Downtown one of the best in the world; when you scope the long and varied list of vendors who show up, even in the throes of winter, you'll understand why. Every Saturday from October to May, the market is held indoors at City Hall; it's great for photography, souvenir shopping, and snacking.
For a more stylized multi-vendor experience, check out the two-year-old Ritchie Market, which houses a butcher shop, third-wave coffee house, cycling store, and Biera, the restaurant arm of Blind Enthusiasm brewery. Chef Christine Sandford makes everything adventurous diners want to eat right now: kohlrabi rolls with queso fresco and sunflower shoots, blooming mushrooms with porcini salt and malt-vinegar dip, even sourdough ice cream.
In Old Strathcona, you'll be tempted by the spicy stir-fried squid at NongBu Korean Eatery and the steaming bowls of build-your-own soup at Pho Boy Vietnamese Kitchen. But my very top recommendation for the neighborhood is the bumping Japanese izakaya Dorinku. The place gets line-out-the-door slammed by 6 p.m., though you can usually find a seat at the bar. The vibe is pleasingly chaotic: communal tables, J-pop jamming on the stereo, and walls lit up with anime figures and flashing pachinko games. The dinner menu is as creative as the interior, dishing out hamachi carpaccio with goji berries and Japanese-style fried chicken with green-tea salt and chili mayo. For a lazy brunch in Edmonton, make the slog to Caffé Linnea, an airy, white-walled space serving delicate buckwheat crêpes and Scandinavian-inspired rice porridge.
At the Fairmont Chateau Lake Louise, most guests devote at least one meal to the hotel's traditional alpine restaurant, Walliser Stube, where you can plunge cubes of bread in Swiss fondue and watch the nattily sweatered tourists go by. (The lodge is a hit with Chinese, Russian, and European travelers, making for some top-notch people-watching.)
Down in Calgary, nab a dinner reservation at Pigeonhole, a dimly lit wine bar serving inventive plates like roasted leeks with pickled pear and chawanmushi. It's the newest venture from celebrated chef Justin Leboe (The French Laundry, Daniel). Calcutta Cricket Club is fun for kati rolls and cocktails, while Little Henry, grab-and-go sister café to Calgary's veg-forward Ten Foot Henry, makes the meanest avocado toast in the Great White North. (Don't knock it till you try it; they top theirs with hemp seeds and micro cilantro, to delicious effect.)
What to Do
Contrary to popular belief, there's more to Edmonton than the West Edmonton Mall. Yes, it's the largest shopping mall in North America. Yes, it has an indoor amusement park, wave pool, golf course, bowling alley, aquarium, and ice rink. No, you don't need to go. Really.
With limited time, you're better off culture-hunting at the Art Gallery of Alberta, a three-story museum known for its extensive collection of abstract paintings and sculpture by Canadian artists. Its ribboning, amebic-like zinc-and-glass exterior, designed by L.A.-based architect Randall Stout, is another visual knockout.
Across town, browse for one-of-a-kind, handcrafted works by regional glass, clay, fiber, metal, wood, and jewelry artists at the Alberta Craft Gallery. The marbleized concrete vases and incense burners from Edmonton sculptors Concrete Cat make excellent souvenirs. Elsewhere on the shopping circuit, pick up leather slingbacks from culty local footwear label Poppy Barley; fanciful ties and pocket squares at dandy menswear boutique Mr. Derk; eye-popping architectural prints of local sights like the Space Science Center and Muttart Conservatory, drawn by illustrator Bee Waeland and sold at Vivid Print studio; and a wide range of locally made goods (guitar pedals, tailored jackets) at basement retail emporium Vacancy Hall in Mercer Warehouse.
For a more outdoorsy excursion near Edmonton, go snowshoeing at Elk Island National Park. It's less than an hour's drive from the capital and boasts a higher density of hoofed mammals per square mile than any other area in the world. A guide from Haskin Canoe will take you on a snow-crunching romp around Lake Astotin, explaining the park's vital role in bison conservation, pointing out where the beavers like to hang, and showing you how to make maple taffy like a true Canuck, which involves rolling hot syrup in fresh snow until it cools to a candy-like consistency. Catch Elk Island on a foggy day and you'll think you stepped inside a snowglobe. It's otherworldly.
Around sunset, there's no better place to be in winter than the infinitely photogenic Ice Castles in Hawrelak Park. The seasonal attraction started in Utah, but the castle in Edmonton is the largest in the world: a blue-hued frozen palace complete with ice fountain, ice maze, ice throne, ice slides, and the occasional ice yoga lesson. It's a hit with the Instagram set: The hashtag #icecastles has 78,350 posts and counting.
After dark, head to the Neon Sign Museum, an outdoor showcase of 20 restored vintage signs at Edmonton's 4th Street Promenade, or warm up at the independent Metro Cinema at the Garneau Theatre, host of psychedelic movie nights and Princess Bride "quote-a-longs."
Now, with Edmonton safely in your rearview mirror, it's time for some Rocky Mountain highs. A wow experience on any trip to Jasper National Park is ice walking along the floor of the Maligne Canyon. Wes, my mustachioed guide from Sundog Tours, was a retired park ranger who specialized in bear management. (Ask him about mauling rescues; the man has stories for days!) Together we strapped on helmets, gaiters, and ice cleats and descended 160 feet into Jasper's deepest accessible canyon. The topography was sweeping and dramatic, the natural ice formations breathtaking in their beauty. We hiked along the frozen riverbed and dunked our heads under a fast-melting waterfall. It was exhilarating.
Driving the aforementioned Icefields Parkway, the scenic 144-mile stretch of highway connecting Jasper National Park to Banff National Park, is an event in and of itself. It takes roughly three and a half hours to traverse without stops, and double that if you plan to photograph the glacier field (highly recommended) or take a side-of-the-road hike. Download the GPS-syncing GyPSy Guide ($5) before setting out for real-time commentary on what you're seeing en route.
The sporting ice in Banff is reliably frozen, making this corner of Alberta one of the world's best destinations for climbing. The spirited crew at Yamnuska Mountain Adventures took me out to Johnston Canyon, where makeshift ice lines ranged from entry-level to Spiderman-scramble. It was a lovely but strenuous 1.5-mile hike out to the canyon's frozen Upper Falls, led by senior guide Carl Johnson and seven-time Everest summiter Chhering Dorjee Sherpa. Climbing gear was provided and, following a half hour of instruction, everyone was on the pitch. Crawling vertically with ice picks for hands and claws for feet is harder than it looks, but thrilling if you can put some distance between yourself and the ground. (Does three feet count? Because that's about how far I got.) Rock climbers have a natural affinity for ice climbing and can shoot up 300 feet in some parts of Johnston Canyon. I enjoyed taking their photos.
The last stop of the trip was Calgary. I was pressed for time, so I made a beeline to the National Music Centre at Studio Bell, a state-of-the-art concert venue and five-story exhibition space focused on Canadian music. That translated to a whole lot of k.d. lang costumes, plus a drum set from Rush, the outfit from Avril Lavigne's "Sk8er Boi" video, one of the largest analog synthesizers in the world, and numerous interactive exhibitions that test your musical prowess (mine is on par with my ice-climbing skills). It was a curious mix of diversions shoved under one roof, but an enjoyable one — much like Alberta itself.