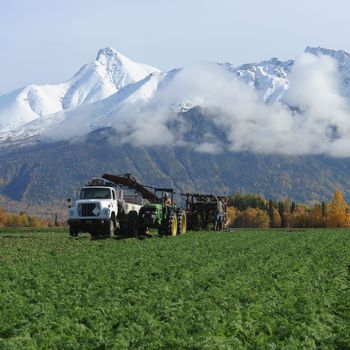 Photo: Stephen Nowers/alaskaphoto.net
At a whopping 586,000 square miles, Alaska is the largest state in the union. It's about one-fifth the size of the Lower 48 — and bigger than Texas, California, and Montana combined. You could spend a decade plumbing its depths and barely scrape the surface. That's how huge Alaska is.
However you decide to tackle it — Love Boat–style, from the co-pilot seat of a bush plane, or behind the wheel of a rented 4x4 — chances are good you'll pass through Anchorage. It's not the state capital (that's Juneau), but 298,000 people live here — more than eight times the number of people who live in Alaska's second most populous city, Fairbanks. And yet too many travelers give the city short shrift, popping in for a night and sometimes just a few hours. Here's why Anchorage and its surrounding towns deserve better.
When to Go
May through September is the most pleasant time to visit the city; that's when the thermometer hangs out in the 40s, 50s, and 60s. Some fly-by-night tourists forgo the rental car entirely, but if you're staying at least two or three nights (and you should!), it's nice having your own set of wheels. This way you can explore more off-the-beaten-path neighborhoods you might not otherwise see, like Mountain View, and make day trips beyond the city proper.
Where to Stay
The newly renovated Embassy Suites by Hilton Anchorage (from $239) in midtown has more decorative flourishes than you'd expect from a chain hotel. Fierce taxidermied bears greet guests in the lobby; rising up behind them is a large fountain with spouting whale tails. Rooms are clean and spacious, parking is ample, the internet is fast, and the hotel draws a good cross-section of tourists and business folk. Plus, it's within walking distance of Moose's Tooth, the city's most popular pizzeria and pub.
If you prefer to stay downtown, lock in one of 26 old-fashioned rooms at the Anchorage Historic Hotel (from $109). Established in 1916, these are the oldest digs in town and, fittingly, the building has a long, creepy history of ghost encounters: lights flipping on and off, paintings flying off walls, child specters playing in closets. Paranormal investigators have estimated that the hotel is haunted by some three dozen spirits — a population so dense that it's become a bucket-list stay for amateur ghost hunters.
Where to Eat
Because the wait to eat at no-reservations Moose's Tooth can take an hour or longer (yes, even on weekdays), it's helpful to have a backup plan: Moose's sister space, Bear Tooth Theatrepub & Cafe, is newer and more intimate than Moose, just as boozy (choose from a dozen Broken Tooth beers), and also screens movies (recently Ocean's 8, the Mister Rogers documentary, and selections from local filmmakers). If you're craving pie, Hearth Artisan Pizza, also in Liberal Plaza, turns out inventive combinations with unexpected toppings like jackfruit, kimchee, and black sesame seeds. Across town, the no-frills Yakitori Sushi House won't win any beauty contests, but the seafood in its chirashi bowl is as fresh as you'd expect in a state where fishing is life. Bonus points for the grilled rice balls with hijiki and tasty fire-licked skewers of eel and chicken thigh.
The best neighborhood in Anchorage to sample a variety of cuisines is Mountain View. The area is just a stone's throw from Joint Base Elmendorf-Richardson and boasts the country's most diverse Census tract. Here you'll find Red Apple Market selling specialty goods from Thailand, Vietnam, the Philippines, and beyond; Sunday's Caribbean Cuisine, a two-month-old eatery dishing up elegantly plated mofongo and crispy whole-fried tilapia with tostones; and Hula Hands and West Berlin, a pair of low-key restaurants started by Hawaii native and Anchorage transplant William Hoppai, a.k.a. Uncle Bill. Hula Hands does traditional Hawaiian, Samoan, and Tongan cuisine, including ahi poke, juicy kalua pig with creamy macaroni salad and a scoop of steamed white rice, and salt-cured lomi salmon (like belly lox on steroids and definitely an acquired taste). Hoppai's other restaurant was inspired by his military time in West Berlin; the menu is stacked with German classics like schnitzel, spaetzle, and sauerkraut balls. If you can corner Uncle Bill in the kitchen at West Berlin, do so; he knows everything about everything in Mountain View — and also has a deep love of European arts. He's a good talker and a real Alaskan character.
Where to Drink
Anchorage is a beer town, and it's easy to feel overwhelmed by the options. So know this: Anchorage Brewing Company is tapping the most progressive stuff within city limits. Bitter Monk is a Belgian double IPA aged for a year in Chardonnay barrels. The Migrating Eyes saison is a collaboration with the culty Tired Hands brewery in Ardmore, Pennsylvania. And then they make creative, seasonal creations like a blueberry sour aged in French-oak foudres. Also of special note: Bleeding Heart Brewery in Palmer, about 50 minutes north of downtown Anchorage, is the smallest brewery in the state. It's absolutely worth the trek if you're into the weirder stuff, like jalapeno-and-pineapple-spiked imperial IPAs or a smoky, salty American amber threaded with hints of maple.
What to Do
First stop: the Anchorage Museum. This is not just the finest museum in the state, it's one of the best in the nation. It opened in 1968 with a meager 2,500 items; today the collection encompasses more than 27,000 objects, spanning the art, history, science, politics, and culture of the North. And it just keeps growing: Last fall, the museum unveiled the final stages of its latest expansion project, which included a new wing with 25,000 square feet of gallery space. Look for jaw-dropping installations like First Nations artist Brian Jungen's totem poles made of golf bags and Italian-born, Anchorage-based artist Paola Pivi's pink-feathered polar bears. Notably, the Smithsonian Institution's National Museum of Natural History Arctic Studies Center is also headquartered at the Anchorage Museum; its fascinating First Peoples exhibition is a state-of-the-art showcase of ethnographic artifacts from every Alaska Native culture. Not to be missed: the chagtalisax, a lightweight, waterproof "gut parka" sewn from the intestines of sea lions, whales, seals, and grizzly bears by Unangan women.
The gift shop at the Anchorage Museum is a superlative place to scout for tasteful souvenirs like beaded earrings, ivory carvings, and seal-skin yo-yos made by indigenous artists, plus handsome coffee-table books about life up North. From here, you can loaf around downtown, sampling reindeer sausages from street vendors, popping in and out of craft galleries (Sevigny Studio sells made-in-Alaska paintings, prints, and birch-bark baskets woven by Eagle River artist Robert Douthit), and admiring the millennial-pink Art Deco signage at the now-shuttered 4th Avenue Theatre.
In the late afternoon, head to the Lake Hood Seaplane Base, the busiest float-plane base in the world. It's fun to watch the bush planes take off and land but even more fun to fly in one. Rust's Flying Service is Lake Hood's oldest and largest seaplane operator: The Rust family has been whisking fishermen, hunters, and flightseeing tourists off to the Alaskan wilds for more than half a century. Their fleet includes nine seaplanes (Cessna 206s and deHavilland Beavers and Turbine Otters), perfect for day trippers. The 90-minute Glacier & Wildlife Tour flys over the rugged Chugach mountains for a close-up look at the icy-blue Knik Glacier, 50 miles north of Anchorage. (Just how close you can get depends on the winds that day — a strong gust coming off a hanging glacier makes a little plane feel like a feather in a hurricane!) Pilots point out moose and Dall sheep along the way, but BYO binoculars if you want to see the animals in detail. Rust's longer flightseeing tours include glacier landings in Denali National Park, bear-viewing opportunities in Katmai National Park, and 8-to-10-hour photo safaris with a bush pilot–cum–professional photographer.
Back on terra firma, set aside at least half a day to explore the area between Anchorage and Palmer. The well-maintained Glenn Highway is a lovely drive, whizzing past hazy charcoal-blue mountains and oceans of purple fireweed. You'll pass ATV rentals, ziplines, and Bible camps and be accompanied by the fast-rushing Matanuska River for much of the route. At Chugach State Park, north of Eagle River and south of Eklutna, you can pick up the Thunderbird Falls trailhead, which is popular with military families but not as crowded as Mt. Baldy or Flattop Mountain. It's two miles round trip through cottonwood and birch groves to a viewing platform with a far-off view of the 200-foot-high waterfall. To get sprayed in the face, you'll have to descend a sloped switchback trail deep into the canyon and out to the roaring base of the falls. (Not recommended for anyone with a fear of heights!)
If you're visiting between May 15 and September 15, another notable stop en route to Palmer is St. Nicholas Church and the Eklutna Historical Park in Chugiak. Eight hundred years before the missionaries turned up, the Knik Arm in the Cook Inlet was home to native Athabascan Indians. Today, the Russian Orthodox parish serves Alaskan Natives, specifically descendents of the Dena'ina tribe. The church's burial grounds are dotted with more than 100 colorful spirit houses, a result of blending Russian Orthodox and Athabascan beliefs about the afterlife. At first glance, the cemetery appears woefully unkempt. This is intentional. Forty days after a body is buried here, a spirit box is placed over the grave, and family members paint it in colors representing their heritage. In Athabascan tradition, the spirit houses are then left to decay so that the soul of the deceased may return to the earth from which they came.
One final reason to time your trip between May and September: so you can lock in an outing with Alaska Farm Tours. Young founder Margaret Adsit knows the verdant acreage around Palmer inside and out and has built great relationships with the farmers and ranchers who work it. Now she's on a mission to spark discussions about local food systems and promote the bounty of Alaska growers. She does this by taking travelers to the showcase garden at Palmer Museum & Visitor Center, which helps illustrate just how bountiful the Matanuska Valley is despite its shorter growing season (that midnight sun helps!), and to tour small-scale, family-run spots like Arctic Organics and Moonstone Farm. Adsit tailors the farm visits to her guests' interests; as both a farmer's daughter and an environmental-science and policy wonk, she can field technical questions from agricultural specialists with ease — but she can just as easily entertain nerdy foodie types without going too far down the rabbit hole. Best of all, each tour ends with an Alaska-grown lunch (local chicken salad with thyme, the world's best date-and-walnut multigrain bread, etc.) at Palmer mainstay Turkey Red. This is Alaska on a plate: fresh, local, and, above all, surprising.