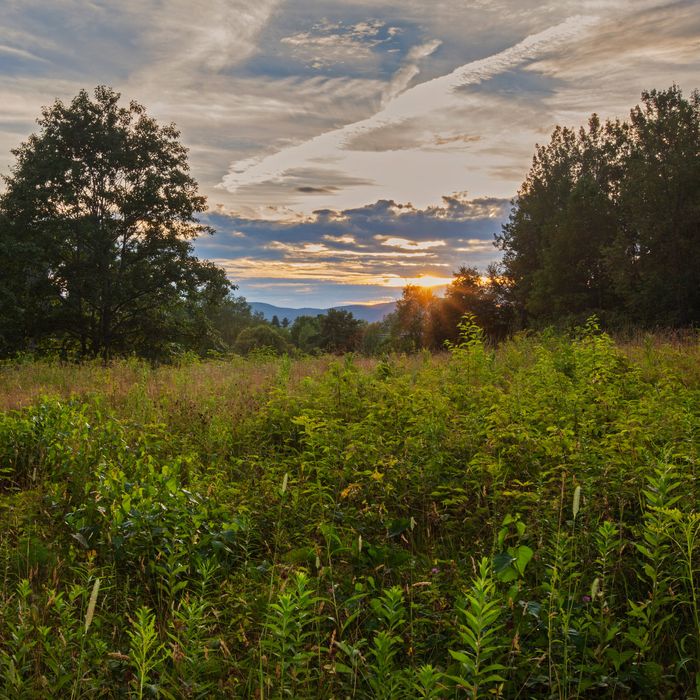 Photo: JDW Ffoto/Getty Images/iStockphoto
Getting There
The Berkshires Flyer, a proposed four-hour train shuttling passengers between Penn Station and Pittsfield in the scenic Berkshires of western Massachusetts, could launch as early as next summer, using existing Amtrak lines. Until then, New Yorkers headed for the Berkshire by train must embark upon a five-and-a-half-hour journey to Albany, where they can catch the once-daily Amtrak train between Chicago and Boston that stops in Pittsfield; hop on one of several buses; or rent a car.
Best Places to Stay
As Pittsfield transforms itself from former mill town into cultural hotbed with institutions like the Colonial Theatre, Barrington Stage Company, and an expanded Berkshire Museum, chic Hotel on North (starting at $159) helps fan the flames. The 45-room hotel opened in 2015 after a $14 million makeover of a pair of 1880s buildings listed on the National Register of Historic Places (think tin ceilings, exposed brick walls, birdcage elevator). Buzzy bistro Eat on North serves farm-to-table comfort food like macaroni and cheese with pulled pork and Vermont lamb shepherd's pie, and the hotel's furniture, lighting, and textiles have been crafted by Berkshires-area artisans. Even better, pets of all sizes are welcome with prior notice ($40 per pet, per night).
Set to open in July in art mecca North Adams, Wilco bassist John Stirratt's long-awaited 48-room retreat Tourists (from $185/weekdays, $300/weekends) is being touted as "an artful union of design and nature." The 1962 Redwood Motel has been cleverly reinvented as a clubhouse of sorts spread across 55 acres along the Hoosic River, over which the hotel's own suspension bridge leads to a crossroads of the Mohawk and Appalachian Trails. Outdoor sculptures pepper the landscape; chef Cortney Burns of San Francisco's now-shuttered Bar Tartine will oversee the on-site restaurant Loom. Tourists is pet-friendly, with no weight limit and no surcharge.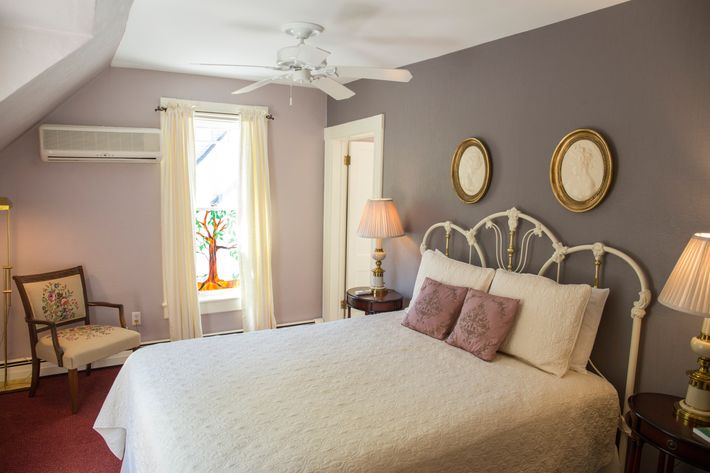 Tucked away in a wooded glen in Lenox, the 1882 Brook Farm Inn exhibits all the requisite details one would expect from a bed-and-breakfast: gracious innkeepers, romantic setting, a scrumptious breakfast. But Brook Farm offers so much more – there's a heated outdoor swimming pool, massage and yoga sessions run by Kripalu-trained instructors, a pair of handicap-accessible rooms, and a well-stocked library where guests can read by the fire. The inn also enjoys a fascinating literary history; in 1883, one of the home's original owners, Constance Harrison, persuaded friend Emma Lazarus to write a poem for a fund-raiser she planned for the construction of the Statue of Liberty's pedestal. The result was the now-famous "New Colossus" — "Give me your tired, your poor, your huddled masses yearning to breathe free" — emblazoned on Lady Liberty. Every summer on July 22, Lazarus's birthday, the inn holds a reading of "The New Colossus" in her honor.
Best Places to Eat
After Brooklyn restaurateur Mark Firth (Diner, Marlow & Sons) left the city for the Berkshires in 2009, it wasn't long before he opened Prairie Whale in Great Barrington. The brasserie's daily-changing seasonal menu highlights local produce and livestock from Firth's 82-acre farm, among others, and includes dishes like Plymouth's Bay oysters with horseradish, lemon, and mignonette ($3.15 each), duck breast with polenta, scallions, arugula and strawberries ($26), and pork tenderloin with sunchokes, tatsoi, and blueberries ($25.) Located in a Greek Revival house fronted by a picket fence, Prairie Whale doesn't take reservations; put your name in and play corn hole in the front yard while you wait, or settle in at the bar for a cocktail garnished with herbs from the restaurant's garden.
At 28-seat Nudel in Lenox, run by James Beard–nominated chef Bjorn Somlo, there's often a wait but locals don't seem to mind. Somlo gathers produce from nearby small farms then sets to work planning his nightly menu, which almost always includes a pasta dish. Created in a tiny, open-plan kitchen into which diners peer curiously from the adjacent bar, entrées might include rigatoncini with bitter green and sunflower-seed pesto, High Lawn ricotta, and pecorino ($18) or rack of lamb with mushroom ragout, endive, and Brussels sprouts ($36).
Set atop a hillside in a 19th-century clapboard house in Williamstown, Mezze Bistro + Bar serves farm-to-table American cuisine with Mediterranean flare, which is fitting given owner Nancy Thomas's Greek-Moroccan heritage. Small plates might include sautéed wild mushrooms topped with warm duck-egg yolk and crispy ham crumbs, while entrées range from steelhead trout with chickpeas, harissa, chimichurri, and yogurt ($32) to chicken breast with roasted cabbage, potato purée, and whole-grain-mustard jus ($28).
What to Do
The brainchild of philanthropist and dog lover David York, the Museum of Dog (M.O.D.), recently opened in North Adams, presents almost 200 dog-inspired works by notable artists such as Mary Engel, Kathy Ruttenberg, and William Wegman, with a separate gallery for rotating exhibits to "recognize dogs and the joy they bring to our lives," says York. Set in an 8,000-square foot space — a former paint warehouse a few blocks from MASS MoCA — the museum displays vintage dog books, antique hand puppets, Hermès hound-print ties, and a collection of rare 19th-century dog collars rumored to rival the one at the Dog Collar Museum at Leeds Castle, Kent. Through October 31 at 66 Main Street in North Adams, the museum will exhibit "Come See About Me: Daisy, " an interactive pop-up show and tribute to York's precocious rescue Weimaraner, Daisy, as part of Massachusetts' first statewide Artweek. The exhibit involves wall-size foster letters and adoption papers for Daisy, a chewed-up Jeep Wrangler dashboard (compliments of Daisy), and a dance tunnel with images of daisies projected on the walls and the Supremes' "Come See About Me" booming in the background. M.O.D. is, of course, dog-friendly; elevate your visit by booking a complimentary ride in one of two stretch limos, embellished with hand-painted dachshunds, which M.O.D. employs to shuttle out- of-town guests to and from the museum (e-mail info@museumofdog.com to arrange; tours must also be prebooked, at museumofdog.com).
After the museum, treat your pup to a run at the new North Adams Dog Park (with separate areas for large and small dogs), then kick back at the dinerlike Hub on Main Street, which offers pet-friendly seating outside.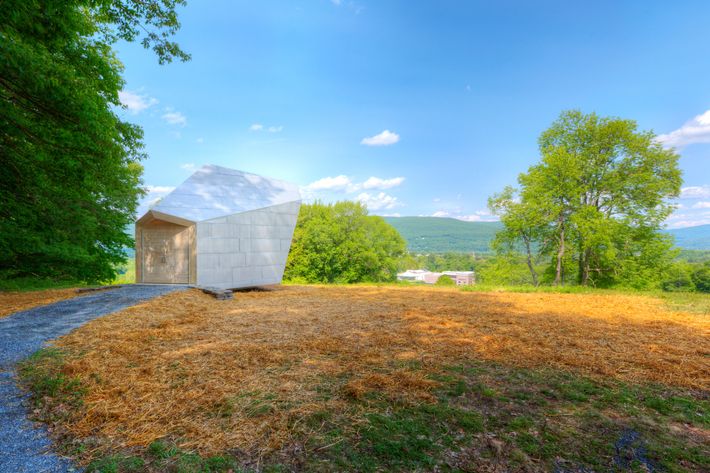 Hop in the car and head west on Route 2 to Williamstown, home of the $145 million, 42,600-square-foot Clark Center, opened in July 2014 as an addition to the Clark Art Institute and designed by Japanese minimalist architect Tadao Ando. The new center includes more than 11,000 square feet of gallery space for special exhibitions as well as a museum shop and two restaurants overseen by Stephen Starr (Café 7 and Stone Hill Café). Architect Annabelle Selldorf was commissioned to renovate the central courtyard and several galleries in the Clark's Manton Research Center, which reopened in 2016. Surrounded as it is by fields, reflecting pools, and walking trails, the Clark Center seems to disappear into the landscape. Inside, take in the French Impressionist collection, which includes more than 30s Renoirs, as well as works from Degas, Monet, Manet, and a selection of American artists.
For a respite from gallery-going, plan an evening at Tanglewood where the Boston Symphony Orchestra (BSO)'s 2018 season is organized around a huge celebration of Leonard Bernstein's centennial, "Celebrating Lenny." The 2018 season features an array of Bernstein scores across multiple genres and even a symposium on his political activism. Better still, there will be a performance of the Oscar-winning film version of West Side Story, with the BSO playing the score live as the movie is shown on large screens with the original vocals and dialogue (July 28). And on Bernstein's actual birthday, August 25, a gala tribute features a jaw-dropping array of international artists including Audra McDonald, Midori, and Yo-Yo Ma.
If you've got time for a retreat, Mass Audubon has just formed a unique partnership with Kripalu in which a series of outdoor workshops explore the intersection of mindfulness with an appreciation of the woods and waterways of the Berkshires. There are two upcoming programs led by Mass Audubon and Kripalu faculty, the next of which, "Nature and Mindfulness: Berkshire Birds," introduces participants to the meditative joys of bird watching. Hike the trails of Kripalu's stunning Berkshire grounds and see blue herons, woodpeckers, and bald eagles, while enjoying daily yoga classes.
Those wishing to experience both artistic pursuits and the great outdoors will find their bliss at Edith Wharton's elegant home, the Mount in Lenox, surrounded by Pleasant Valley trails winding through meadows, forests, and wetlands. Take a 50-minute guided tour of the Pulitzer Prize–winning novelist's 42-room estate and have lunch at the outdoor Terrace Café before exploring the grounds. As founding members of the New York Society for the Prevention of Cruelty to Animals, Wharton and her husband Teddy were serious dog lovers and were active in a campaign to outfit Manhattan streets with water bowls for dogs. The author had a lifelong routine of writing in bed curled up next to her dogs, all four of whom are buried in a hillside grave.
Expert's Tips
From Mark Firth, Brooklyn turned Berkshires restaurateur (Diner, Marlow & Sons in Brooklyn and Prairie Whale in Great Barrington).
You can't come to the Berkshires without a good hike or bike ride. One of the most rewarding but challenging hikes is a trek up Race Brook Falls on Route 41 in Sheffield, adjacent to Racebrook Lodge. A less strenuous option is a walk around Benedict Pond, with beautiful views of Beartown State Forest. My favorite bike ride is a 32-mile loop from Sheffield down to Salisbury, Connecticut, then up a steep, winding dirt road to Riga Lake and across the ridge up past Mount Washington toward Egremont, then back down Route 41 to Sheffield. A lot of this ride is on gravel, so fatter tires are recommended.
For shopping, the beautifully curated Design Menagerie in Lenox is a new favorite. The store carries everything from designer rain boots to drip-free candles to screen-printed Berkshires market bags.
There's quite a café culture in the Berkshires: a favorite in West Stockbridge is Six Depot (we serve their espresso at Prairie Whale). In Great Barrington alone, there are three cafés: Fuel, Rubi's, and the new and gorgeous Botanica on Railroad Street. Nearby Geoffrey Young Gallery, also on Railroad Street, is an excellent place to score cool, affordable artwork.
My wife, Bettina, and I always look forward to the annual Berkshires International Film Festival (BIFF) from May 31 to June 3, but our friends at Boondock's Film Society have been putting together monthly, one-of-a-kind film events at unique venues in the area all year long. Last summer, they screened Hayao Miyazaki's Porco Rosso at the tiny Great Barrington Airport; more recently, we created Prairie Whale TV dinners for their showing of Better Off Dead at the lodge at Catamount Ski area.
An ideal date night would be a gin-and-tonic at the cozy bar at the Old Mill with bartender Adrian, then catching a band or doing karaoke at the Barn in Egremont.
Resources
Click on Berkshire Farm & Table for three self-guided "tasting trails" (cheese, charcuterie, and beer and cider) in the Berkshires.
Visit Rural Intelligence for weekly events listings in the Berkshires and beyond (Litchfield County, Connecticut, and Columbia and Dutchess Counties, New York.)
Grab a copy of the Berkshire Eagle for daily news in the region. The Eagle also hosts a weekly Landscape Podcast highlighting upcoming cultural attractions and weekend activities.
Go to berkshires.org for details on everything from specialty markets to hospitals to campgrounds in the Berkshires.
Check out Destination Williamstown for information on culture, cuisine, art, sports, and a daily calendar of happenings in Williamstown, Massachusetts.