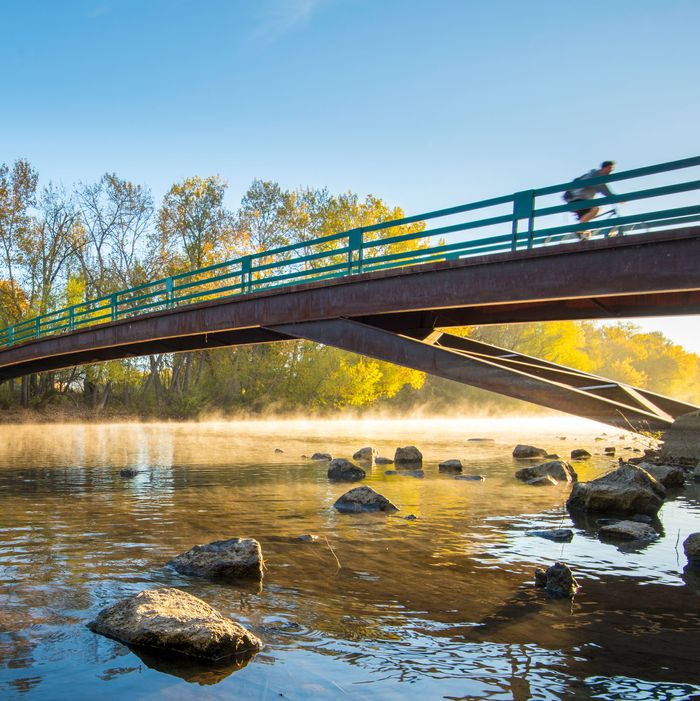 Bike the Boise River Greenbelt.
Photo: Jonathan Conti/The Boise Convention & Visitors Bureau
Traditionally a convention hub, Idaho's capital is drawing more leisure travelers with its exploding culinary scene, new and revamped hotels, and growing wine industry. Located in the high desert at the base of the Rocky Mountains, the city is known as the most geographically isolated in the continental United States. But getting there is easier than ever, now that airlines American and Southwest have added nonstops from Chicago and San Diego, respectively. The downtown area is both walkable and bikeable, so there's no need to rent a car. And you'll really impress locals if you pronounce the name of their city like they do: It's BOY-see, not BOY-zee.
Where to Stay
Boise's newest boutique hotel, the Inn at 500 Capitol, is a short walk from bars, restaurants, and other hot spots. The 110-room property has a modern, friendly vibe — starting with a complimentary glass of wine or beer at check-in (and free snacks anytime). Local art adorns the walls, there are bright murals near the elevators, and rooms (from $205) come with cozy fireplaces and balconies with cheerful red patio furniture. Ask for a themed room; you can get a spot-on sense for local culture in the ones with Boise State motifs, complete with Broncos accents and a nod to the football stadium's blue "Smurf turf." The beautifully designed on-site restaurant, Richard's, helmed by James Beard–nominated chef Richard Langston, serves irresistible waffle fries ($5.75); other recommended picks are the linguine with clams and Spanish chorizo ($17.50) and the tiramisu cheesecake ($8).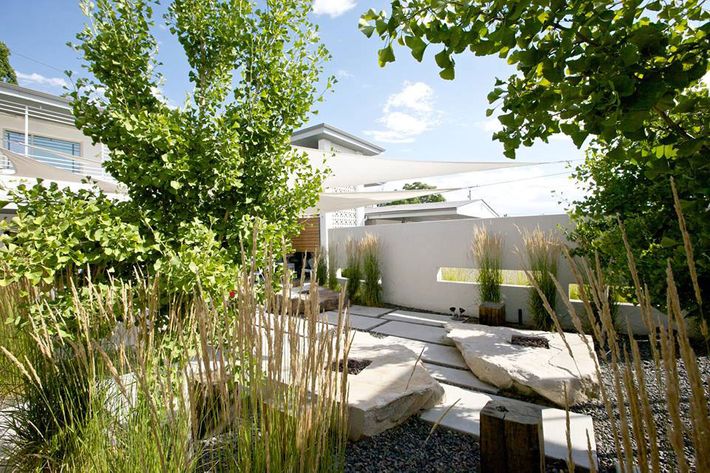 Don't be put off by the surrounding auto-body shops and car washes: The Modern Hotel & Bar is one of Boise's buzziest spots. Rooms (from $133) feature a minimalist, Mad Men vibe, wooden accents, and vintage photos; request one on the second floor and splurge on a suite (from $173). The cool factor of the Modern is upped thanks in large part to the standout creations of the on-site restaurant's James Beard–nominated chef, Nate Whitley, and the bar's killer cocktails. Small plates like the chorizo with papas bravas ($13) are perfect for pairing with drinks like the Left Hook ($11), made with rhum agricole and maraschino. After dinner, head to the candlelit courtyard area, anchored by a fire pit, for a nightcap.
A convenient home base for urban exploring, Hotel 43 leveraged an upgrade of its rooms and lobby in 2015 to broaden its appeal beyond business travelers. Locally made art adorns common areas, and rooms (from $169) are basic but comfortable; ask for one on the top floor for vaulted ceilings and better views. The on-site steak and seafood restaurant, Chandlers, serves one of the city's best martinis and, in early 2017, unveiled a gussied-up lounge area and kitchen; there's also live jazz nightly. Another plus for a weekend stay: Rates are often cheaper than midweek, when business travelers are in town.
Where to Eat
Some of the city's most exciting food is being served at Camel's Crossing, which is named for a popular park nearby. The restaurant opened in September 2017 as a wine bar but has become a full-service restaurant aiming for 100 percent organic, non-GMO dishes. The dynamo duo of executive chef Christian Phernetton and sous-chef Brian Ferris work in a 99-square-foot kitchen, turning out dishes like beef-heart tartare ($9) and "whole beast" cassoulet made with lamb, rutabaga, and white beans ($27). The funky, retro vibe of the space, a former antiques shop, is equally memorable — bold flowered wallpaper, black vinyl booths, and Motown tunes on a real turntable elevate even a glass of wine at the bar into an occasion.
Open since October 2017, The Wylder anchors the ground floor of an under-construction apartment building downtown. The sleek family-owned restaurant takes pizza seriously: Cooks use a 50-year-old dough starter to make exquisite pies in both red and white versions. The kicky Bronco ($18) is topped with salumi, pickled Fresno chiles, and burrata; the Honey Badger ($18) is made with ricotta, Italian sausage, caramelized onion, and spicy honey.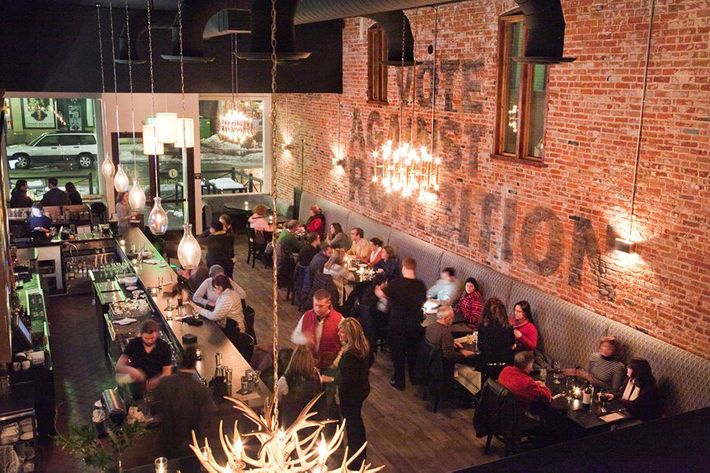 Pop into Juniper, located on 8th Street, for a fun, friendly vibe and upscale bistro fare. The fried Castelvetrano olives ($7) and cheese curds and creamed spinach served with baguette ($8) are enough to make a satisfying meal, but then you'd miss excellent entrées like the duck ramen ($17) and beef medallions with farro risotto and roasted cauliflower ($25). The wine list showcases almost exclusively Idaho-made wines, and live music on weekends adds to the vibrant atmosphere.
What to Do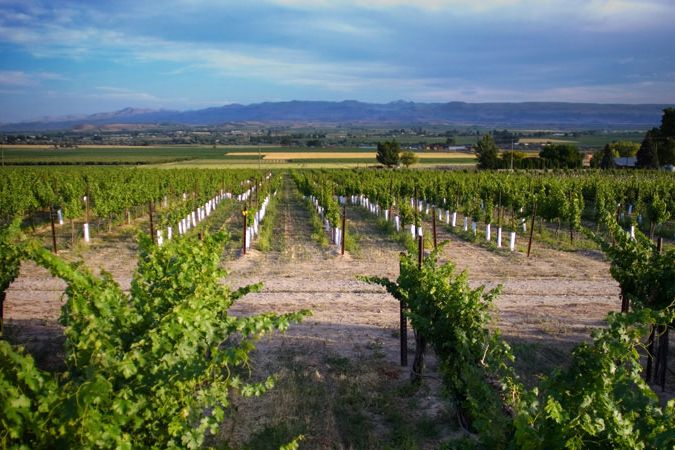 Learn why nearby Garden City is known as the Liquid District by touring its wineries, which showcase the industry's growth in Idaho — there are now more than 50 vintners in the state. Several prominent women winemakers are helping lead the way, including Boise native Melanie Krause, of Cinder, who returned to Idaho after a stint at Chateau Ste. Michelle in Washington and demonstrates her prowess with award-winning wines from the nearby Snake River Valley. Try the outstanding Tempranillo and Syrah (tasting fee $5) along with a cheese plate in the spacious tasting room. Just down the road is Coiled, where Leslie Preston, another Boise native, who trained in California, makes robust reds and an outstanding dry Riesling — bottles and décor all feature a snake theme (tasting fee $5). And the outside fire pit at Telaya (tasting fee $5) is a sublime spot to sip the well-crafted wines from husband-and-wife winemakers while overlooking the Boise River.
Outdoorsy travelers will find plenty of activities readily accessible from the city. Stroll the 25-mile Boise River Greenbelt, a paved, traffic-free stretch that runs along the eponymous river. In either direction, you'll have plenty of interesting stops, including historical spots (like the Idaho Anne Frank Human Rights Memorial), breweries, and wineries. Boise is also quite bikeable, with plenty of dedicated lanes and racks. Be sure to stop at the Old Idaho Penitentiary, which opened its doors in 1872. Now on the Register of Historic Places, the building housed some of the Old West's most notorious criminals (admission $6), including Raymond Allen Snowden, who was known as Idaho's Jack the Ripper and was hanged at the prison in 1957. Another must-do on your itinerary: the Idaho State Capitol, which has Instagram-worthy, stunning sandstone interiors (open daily; free admission). For a local's perspective on the city's history and growth, bike tours from native Shawn Welsh (from $35) can't be beat.
Boise has the largest concentration of Basques in the U.S.; their culture is evident throughout the city. Tour the Basque Block, starting at the Basque Market, which is brimming with the culture's authentic wine and food products; Basque-style tapas called pintxos (from $3) are served daily, along with Spanish wine and beer. At lunchtime on Wednesdays and Fridays, queue up early for heaping plates of seafood paella (from $9) made in enormous pans. At night, make the short drive to nearby Meridian to eat at Epi's Basque Restaurant, which has earned a cult following for its traditional favorites like lamb stew ($19) and beef tongue ($26). And for a late-night beer and nosh, the no-frills Bar Gernika always delivers — try the croquetas, which are fried balls of béchamel and meat (from $6), and solomo sandwiches, made with marinated pork loin and pimentos ($9).
Expert's Tips
Third-generation Idahoan and Boise resident Guy Hand is a videographer, photographer, and managing editor for Edible Idaho, a quarterly magazine that covers the state's emerging food scene.
State & Lemp is without a doubt the most unique restaurant in Boise, if not in Idaho. It's prix fixe, and they do a new menu theme each month. The creativity just blows me away. The chef, Kris Komori, has been nominated for a James Beard Award twice. Their dishes are very sophisticated with a lot of different facets, and they're visually beautiful — like works of art. Some dishes on the current menu include squash soup, teriyaki lamb tongue, and duck breast with roasted persimmons. I just really appreciate the fact that they're pushing the envelope, and that's what Boise and Idaho needs.
Janjou Pâtisserie is a local institution in a strip mall just outside of downtown that does beautiful hand-crafted pastries and croissants. The co-owner, Moshit Mizrachi-Gabbitas, is from Israel, and she was nominated for a James Beard Award in 2016. It's a visually elegant space that's nicely designed for being in a little strip mall. She built everything in the shop from scratch.
Woodland Empire Ale Craft is a wonderful little brewery that's connected to a low-key restaurant called Manfred's. They do a lot of fun, slightly wacky community outreach and events, like an exercise program where people lift empty kegs. Manfred's started as a food truck and moved into this brick-and-mortar. They do eclectic bar food that changes all the time and host a ramen pop-up once a month.
Guru Donuts is great. They started out in their house and were so popular that they opened a storefront and have barely been able to keep up with demand. You can count on a line, sometimes out the door, on weekends. The doughnuts have funky names like the Hipsterberry, and there are vegan options too, like the Alice in Wonderland, and there are some vegan choices too.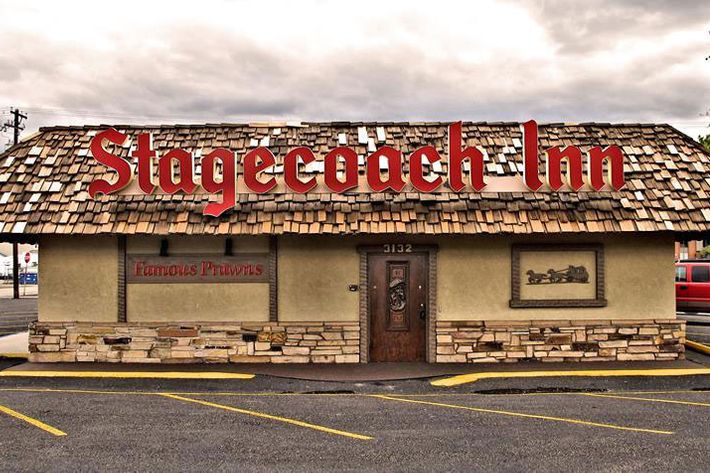 The Stagecoach Inn has been around since the 1950s. It's an old-fashioned Western-diner kind of place in Garden City that's open for lunch and dinner. It originally aspired to be a restaurant in the style of a supper club, with steak and potatoes, but it came to be known for its jumbo prawns and halibut chunks, which are bites of deep-fried halibut. It's a fun place to go for a taste of old Boise.