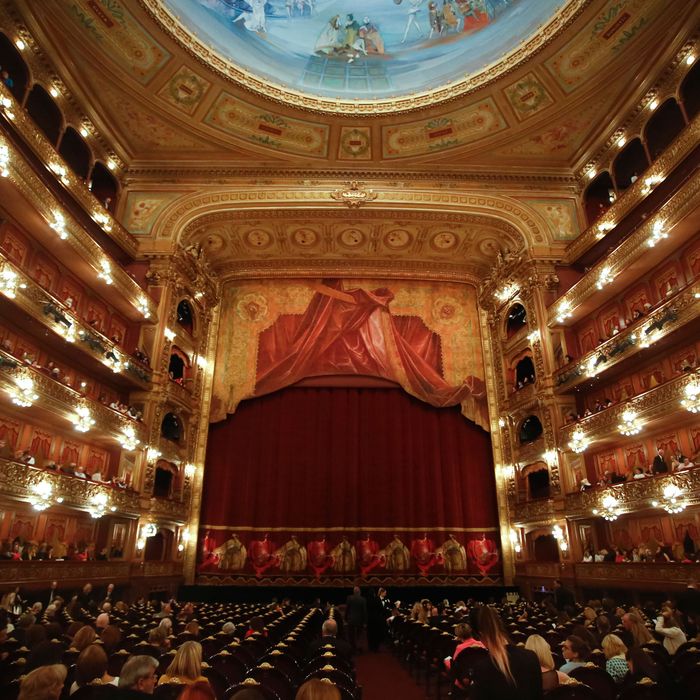 Start the evening out at the Teatro Colón, one of the most important opera houses in the world.
Photo: Gabriel Rossi/LatinContent/Getty Images
If you're an appreciator of the arts, there has never been a better time than right now to visit Buenos Aires. The capital has been a cultural hive for artists, intellectuals, and other members of the creative cognoscenti for well over a century, but the attention it commands on the global stage has ramped up in recent years. Buenos Aires hosts one of Latin America's most influential art fairs (arteBA); it was crowned UNESCO's first City of Design in 2010; and it was the inaugural participant in 2017's Art Basel Cities program. Though museums and galleries are ubiquitous throughout BA, you don't need to duck into a white box to get an art fix in this town; the entire city is a canvas. It's vibrant, multicultural, rich with murals and wheatpastes, and blessed with architectural flourishes inspired by — some may argue "borrowed from" — Paris, Madrid, New York, and beyond. It's the best kind of cultural mashup — everything from everywhere all at once, synergized into something strangely familiar yet altogether unique.
Art Basel Cities Week runs from September 6 to 12, and with it comes a multi-venue exhibition featuring newly commissioned and existing works by 18 Argentine and international artists. This coincides with arteBA Fundación's Gallery Weekend Buenos Aires (September 7 to 9), where more than 40 galleries are staging special exhibitions, studio tours, immersive performances, and art talks. Among the week's highlights: chats with Argentina's own Luciana Lamothe and Mariela Scafati, plus New York artist Stan VanDerBeek's Cine Dreams, an eight-hour, overnight planetarium projection intended to be slept through. (Whatever strange dreams may come will be recorded in the morning — it's called art, people.) And with nonstop routes running daily from JFK and Newark to Buenos Aires's Ministro Pistarini International Airport (EZE), it's easier than ever to get down there. Here's what you don't want to miss.
When to Go
Because Argentina is located in the Southern Hemisphere, its seasons are reversed. New York's fall is Buenos Aires's spring, and you couldn't pick a lovelier time to visit El Capital Federal. Room rates are more competitive in spring than summer and temperatures linger in the 50s, 60s, and mid-70s from September to November. Best of all: The jacaranda trees bloom in late fall, painting the town purple.
Where to Stay
Because Buenos Aires is so spread out and it can take half an hour to move from one neighborhood to the next by taxi, it's essential to choose your accommodations based on where you expect to spend the most time. Palermo, Recoleta, and San Telmo are solid bets for arts disciples or anyone planning to do a lot of sightseeing and museum- and gallery-hopping. Airbnb lists many stylish apartments in these areas, but the boutique hotels are neck and neck in the looks department.
Legado Mítico is well-situated in fashionable Palermo Soho and easily walkable to dozens of restaurants, bars, and shops. The centerpiece of the elegant three-story townhouse is its ambient lounge and library, decorated with floor-to-ceiling bookcases, evocative antiques, large pieces of art, and Andean wool rugs. Eleven rooms, with names like El Pintor and El Escritor, are stuffed with memorabilia themed around O.G. Argentine influencers like Evita Perón, Jorge Luis Borges, and tango king Carlos Gardel. The neighbors — including bars, clubs, and schools — can be rowdy day and night, but double sets of doors help muffle the sound. (They don't, however, block it entirely; light sleepers should book elsewhere.) Breakfast at Mítico is a low-key affair, as it is throughout most of Argentina: medialunas (sweet croissants), cereal, yogurt and fruit, cheese and meat, and toast slathered in butter and delightful dulce de leche. Coffee is made fresh daily, but yerba mate (pronounced like share-bah maht-A) will be served upon request. The flavor is grassy and bitter, like glugging a mouthful of wet earth. Add a little sugar if it's your first time.
Where to Eat
How do you find an American tourist in Buenos Aires? Head to a restaurant at 7 p.m. Like the Spaniards, most Argentines don't get started on dinner until well after 9. The adjustment can be jarring, so do like the locals do and eat a light breakfast at your hotel or flat, pig out at lunch (typically 1 to 3 p.m.), and then have coffee and pastries around 5 or 6 p.m. This should tide you over till the late-night feasting begins.
La Cabrera, a next-level parilla founded by Chef Gastón Riveira, is just as popular with Porteños as the Brazilian and Chilean tourists who frequent it. Start with a husky link of housemade chorizo and a juicy slab of provoleta (grilled Provolone cheese), then move on to other flame-singed favorites like mollejas (sweetbreads), chinchulin trenzado de vaca (braided cow intestines, which are much tastier than they sound), and ojo de bife (a fork-tender steak fit for a Flintstone).
More criss-cross grill marks can be found at Elena, a photogenic ladies-who-lunch spot located inside the posh Four Seasons hotel. Beyond the fine aged meats, Chef Juan Gaffuri delivers lighter, more inventive dishes like squid-ink risotto with andouille sausage and smoked dulce de leche crêpes. Whatever you order, don't skip the picada, an appetizer before the appetizer, served gratis at most steakhouses in BA. Gaffuri's picada board changes seasonally, but a recent rendition included house-cured duck prosciutto, Cheddar from the nearby city of Lincoln, raw honeycomb from Santa Fe (a province in northeastern Argentina), and delightfully sweet reconstituted tomatoes.
Things get weird at Niño Gordo in Palermo, a buzzy new restaurant from Pedro Peña and Germán Sitz, the brains behind BA's ever-slammed Chori and La Carnicería. From the outré design of the interior (glowing red lanterns, a faux aquarium, rows of bobblehead toys) to the oddball combinations of ingredients (bonito flakes on your dessert?), this is something very different for Buenos Aires. The atmosphere is fun, the open kitchen a joy to observe, and a handful of the dishes (like miso flan and sushi rice with an egg yolk bathed in soy sauce and rice-wine vinegar) are outstanding. The restaurant seats in two shifts (8 p.m. and 10:30 p.m.), so reservations are a must.
For more traditional, stick-to-your ribs Argentine fare, there's Pulperia Quilapán in San Telmo. The farm-to-table restaurant occupies a 300-year-old mansion whose throwback decor is peppered with sky-blue pennant flags and pingüinos, a penguin-shaped wine pitcher unique to Argentina. Order a platter of plump, crispy-edged, Salta-style empanadas stuffed with chopped beef or eggplant and locro, a hearty stew brimming with corn, vegetables, and less-favored cuts of beef. (When Merriam-Webster did a deep dive on the the meat sweats, it failed to mention Argentina; for a lighter lunch or dinner option, pick up a falafel sandwich and tabbouleh salad from Chelvíe, a charming Lebanese eatery tucked inside the covered San Telmo Market.)
What to Do
There are certain things every virgin to Buenos Aires does, and you should, too, because they're worthwhile. Take a long stroll through Palermo Gardens, the city's answer to Central or Hyde Park. Here you'll find a pretty, artificial lake; the 8.4-acre Rosedal de Palermo, a Carlos Thays–designed rose garden with 18,000 blooms and a striking Greek bridge; and the UFO-like Galileo Galilei Planetarium, a postcard megastar that has been entertaining field-trippers since the 1960s. The park is a fine place to people watch because everybody gathers here: joggers, cyclists, rollerbladers, benchwarmers in sweater vests, and dog walkers with a dozen-plus hounds leashed up their arms. Keep your eyes peeled for limeade-green parakeets and sapphire-blue tordos flitting among the tall, skimpy Araucaria trees and gnarled ombús, and take note of the round nests of the rufous hornero, the national bird of Argentina. (Locals believe it's good luck when you spot one on a national monument.)
Next, take a tour of Teatro Colón, one of the grandest theaters on the planet. The stage was inaugurated on May 25, 1908, with a performance of Giuseppe Verdi's Aïda; the chandeliers and stained glass are from France, the mosaic tiles from Italy, and the costumes displayed in the grand lobby from operas of yore. If your timing is good, your guide may even invite you sit in the balcony and observe a few minutes of a ballet or symphony rehearsal — a surreal experience.
For a behind-the-scenes look at another architectural marvel, sign up for a sunset tour of Mario Palanti's Palacio Barolo in Monserrat. The office building, erected between 1919 and 1923, was inspired by Dante Alighieri's The Divine Comedy: 22 stories mirror the narrative poem's 22 stanzas, with Hell starting in the basement, Purgatory taking the middle floors, and Paradise saved for the very highest reaches of the Palacio's still-operational lighthouse (100 meters = 100 cantos). The architecture blends neo-Romanesque and neo-Gothic influences with Hindu design flourishes — not that you'll notice any of that once you get an eyeful of the 360-degree views at the top. If you weren't convinced Buenos Aires was big before, the density of its cityscape, stretching out forever in every direction, will surely change your mind. On the clearest days, you can even see Uruguay from here.
Another must for first-timers is Recoleta Cemetery. Founded in 1822, it was the first public cemetery in BA. Like Palacio Barolo and Buenos Aires itself, Recoleta's crypts and mausoleums dabble in a glut of architectural styles: Neoclassical, Neo-Gothic, Art Deco, Art Nouveau, Baroque. While most tourists make a beeline for the final resting place of Evita, every fourth tomb in this labyrinthine graveyard is deserving of a second look. Take that of 26-year-old Liliana Crociati de Szaszak. The young bride died in an avalanche while honeymooning in Innsbruck, Austria. Legend has it, her beloved dog Sabú died at the same time, on the same day, for no explicable reason, back home in Argentina. Their graves are marked by bronze statues of woman and canine; the nose of the dog, however, is a different color from the rest of the sculpture because so many visitors have rubbed it for good luck. (The groundskeepers discourage this.)
A few doors down from the necropolis is Centro Cultural Recoleta, a government-run art center with a stacked events calendar. This is where Fuerza Bruta shows are staged, along with weekend flea markets, photography exhibitions, and street-art invitationals. Although the space is under renovation through fall, curators are still putting on compelling gallery shows — like "Naturaleza Muerta" by Argentine art collective Doma, which invited visitors to pass through an elongated coffin, then walk down a red carpet rigged with motion-triggered paparazzi cameras.
This is just the tip of the iceberg when it comes to exploring the arts. Museo Nacional de Bellas Artes is a six-minute walk from the CCR. With 24 exhibition halls and more than 12,000 pieces, it's home to the largest public collection of artworks in Latin America. The space emphasizes impressionist and post-impressionist masters (Manet, Gauguin, Degas), practitioners of the avant garde (Klee, Modigliani, Léger), and works by the most lauded Argentine artists in history (Pueyrredón, Della Valle, Cándido López). It's a phenomenal assemblage and — get this — free to visit.
For a more contemporary fix, head to the Museo de Arte Latinoamericano de Buenos Aires (MALBA) in Palermo. The museum presents one major international show per year (currently, it's Cindy Sherman with Richard Prince), one Latin American, and one Argentinian. The permanent collection, meanwhile, focuses exclusively on Latin American art and includes pieces by environmental artist Nicolás García Uriburu, who famously dyed Venice's canals green the night before the Biennale, and stylistically polar works by Antonio Berni, including one fashioned with materials he sourced from Argentina's villas miseria, or slums.
At the Museo de Arte Moderno de Buenos Aires (MAMBA) in San Telmo, the art takes an even darker, bolder, and more political turn; exhibitions like "The Social Body: Pushing the Boundaries in Turbulent Times" don't shy away from tough topics, like art created in response to the military dictatorships that overthrew democratic governments in Paraguay and Argentina from the mid-1950s to the 1980s. In another section, you'll find brow-furrowing collages by late Argentine artist León Ferrari, parodying violent passages depicted in the Bible. At next-door neighbor and fellow acronym lover MACBA, a.k.a. the Museo de Arte Contemporaneo Buenos Aires, the focus is on "geometric abstraction," with an emphasis on op-art and concrete works by Argentine artists like Enio Iommi and Gyula Kosice.
Over in Puerto Madero, home to Santiago Calatrava's frequently 'grammed Puente de la Mujer footbridge, you'll find the outstanding Colección de Arte Amalia Lacroze de Fortabat. The subterranean floors are devoted to a prized collection of Argentinian art, including Emilio Pettoruti's twin harlequin paintings El Indeciso and La Resistencia. Surprise objects like Egyptian mummy masks live in the upstairs wing, alongside special exhibitions: Currently, Carlos Alonso's excellent "Vida de Pintor" (through October 7). The show reflects on the life and times of Frida Kahlo, Vincent Van Gogh, Gustave Courbet, and other artists in a way that grabs you by the jugular and doesn't let go.
After you've made the museum rounds, check out some of BA's smaller galleries (Hollywood in Cambodia, HILO, Galería Mar Dulce, etc.), many of which are clustered in trendy Palermo and neighboring Villa Crespo. Gachi Prieto, which was named for its bilingual founder (she spent years living in the United States and would be happy to tour you through the gallery in English or Spanish), represents 20 Latin American artists, half of them established and the rest inching toward the cusp. Or, for an even more curated art, architecture, and design tour, reach out to Basel-approved guide Vanessa Bell, journalist for Wallpaper and Monocle and founder of the six-year-old boutique agency Crème de la Crème. Her art outings are fully customizable and Bell, whose mother is Argentine, speaks fluent English.
Where to Shop
Buenos Aires has more bookstores per person — 734 at last count, says The Guardian — than any other city in the world. El Ateneo Grand Splendid, a stunning century-old theater turned bookshop, is the most Instagram famous, but don't stop your hunting there. Bustling Avenida Corrientes is known for three things: theaters, pizzerias, and bookstores that stay open late. (Interestingly, you can visit just about any bookstore in BA and you'll notice a sizable section devoted to psychoanalysis; Porteños are obsessed with Freud. As one local noted, only weirdos don't go to therapy.) Palermo Soho has Dain Usina Cultural, a converted colonial-style house stuffed to the bursting point with tomes about art and architecture. San Telmo has cozy Walrus Books, the city's go-to for English-language titles, and El Rufián Melancólico, a chaotically organized used bookstore run by the loveliest fellow. Many books are caked in a layer of dirt, but it's the digging that makes stumbling upon something amazing all the more sweet. Just BYO hand wipes.
For high-quality, made-in-Argentina souvenirs, Facon in Palermo is the place to shop. The beautifully curated boutique stocks handwoven tapestries from the northern province of Catamarca, delicate mortar-and-pestle sets, chunky knit blankets, and the finest gaucho knives. The shop owner does a fine job explaining what you're buying, who made it, and how — so you'll actually have a story to tell when you get your purchase home. Elsewhere in Palermo, Todo Mates sells yerba-mate drinking vessels fashioned from hollowed-out gourds, palo santo, cow hooves, and more — not to mention bags of the antioxidant-rich shrub, packaged according to caffeine strength.
In town on a Sunday? Lucky you. The renowned Feria de San Telmo antiques market in Plaza Dorrego has vendors spilling into the surrounding blocks and setting up shop all along La Defensa Alley. If you're in the market for brass pieces, silverware, old telephones, wooden buttons, sheepskin throws, Polaroid cameras, or Evita ephemera, you've come to the right place. Among the most popular souvenirs travelers pick up here are vintage glass syphons. Those who care about authenticity should look for green, blue, or clear models; snazzier colors like red, yellow, pink, and purple are not true originals. Also worth a look in San Telmo: affordable art shop Quorum, which sells cool, mostly limited-edition works by Latin American painters, printmakers, photographers, and sculptors; and Taller Galería Dawa, one of the city's best shops for locally handmade ceramics.
Where to Hang After Dark
Why are so many restaurants, shops, and museums closed on Mondays in Buenos Aires? Because everyone is saving up their energy for La Bomba de Tiempo. For more than a decade, this wildly popular percussionist group has dominated Monday nights, turning the warehouselike Ciudad Cultural Konex into a sweaty, smoky, throbbing dancehall. Senegalese band leader Cheikh Gueye and his cohorts use a system of 90 hand signals to direct the pounding improvisation. The crowd goes more and more nuts as the beat picks up, then chills to a happy buzz when rotating special guests — like gaucho folk heroes Dúo Coplanacu — take the stage.
For travelers hoping to experience a taste of tango culture beyond the hyper-choreographed tourist shows and theatrically attired couples dancing for pesos in San Telmo's Plaza Dorrego, there are milongas, where everyday Argentines go to dance tango socially. These don't get hopping until after midnight and most Argentines go to two or three in the course of an evening. La Academia Tango Club takes over the dance floor every Wednesday, Thursday, Friday, and Saturday night at the Cangas del Narcea Asturian Center in Palermo. A laptop D.J. drops vintage tango songs to warm up the crowd until the live orchestra takes over around 12:30 or 1 a.m. Couples glide in tandem across the floor, some of them tangling their still-learning feet as they go. Others sit at tables, scanning the darkened room and making eyes at whomever they'd like to dance with next. (With tango, you never just ask someone to dance; it saves face for both parties if they aren't interested.) Unlike the rose-between-the-teeth whiplash dance moves you see in Hollywood depictions of tango, the real dance is much softer, smoother, and arguably more sensual.
La Viruta Tango Club and La Catedral Club are two other milongas well-suited to travelers, says Joe Foley, a British journalist who fell hard for BA's tango culture years ago; he now moonlights as a dance instructor and milonga-hopping tour guide. It's okay to just go and observe (learning to dance tango takes years of practice), but if you don't want to be the lone foreigner sitting by yourself at the club, sign up for a three-hour private tour with TangoTrips. A seasoned pro like Foley will escort you to two milongas and explain the sociocultural history behind everything you're seeing and doing. Hour-long private tango classes can be added for for an additional fee, should you wish to learn the finer points of leading, following, and generally not making a fool of yourself.