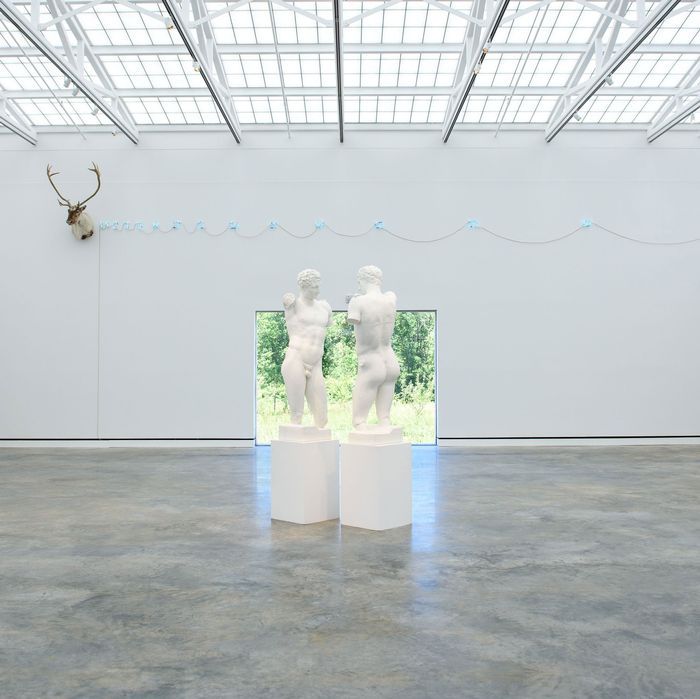 Find contemporary Italian art in an enormous, 20,000-square-foot space at Magazzino.
Photo: Zach Hilty/BFA/REX/Shutterstock
Hidden among the more populated, showier gems of the region, such as Rhinebeck or Hudson, the village of Cold Spring has up to now remained an undiscovered jewel in the Hudson River Valley crown. Cold Spring sits on the banks of the Hudson River, nestled between two mountain ridges, Taurus and Breakneck Ridge, a setting that affords dreamy views of the Hudson as it wends its way north past the shadowy expanses of the Constitution Marsh. Despite its romantic landscape and proximity to New York City — Cold Spring is a mere 50 miles north and accessible by Metro-North — when neighboring towns were becoming favorite weekend retreats for the urban-weary, Cold Spring managed to maintain its small-town spirit and laid-back atmosphere. Cold Spring may not remain a secret for much longer, however. It is now home to a major contemporary-art institution, Magazzino: Italian Art, which opened last year, and to a growing number of newcomers. Hailing from the outer-boroughs, they have brought with them not only a new demographic but a new sensibility. Slowly exiting Cold Spring's Main Street stage are many of the antiques stalls, bead shops, and hippie-vibe cafés that were once housed in the town's brick-and-wood Colonials and Victorians. Replacing them are curated "country" boutiques, artisanal cheese shops, and olive-oil-and-vinegar "tasting rooms." Fortunately, for visitors and locals alike, these changes have been mostly gradual, and Magazzino has consciously sought to integrate itself into the community: hiring locals, collaborating with neighboring cultural institutions, and courting residents to visit. The result is that Cold Spring is pulsing with a new vitality as a vibrant cultural hub while fundamentally remaining an easygoing, historically minded river hamlet.
What to Do
Start your visit to Cold Spring at Magazzino, located just off US Highway 9 but also reachable by Metro-North and the institution's free shuttle service. True to its name, which means "warehouse" in Italian, Magazzino houses Nancy Olnick and Giorgiu Spanu's collection of contemporary Italian art focused on the Arte Povera movement and the 1960s, along with a research library and archives. Olnick and Spanu commissioned Spanish architect Miguel Quismondo to construct a space that would remain true to the site's industrial past as a dairy distribution center and later a computer-chip-manufacturing depot. While keeping the original concrete structure largely intact, Quismondo added skylights and a second building, connected to the first by a glass corridor, leaving a sun-drenched courtyard between the two. Quismondo's redesign of the space feels airy and light without competing with the artwork for attention.
Magazzino is more than an art space or architectural showcase: It's a budding cultural institution, aimed at spreading the word about Arte Povera and postwar Italian art. Magazzino hosts events, including the well-attended open-air cinema series "Cinema in Piazza," which screens films about postwar Italian and international artists and sponsors artist talks and exhibitions in collaboration with local cultural institutions, from the Cold Spring Film Society to Dia: Beacon. The current exhibition is "Arte Povera: Arte Povera From the Olnick Spanu Collection," featuring works from a dozen artists, including Michelangelo Pistoletto, Pierpaolo Calzolari, and Marisa Merz. Admission is free.
After Magazzino, leave the 21st century behind and make a stop in the mid–20th century by taking a tour of Manitoga: The Russel Wright Design Center. Manitoga and its surrounding 75 acres was the home of American industrial designer Russel Wright (1904–1976), whose wooden furniture, ceramic tableware, and book, Guide to Easier Living (1950), co-authored with his wife, Mary, adapted European modernism to an American idiom, stressing efficiency and individuality in design and lifestyle. And most revolutionarily of all, Wright called on men to share the housework! Tucked between granite boulders, hemlocks, and sycamores, on a cliff that overlooks a lake and waterfall, Manitoga is a modernist treasure. Inside, butterflies appear to float in the walls, pine needles populate the resin ceiling, and stones double as doorknobs. Outside, "secret rooms" create soundscapes, audible only to those within them; a series of vistas intentionally obscure one element while revealing another; and fern-lined paths spiral out from the grounds, linking visitors to the nearby Appalachian Trail.
Once you've had your fill of the modern, you might be ready for a taste of the more distant past. Consider a tour of Boscobel House and Gardens. The present neoclassical mansion is not the original, which was built between 1804 and 1808, but a postwar reconstruction funded by the co-founder of Reader's Digest, Lila Acheson Wallace. Inside you'll find incredible examples of surprisingly cheery Federalist-era domestic design that demonstrates just how beholden many early Americans still were to the tastes of European aristocracy, even after the Revolution. Resourceful in their efforts to imitate the luxury of Colonial goods, they painted pine to look like West Indian mahogany and maple to look like Chinese bamboo.
If you plan it right, you can take the last tour and then stick around to dine alfresco on the lawn before attending a performance of the Hudson Valley Shakespeare Festival, which takes place in an open-air tent on Boscobel's grounds. The festival puts on consistently innovative shows, like a production of The Taming of the Shrew, directed by Shana Cooper, which the New York Times recently declared "an exhilarating new way to look at the comedy through modern eyes while remaining true to its language and, arguably, its intent."
Leave some time to wander around Cold Spring proper, where life flows forth from Main Street. If you come by car, start at the top and work your way down to the river, at the bottom of the hill. If you come by train, do it in reverse, starting at the river and making your way up the hill. Most of the houses you will see were built during the city's heyday, between 1818 and 1911, when the West Point Foundry was turning out armaments for the federal government. Because no new source of wealth replaced the old, Cold Spring's Main Street stayed more or less the same, giving the town its quaint, historic appearance. To delve deeper into Cold Spring's past, stop by the Putnam History Museum, whose small but thoughtfully presented permanent display focuses on the 19th century.
While some of Cold Spring's last generation of businesses have begun to disappear, Main Street still offers plenty of antiques shops, like Once Upon a Time, which has been selling an eclectic assortment of knickknacks and furniture for more than 40 years. And Juan L. Rosado's Antiques and Collectibles across the street has been around for nearly 30 years. Rosado specializes in Bakelite products — ranging from jewelry to flatware — along with beautifully preserved mid-century textiles covered with florals in shades of rose, gray, and yellow. Once you've had your fill of antiques, check out some of Cold Spring's newer arrivals, starting with Poor George at the top of the hill. There you'll find carefully selected vintage frocks and accessories — silk secretary blouses, hand-woven straw bags, striped track suits, Members Only windbreakers — intermingled with new clothes, all with a 1970s and 1980s aesthetic. From there traipse into Split Rock Books. Owned by former employees of Brooklyn's Community Bookstore and Court Street Books, Split Rock threw open its doors a few weeks ago, providing Cold Spring with a bookstore again after the last one closed over a decade ago. A few doors down, you'll find The Shoppes, an indoor shopping alley where you can pick up sundry items like a bottle of locally produced maple syrup, a Japanese textile, or even a wooden stool or table made by Bob, the pater familias of the family that runs the market. If you are as interested in stimulating conversation as you are in acquiring unusual objects, then make a stop at the recently opened Chapeau, where owner Archie Brody holds court, quoting Shakespeare and Ai Weiwei between sharing the stories behind the objets d'art he's gathered from far and wide, like wooden salt-and-pepper shakers reminiscent of boar's tusks or willowy bent-wood chairs.
What to Eat
Go country classic for breakfast at Hudson Hil's with a silky omelet and a side of potatoes ($12.75), or indulge a bit with chocolate-babka French toast topped with berries and espresso cream cheese ($13.75). Within less than a decade, this white-and-yellow café with an inviting front porch has become practically a Cold Spring institution, known for its commitment to integrating local, organic ingredients into its menu.
For lunch, the tastiest option is located just outside of town, along US Highway 9D, Round Up Texas BBQ. Step beneath the bull horns hanging over the red barn door to order a 2- or 3-Meat Combo (from $13) with your choice of hickory-smoked meats: brisket, ribs, chicken, and sausage and a range of sides ($2.75; mac and cheese, fried okra, etc.). An Austin transplant, the solicitous owner knows his stuff and will gladly explain to newbies just what sets Texas-style BBQ apart (beef, not pork, prepared and served "dry," as in no sauce).
For something sweet, get a scoop of ice cream at Snowflakes, which serves familiar flavors like mint chocolate chip and strawberry ($2 a scoop). One lick and you're a girl in braids again, ice cream dripping down your smiling face. For a more grown-up-affair, or a caffeinated pick-me-up, walk under the Metro-North tracks to Rincón Argentino, which offers gelato flavors like dulce de leche or banana stracciatella ($3 a scoop), the best coffee in town, and a selection of housemade cakes and pastries. Don't leave without sampling a piece of co-owner Ramona Antonio's almond cake ($2.75).
Your best bet for fine dining is the reliably excellent Cathryn's Tuscan Grill. With its strictly regional focus, Cathryn's avoids the usual Italian-American standbys to offer such refreshing flavor combinations as spaghetti with guinea hen and apple ragù ($20) or grilled swordfish with apricots and shaved fennel ($29). For more casual dining, head toward the river to the Cold Spring Depot for pub fare with a slightly elevated twist, like harissa-rubbed roast chicken ($22).
End your evening with a trim (if you're a man, then with a lathery shave), followed by a local beer or sake-based cocktail, like the Tokyo Mule, at the highly atmospheric Barber & Brew. Run by the genial owners of the camping-and-hiking-supplies store Old Souls, Barber & Brew also offers tasty nibbles like maple-caraway pecans ($6).
Where to Stay
Though technically not in Cold Spring, the most tranquil, ambient place to stay is a few miles north at the Garrison Inn. Taking its cue from the Hudson Highlands in which it is situated, rooms at the Garrison are decorated in the soft hues of a light-filled forest glen. Every room is oriented toward the landscape, affording views of the Hudson and the Catskill Mountains. If you're there on the weekend, plan to dine at the Valley Restaurant, which showcases local produce and vegetables grown in the kitchen's garden. Rooms start at $175.
It's the little details that make you feel at home at one of New York state's oldest inns, the Hudson House River Inn, in operation since 1832: wood-paneled walls decorated with copper pans; iron headboards and chandeliers; lemonade and cookies waiting for you at the bottom of the stairs; and a maître d' so professional and delightfully crisp in manner you may wish he were your local bartender. It's the nearby Hudson River, however, the shores of which you can view from the balcony and riverside rooms, that really makes you want to linger. Rooms start at $170.
For convenience and hospitality, you can't beat the newly opened Cold Spring Bed & Breakfast. Located on Main Street above the Silver Spoon Café, the B&B boasts massive wood-carved headboards and king-size beds and generously sized walk-in showers with tiled walls — rooms are outfitted with your comfort foremost in mind. Rooms start at $165.