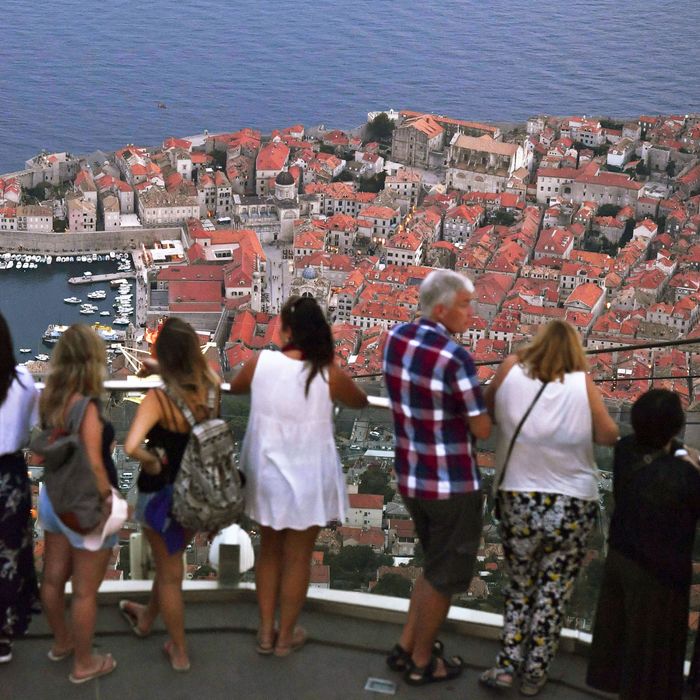 The moderate Mediterranean climate and spectacular seaside views have made this UNESCO World Heritage city a popular tourist destination.
Photo: Yuri Cortez/AFP/Getty Images
Croatia's loss to France in the finals of the 2018 FIFA World Cup was actually a huge victory for the former Yugoslav country on the Adriatic Sea. After all, the geographically challenged people of the planet revved up Google with questions like "Where is Croatia?" — hitting the highest online search levels for the country in history, according to Google. What they found was a budding EU nation crammed with a bounty of things travelers like: good wine, great food, gorgeous sightseeing. And since many roads (and web searches) lead to the stunning, walled seaside town of Dubrovnik, it's safe to say that tourism numbers are going to be growing in this southern Dalmatian Coast city.
Not that this should stop anyone from stepping foot in the town some know as a stand-in for "King's Landing" on HBO's Game of Thrones. If you know when and where to go while you're here, Dubrovnik is dynamic. In fact, in the past two years, this city of 40,000 people has become more livable for locals and tourists alike. The first third-wave coffee spot has flipped on its espresso machine, the first serious cocktail bar in Old Town is shaking up boozy concoctions, the first brewery in the city's history is pumping out above-average suds, and the city's first Michelin-starred restaurant, 360, crowned in March 2018, is elevating Dalmatian fare with great success.
When to Go
Forget coming here in July and August, when the legion of cruise-ship tourists march behind their umbrella-holding leaders as they parade through the city's shiny limestone-paved streets. That said, even in the most crowded times, Old Town in the morning or evening, when the tourists are safely ensconced in their floating gated communities, is not as unbearable as you might think. Otherwise, April, May, September, and October are the best times to come, windows of time when businesses are still open but there are fewer tourists. The six-week-long Dubrovnik Winter Festival, starting in late November, is a refreshing off-season time to visit: The locals take back the walled Old Town and celebrate daily at temporary food stalls selling local treats and shots of grappa.
Where to Stay
Finding comfortable accommodation in this hotel-and-inn-sprinkled city has never been a problem. But spotting an affordable place is increasingly difficult, as this city of 40,000 people swells in summer and has the highest cost of living in the country. Still, there are plenty of affordable options, plus excellent splurge-worthy hotels.
Located within the walls in Old Town, St. Joseph's Hotel (from $300 per night) is set in a 16th-century building. The six rooms have kitchenettes, rain showers, and WiFi, and some boast huge bathtubs.
Karmen Apartments (from $75), run by Marc van Bloeman, a British-born longtime Dubrovnik denizen, has been renting out the four super-comfy apartments in his Old Town building to vacationers long before we put the words "Air" and "BnB" together. Each apartment has a kitchen and en suite bathroom, and some have photo-worthy views of Old Town and its impressive walls. Marc is a wealth of information on Dubrovnik.
First flicking on its lights in Summer 2017, One Suite Hotel (from $90) is, as the name suggests, an all-suite inn. The sleek property, located about six miles south of Dubrovnik in the town of Župa, was designed by hip Croatian design and architecture firm 3LHD. The in-house restaurant, Lokal, proudly serves fare procured from local farmers.
Hotel Kompas is a former socialist-era hotel that was transformed by local hotel group Adriatic Luxury Hotels into a design-friendly property on the placid Lapad Cove, about two and a half miles from the Old Town. All rooms offer balconies with sea and cove views, and the café-flanked promenade in front of the hotel is a serene spot to stroll in the late morning or early evening.
Where to Eat
Dubrovnik's food scene has come a long way in a short period of time. The hegemony of subpar pizza and pasta has been broken up with a handful of superlative dining opportunities, including restaurants that are helping to reinvent Dalmatian fare and home cooks transforming their kitchens and dining rooms into venues for epicurean feasts for an evening.
Run by cookbook author and food blogger Ana Marija Bujić, Pantarul is a pioneer in helping to reinvent gourmet Dalmatian fare for locals and visitors alike. Culling old recipes that were nearly lost to history and then sometimes putting a worldly spin on them, Bujić created a menu of dishes like spaghettini with mussels and chorizo, and cuttlefish and samphire risotto, that will win over the fussiest palates.
Dubrovnik's first Michelin-starred restaurant (and only the third in the country), 360 is the most haute you can get in the city without piercing the clouds with your fork. With a dining area set on the actual medieval walls, the ambience at 360 owes as much to the experience as to what comes out on the plates. The five-course menu includes some terrific dishes — like slow-roasted carrots, fennel and tender octopus, a coffee-and-ganache dessert — that will make you leave feeling pretty good about having just forked over $130 per person for an extravagantly delicious dinner. There's also a three-course option for $105.
Canadian-born Alexandra Cram has conjured up a different way to get a taste of Dalmatia: She forages for all manner of tasty and artisanal products, including local wine and beer, around Croatia, then puts them together in a picnic basket. Piknik Dubrovnik is a fantastic way to spend an afternoon feasting on unctuous sausage from Slavonia, pickled veggies from a local farmer, and prosciutto from the Dalmatian Coast. After delivery is arranged, Cram can advise on where to go: Lokrum Island and the top of Mt. Srd (with a fantastic view of the city) are two favorite spots.
Marija Papak, an erstwhile restaurateur and chef, cooks up feasts for guests on a regular basis on her grape-vine-lattice-covered terrace, just a 15-minute walk from Old Town. Specifically, she makes peka, a Balkan technique of slow-cooking meat under a bell-like lid covered with burning embers, rendering lamb, veal, and octopus to never-before-tasted tenderness that will leave you dreaming of more the next morning.
Where to Drink
Wine has always been the beverage of choice on the southern Dalmatian Coast. That's because the nearby Peljašac Peninsula has long produced quality grapes. But in addition to that, there are now beer bars, cocktail dens, and ambient bars that will keep your thirst quenched while here.
Start your day off with a cup of high-quality coffee at Dubrovnik's first and only third-wave java spot, Cogito. The diminutive shop, located in Old Town, sells hot and cold brews using beans roasted from its HQ in Zagreb. The narrow, cobbled alleyway it calls home is a tranquil place to sit back and let caffeine get you started for the day.
If you prefer beer to beans, head over to the city's port area, Gruž, to find the city's first brewery, Dubrovnik Beer Company. The on-site bar, opened in 2018, allows patrons to sip lagers, pale ales, and stouts just a few feet from where they were made.
Similarly, Škar winery is the only place in the city where you can drink wine in the same place it's made. Owners Marina and Mato Krile bring red and white grapes from their vineyards on the Pelješac Peninsula to this former stone shipyard house, where they make excellent Plavac Mali red and Rukatac white wines. The convivial wine bar, located on the new marina, is an ideal venue for wine sipping and noshing on plates of locally made cheese and cured meats.
The dark-hued Bar by Azur was opened in 2017 by the brothers Vedran and Darko Perojevic (also co-owners and chefs at nearby Asian-Adriatic fusion restaurant Azur). The bar is located in a narrow, stair-laden alley off Old Town, and it's best experienced by joining the boisterous regulars lounging on benches there and sipping a classic martini or Negroni. The experienced bartenders are excellent at improv, too — give them a few adjectives, and they'll concoct a cocktail you'll like.
What to Do
There are certain experiences that are impossible to leave Dubrovnik without doing. Walking the medieval walls, for example, is pricey at $20. But you won't regret it once your Instagram blows up because of the jaw-dropping pics you just posted from there. You also might balk at the $25 price tag for a round-trip ride on the cable car up to Mt. Srd. Again, think of the self-affirmation you'll acquire from all those social-media "likes" you'll get thanks to the stunning views from the top of this tall, rocky peak that overlooks the walled city and the gleaming Adriatic Sea. Likewise, the short, round-trip boat ride to Lokrum Island may cost you about $20, but it's money well spent for spending half a day on an island with pristine beaches. Otherwise, just get lost in the Old Town, or Stari Grad in the local parlance, wandering the white-limestone-blanketed streets and plopping down at cafes and bars for a refresher. Then take to the beach: The Coral Beach Club, located in the Babin Kuk neighborhood, has a nice mix of locals and visitors.
Expert Tips
Vedran and Darko Perojevic moved away to live in China and the United States before coming back to their hometown to open the "Cro-Asian" restaurant Azur and the Bar by Azur. They're Dubrovnik to the bone and have eaten, drunk, and shopped at every establishment in town.
Vedran: For food, Konoba Kasar in Zaton Veliki, 10 miles north of Dubrovnik, makes the best black risotto (after my mom).
Darko: Yes, it's almost on the same level as our mother's. But anything is good there because the fish is so fresh.
Vedran: Kasar and Orsan, on the Dubrovnik marina, are two of the only restaurants I trust with seafood. I know it's going to be fresh, not frozen. At Orsan, I always order a whole fish. The last time I went there, I got a grilled amberjack that was incredible.
Darko: In terms of shopping, you can't go wrong at Kawa, located just outside of Ploče Gate near Old Town. It's run by a Canadian-Croatian couple, and they mostly sell design-friendly products made in Croatia. I recently wanted an aero press to make coffee, and I was going to buy it online because I assumed I would not be able to find it in Dubrovnik. And then, sure enough, there it was for sale at Kawa.
Vedran: And they have a lot of craft beer and spirits that I had never heard of, too.
Darko: When the Old Town is crammed with cruise-ship tourists, I often retreat to Lokrum Island, just a quick boat trip from the Old Port in Dubrovnik. My Indonesian wife is crazy for the fried calamari at the restaurant Lacroma on the island. It's the best in Dubrovnik.
Vedran: But when you get off the boat, you have to stop at the bar right there, Lacrama Snack Bar. Djani, the owner, infuses his own rakija (or grappa) and is an expert at pairing it with any other thing you order, food or drink.