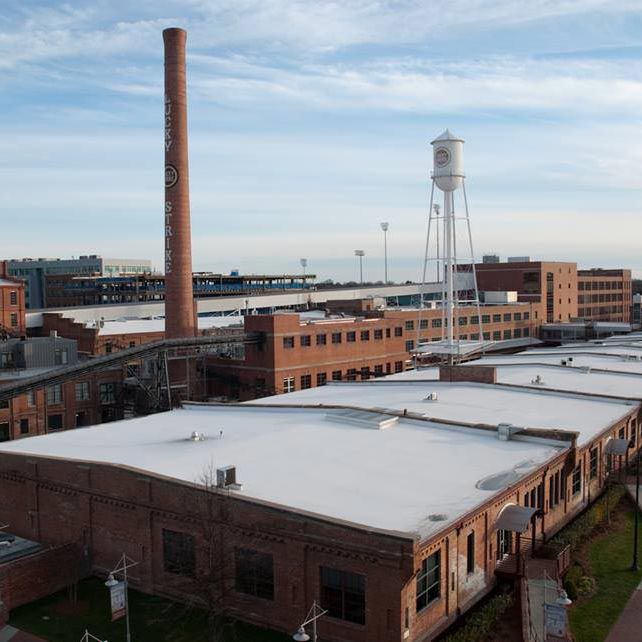 Many of Durham's attractions are housed in repurposed postindustrial buildings, like the American Tobacco Campus, pictured here.
Photo: Hal Goodtree
This spring, when I embarked on a slightly ill-advised rekindling of a college romance, I figured that flying to Durham, North Carolina (less than two hours from any NYC-area airport), was only slightly more arduous than taking the train to, say, Ridgewood, and there was a certain glamour in going out of state to get laid. Fortunately, only ever being in town purely for the business of pleasure meant spending a lot of time in bars, restaurants, swimming holes, and the occasional Airbnb. Durham is a postindustrial town — many of the spots listed below are set in old factories or warehouses — that's quickly gaining notice for its hip local food and music scene, and it's worth a weekend trip, long-distance lover or no.
Where to Stay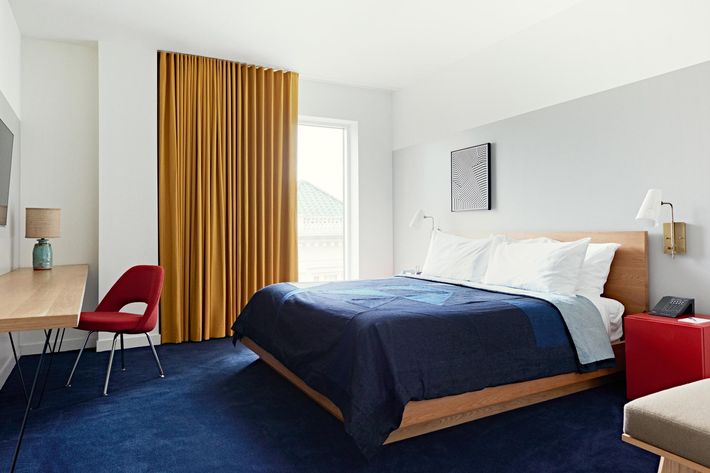 The 21C Museum Hotel (from $199) in downtown Durham is located in an old bank, which gives it a certain Gatsbyesque charm. The real draw is the art, which is featured throughout the hotel, and yes, there really is a museum. The contemporary art on display is worth checking out, the curation better than most galleries in major cities. The restaurant and bar, Counting House, serves up cocktails, which you're free to carry throughout the hotel and savor in a number of semi-private nooks and miscellaneous seating areas. Don't forget to check out the vault, which is preserved in near-original condition in the basement of the hotel, away from the bar. It's got cozy seating but fills up quickly — if you're bringing a date, you might have to get there early to corner a spot. And a word about the extremely modern bathrooms: Yes, they're made of clear glass, but you don't have to pee exposed for art. Make sure to engage the lock all the way, and the glass will turn opaque. (Your correspondent learned this the hard way!)
The Durham (from $199) is a cool, modern hotel, also located downtown. The décor is mid-century modern, as is the style these days, but with a warm, not-airspace-y touch. Downstairs, you'll find a restaurant, run by James Beard Award–winning chef Andrea Reusing, that's always booked for brunch. Outside of mealtimes, the space serves as a chill coffee bar that lets patrons hang out for as long as they want. It's not rare to see people quietly working on laptops in the middle of the afternoon, but the space is so large there's plenty of room for everyone. Upstairs, there's a rooftop bar, serving up cocktails as well as a raw bar and a small kitchen menu. The view is great, and there's both covered and open-air seating.
Unscripted (from $169) is a similarly mid-century-modern hotel, though the vibe is funkier than that at the Durham and it's geared more for creative professionals. It offers lots of different spaces to hang out in, including a fun, vintage-inspired poolside lounge and The Studio, based on mid-century rec rooms. Unscripted doesn't have a restaurant like the Durham's, but allday, a mixed-use coffee bar and sundry shop, serves food and functions as a cool meeting space.
Where to Eat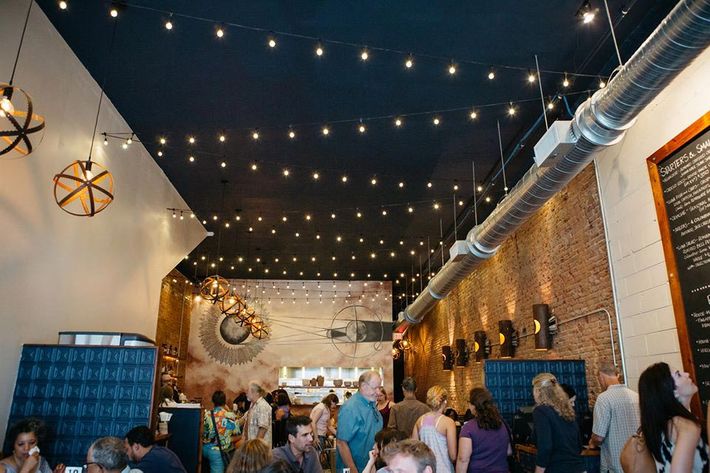 For a casual breakfast made with local ingredients, check out Scratch. The menu is seasonal and therefore variable, but don't miss the pastries, baked in-house. The shirred eggs are a buttery delight, served in a ceramic dish atop folded triangles of the New York Times (this correspondent spotted a friend's book review in print on a visit), and the coffee is strong. Another great brunch option is the bakery-café Monuts, which has a bigger space and a slightly more casual cafeteria vibe, plus: All the employees get paid a living wage! Also, there's a giant rabbit statue inexplicably placed near the entrance.
Luna offers a mix of southern and South American cuisine; everything on the menu is great, and if you're really hungry, the patacon pisao — basically southern-style BBQ sandwiches with fried plantains for buns — are filling and decadent. If you're a normal amount of hungry, a meal of a roasted protein (Luna offers chile-braised jackfruit alongside staples like brisket and carnitas) plus a couple of sides is still plenty. The jalapeño lemonade is worth a mention, too: It's got a kick, and it's totally refreshing.
For a lively — maybe too lively — atmosphere, grab a beer at Surf Club. It's best when you can take advantage of the outdoor seating; the bar itself tends to get crowded. String lights are all over the place in this town, and Surf Club is no exception. On the weekends, it can get crowded and a little bro-y, but if that's your vibe, it's a great time. It's also the local bar of choice for the not-so-local musical duo Sylvan Esso: Their album art comes from the mural on the outside wall.
Also worth a visit is Arcana, a hip cocktail bar inspired by tarot — you can even get your cards read. The menu features an extensive selection of herbs and liqueurs inspired by the occult, and the vibe is moody and intimate. You can sometimes catch live music at the space, as well as other, more occult events. Note that all the hotels mentioned above have bars that are great for cocktails; the ones at 21C are particularly good, and if you're going solo, you can always have one of 21C's iconic penguins (at the Durham location, they're fuchsia) accompany you.
What to Do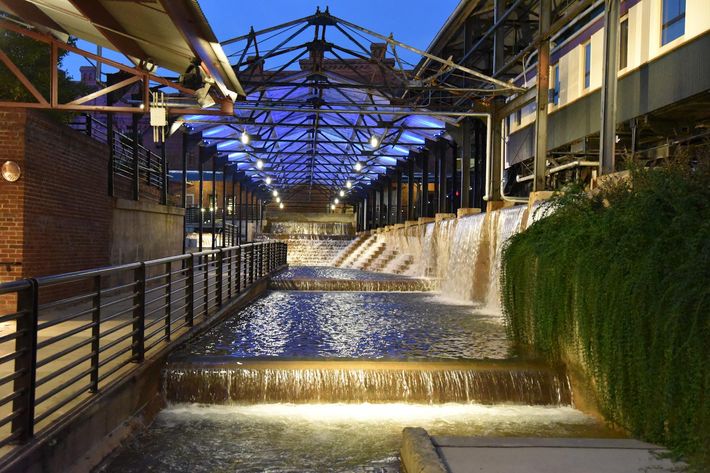 Take a stroll around the American Tobacco Campus, a former tobacco factory that now houses offices, apartments, restaurants, a gallery, and a theater and that partnered with the Full Frame documentary festival earlier this year. There's a water feature, a remnant of the old factory, that runs through the campus, and it's a pleasant place to meander through at any time of day. From there, you can walk to the Golden Belt, a onetime textile mill now repurposed as galleries, apartments, and event spaces and check out the local art scene.
The Duke Gardens (admission is free) are another great place for a walk. They take up 55 acres, so there's probably more than you'll be able to see on one visit, and feature four different gardens: the Historic Gardens, the Garden of Native Plants, the Asiatic Arboretum, and the Doris Duke Center Gardens. The Historic Gardens have a beautiful, Italian-style terraced garden, which features a wisteria-covered pergola, and there's a pond with koi, goldfish, and, in the summer, water lilies. After you're done wandering the Duke Gardens, you can walk over to the Nasher, Duke's art museum. The collection spans 5,000 years of art history, so there's something for everyone, and there are always a number of changing exhibitions. The sculpture in the front lawn of the museum changes annually; right now, it's a monumental piece by German artist Katharina Grosse, who also did the spray-painted "Rockaway!" house in Fort Tilden last year.
The local-music scene in Durham is thriving, and there are plenty of places to catch a show. You can hear anything from darkwave synth to acoustic sets at Arcana, mentioned above. Meanwhile, The Pinhook is at the heart of Durham's queer scene, hosting drag shows and live music as well as dance parties. The music is loud and the atmosphere is friendly and it's located right downtown. To catch major acts like Guided by Voices or Blitzen Trapper, swing by Motorco, a roomy music venue that has an extensive menu, inspired by global street food. And Motorco has a great Monday drink special — $2 PBR and $3 wells. Doesn't that make you want to get out of New York already?
Expert Tips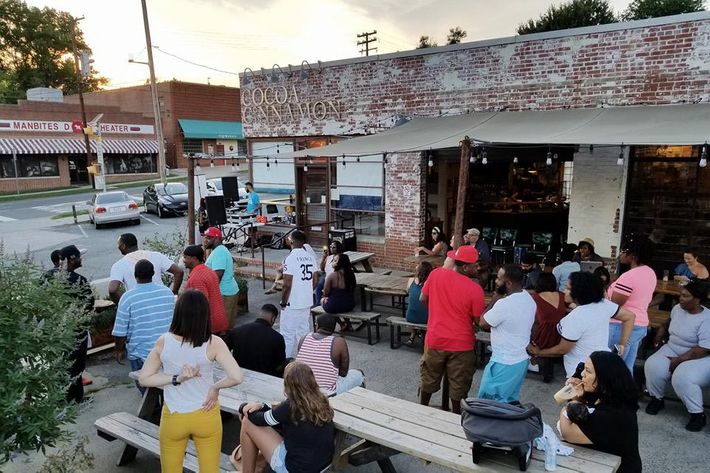 It's not too hard to get around Durham without a car, but it is just hard enough. If you're going by foot, most of these spots listed are downtown, but there's also a free shuttle bus, the Bull City Connector, which runs between Duke University and the Golden Belt hub. Along the route are the Duke Gardens, the cute Ninth Street shopping district, the American Tobacco Campus, and the Durham Central Park, home to the farmer's market, a skate park, and a great place to watch dogs.
If you've got some leisure time, or just want a cold brew, drop by Cocoa Cinnamon, Durham's favorite coffee shop. It's got two locations, both with indoor and outdoor seating. The vibe is friendly and conducive to working or just hanging out; the Hillsborough Road location is slightly more spacious and closer to Duke's campus, while the West Geer location has more of an indie vibe.
Finally, if you're trying to get into some nature — but not too much nature — drive out to the Eno for a swim at Turtle Hole. You'll enter at Little West Point on the Eno, where there's also parking, and it's a very short half-mile hike on a wide path to the swimming hole. The water is deep, cool, and fresh; there's lots of fun currents and little falls to splash in; and there are always plenty of families and groups of friends hanging out.