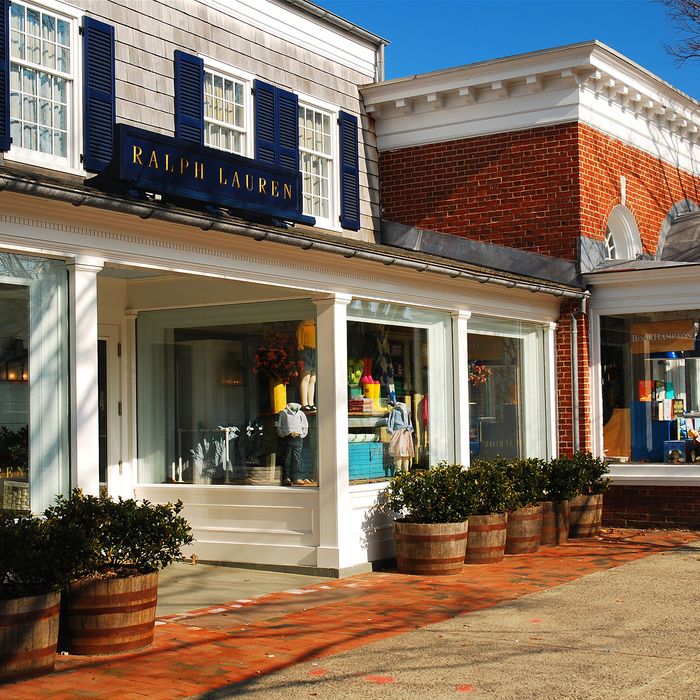 East Hampton town's Main Street.
Photo: Kirkikis/Getty Images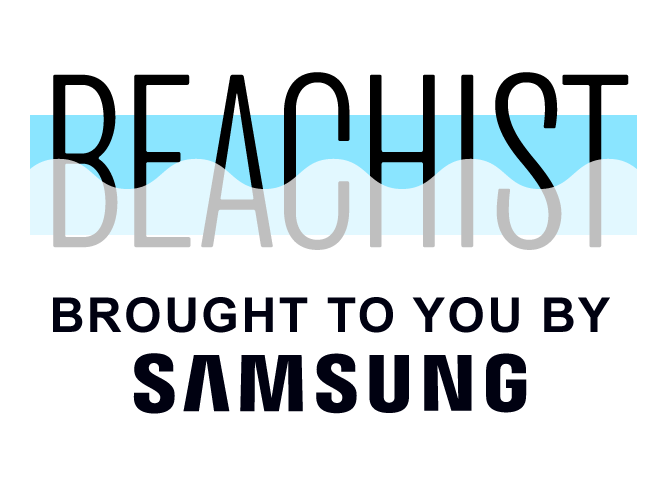 A guide to the area's many beaches
(including tips on parking and permits),
restored carriage-house inns, vegan
smoothies, and spin-class options.
How to Get There, and Then Get Around
It's no secret that the Hamptons are overrun with everyone from Housewives to houseguests in the summer, which means getting out east can be a traffic-induced pain in the ass. Now that you're mentally prepared, there are several ways to arrive. Driving can take two and a half to four hours, depending on when you leave the city (aim for early in the morning or late at night to avoid pile-ups — midday, around 3 p.m., is just about the worst time you could leave). The two-lane NY 27, which goes all the way to Montauk, is typically the culprit. Have podcasts and playlists queued up.
The Hampton Jitney has multiple stops in Manhattan (and even a few in Brooklyn on Fridays and Sundays, as well as an airport-connection stop) and leaves nearly every hour. Make a reservation to guarantee a seat (a one-way ticket is $29 prepaid; $33 onboard). The Jitney has a bathroom on the bus and offers Wi-Fi, outlets, snacks, and bottled water. Or go more upscale with the Hampton Ambassador, with 30 seats that are bigger and more comfortable than those on the Jitney and can be selected in advance. The Ambassador also has a bathroom and offers Wi-Fi, snacks, water, coffee, tea, wine, and a movie. (A one-way ticket is $45 prepaid; $50 onboard.) The Hampton Luxury Liner is similarly indulgent — the buses are Mercedes — and offers movies to watch on your own device. All three allow pets, surfboards, and bicycles for an additional fee.
The Long Island Rail Road avoids car traffic, but be warned: Those summer-Friday bros can be rowdy. If you pick up the train from Penn Station, don't be surprised if you see masses of people running Hunger Games–style to the train once the track number has been announced. It can be difficult to get a seat, and regulars know not to mess around. The ride between Penn Station and East Hampton ($21 to $29 one-way) is three hours; you'll typically transfer at Jamaica. An express-train option, known as "the Cannonball," leaves Penn Station on Friday at 4:06 p.m. and shaves off about half an hour.
To be extra flashy, book a helicopter ride with Blade (from $695 a seat). And Shoreline Aviation operates seaplanes between Manhattan and East Hampton ($595 each way). The upside to that hefty fare? You'll be in East Hampton in 45 minutes.
Once you've made it safe and sound, you could use Uber — which launched in the Hamptons this summer — or Hamptons cab mainstays Lindy's and Carlos Taxi. The Free Ride offers open-air rides in an electric shuttle at various locations between East Hampton town and Main Beach (free; 9 a.m. to at least 6 p.m.). Rent a bike from Bermuda Bikes in East Hampton (from $35 for an 8-hour day) or the Amagansett Beach and Bicycle Company, which even offers tandems and kid's cruisers (from $19/hour and $39/day).
Where to Stay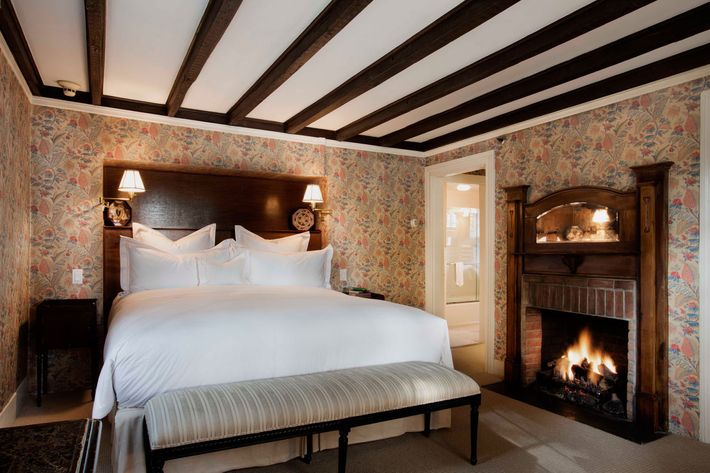 Between Memorial Day and Labor Day is when most businesses make the bulk of their money, so you'll find the best deals off-season. Come September, most weekenders have left and the weather is still warm enough to jump right into the ocean. And in winter, you're basically talking a whole other currency.
For a cozy visit, find yourself walking distance to East Hampton town and Main Beach and stay in one of the Hedges Inn's 13 rooms. The bed and breakfast was built in 1873 and is one of the oldest hotels in East Hampton (don't worry, it's been renovated — as recently as 2016). There's complimentary outdoor yoga, and breakfast of avocado toast, Nutella croissants, poached eggs, and even homemade strawberry syrup in the garden. A stay comes with a beach parking pass; you can borrow the inn's chairs and umbrellas. (From $600/night during high season; $350 after Labor Day; $200 after Columbus Day.)
Book a room (some suites have a fireplace!) in one of The Mill House Inn's ten beautiful rooms, located in the heart of East Hampton town, and you're guaranteed to never go hungry again, between the homemade breakfasts (lobster frittata, blueberry pancakes) and the 'nack bar, which includes house-pressed juices, cheese and charcuterie, and an ace coffee menu — all of which is included in your stay. (From $750/night during high season; $225 off-season.)
You'll be steps away from the beach at Amagansett's White Sands, which provides beach chairs and umbrellas for guests. Many rooms offer an ocean view and deck. (From $210/night during high season; $150 in September; $115 between April and June.)
Go from the beach to the tennis court (or table tennis, if it's rainy) to the heated outdoor pool during your stay at Amagansett's Ocean Colony. Many rooms offer a view of the ocean and private terraces, and your beach time will be schlep-free thanks to the hotel's cabana service. (From $195/night.)
If you're looking to go all-out, book one of the six rooms in The 1770 House, a restored carriage house built in 1663. The inn is home to one of the Hamptons' most lauded restaurants, and each suite boasts amenities from Molton Brown and snacks from Dean and DeLuca. The 1770 House has also been known to offer specials and discounts to guests, such as free admission to local museums and wine tastings at vineyards. (From $895/night during high season; $525 off-season.)
Choosing a Beach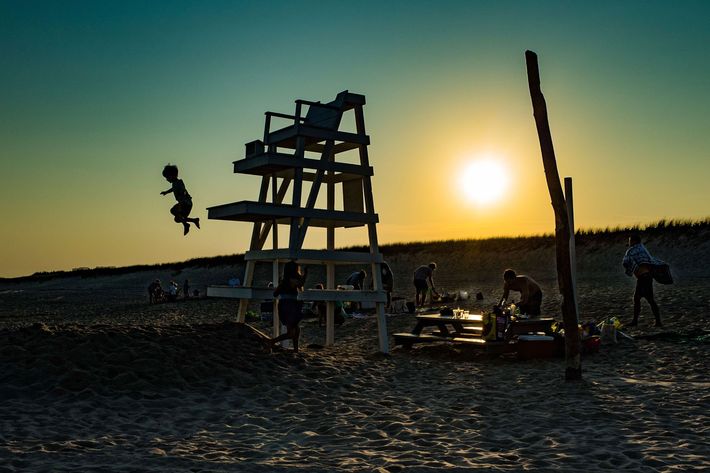 Some general notes: During the summer, all beaches in East Hampton require a permit. Certain ones require a village parking permit ($400 for non-residents), and all require a town permit ($375 for non-residents). Only 3,100 village permits are sold, but the town permits have never run out, and most homeowners and hotels supply a permit for summer renters. Also, if you're bringing Fido, note that pets are not permitted on the beach between 9 a.m. and 6 p.m. from May 15 to September 15, and should be on a leash at other times.
You can visit Main Beach even if you don't have that parking permit. During the week, pay a daily rate to park in the massive lot ($30), though note only 60 spots are held for non-permit-holders on weekends. Main Beach is the closest beach to East Hampton's downtown (you can walk there in about 25 minutes), and the Free Ride shuttle goes directly there, so it's one of the more crowded beaches. Parents feel safe with its three lifeguard chairs, and kids love it for the Chowder Bowl, the concession stand that offers everything from clam chowder to chicken fingers to ice cream. Enjoy your snacks from a picnic table on the shaded deck, and afterward, borrow a book from the makeshift lending library of used books. Additional amenities include bathrooms and an outdoor shower.
For less of a scene and a more low-key visit, head Two Mile Hollow in East Hampton, which has long been known as a predominantly gay beach. Similar to Main, you can pay for daily parking ($30/day) during the week, but only 40 spots are held for those without a permit. The facilities, which include bathrooms and an outdoor shower, are clean and well maintained, and this beach also has a lifeguard stand.
Both families and young singles alike flood to Atlantic Beach in Amagansett, with its large parking lot and daily parking during the week ($25/day). Amenities include lifeguards, outdoor showers, and bathrooms (they may not be as pristine as those at Main or Two Mile Hollow, but they'll do you just fine). Rent umbrellas or beach chairs for the day or dig into a burger and a milkshake at the Beach Hut.
Amagansett's Indian Wells is the local favorite, as non-residents can't park there (you'll need the town-resident permit in order to park). There's a simple concession stand housed in a beach trailer (think candy bars and chips) and a shaved-ice truck. On weekends, aim to arrive around 11 a.m., just as the junior-lifeguard program ends and parking spots open up.
If you have young kids who aren't quite ready to dip their toes into the ocean waves, grab a town permit and head to Albert's Landing, one of East Hampton's bay beaches with lifeguards, a roped-off swimming area, and bathrooms. But Albert's isn't just for little kids — ocean-certified lifeguard and coach Tim Treadwell of Treadwell Training leads an open-water-swimming training program for those looking to improve their skills and people training for triathalons (classes are offered Monday, Wednesday, and Friday; can be purchased at the YMCA in East Hampton).
Beach Eats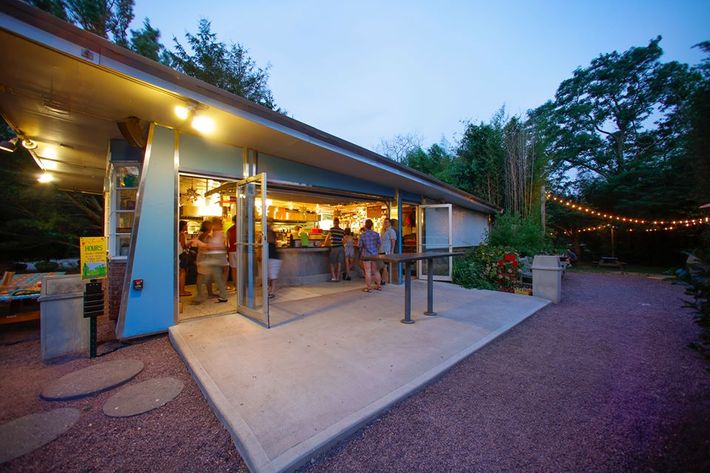 Grab and Go
If you're coming off the train in East Hampton, head right across the street and pick up a hefty pressed focaccia with fillings like grilled zucchini, mozzarella, and pesto ($10) at Villa Italian Specialties or an egg sandwich at Mary's Marvelous ($8). Or stop by Carissa's bakery for a loaf of homemade bread (the staff even grow the grains) to make sandwiches to bring to the beach later. Bring your gluten-free and vegan-friends to Simply Sublime for almond-butter-banana smoothies ($8), and pick up the best gazpacho in town at The Golden Pear. Stop by Round Swamp Farm for everything from homemade berry muffins to lobster salad, but be warned: Many items don't have prices listed; you'll inevitably spend a fortune. A delicious fortune, but still a fortune. In Amagansett, pick up a dosa at Hampton Chutney (from $9), a honey-cinnamon latte at Jack's Stir Brew ($5), and cool off with some fresh-pressed watermelon juice at The Squeezery ($6).
And there's no shortage of locally sourced produce. Pick up local fruit, veggies, and more from Balsam Farms, Amber Waves Farm, Ashawagh Hall (Saturdays), the East Hampton Farmers' Market (Fridays), and check out the live music (and great pizza) at the East Hampton Evening Farmers Market (Thursdays). And stop by Stuart's Seafood Market for some just-caught fish.
Casual Dinner
Even if you're still a little sandy from the beach, you'll feel right at home over a pizza at Sam's, where Andy Cohen is a regular (pies start at $10); burger and fries at Indian Wells Tavern ($14); baja fish tacos at Bostwick's Chowder House ($22); burritos at La Fondita ($10), which is owned by the team behind Nick and Toni's; and a platter of pulled pork at Smokin' Wolf BBQ ($22).
Get Dressed Up
Head to Cove Hollow Tavern, which opened this summer and comes from the team behind the famed Vine Street in Shelter Island, for homemade pickles ($9), wood-fired steak ($34) and diver scallops ($44). East Hampton staple Nick and Toni's is an entity for a reason, though locals know to come off-season for the nearly-full-menu price fix. The seafood-filled Wölffer Kitchen Amagansett offers a solid wine list that includes over 20 varieties from the Wölffer vineyard in Sagaponack. And on the terrace at Fresno Place, order the s'mores tart with a housemade graham-cracker crust ($12).
What to Do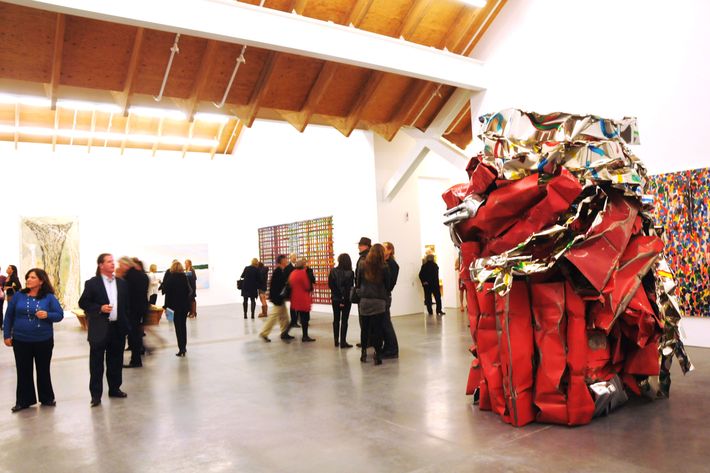 Book a stand-up-paddleboard lesson (from $60) with Jessica Bellofatto, who also offers SUP-yoga classes (from $60) and full-moon SUP-yoga-and-meditation classes ($125) through her JBYoga studio. Or take a surfing lesson with Jesse Spooner of Montauk Boardriders (it's the place Hannah goes to on Girls; starting at $160). If you'd rather go out on your own, rent a paddleboard (starting at $60), kayak (starting at $85), or surfboard (starting at $40) at Khanh Sports, where you can also pick up scratch shirts and boogie boards, and browse more than 4,000 pairs of sunglasses.
Exercise junkies will feel right at home in classes at the Hamptons outposts of Soul Cycle, Flywheel, and Barry's Bootcamp. Or try local studios: Take a circuit and HIIT training class at Truth Training ($35) or yoga classes at Mandala in Amagansett ($25). To break up your city routine, try a beach workout ($110) or a cycling trip through the backroads of the Hamptons ($90) with Minardi Training.
Art lovers can walk on Jackson Pollock's original paint-splattered floor on a guided tour ($10) of the Pollock-Krasner House and Study Center, a studio/gallery in the home he shared in the '50s with the artist Lee Krasner, his wife. Drive 20 miles west to Southampton to see the "Light|Waves" mixed-media installation at the Parrish Art Museum ($12 for nonmembers, free for students and children under 18). Or catch a performance, reading, or film screening at Guild Hall — upcoming events include a talk with Eleven Madison Park chef Daniel Humm (whose East Hampton pop-up, EMP Summer House, runs through Labor Day) and a staging of Angels in America with Andrew Garfield and Nathan Lane. Once you've been properly inspired, enroll in one of the art classes at The Golden Eagle, such as beginning oil and watercolor ($55); kids can come for art hour ($25). For shopping, head to Gloria Jewel and Henry Lehr for clothing, Love Adorned for jewelry and gifts, and French Presse for home goods and linens.