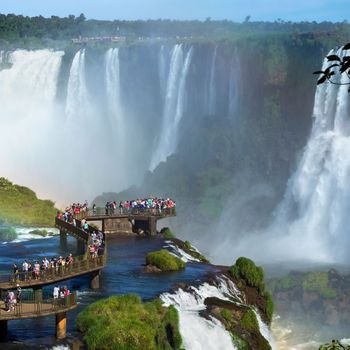 Iguazú Falls is the largest waterfall system in the world.
Photo: Rodrigo M Nunes/Getty Images/iStockphoto
Scraggly dogs with rust-colored coats run wild in Puerto Iguazú, Misiones, their hair tinged with the land's notorious red soil — in the tiny northeastern province in Argentina, everything is: The dirt latches onto walkways, to the exterior walls of white-painted buildings, to the tops and sides and bottoms of your shoes. When it's particularly rainy, the soil (which gets its tint from a high concentration of oxidized iron) bleeds into the Iguazu River, turning the water a murky red-brown.
This sort of dynamic, where what is natural is inseparable from its developed surroundings, is everywhere. In texts to friends with pictures of racoonlike cuatí and black swifts plunging into one of the world's tallest waterfalls during my week in Misiones, I repeatedly described the province as a place that feels like the rainforest zone in a zoo, a comparison that seems as inane as it does precise. With over a thousand species of mammals, preserved Jesuit ruins, the world-famous Iguazú Falls, and indigenous Guaraní people, the region appears to have its integrity intact.
In the past two decades, Puerto Iguazú's tourism industry has skyrocketed, and today the province welcomes more than a million tourists a year. Though this type of growth can jump-start a suffering economy, it tends to simultaneously deplete natural resources, put pressure on local infrastructure, commercialize invaluable cultural traditions, and beckon outsiders who disrespect the land and locals. Tourism is an industry that survives through exploitation and it often most impacts places that are just the right combination of beautiful, untouched, and vulnerable — exactly how one could describe Misiones. While the main tourist city of Puerto Iguazú has struggled to alleviate issues caused by the booming tourism industry as a whole — the displacement of indigenous people, a suffering sanitation system, and low food supply — there is no lack of people working to combat already-existing sites of exploitation. Many of these leading advocates just so happen to be in the tourism industry themselves.
In Iguazú National Park, which sees over 1.5 million tourists a year, plastic water-bottle tops and crumpled admission tickets don't cover the sidewalks. At hotel Amérian Portal del Iguazú, warning signs about recognizing and preventing the sexual exploitation of women and children are posted outside elevators. In the middle of the jungle, just off the Uruguay River's Paraíso tributary, the Yucuma Lodge preserves 10,000 hectares of its property for Guarani communities and sends employees every day to walk local children to and from the one school, nearly five miles away.
Both of these hotels boast about their certification from the Rainforest Alliance, an NGO that has been working toward conserving biodiversity by bettering land use and business practices as well as pushing consumers to act in more sustainable ways. Recognizable by a green frog logo, which shows up on products that meet sustainability guidelines, the organization has started to certify hotels and lodging services. The guidelines include protecting biodiversity and ecosystems, combating climate change, ensuring tourist activities respect local cultural traditions, improving the livelihood of those who work in the industry, and "embodying the principles of sustainability as the fundamental basis and philosophy."
While Rainforest Alliance has worked with local hotels to solidify their commitment to sustainability, it has just started this uphill battle in an industry that has aggravated the city's weak infrastructure and violated the rights of those born in the area for more than a decade. Before the turn of the 21st century, most visitors to Misiones would stay in downtown Puerto Iguazú, where 1960s-built, family-run lodgings dominated the the town, then with a population of about 40,000 people. But in 2002, facing a rising rate of tourists, the government approved a tourism development in the Selva Iryapú, a 600-hectare plot of protected land where Guaraní communities resided. The city council of Puerto Iguazu okayed the development without any discussion with Guaraní leaders. Today, more than ten major five-star hotels have opened in those 600 hectares located a 25-minute drive from downtown, and those who tend to stay at the luxury resorts don't often leave the resorts.
"We have a tale of two cities here," Jeffrey Roberg, the author of Tourism in Northeastern Argentina: The Intersection of Human and Indigenous Rights with the Environment, tells me. "There's the older Puerto Iguazú, where there are stores and restaurants, and then you've got the new Puerto Iguazú in the 600 hectares."
The increasing number of tourists in Iguazú has led to increased demand for lodgings, many of which have been built by major corporations — Hilton, Loi Suites, and Iguazú Grand, among others. "Although ideally the building of more hotels with more beds available will bring more tourists, by and large it has not been the locals who have been able to benefit from this new growth," Penny Seymoure and Roberg write in Tourism in Northeastern Argentina. Furthermore, these five-star hotels tend to be farther from downtown Iguazú, and therefore tourists are less likely to put their money toward local businesses.
Therefore, while locals and businesses may advocate for and pursue sustainable practices, much still needs to be done to combat sources of exploitation. In Roberg's opinion, "the government needs to treat the Guarani" better, he tells me. "The other questions that need to be asked are 'Where are we in terms of treatment plants and sanitation [and] electricity?' With a million tourists visiting, if you haven't built up infrastructure to support that, that's bad."
But not all lodgings and travel-related businesses have acted irresponsibly. While touring various sustainable businesses in Misiones, I dug my hands into bowls of wooden pellets, a type of biofuel produced by the local company Lipsia, destined to be burned in massive generators at Hotel Amérian. And R.A.-certified lodgings employ locals and have responsible waste-disposal protocols. But what they do especially well is root sustainability initiatives in locale.
In Iguazú, I hear business owners referencing la sostenibilidad even where there is no profit to be made off it — notably, in regards to incorporating practices of responsible tourism to combat the tourism industry's rampant problem with sexual exploitation. In the Iguazú region, three countries share a border — Argentina, Brazil, and Paraguay — and in addition to attracting hundreds of thousands of tourists every year, lax border control and oft-complicit law enforcement make the area a hotbed for sexual exploitation. The growth of the tourism industry has augmented the growth of sexual exploitation of vulnerable populations, notably children. (A recent report noted the problem was worsened by corporate travelers whose "after-hours 'meetings'" were "characterised by alcohol and sex"; plus inconsistent laws and definitions of consent in different countries of the region.) The R.A. and these hotels aim to combat that.
At the very edge of the tri-region border, Hotel Amérian Portal del Iguazú hangs framed copies of its sexual-exploitation policy outside elevators on the ground floor. Before gaining access to La Aldea de la Selva Lodge's website, you must read a pop-up window that declares its commitment to the International Campaign for the Prevention and Eradication of Commercial and/or Sexual Exploitation of Children and Adolescents. In the centrally located Hotel Saint George, guests are required to sign forms acknowledging the hotel's zero-tolerance policy regarding exploitative relations when they're checking in. Since enacting this policy in 2014 with the support of the Rainforest Alliance, the hotel estimates that some 10,500 people have read their policy. As of November 2017, 19 people had rejected it — and thus were turned away from the hotel.
Lisandro Lozina, the supervisor of reservations and trade at Hotel Saint George, says the hotel at first feared associating the location with sexual exploitation but decided that the tourism industry must break its silence on this issue. He acknowledged that the locals who own the hotels could be extremely effective in pressuring government workers to address the issue.
"Companies have brought the problem of sexual exploitation to the table, and it has worked because some of Argentina's biggest families own these hotels," Lozina says. "Local officials need their support."
Tourism groups turn, too, to local schools to work on sustainability initiatives. During my trip there, I visited a small room in Escuela Provincial N° 711, an open-air public school off a small dirt road in Puerto Iguazú, where 30 sixth- and seventh-grade students in white uniforms were meeting to bring another problem to the attention of the government. While the two grades don't normally share the space, the day I visited, they were together to talk about their sustainability and waste-removal program. Two years ago, the family-run tourism company Iguazu Jungle partnered with local schools to introduce ecofriendly practices to kids as young as 11 years old.
"We feel that children should know how waste should be managed," says Arial Soria of Iguazú Jungle. "It is our responsibility to teach them because tourism creates a lot of waste."
According to Iguazú Jungle's calculations, Puerto Iguazú produces 70 to 80 tons of waste every day during tourism off-seasons and 120 to 130 tons during the on-seasons, but only 3 percent of the waste is recycled. Twenty-six schools around Misiones, Escuela Provincial N° 711 included, want to see that percentage increase. With the help of Iguazú Jungle, the schools started a five-year-long program during which students rethought the province's disposal bins to better reflect how the municipality sorts waste — and the government paid attention. Just this past year, the children's proposed labeling was adopted.
This deep respect for the land is evident in every brim-filled recycling bin and empty trash can, every wooden pathway, and every bathroom's reminder to conserve water. At La Aldea de la Selva Lodge — which actually exists within "the 600 hectares" but strives toward being as sustainable as possible — the outside paths from the main lobby to individual cabins are raised above the Paraná Rainforest floor so as to not disturb the ground ecosystem, and both the paths and cabins are built around century-old trees and nature. Mocona Virgin Lodge by DON, the only lodging in the Yaboti Biosphere Reserve, similarly constructed pathways. Conscious of both the biome as a whole and specific animals like the critically endangered jaguar, both lodges make their impact on their surroundings as low as possible, and that effort starts with the literal base of the rainforest. Of the 330 million acres of land that the Atlantic Forest once spanned across Brazil and Argentina, less than 10 percent of the biome exists in South America. In Argentina, the majority of the biome — the second most threatened on Earth — lies within Misiones.
Over the phone, Claudia Amicone of Fundación Vida Silvestre, a wildlife foundation in Argentina, explains that access to water, unreliable electricity, and waste management are still big issues for Misiones. Long before the Rainforest Alliance touched down in the area, Amicone would certify hotels in the region. While Vida Silvestre has since stopped that practice, it launched the "Checkout for Nature" initiative in 2009, which allows visitors at complying hotels to donate money for that will go toward "conserving biological biodiversity, promoting the sustainable use of natural resources, and encouraging responsible consumption."
"I think the tourism industry is the one that's starting to move local authorities to do something about sustainability in tourism," she says. "A lot of it is thanks to the Rainforest Alliance, which is asking hotels to do the right thing, not just in the hotel but outside the hotel."
While major governmental action is required to combat the current threats to the climate, environment, and population — divestment from fossil fuels, better protections for workers, and, as some economists would argue, a tax on carbon emissions — the work of family-run businesses and locals in Misiones is nonetheless inspiring. What is perhaps the most striking initiative to witness is that despite being ultimately in competition with one another, some of the hotels have formed an alliance that puts pressure on suppliers to provide them with everything from soap to printer paper that meets sustainability requirements. At an industrywide meeting a few years back, some of the managers of the 11 Rainforest Alliance–certified hotels asked each other how they found adequate products from businesses that met the NGO's 204 requirements. These businesses can't use ingredients banned by the World Health Organization, employ children, or submit workers to unfair working conditions, among other restrictions, and given the small size of the province, owners realized that to have their needs met, they had join together to make their demands clear.
"This is a small town," says Marcelo Maidana, the supplies manager at Iguazú Jungle Lodge. "The point of this initiative is to disseminate what it means to do sustainable business."
The alliance recently started requesting recycled paper (previously unavailable) from the printer store. When Juan Manuel Velasco, the president of Fundación Ecologista Verde, went to the store in November, a worker said that the store was permanently switching over to using recycled paper — a change that will result in the use of ecofriendly paper in businesses outside the alliance. Another result of the alliance's pressure is that Johnson & Johnson, the major corporation from which the hotels buy various toiletries, recently brought technology into Puerto Iguazú that allows hotels to recycle the half-used bars of soaps left in hotel rooms.
Observing this understanding of sustainability is a refreshing break from the concept's interpretation in America: an altruistic idea that's been watered down into a brand-favorite buzzword pasted on granola-bar boxes and coffee filters, intended to beckon environmentally conscious individuals with money. It's inspiring to see the potential of the concept — even if exists in a tiny part of South America, no bigger than Maryland, where the dogs run wild and the dirt is red.
History
of
Conservation
Movement
in
Argentina
The beginning of Argentina's conservation movement is typically traced back to the work of Francisco P. Morena, a naturalist, anthropologist, and geographer who started environmental efforts in the late 1900s. At the turn of the century, Moreno was working as a government-appointed expert in the border conflict between Argentina and Chile, during which he disproved Chilean claims to the continental divide in South America's Southern Cone. For his achievements, the government granted him 25 leagues of land around Lake Nahuel Huapi in 1903, turning him into just the type of landowner he typically criticized. So, months later, he returned three square leagues to the government to be preserved as what would become one of Latin America's first national parks.
"By Moreno's account, it would be the state's, and not individuals', responsibility to preserve the landscapes in a manner guided by scientific understanding as colonization had clearly demonstrated man's capability of destroying nature," historian Frederico Freitas writes.
"It seems that in the very early years, when the bureaucracy of conservation was not in place, the ideas of conservation and the drive to save the planet were nurtured by private citizens outside the main political framework," Arthur Oyola-Yemaiel writes in The Early Conservation Movement in Argentina and the National Park Service.
In Misiones specifically, it was Carlos Thais, an architect and naturalist, who worked on the legal consolidation of lands that became Igauzú National Park. Because of Thais's advocacy, as well as the relentless labor and activism of environmentalists in the 1930s, Argentina passed Law No. 12,1203 in 1934, which not only created Iguazú National Park but also institutionalized the administration of the country's parks under the Dirección de Parques Nacionales.
And since, Misiones in particular has implemented extensive regulatory framework related to the environment. In the 1960s, a time of rapid deforestation as a result of agricultural demands, the province passed a number of laws that regulated the use of privately owned and provincially controlled forests and codified that it's in the public interest to ensure optimum use and protection of natural resources. In 2003, Misiones adopted a statute, modeled after one adopted by the Argentine Constitution in 1994, that recognizes the land rights of its indigenous people in its provincial constitution, though the relationship between the government and indigenous people remains contentious.
However, to this day, Argentina does not have a uniform conservation policy.
Sustainable tourism is not synonymous with ecotourism or green tourism. First defined by the Brundtland Commission in 1987, sustainable development is that which "meets the needs of the present without compromising the ability of future generations to meet their own needs." It seeks to balance economic development, social development, and environmental protection. While ecotourism prioritizes the welfare of local people, along with the environment, it does not take into consideration economic viability of locals. Green tourism, a term first used by researchers in the 1980s, simply references hotels that promote sustainable practices on the property, such as recycling, reusing towels, and turning off the sink while brushing your teeth.