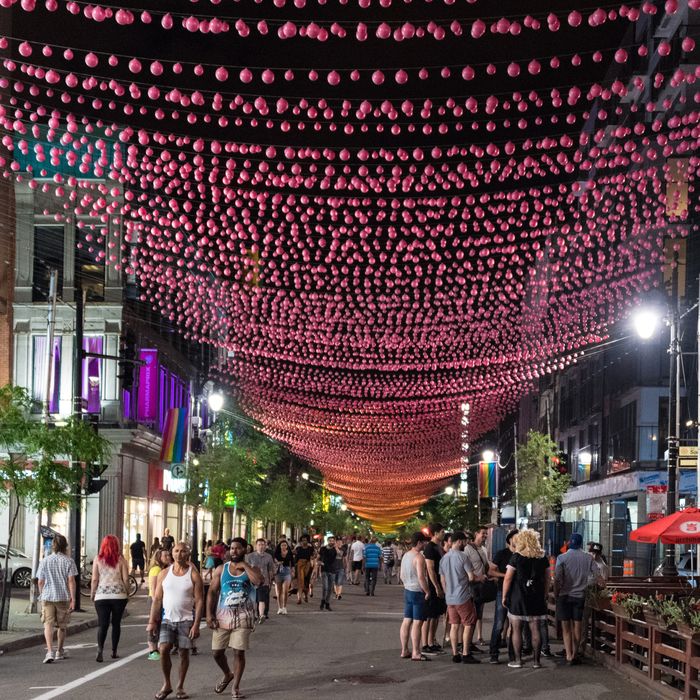 The streets of Gay Village are strung with pink bulbs for an annual
art exhibit
(they've also been rainbow in the past).
Photo: Roberto Machado Noa/LightRocket via Getty Images
At 376 years old, the onetime Colonial French fur-trade town has morphed into a cosmopolitan city with classic European sensibilities — and it's only an hourlong flight from New York.
Where to Stay
Along the old port of the St. Lawrence River, drop your bags inside the new William Gray (from $189) in a slick, eight-story glass tower atop two restored 18th-century houses. Inside, the 127 rooms are outfitted with local art, concrete ceilings, rich woods, and black-metal light fixtures; bathrooms are stocked with Frette towels and ample Le Labo amenities. Early evening, folks gather in the lobby's warm "living room" for a game of pool, sip punchy coffee at Café Olimpico, and huddle on the rooftop, with slamming views of Place Jacques-Cartier, for drinks.
In the hip Plateau barrio, the stately, pearl-white Casa Bianca (from $129), an airy five-room bed-and-breakfast, sits inside a 1912 French Renaissance house. Think squeaky hardwood floors, turret windows, wainscoting, and late-18th-century molding. Nab a room facing Parc Mont Royal and wind down in roomy claw-foot tubs (bathrooms are also kitted out with porcelain sinks). In the mornings, the organic vegetarian Continental breakfast serves yogurt and farm eggs cooked to order. Two words: Book early.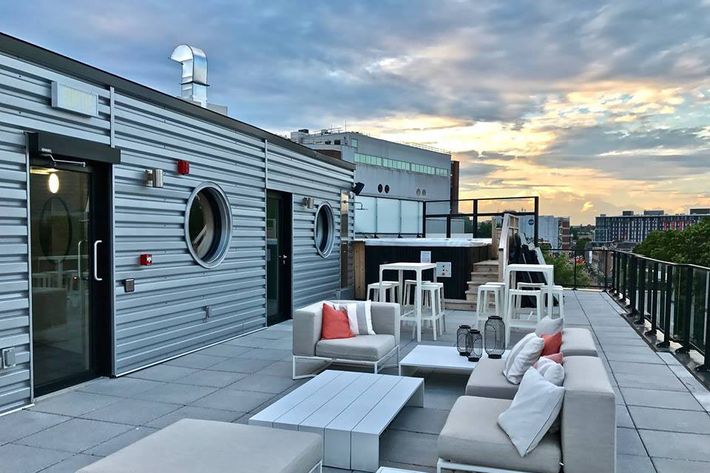 Billed as a DIY getaway (there are self-serve check-in kiosks in the lobby), Boxotel, a 20-studio venue, feels like the love child of an Airbnb and a sleek industrial hotel. Boxy minimalist wood-and-concrete rooms (from $125) showcase exposed pipes, plywood, cheery art, modular furniture, and a kitchen with handmade pottery. At night, Murphy beds fold down, and there's an in-room washer and dryer. Those looking for more space should book the two-story studio with a rooftop terrace ($230).
Where to Eat
Montreal has long been a meaty city, but a number of vegetable-focused restaurants are taking hold — attracting even the most devoted carnivores. 
In Little Burgundy, a few doors away from the coveted institution Joe Beef, the narrow, wooden, whitewashed Le Vin Papillon (no reservations) writes its changing menu on chalkboards and features a bang-up wine list. The small plates have including items like seven-layer veggie dip, tempura-fried ramps, rotisserie cauliflower, and black-currant soft serve.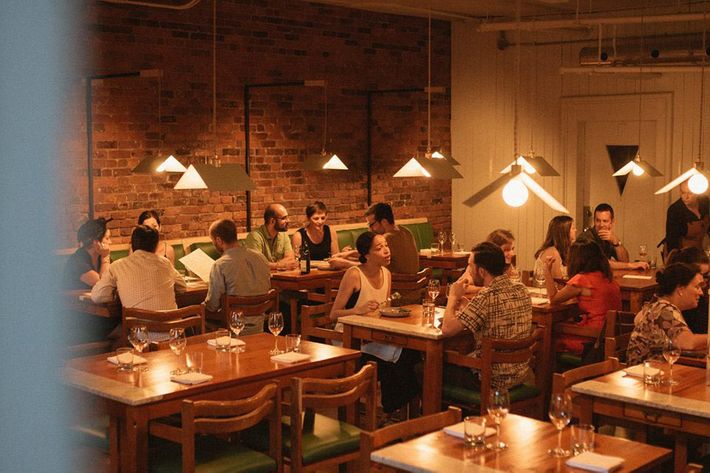 Inside a former Sunday school, Candide (named for Voltaire's book) shuttles high-end vegetables from its open kitchen to the wood tables that mark its spare rustic décor. Chef John Winter Russell's seasonal tasting menu has included culinary root-veggie delights like Boletus mushrooms, carrots, and garlic and a trio of squash, onion, and sweet habanero alongside a strong wine program. For dessert, there might be a cheese course or apples with ginger and maple.
In Old Town, a second spawn of Lov doles out a coveted threesome — local, organic, and vegetarian food — in its shabby-chic, whitewashed-brick space, perked up with leafy greenery and terrariums. Think açai bowls, kale mac and cheese, and a veggie burger best served with a heaping side of Canada's famed poutine: a welcoming pile of crisp fries, cheese curds, and a gravylike sauce.
Where to Drink
A mix of new and old-school bars with tiki and Kremlin vibes.
Arcade Fire fans unite. In Gay Village, at the bilevel Agrikol (named for the French Caribbean rum), order a Ti'Punch (Haitian rum, lime, and fresh cane syrup) and let your winter woes melt away. If it's dancing you seek, the venue's sibling Ti Agrikol features a lineup of stellar DJs (including many from the popular Moonshine-collective parties). And, come gentler weather, the backyard houses a beachy café and lush terrace.
With a great (and reasonably priced) French and Italian wine list, the low-ceilinged, wood-paneled Norah Gray is a cozy spot for a drink, like the zesty All Spruced Up, mixed with rye, Citron, spruce syrup, and Angostura bitters. Snack on dishes like crostini with rapini pesto, house-cured ham, and grilled figs.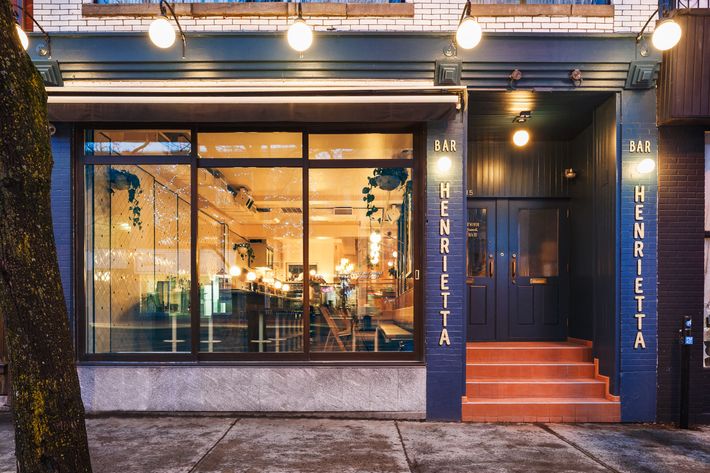 Bar Henrietta in Mile End is a charming Portuguese-themed lounge where you'll uncover a cozy meld of hexagon subway tile and warm wood accents — plus natural wine, cocktails, Quebec brews, and fresh seafood and snacks like oysters, seasoned nuts, and lemony spiced popcorn.
Pretend you're a Kremlin spy inside the narrow, dimly amber-lit Le Kabinet, a venue pouring potent coffee, wine, and cocktails. Survey the hip crowd with a concoction like the Bloody Czar (Vodka Russian Standard and Clamato maison) or nurse a Rasputin, mixed with Bulleit bourbon, Lillet Blanc, liqueur d'orange, and Citron.
Expert's Tips
From Bernadette Houde, co-owner of Alexandraplatz, a seasonal beer garden in Marconi-Alexandra, and the small, decade-old lunch counter Dépanneur le Pick Up.
An adorable pastry shop on Laurier, Patisserie Rhubarbe, serves the most perfect lemon pie and delicious little pots of panna cotta with a caramel sauce, or even granola, if you want that "healthy" feel.
A new art space in Marconi-Alexandra called Centre Never Apart has a wide range of programming from visual art to sound baths. Watch out for the Legend series, which shines light on important queer artists from Canada and beyond.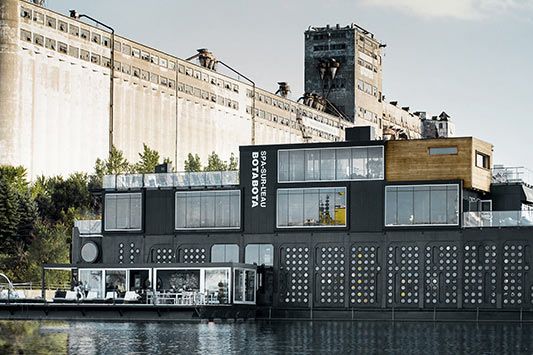 In the old port, the Nordic spa Bota Bota is literally on a boat. It's a sure thing any time of year, but I particularly love it in the dead of winter. You can sit outside on the upper deck in the hot tub in a bikini in the middle of the St. Laurent. It feels amazing, and the view is spectacular.
For contemporary Vietnamese food on St. Laurent, Caféden has perfect chicken wings (I recommend the split plate), and the green-papaya salad is fresh and satisfying. There's a great wine list and some fun cocktails.
Keep your ear to the ground to see if the ad hoc collective Taking What We Need is putting on any events raising funds for trans-feminine women in Montreal. It could be comedy, it could be a dance party, but it's always a good time for an excellent cause.
A bit of a trek, but it's worth it: Le Coq de l'Est (about a 30-minute drive from downtown) combines rotisserie chicken and Pakistani flavors to amazing results. Go for the tandoori chicken and poutine for something that feels like classic Quebeçois fare, but even better.
Drawn and Quarterly is a book publisher and shop in Mile End. They have all the books you need, stuff for kids, the most amazing birthday cards, and they host readings all the time. The best.
You can finish off at the Black Eagle for the some old-school gay charm in the village. It's about beer and gay porn playing gently in the background.