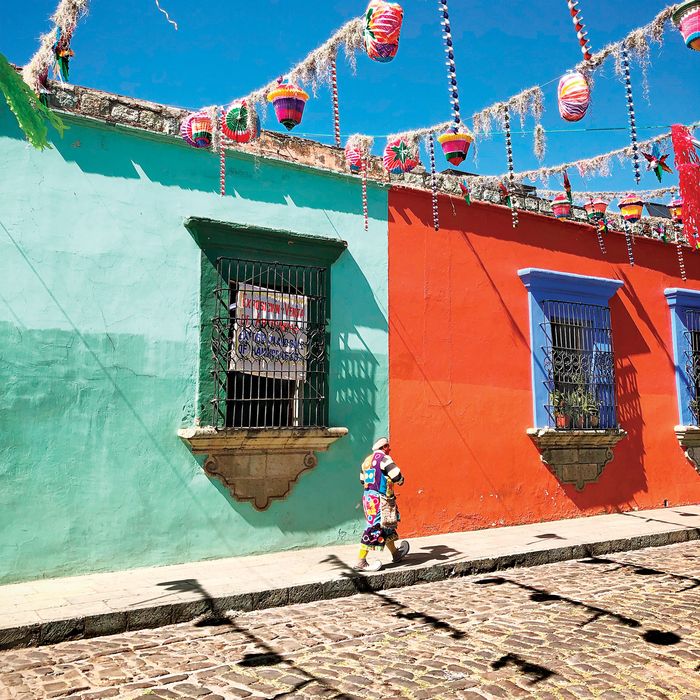 Oaxaca has always been a destination for Mexican travelers and foreigners seeking a quieter, preserved version of the country's indigenous and colonial history. But there's been a spike in tourism (foreign visits increased ​22 percent in 2017 over the previous year), which makes sense considering the near-peak levels of popularity that Mexico City — just an hour flight away — has seen. In Oaxaca, the weather is always agreeable; open-air markets and sun-faded cantinas line cobblestoned streets; the local cuisine is wildly varied; and, in the past few years, the food and mezcal scenes in particular have really taken off. The latter is in large part owed to an exportation boom of the rural-village-derived liquor (between 2011 and '17, local production quintupled; 63 percent went straight to the U.S.). Meanwhile, new restaurants like Criollo — opened in 2016 by Mexican chef Enrique Olvera of Mexico City's famed Pujol and New York's Cosme — are now on most travelers' must-visit lists. And a few foreign-backed artist residencies, like Pocoapoco and Arquetopia, have popped up in town, joining longtime local counterparts. But this surge in tourists and expats has meant that newly priced-out locals can hardly afford to live downtown anymore. And the area is not without occasional violence: Countrywide, 175 politicians seeking to eradicate corruption, including a mayor in Oaxaca, have been killed, presumably by organized crime. Still, Oaxaca's capital city offers a much more mellow experience than bustling CDMX, and locals and visitors alike are cautiously holding out hope that it stays that way.
1. Oaxaca by the Hour
When documentary photographer Freyna Lucero gets a day off, he spends it wandering from the crumbling cantinas to the underground galleries.
9 a.m. I'll start the morning at Casa de la Chef (Calz. de las República 302) in Centro, a little tucked-away spot. They have amazing chilaquiles with chile pasilla as well as delicious postres (pastries) and fruit water.
10 a.m. I'll go to Hierba Dulce (Calle Porfirio Díaz 311), a woman-owned vegan restaurant, to sip a couple mezcals to help with digestion.
11 a.m. Hilo de Nube (Calle Amapolas 619A) is a shop in Reforma that sells hand-embroidered huipiles (traditional dresses or shirts) from a Mixe village called San Juan Guichicovi. The shop works directly with the makers, ensuring a fair price for them.
Noon Taller-Galería Código Tonal (Av. Benito Juárez 107), an underground gallery and workspace founded in 2016 and run by printmaker Issvan Duarte, is usually on my itinerary. There's a big communal table where local artists work.
1 p.m. From there, I'll head down to Ollin Café (Calle Melchor Ocampo 710). It's a little coffee shop within a language school — they offer Spanish classes and art-history courses. The pour-over coffee and espresso are made with beans from the southern part of Oaxaca.
2 p.m. Centro Fotográfico Manuel Álvarez Bravo (Calle de Manuel Bravo 116) would be my next stop, to take in the work of other local photographers. The gallery space, right in the heart of town, has a small, plant-lined interior courtyard with a reflection pool.
3 p.m. Next, a stopover at Salón de la Fama (Calle Porfirio Díaz 115), a classic Mexican bar, a bit worn and not fancy. I'll have a beer or maybe some brandy and wait until I get hungry.
4 p.m. We eat lunch late here. I'll grab something at the veggie-focused Boulenc (Calle Porfirio Díaz 207); their prices are super-accessible. The eggplant pizza and homemade bread are fantastic.
5 p.m. When I have the time, I'll take the 45-minute trip by taxi to the little town of San Agustín Etla, where there are lots of galleries. At Centro de las Artes de San Agustín (Av. Independencia), there's Oaxacan oil and watercolor paintings, screen printing, audiovisual work, and documentary photography, but also work from foreign artists who have spent time here. There's a little forest on a hill, ideal for watching the sunset.
7 p.m. Once back in the city, I'll swing by Pollos Bar (Calle José López Alavez 1321), one of the most traditional cantinas in the city, and listen to the jukebox, which has a lot of cumbia. I like to put on Super Grupo Juárez and La Furia Oaxaqueña. I'll always run into some friends there.
2. Chef-Approved Chicharrón
From the markets and street-corner stands to the city's new wave of fusion restaurants.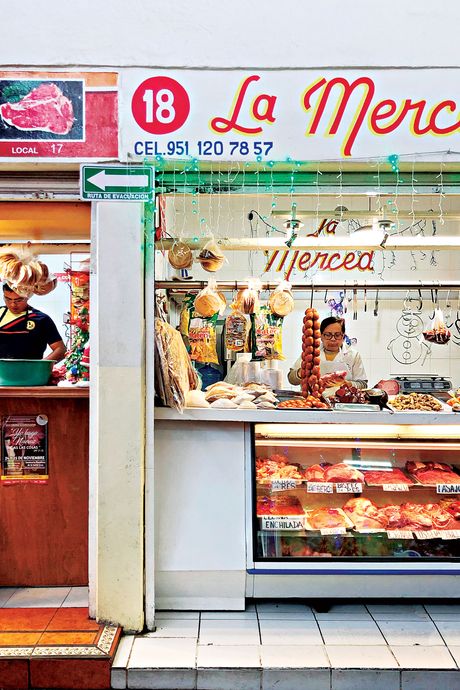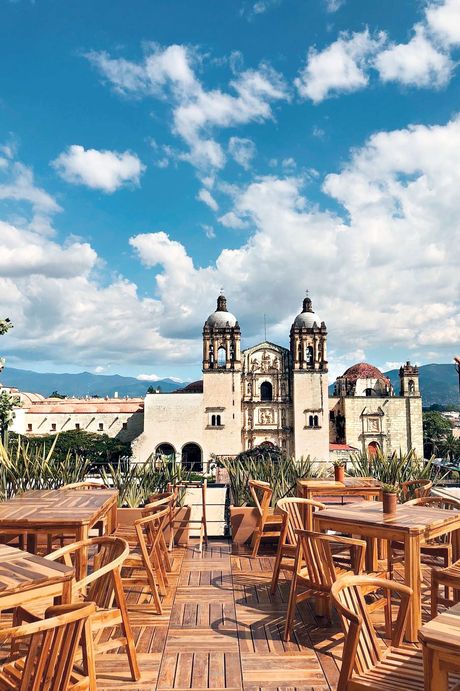 Breakfast
Quick: "There's a little stall with empanadas in the Mercado de la Merced (Nicolás del Puerto at Murguía) called La Güera, where the tortillas are very thin and filled with things like flor de calabaza (squash flower), beef tongue, and salsas. It's a quick breakfast option. They cook it all on a comal, a large iron skillet over an open fire."
Sit-Down: "Go to Itanoni (Av. Belisario Domínguez 513), a restaurant started by Amado Ramírez that only serves things made with corn. They have various comales, where they cook up blue and yellow corn tetelas, triangular pockets of masa filled with beans, in a stunning outdoor space with communal seating." —Celia Florían (Las Quince Letras)
Lunch
Quick: "Usually my family and I go to the markets in the surrounding pueblos, but if we stay local, we head to Mercado 20 de Noviembre​ for tasajo (grilled smoked beef) or chorizo. It's also known as the mercado de las carnes ('the meat market'); each stall is so good. Go in the Calle Aldama entrance and pull up a plastic chair where you can."
Sit-Down: "For a special occasion, we'll go to Pitiona (Calle de Ignacio Allende 114), where the staff pairs mezcal with dishes like the rib-eye chicharrón memela (a tortilla mixed with fried pork skin) or the peanut mole. Eat on the terrace, which overlooks the Santo Domingo church and the mountains." —Deyanira Aquino Pineda (La Teca)
Dinner
Quick: "If I go to eat by myself, I go for tlayudas (giant tortillas topped with cheese, meat, and coleslaw and folded in half) at Tlayudas Doña Flavia (Av. Belisario Domínguez 915-A). It's 25 minutes from downtown by car, on Highway 190 on the way to Santa María del Tule — but the staff is friendly and the quality is consistently great."
Sit-Down: "If I'm with my wife, we'll go to Criollo (Francisco I. Madero 129).
They change the menu daily. On different occasions, the huachinango (snapper) with mole and soft-shell-crab tacos have been phenomenal. The indoor-outdoor seating and the chiminea outside make for a very romantic setting." —José Manuel Baños (Pitiona)
Plus some late-night suckling pig: "When you talk late-night, you're really talking about eating in the street. Lechoncito de Oro (Calle de los Libres at Murguía) is a food truck that opens at 8 p.m. and is always packed. They only serve one thing: lechón (suckling pig) with crispy chicharrones (fried pork rinds) and a very spicy, delicious green salsa. You order it as either tacos, torta, or tostada." —Pilar Cabrera (La Olla) 
3. Want to Rile a Oaxacan?
Broach one of these hot topics.
Appropriation of indigenous designs
Officials at the Museo Textil de Oaxaca note about one case of plagiarism per year in the state and more nationwide. French designer Isabel Marant allegedly copied the Tlahuitoltepec blouse; Spanish company Intropia's "embroidered Aztec" minidresses use a motif similar to an ancestral design of the Chinantec village of Tlacoatzintepec (not related to the Aztecs). Villages have had mixed luck in court; in some cases, the designs were ruled to be in the public domain.
Tulumification (see here)
The tourism boom Oaxaca (population 260,000) has experienced in the past few years has caused rent and restaurant prices to soar, especially downtown. Mexico's Secretariat of Tourism reported that travel to the state capital brought in over $21 million in 2017. As retired gringos and digital nomads move in, locals have been pushed out of the costlier historic neighborhoods of the Centro, Jalatlaco, and Xochimilco.
Teacher protests
Oaxaca's teachers union, Section 22, which happens to be majority indigenous, has a history of protests — an effort to bring more resources to local schools. The biggest, most violent wave occurred in 2006 (the military got involved; 17 died). Things have settled down, but last June the union set up a blockade outside the airport.
4. Where the Locals Would Stay
If they weren't locals.
$ $ $
El Callejón, hotelelcallejon.com, from $170
"This is one of the newer hotels in the city — not that many people know about it. It's tucked away in Xochimilco, one of the oldest neighborhoods in town. There are just a few rooms; the architect-owner used traditional materials like adobe, clay, and stone." —Héctor Audiffred, bar owner (La Popular and La Otra)
$ $
Hotel Azul, hotelazuloaxaca.com, from $142
"It used to be a huge private home. There's a terrace that overlooks the city, and the interior courtyard, which is lined with organ-pipe cacti, is great for relaxing. The service is top-notch, and the staff is always ready with a local recommendation." —Eva Lépiz, photographer and location scout
$
La Calera, lacalera.org, from $40
"It's kind of a hipster place, a little away from the center, in the Santa María neighborhood. Housed in a former lime factory, it has high, lofted ceilings. Oaxaca-based painter Willy Olguín helped design some of the white-walled, poured-concrete-floor rooms, so you'll see his artwork around." —Lila Downs, singer and musician
5. A Mezcaleria for Every Kind of Sipper
Héctor Audiffred (he runs La Popular and La Otra, two bars along Calle de Manuel García Vigil) remembers when you had to travel into the villages to get great mezcal. No longer: Now it's easy to find rare Tepextate in the city.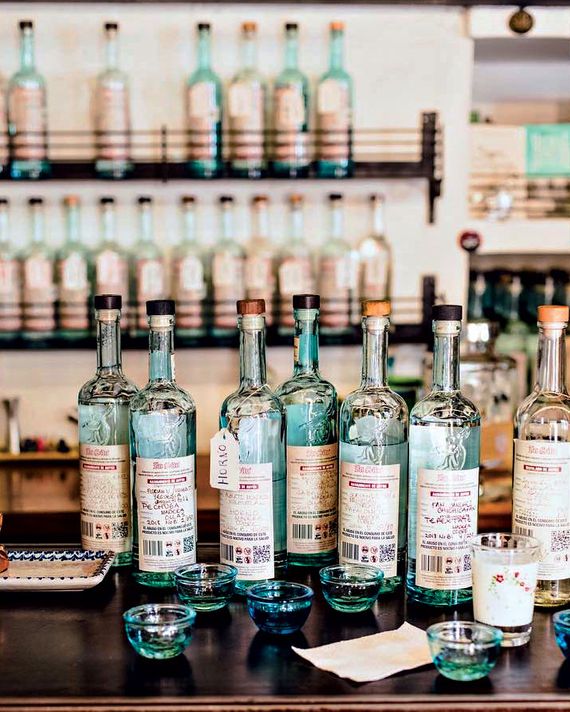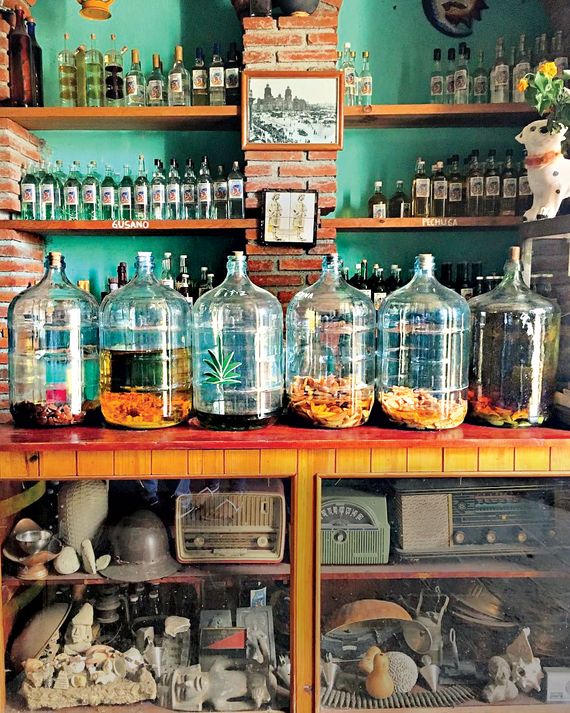 The worth-sitting-next-to-tourists one
"Los Amantes (Calle de Ignacio Allende 107) opened about ten years ago downtown, specifically as a tasting room. Before then, you could find mezcal in bars and cantinas and, of course, throughout the state, but the idea of ​sampling and ​explaining the different styles started there. Sidle up to the bar, where the décor is kind of retro thanks to its black-and-white tile floors and tchotchke-packed shelves."
​The divey, locals-preferred one​
"Unión de Palenqueros de Oaxaca (Calle de Mariano Abasolo 510) is the definition of a crumbling cantina. You'll know you're at the right place when you see the faded, hand-painted façade out front. This tiny spot gets quality mezcal direct from the producers in Matatlán, considered the ​hometown of mezcal. It's pretty tight quarters, and empty barrels line the walls, so go during the day, when it's less crowded."
​ The leave-with-a-souvenir one
"Mezcaloteca (Reforma 506) ​has upwards of 100 different types of mezcal​, many of which you can take home​​. The vibe here is almost more library than bar; clear mezcal bottles occupy the dark wooden shelves, and green-hued banker's lamps light the long, L-shaped bar. Note: Reservations are required to attend a tasting at this ​intimate little place."
​The run-by-an-agave-connoisseur one
"In Situ (Av. Morelos 511) ​is owned by Ulises Torrentera, a guy with a ​tremendous amount ​of mezcal knowledge. The bar has a wide variety of agaves, from espadín to more rare types, such as jabalí. ​And they also stock a decent selection of locally made craft beer."​
6. "It's Like Swimming on Top of the World"
Javier Salazar, founder of Oaxaca Bike Expeditions, on the best day trips, plus a longer extended stay.
Roam the ruins at Monte Albán
25 minutes from the city center by taxi or bus.
"This ancient Zapotec city, founded around 500 B.C., is one of the oldest archaeological sites in Mexico, consisting of several pyramids and tombs that are in beautiful condition. Spend a morning here before the day gets too hot. Take a taxi or buy a round-trip bus ticket from a ticket office at the corner of Díaz Ordaz and Francisco Javier Mina."
Soak at Hierve el Agua
1.5 hours by car or by van from Oaxaca's second-class bus terminal, located eight blocks west of the city center.
"There's a mineral deposit that has slowly solidified into a petrified waterfall, which you can see while relaxing in a thermal mineral pool. It's like swimming on top of the world. But the best view of the waterfall is from the hiking trails beneath it. There are little food stands at the entrance, where you can get a quick quesadilla, too."
Sunbathe in the nude in Zipolite
A 45-minute flight from Oaxaca, then a one-hour bus ride from the main bus terminal in Puerto Escondido, or hire a taxi at the airport.
"Zipolite is a small, secluded beach town where the jungle-thick mountains meet the sea. Stay at El Alquimista, a hotel whose restaurant offers locally grown coffee, tropical fruits, and fresh-caught dorado; there are also daily yoga classes. Zipolite is a nude beach, but just a ten-minute taxi ride away is neighboring beach Playa Mazunt​e and its Punta Cometa, a cliff that juts into the Pacific​. The sunsets are amazing."
7. Cumbia and Beyond
At night, the city's bars, galleries, and cafés shape-shift into live-performance venues. Here, a tour through Oaxaca's eclectic music scene.
For cumbia
"Txalaparta (Calle Matamoros 206), with its old-license-plate kind of décor, is big with local bands and national artists like ​Tijuana's DJ Chucuchu. Cool off on the roof on stickier nights." —Alfonso Barrera, guitarist of La China Sonidera
For hip-hop
"During the day, El Laberinto (Calle Porfirio Díaz 310) — a stucco-walled, terra-cotta-tiled art gallery, work space, and vegetarian café — doesn't give off the vibe that it gets packed and sweaty by night. It hosts regular film nights as well as a rotation of local Zapotec rap acts, like the group Mixe Represent (Mixe-language rap) and battle-rappers One Bomber Crew." —Toni G. Sánchez ruiz, rapper in the Zapotec-language rap trio Juchirap
For traditional folk
"A stage in a coffee shop, El Venadito (Panorámica del Fortín 530) supports traditional musicians like Costa Mía Orquesta, a band with coastal influences. It fills up fast with locals; it's near Cerro del Fortín, not exactly downtown." —Lila Downs, singer-musician
For electronica
"Mezcalina (Av. Morelos 701) specializes in mezcal cocktails and artisanal beers (from a rapidly growing craft-beer scene) as well as a solid lineup of electronic and Latin-rhythm sets from local DJs. The space is open enough to move around a bit yet intimate enough to chat up the bartenders and whoever is playing that night." —DJ Oliver del Valle of La Furia con Lujuria Sonidera
*This article appears in the February 18, 2019, issue of New York Magazine. Subscribe Now!