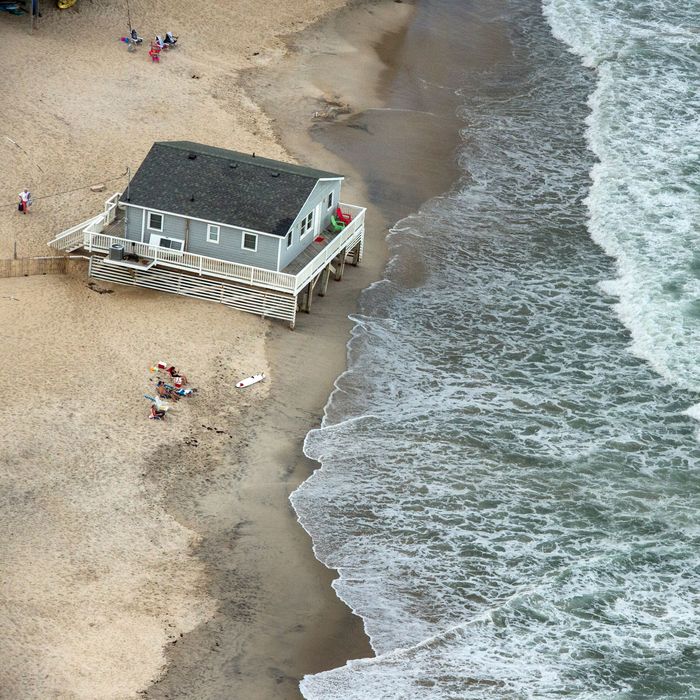 Surfers in the Outer Banks.
Photo: Nikki Kahn/The Washington Post/Getty Images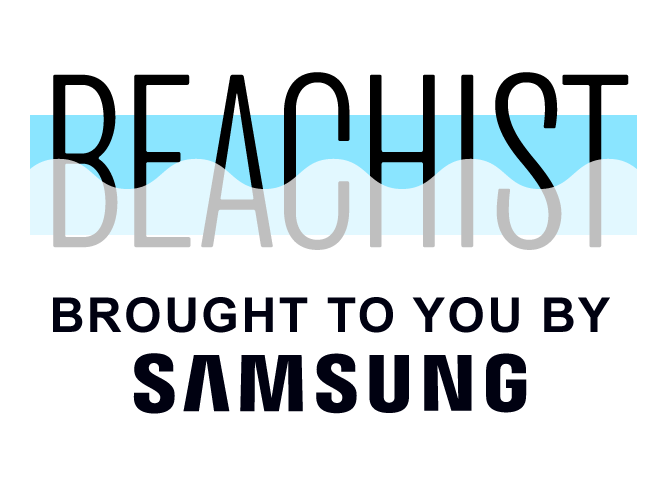 The Outer Banks — a 130-mile stretch of beach towns off the North Carolina coast — offer rich historical memories (it's home to one of the first havens for freed slaves), gorgeous stretches of beaches and accompanying towns ranging from lively areas stocked with oceanside crab shacks to remote, nature-filled spots frequented mostly by year-round residents. Plus: customizable donuts, captivating bookshops, and even a handful of beer shops you can literally drive your car straight through. (Note that we've limited this guide to Roanoke Island and a handful of the northern beach towns.)
When to Go
Relatively mild weather means the Outer Banks are a good beach destination year-round. There's a high season: the summer months, particularly the last two weeks of July and the first two of August, when you'll need a miracle to score a weekend booking anywhere.
Accommodations will be easier to find in May and September, which are known as the "newlywed and nearly dead" months (thanks to the wedding parties and empty-nesters flocking there to take advantage of lower prices and temperatures that hover around the high 70s).
Aside from a small uptick in visitors at Thanksgiving and during the last two weeks of the year, October and the winter months are the slow season. So rates drop significantly — but far fewer restaurants, shops, and services will be available. Still, temperatures typically remain in the 50s through the winter.
How to Get There, and Then Get Around
The biggest drawback to the Outer Banks is that there really isn't an easy way to get there — you've just got to commit. The closest airport is Norfolk, Virginia (nonstop flights from NYC start at $259 in September), but then you have to rent a car and drive the remaining 82 scenic miles south. Or fly into Raleigh-Durham (nonstop flights start at $258), where you'll have more airline options but a longer, 192-mile ride. We think having a car on the islands is a nonnegotiable point, but if you want to be fancy, hop a charter flight for up to five people with Outer Banks Air Charters. Leave from La Guardia or Teterboro and fly directly into Manteo on Roanoke Island ($2,150 per person). From there, Uber and Lyft are available on the Outer Banks and are your best options for getting around: There's no public transportation, and hitchhiking is illegal. Cyclists can rent cruisers at Ocean Atlantic Rentals and can ride from Duck to Nags Head via bike paths and wide shoulders along Highway 12.
Choosing a Beach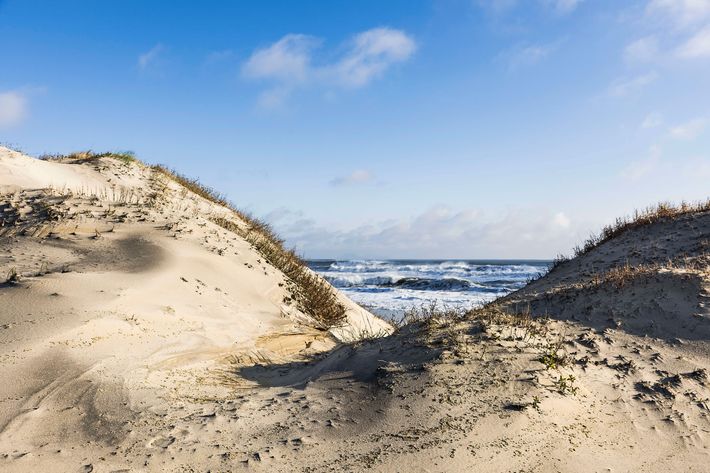 All of the northern beaches have a great mix of footpaths, wooden crossovers/piers, and public parking. There's no overwhelming difference among the beaches themselves, but here are a few distinguishing qualities to help you choose the best one for you. Unless otherwise noted, expect plenty of public parking and restrooms.
Roanoke Island
Roanoke Island doesn't have an actual beach, but there is a waterfront marina in Manteo and various swimming holes along the Roanoke and Croatan Sounds. If you have access to a boat (rent a kayak from Kitty Hawk Kites), take a day trip to Banana Island, a long sandbar just off the northeast corner of Roanoke Island. It's a sweet spot for some seclusion, snorkeling, swimming, and sunbathing.
Duck
Duck is a resort town known for its great beaches, restaurants, and shopping — and for being the most pet-friendly (dogs can be off-leash). Along the Currituck Sound, you'll see folks kayaking, Jet-Skiing, and fishing, thanks to the flat waters. On the Atlantic Ocean side to the east, the beaches are beautiful but there's no public parking, meaning that if you aren't staying at either a house or hotel in Duck, you won't be able to park near the beach. (You can park for free near the town-hall building, but there's about a half-mile walk to the beach from there.)
Southern Shores
At just four miles long, Southern Shores has more natural vegetation and less commercial development than the other northern beaches. And there's an above-average number of year-round residents, so you may find it a bit easier here to find an uncrowded spot on the beach than in the resort towns packed with summertime visitors. The beaches are public, but parking is limited to vacationers or residents who are staying in a home or property within town limits and using day passes or window stickers.
Kitty Hawk and Kill Devil Hills
Both Kitty Hawk and Kill Devil Hills are known for great surfing and skimboarding. Dogs are permitted on the beach but must be leashed. Kill Devil Hills is said to be the more crowded of the two because there are more hotels nearby — but it really depends on the day. Vehicles are allowed on the beach at Kill Devil Hills with a permit (from October 1 to April 30) but not allowed in Kitty Hawk.
Nags Head
At Nags Head, visit Jennette's Pier and Outer Banks pier, both prime spots for fishing and to learn more about the area's ecology. There's also Jockey's Ridge State Park, located on the sound side of the Highway 158 bypass, home to the tallest natural sand-dune system in the eastern United States.
Coquina Beach
For true seclusion, head to Coquina Beach, a stretch of undeveloped shoreline about eight miles south of Nags Head. If you have access to a four-wheel-drive vehicle, stop by the National Park Service to apply for an off-road-vehicle permit ($50/week; you need a driver's license and vehicle registration) that'll allow you to drive right up to the beach. If you don't have a 4WD vehicle, just use the public parking — the route to the shore is quick and totally worth it for the quiet, unspoiled environment.
Where to Stay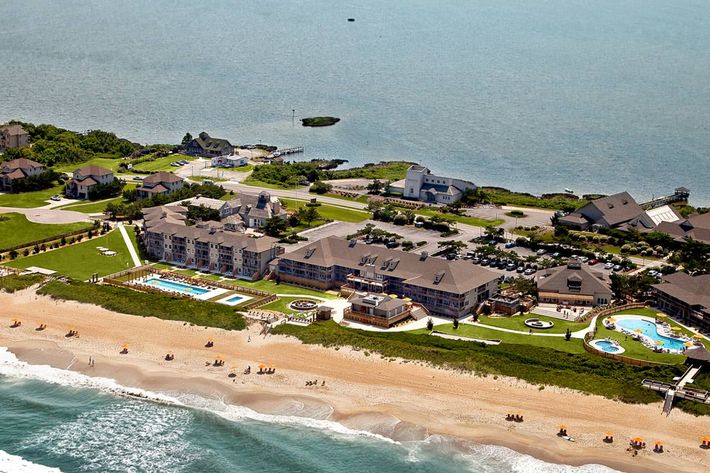 May and September are the best months to visit the Outer Banks and score off-season pricing without sacrificing great weather. Otherwise: Book a hotel or resort at least three months in advance for the summer, especially if you want to stay over a weekend. Beach-house rentals are a whole different ball game. Our tips and recommendations, below.
Overlooking the Manteo waterfront, the 25-room Tranquil House Inn is an elegant and peaceful haven from the bustle of the main beaches — but it's still right in the heart of downtown Manteo and within walking distance of cute shops, restaurants, and ice-cream parlors. In the mornings, take your complimentary Continental breakfast to a rocking chair on the front porch; return from a day at the beaches to a wine reception. The 25 rooms and suites are all spacious, comfortable, and offer style preferences like canopies or four-poster beds. 1587, the property's fine-dining restaurant, has a daily-changing menu of Atlantic seafood and dishes with ingredients sourced from Outer Banks purveyors (recent items included crab hush puppies; Pamlico Sound shrimp, etc.).
For a taste of luxury in an otherwise low-key destination, head to the Sanderling Resort in Duck, which offers both typical hotel-style accommodations and luxurious home rentals for eight to 16 guests. It's easily the most full-service resort in the entire Outer Banks, with direct beach access, fire pits, indoor and outdoor pools, and activities ranging from surf lessons to horseback-riding. It's ideal for families but great even without the kids: The adults-only Tranquility pool, award-winning Spa at Sanderling, and romantic Kimball's Kitchen restaurant are all major draws for couples.
But the bread and butter of vacationing in the Outer Banks are vacation-home rentals, and there are a ton of agencies to choose from. First, narrow down your group size: Accommodations range from studios to gargantuan, 23-bedroom homes (the average is eight bedrooms). For your pick of the prime houses during the summer season, book at least a year early — yes, really. Agencies like Resort Realty, OBX Rentals, Village Realty, and Outer Banks Blue have decades of experience and dedicated teams to help you find the perfect house. In general, check-in and check-out days are Saturdays or Sundays with little to no exception, so for flexibility, try Kees Vacations, where you can check in to a property any day of the week with no seven-night-minimum stay. Prices vary based on size and quality: In Duck, Resort Realty offers both $17,000-a-week, oceanfront, private-pool-equipped nine-bedrooms and $1,500 four-bedrooms with decks overlooking the water. But rental rates also vary based on seasonality: Winter prices are generally a quarter of what you'd pay in mid-summer. Note that someone in your party must be 25 or older to rent a house in the Outer Banks.
Beach Shopping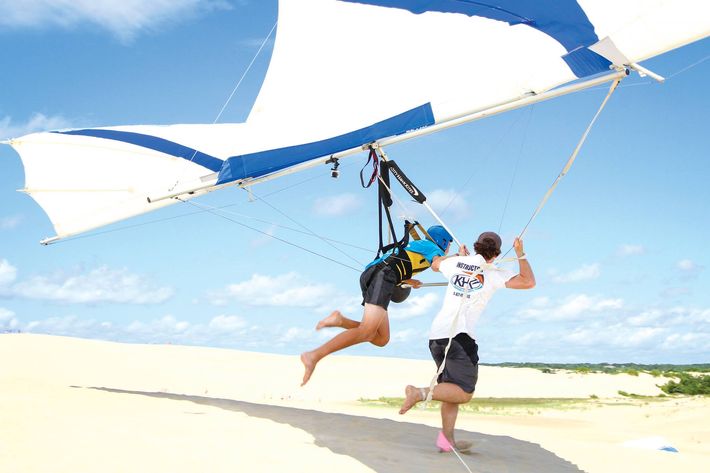 Many visitors pack beach equipment and gear, especially if they're driving and staying in a house, but renting kayaks and surfboards is easy: Kitty Hawk Surf Co. can accommodate most of your gear needs and offers expert-led paddling and Jet-Ski tours and surfing classes. Kitty Hawk Kites is the place for hang-gliding and kite-boarding lessons.
If your beach needs are more about lounging, head to one of the multiple locations of Super Wings for swimsuits, beach bags, and sunscreen. And pick up beach reads at two sister bookstores: Downtown Books in Manteo and Duck's Cottage Coffee & Books in Duck. Owner Jamie Anderson places handwritten Post-It notes on her personal recommendations.
Where to Eat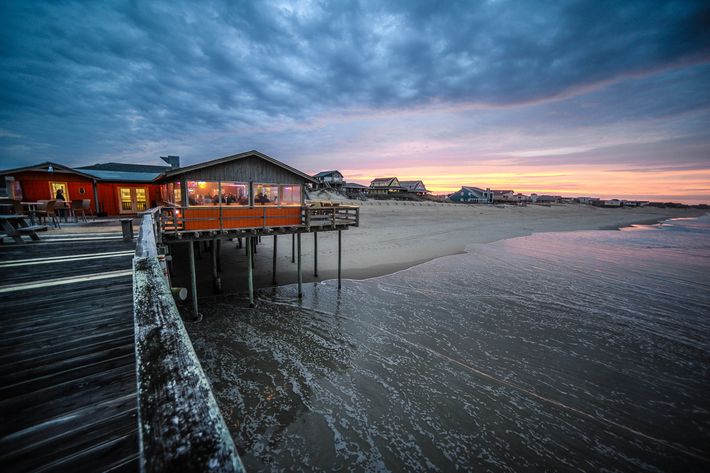 Grab and Go
All the beaches in the Outer Banks are alcohol-friendly, but glass is prohibited. You'll find all of the typical grocery stores on the islands that you would on the mainland, but while you're here, why not shop local? In Duck, pick up housemade salads and pastries plus deli meats and cheeses from Tommy's Natural Food Market & Wine Shop, which offers the largest selection of local groceries in the Outer Banks. For fresh seafood, head to O'Neals Sea Harvest in Wanchese, on Roanoke Island. Along with the freshest local seafood like yellowfin tuna, blue crabs, and flounder to buy and prepare at home, it has an onsite restaurant: Pop in at lunchtime and order a soft-shell-crab basket ($11) to eat among the crowd of local fisherman. For North Carolina–made beer and wine, visit a Brew Thru in either Kitty Hawk, Kill Devil Hills, or Nags Head. Picture a drive-through car wash, but with coolers of beer on either side — you never leave your vehicle as workers grab whatever beverages and snacks you need to stock your cooler.
Casual Meal
For breakfast on the healthier side, go to The Spot in Nags Head for fruit smoothies and a wide selection of açai bowls (from $6). Art's Place in Kitty Hawk is known for its burgers; you're in the South, so try the one with pimento cheese ($11). John's Drive In, also in Kitty Hawk, is a totally unassuming shack that boasts the best milkshakes in the Outer Banks (open May to October). And Duck Donuts, where you can customize your own made-to-order doughnut, is a must — choose a coating, topping, and drizzle from 24 options ($1.65). Our vote is for a glazed doughnut with crushed-Oreo topping and salted-caramel drizzle. You might cry. For tiki-bar vibes, visit Fish Heads Bar & Grill on the Outer Banks Fishing Pier for fried fish, clam and shrimp baskets, and 15-cent-steamed-shrimp happy hour from 4 to 6 p.m. Awful Arthur's Oyster Bar is a relaxed place for straightforward raw and steamed seafood. Get a taste of it all with a steamed combo: Choose from oysters, clams, shrimp, crab legs, and lobster ($14 to $39).
Get Dressed Up
Feel free to define "dressed up" how you want: The most formal you'll ever need to be in the Outer Banks is a sundress or khakis. The Lifesaving Station in Sanderling Resort is one of the only restaurants in the Outer Banks that's open year-round. It's housed in the historic Caffey's Inlet life-saving station, constructed in 1874 to assist wayward passengers and crews aboard shipwrecked vessels. At dinner, the heirloom-tomato and burrata ($12) and crab-stuffed flounder ($32) are standouts. For a break from coastal cuisine, visit Ortega'z Grill in downtown Manteo for Southwestern cuisine like pork-belly tacos ($13) and bourbon and fiji-apple-juice brined smoked chicken ($19).
Off-Beach Activities
A History of "Firsts"
It's pretty astonishing how many historic firsts took place on the Outer Banks. At Fort Raleigh on Roanoke Island, learn about the case of the Lost Colony, a group of New World settlers from England who came to the island in 1584 but had mysteriously vanished, with few clues as to their whereabouts, by 1590.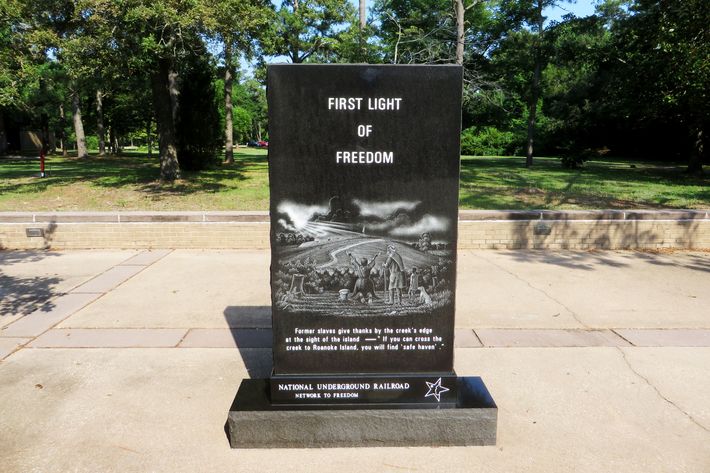 Also at Fort Raleigh is a commemoration of the Freedmen's Colony. Roanoke Island, controlled by the Union after 1862, became a haven for slaves in search of freedom during the Civil War. Many of the freed African-Americans were forced to leave Roanoke Island at the end of the war, but some remained and their descendants still live there today.
In Kill Devil Hills, visit the site of the first successful airplane flights at the Wright Brothers National Memorial ($7 parking fee). In addition to the reverential monument, explore reconstructed camp buildings where the Wright brothers stayed while testing flights, as well the locations where they landed.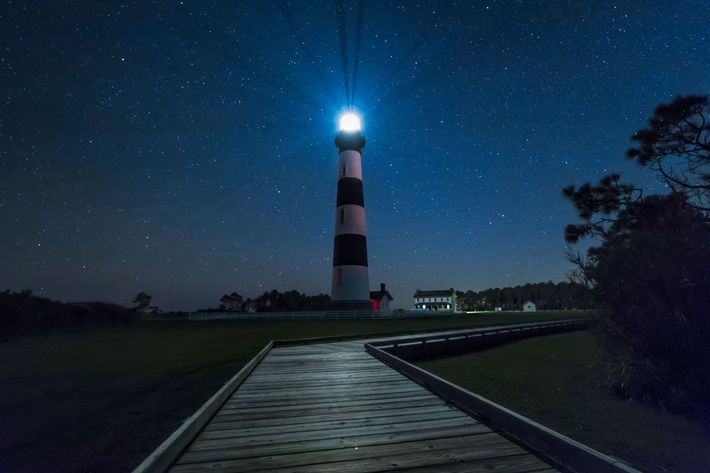 Other Historic Sites
Although not necessarily "firsts," there are many other sites to see away from the beach. Climb the 214 steps to the top of the striped Bodie Island Lighthouse, just south of Nags Head, for 360-degree views of the Atlantic. On Roanoke Island, Island Farm ($8) is a living-history site interpreting daily life on the island in the mid-1800s, including a farmhouse, reconstructed slave cabin, cookhouse, kitchen garden, and sheep pasture. Actors in period clothing put daily life on the farm into historical context. Nearby, the Elizabethan Gardens ($9), home to more than 500 species of plants, is a beautiful, relaxing place to spend an afternoon.
Let a Local Plan Your Day
Virginia Tillett is a lifelong resident of Roanoke Island, former Dare County commissioner, and chairperson of the Freedmen's Remembrance Committee, a local organization dedicated to preserving the history of the Roanoke Island Freedmen's Colony. Mrs. Tillett has traced her ancestry back to the beginning of the Freedmen's Colony in 1863.
When I have friends come to visit, I like to plan a full itinerary for them. We start with breakfast at Darrell's Seafood on Roanoke Island. Darrell's was my first job, back in 1963! After breakfast, we'll go to the North Carolina Aquarium. There's a fantastic exhibit about Richard Ethridge, a former slave turned keeper of the first all-black U.S. lifesaving station, and his burial site is located there as well. Afterward, we'll dip our feet in one of the swimming holes on the sound side of Roanoke Island, then go shopping in downtown Manteo. Roanoke Heritage Extended is a beautiful shop for ceramic pottery, painted furniture, and other unique items with a nautical theme.
We'll stop to eat again at Poor Richard's Sandwich Shop before crossing the bridge to the main towns. One of my favorite places is the Nags Head Woods Preserve. It's a very peaceful ecological reserve of ponds, marshes, and wetlands, and there are easy-to-navigate walking trails. For dinner, we must have the jumbo lump crab cakes at Lone Cedar Cafe in Nags Head.